What if we don't know the basic handcrafts of life to impress anyone? In this current situation, everything becoming digital and hand-to-please artifacts. We are moving away from the old-fashioned way of being happy on an auspicious occasion. I am talking about greetings cards – which we all used to make when we had only some leftover paper. Or it can be said that we love to create for our loved ones. That happiness has all gone in vain with the upcoming technologies we all are living in.
Here are the 7 Best Greeting Card Software in 2023:
Hallmark's Nova Development Card Studio
Fotor
Print Artist Platinum
ArcSoft
Scribus
Print Artist 25 Platinum
Print Artist Gold
In this article, we will check with major bullet points hits of every greeting card software. We will choose software that is easy to use and offer resources for fun editing. Cost efficiency is also a significant factor when determining the best software to handle.
See Also: 5 Best Free Rar File Opener Software for Windows
Best Greeting Card Software
I brainstormed on this technology issue, but the main motive is to develop the best greeting card software.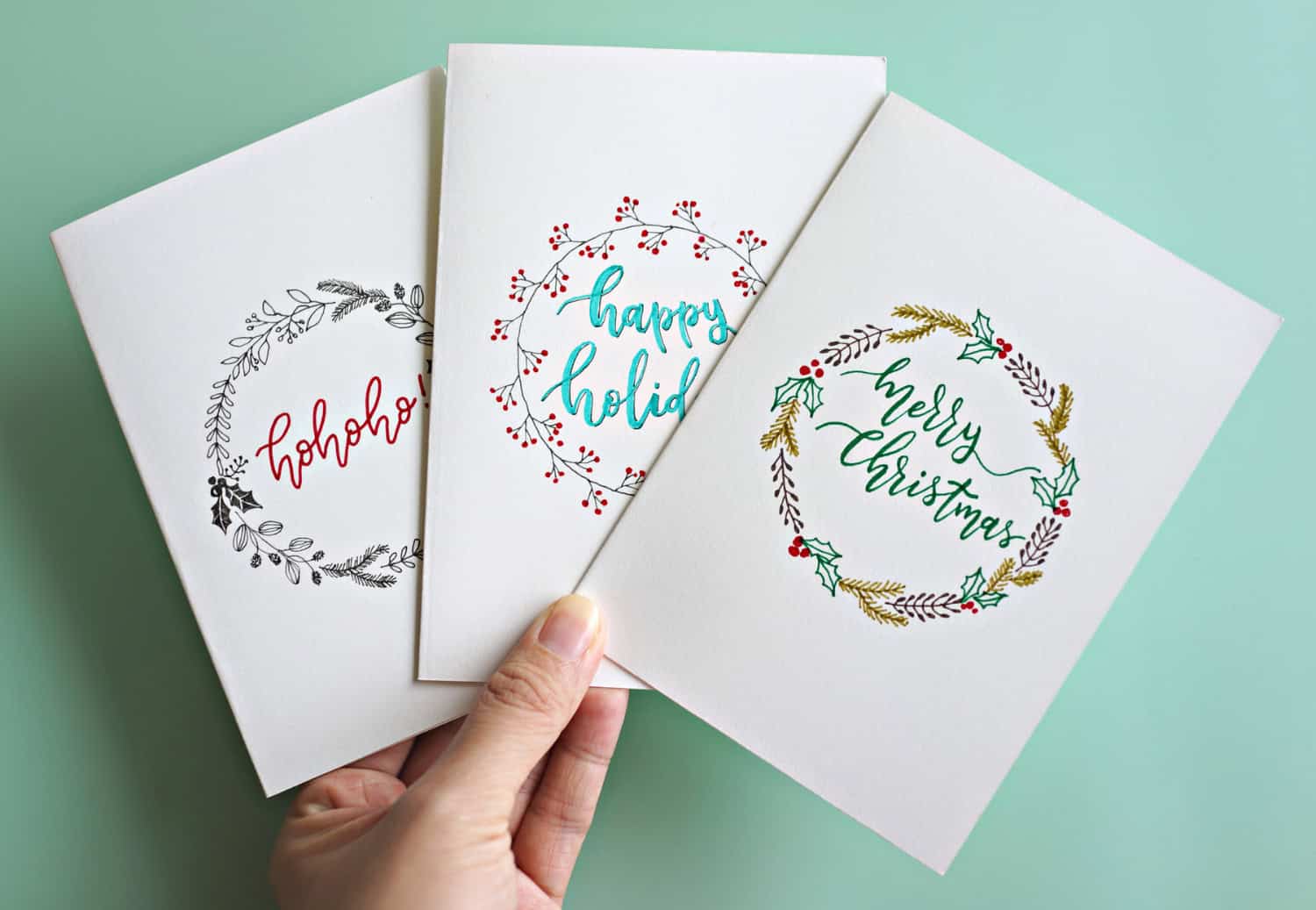 Time is getting vulnerable to technology, and the workforce is misleading its path. However, we can now jump to the in-depth content of the article and make our list of greeting card software.
Hallmark's Nova Development Card Studio
You can use these 14,000 cars that come with this package efficiently. It contains around 18,000 cliparts and 10,000 sentiments, enhancing the card's beauty. It also provides features that allow users to develop a new card from scratch—creating a whole new map by adding bonus touchups, making it more beautiful.
A large variety of this repository can also customize calendars, picture albums, and even frames. Unlimited fonts, themes, and pictures allow experimenting with the scratch card. Be This greeting card software also provides the facility to share and print them via social networks. The Hallmark card studio can be availed from Amazon for $49.99.
Visit: Hallmark's Nova Development Card Studio
Check out these cool transcription apps that convert your voice to text on Mac.
Fotor
Fotor is a modern approach to making cool and classy greeting cards. It is the best alternative for Adobe Spark and Canva. This is an elementary website to use, which consists of numerous amount of templates to operate with. You can personalize your greeting cards or use pre-existing ones. The free version of this software is good enough to make appreciable gift cards. The quality of the cards is also acceptable. There are a lot of ads to deal with when using the free version. Also, the free version doesn't offer many features like animating the card. It also constantly reminds you to upgrade to the premium version to use the features.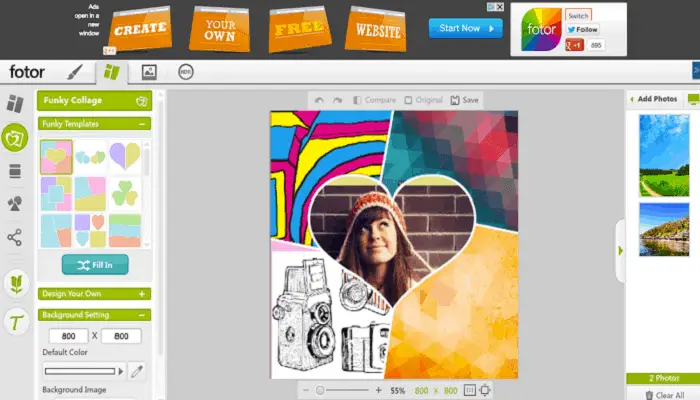 The free version doesn't fit well for competition purposes. This site authorizes you to download and share your card on your Facebook or Instagram Page. You can add cool stickers to make your card look more attractive. You can also find tutorials to use this Greeting Card maker in the Settings tab of this page.
Visit: Fotor
See Also: The 5 Best Overclocking Software for GPU, CPU, And RAM
Print Artist Platinum
Print Artist Platinum is simple computer software. You can import photos from your computer and be as creative as you want with them. It is considered one of the best greeting card-making software because of the 28,000 templates and 377,000 graphic covers of celebrations and holidays. You can make a greeting card design or use the pre-loaded ones on this software. This software also provides editing tools like color correction, effects, filters, stickers, gifs, clipart, etc.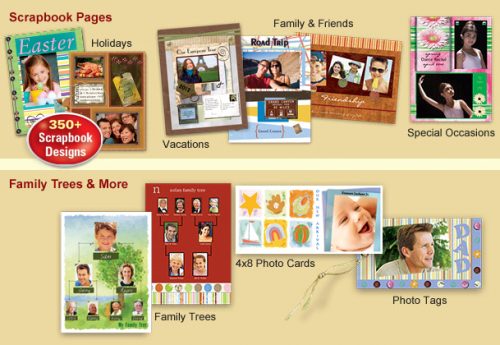 Also, you can send your card as an eCard by the links created by this software and add cool music and sounds. Note that Print Artist Platinum and Print Master Platinum are different software. If you need any help understanding the working of this software, then visit its website for tutorials and FAQs.
Visit: Print Artist Platinum 
ArcSoft
If you are looking for a user-friendly program for effectively making greeting cards, then Arcsoft Creation is the software you should try. It is one of the widely used software to make personalized greeting cards. It is preloaded with many templates and photo editing tools to enhance your photos before adding them to your card.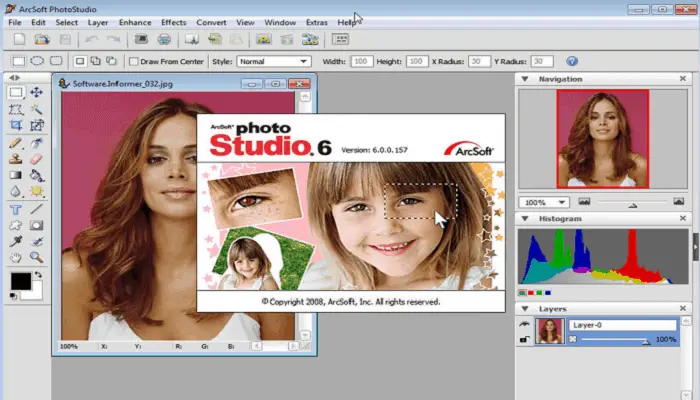 ArcsoftArcsoft comprises a comprehensive and easy-to-use interface. After completing your card, you can send it through email or save it as an image. This software creates the best quality cards and is recommended by most graphic designers.
Visit: Arcsoft
Scribus
Scribus is a well-known graphic designer's most used greeting card designing software. It allows the user to use a wide range of templates and layouts. Also, the publishing techniques of this software are straightforward. This open-source software is freeware.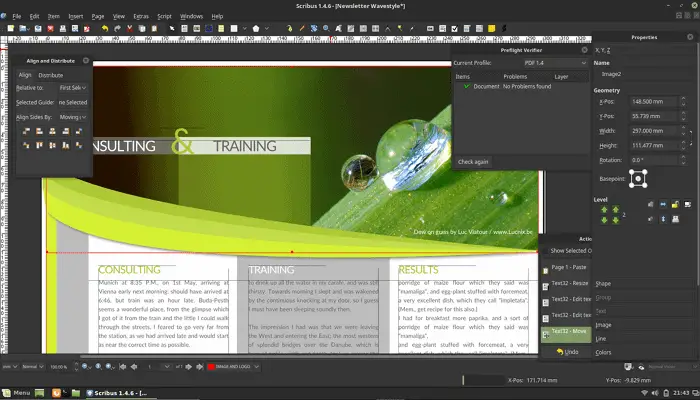 It also offers professional tools like CMYK colors, Vector Graphics, PDF and EPS file importing and exporting, ICC color manager, and more. Scribus also allows the use of OpenType sources.
Visit: Scribus
Print Artist 25 Platinum
The platinum version of the software has a higher price on the table. This is available for $49.99 on Amazon. However, spending a little from your pocket can make it worthwhile. The platinum version is available for Windows up to the latest Windows operating system version.
A value package with a bundle of 28,000 templates and 377k graphics or clipart is available. Also, fonts jump professionalism to the next level. Easy-to-go user interface and share options are also available. Making a slideshow for the watch later is also attached to the package.
See Also: 10+1 Best PC Cleaner Software To Boost Your System
Print Artist Gold
This software can be availed with a nominal price of $29 from Amazon. With this price, it offers the accessibility to share through social platforms. It also provides tunes and sounds to its creation. It makes the best software by providing stock images along with 15000 templates.
But it has the disadvantage of not giving sentiments along with the package. All a creator has to come up with their ideas. Apart from Hallmark, it will be embedded with a picture editing tool.
Print Master Platinum
It is higher in range compared to the others. The price of the package at Amazon is around $39.99. Making it the best to buy, it comes with a graphic editing tool. It will help you create your graphics from scratch and overwrite other images.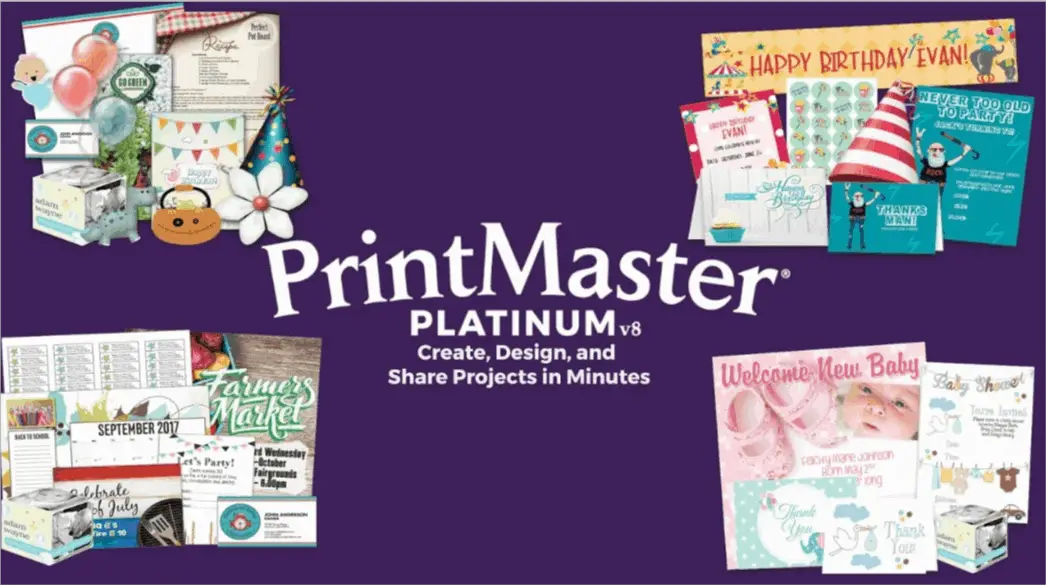 However, the pixel size of this clipart they provide isn't the best quality. Like the other greeting card software, it fully utilizes editing tools, whereas the others don't offer. It also helps make calendars and agendas, which are a part of the greeting card memorandum.
Visit: Print Master
Canva
Canva is making a digital revolution for all sorts of cards and posters. This greeting card software ranges from logos to Instagram posts. It provides a vast range of stock images to templates. Thus, it doesn't require any software to download and is readily available from your browser. It only requires the steps to follow, and the product is known to share. Drag and drop are the newest of all the other software doesn't provide.
All of the custom templates, clipart, and sentiments can be easily accessed. Apart from that, Canva is a bomb in editing software. It charges a nominal fee to get the premium version. After completing the process, it also provides options to share and makes the content print with the highest quality. Custom design can be ordered, which is available within 4-5 working days at your doorstep.
Visit: Canva
Adobe Spark
It generates powerful and professional software/greeting card software to create a greeting card with rhythmic templates and sentiments binding together an overall best software. It also has excellent typography, which adds personalization to your greeting card.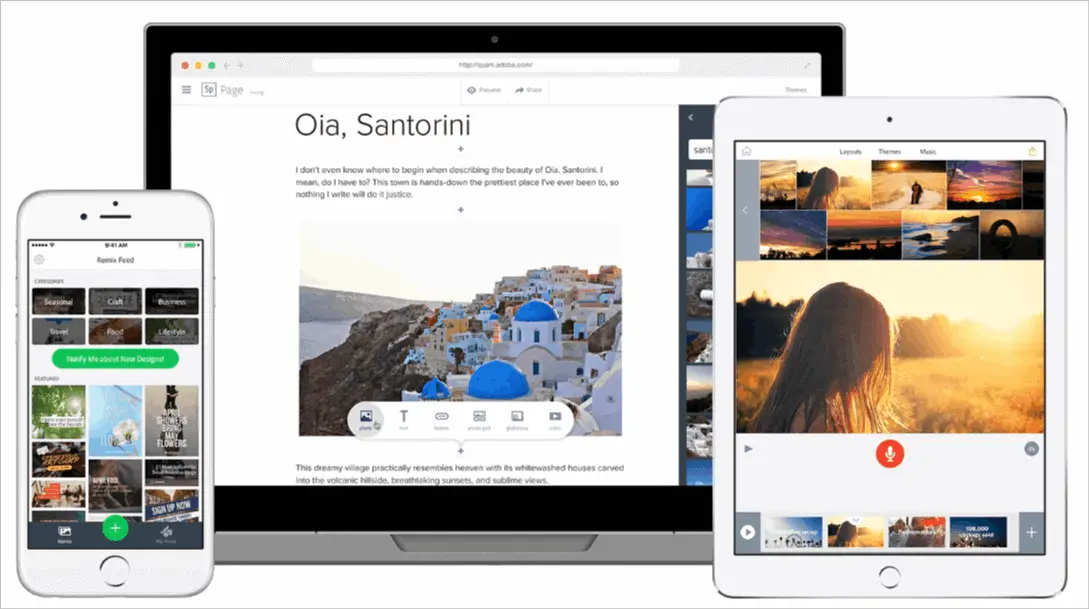 If anyone doesn't have any technical know-how, it doesn't matter. Just a few steps to follow, and you will have a beautiful yet makeover of your imagination. An editing tool is also available, which helps to commute every variable you can move. The editing tool helps to handle the repository design.
Visit: Adobe Spark
Greetings, Card Factory Deluxe
This greeting card software may not be the best, but it provides something better. A customizable template, along with 27k greeting projects, is available.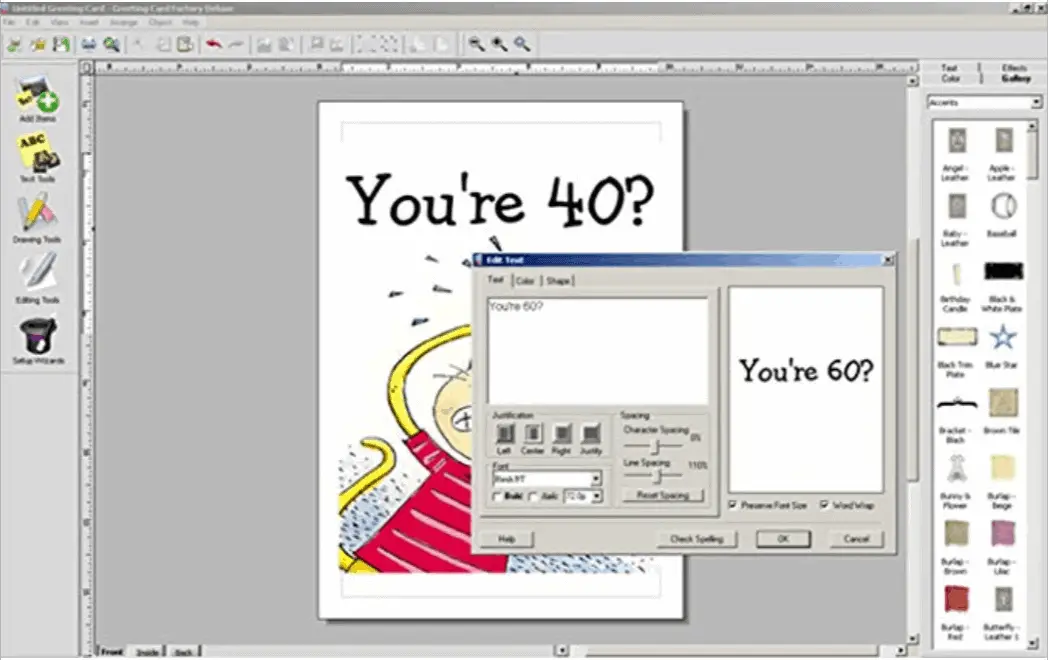 An inbuilt advanced editing tool that helps to remove unwanted features from the images. The availability of 500 different fonts and graphics makes it easier to use. This software punches a variety of modern and traditional fonts into the package.
Visit: Greeting Card Factory Deluxe
See Also: Top 10 Best WYSIWYG HTML Editing Software
FAQS
Which software is best for making cards?
You can make creative greeting cards using Adobe Spark, Print Artist Platinum, Canva, and Greeting Island. These apps are free and easy to use, adding a creative touch to greeting cards.
Which software is used to draw greeting cards?
To master drawing on greeting cards, use Adobe Spark. The perfect platform with many customization ideas and a standard 5×7 inch format is a place to go for every occasion.
How do I design my cards in Canva?
To make greeting cards in Canva, search 'Cards' And choose its theme from multiple templates. Decorate your card with fonts, graphics, and colors, and lastly, Print it.
What is the standard size and best paper for a greeting card?
The standard size for a greeting card is 5×7 inches, and it looks best on 250-400 gsm paper with a finished and concrete look.
Conclusion
Now all rests on your creativity and how unique your gift can be. Use this software to create cards for special occasions!
Dedicated group of Computer Engineers making tech updates accessible to all. Our dream is to simplify and share tech news with everyone.