Windows systems are known to have many issues from time to time. Often a windows user is struggling with various lags in the system when you install new software or try to run an application. Thus, you must know about the best PC Cleaner Software of 2018 now!
Over time they get sluggish, and it gets tedious to get simplest of a job done in those systems.
Why Should I Use PC Cleaner Software?
When a new program is installed the bits are stored across in various folders and directories. The Operating system gets cluttered with Installed applications, patches, drivers, etc., and causes the OS to become slow.
As a result, the performance diminishes, and this leads to a system that hangs every time you try to run a program.
You may have observed this when you are trying to open a program; it takes ages to open, or even closing an application tends to take a lot of time. All this does not qualify to mean that the parts or the hardware have degraded.
It is the applications or programs that you have there which is to blame for the slower PC. Sometimes the uninstalled programs also leave their remnants which just sit there in the directories and cram the space.
Because of these leftover chunks of a program, the workload of the processor increases which in turn takes longer to run or access the data.
Although trying to run too many applications at a time will also slow your system. To reinforce the better performance of your system you need a clean hard drive and specific tweaks to your PC. The best solution to get the sluggish processor run faster is to get rid of all the chunks of unwanted applications. Many tool and utilities on the market offer to scan and remove unwanted programs to create some space on your hard drive.
Also See: 7+1 Best Free ZIP File Opener Software for Windows
Top 7 PC Cleaner Software of 2018
Here we are listing some of the best PC Cleaner Software for you to choose from.
Advanced System Optimizer
Advanced System Optimizer is a very efficient cleanup and optimization software for Windows 10/8/8.1/7/Vista and XP, both 32 bit and 64 bits.
It is an all in one tool that gives a thorough optimization of your system. Advance System Optimizer examines all the junk files hidden in various places in your system.
It offers complete diagnosis and scan for any registry errors and checks for spyware. This tool can also be configured to perform a regular maintenance at the scheduled time.
WinASO Registry Optimizer
WinASO Registry Optimizer examines and corrects many inefficiencies in the windows registry. The detected errors are categorised and rate as per their severity.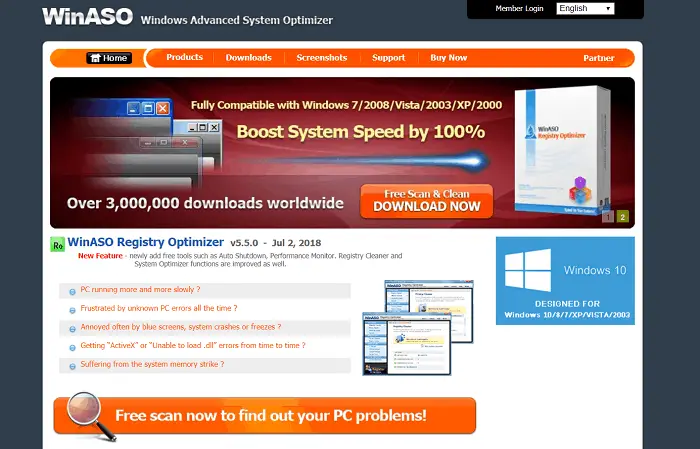 It identifies the redundant shortcuts and removes the shortcut files that take you nowhere. It comes with a system optimizer, privacy cleaner, shortcut remover, and registry defrag that defragments your registry to reduce application access and respond time.
WinUtilities Free Edition
WinUtilities Free Edition is a handy tool for performing basic window cleaning operations. It can perform schedule maintenance of your machine.
WinUtilities has a single interface where it collects the system disk and registry errors, for optimization and helps to make your entire system run faster and smoother.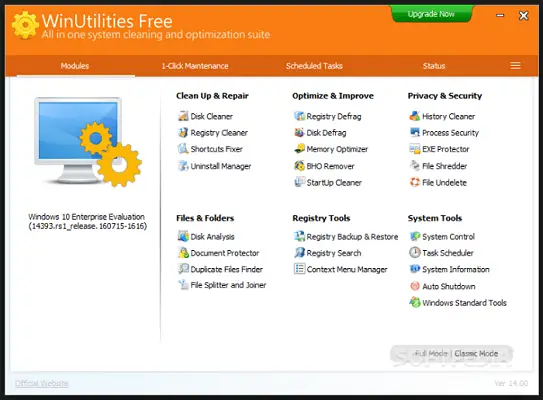 It helps make tweaks to your system, customize the screens, optimize the settings and enhance the security. Its disk cleaner clears the clutter and boosts your system speed.
CCleaner
CCleaner from Piriform is a critically award-winning PC cleaner software. It is easy to use and comes with advanced features to make use of its full potential.
CCleaner will make your PC run faster by removing all the unused files and free up the disk space. It erases your browser search history and cookies, so online advertisers do not track you and helps you to remain anonymous.
Its registry cleaner clears out all the clutter for a more stable PC. It can also disable the programs running during startup which improves your work performance. There is a free version available for this tool with minimal features. To unleash full features, there are also premium versions available on their website.
Iolo System Mechanic
Iolo System Mechanic one of the best PC cleaner software around and it boosts speed by automatically analyzing and increasing the availability of Ram and hard drive resources. Whenever high demand applications are running.
It repairs system problems by using quick updates from Iolo labs. Iolo Removes bloatware by identifying startup programs and disabling unwanted processes.
It also Guards privacy and security by removing browser history and blocking dangerous system changes. Iolo System Mechanic Boosts internet speed, by optimizing internet settings for faster downloads and removes clutter and hidden junk files from your system.
The PC Decrapifier
The PC Decrapifier is a free handy PC optimizer tool to suggest and remove malware, harmful software. It uses smart algorithm which removes all the crap, unnecessary files and much more that from your system.
It identifies those and removes them from your new system. There is no downloader for this tool. You just install and run it on your system.
IObit Advanced SystemCare
IObit Advanced SystemCare is ideal optimization software for novice users and another free tool, which only does the house cleaning. Its Pro version also boosts your internet speed, provides real-time optimization and privacy protection.
It also performs deep registry cleaning and provides 24/7 technical support to its users. Similarly, the interface is elegant and easy to use, even for a new-comer. Similarly, like all optimization software's it cleans your files and folders, clears windows registry and fixes errors.
Final Words
So, these software's and utilities that we have in our list are amongst the most popular ones to keep your PC clean. And, have it run faster and boost productivity. Furthermore, you can click on the links provided and download any of these PC Cleaner software.