We all use our computers for almost all our work. Our uses range from browsing the web to shopping online. We even use our Laptops and PCs for doing business and for entertainment purpose such as watching movies or listening music. It is due to these practices our PCs accumulate extra junk that hogs space on our hard drive. To solve this problem, we often use cleaner software such as Registry Cleaner Software.
The registry cleaner software not only helps us fix the registry, but it also helps PCs run faster. So without further ado, here are 14 best free and paid registry software that will make your life easier in many ways.
| Name | Price | Installer size | Window Version Compatibility |
| --- | --- | --- | --- |
| CCleaner | $ 25 for Pro | 16.0 MB | Windows 10, 8, 7 ,Vista, XP |
| JetClean | Free | 3.6 MB | Windows 10, 8, 7 ,Vista, XP |
| Registry Reviver | Free | 1.1 MB | Windows 10, 8, 7 ,Vista, XP |
| Registry Tuner | Free | 2.28 MB | Windows 10, 8, 7 ,Vista, XP |
| Wise Registry Cleaner | $ 15 for Pro | 2.7 MB | Windows 10, 8, 7 ,Vista, XP |
| WinUtilities Registry Cleaner | Free | 6.4 MB | Windows 10, 8, 7 ,Vista, XP |
| Comodo Registry Cleaner | $ 39.99 for pro | 12.9 MB | Windows 10, 8, 7 ,Vista, XP |
| Glarysoft Registry Repair | Free | 5.49 MB | Windows 10, 8, 7 ,Vista, XP |
| Auslogics Registry Cleaner | Free | 12.2 MB | Windows 10, 8, 7 ,Vista(32-bit), XP(32-bit) |
| SlimCleaner | Free | 1.1 MB | Windows 10, 8, 7 ,Vista, XP |
| Pointstone Registry Cleaner | Free | 5.66 MB | Windows 10, 8, 7 ,Vista, XP |
| RegClean Pro | $ 39.99 for pro | 4.19 MB | Windows 10, 8, 7 ,Vista, XP |
| Defencebyte Computer Optimizer | $ 38.95 | 5.02 MB | Windows 10, 8, 7 ,Vista, XP |
| Easy Cleaner | Free | 207 KB | Windows 10, 8, 7 ,Vista, XP |
List of Top Registry Cleaner Software
Following is the list of Best Registry Cleaner Software that we have compiled for you. Do have a look and keep your devices clean using these softwares.
CCleaner
CCleaner is the most widely used registry cleaner for Windows. The layout is simple and the light. The clean UI adds the advantage of using the system and utilizing the software functions to its full potential.
Special attention must be given to its design as its one of the best looking registry cleaner software in the market. It must be noted that CCleaner is free and is a shareware. This one can clean the registry very fast. It can also fix the registry key error.
A new user would be easily able to adapt himself since the whole software is very user-friendly. A regular warning system before cleaning the registry is an added bonus.
Pros
Extremely small 10 MB download size.
Installs instantly.
Multiple installation options available.
Cons
The default download page is a bit confusing and creates an impression that the software is paid, which it is not.
The installer will increment another freeware to your system unless you specifically deny it.
Refer: 5 Best Mac Cleaner Software to Supercharge Your Mac
JetClean
JetClean is small and powerful. It is simplistic in design and fast in its usage. The software scans the registry in a very short amount of time. The cleaning is fast too. There is a "1-click Repair" Option that can repair your registry.
The Registry Cleaner Software is compatible with most of the previous versions of Windows as well. The UI is sturdy to say the very least. The user must note that there is a predetermined amount of "cookies" that the software keeps.
Pros
Can scan and remove problems with one click.
Easy to use interface.
Backs up the registry automatically.
Cons
Several features work only in the professional version.
Portable version isn't downloadable.
Installer may try to add unnecessary programs to your computer during setup.
Refer: 5 Best eBook Creator Software for Windows | Updated 2019
Registry Reviver
Registry Reviver is the first paid registry cleaner on our list. It has high efficiency when it comes to cleaning the registry. It can solve the errors of registry with ease. The general window of tools is simple and easy to use.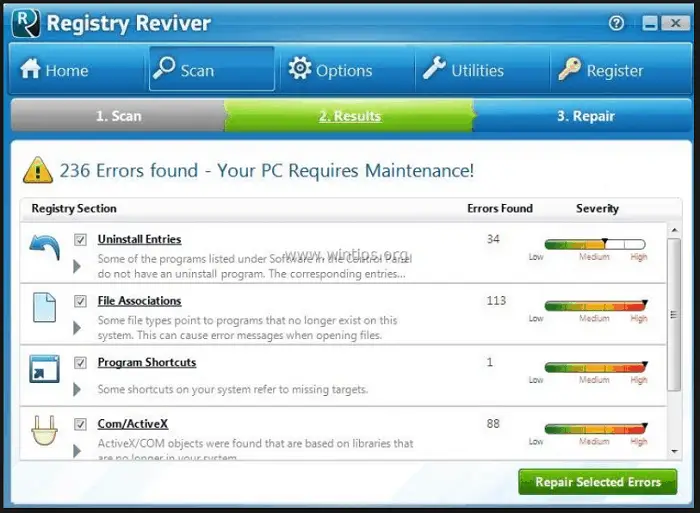 Besides the general ease of use, there is also a relative flexibility in the Registry Cleaner Software. The Registry Reviver can identify errors with the registry and fix them at regular intervals automatically. This feature is very useful for an active user.
Pros
Installation is fairly simple; it basically installs everything on its own.
Cons
Registry Reviver isn't the best out of the lot. There are still some issues left.
Download Registry Reviver here
Refer: 8 Best Video Converter Software for Windows (Free+Paid)
Registry Tuner
There is something special about this paid registry cleaner software. Registry Tuner can help you recover the entries and registries. The usage is highly flexible which makes it one of the best windows registry cleaner. There are various options to perform different tasks depending according to the need of the user.
The various types of file to find for registry cleaning can be adjusted by the user. The registry cleaning is fast. It also makes the system run smoothly. The overall usage is worth the price you pay for the product.
Pros
Highly Flexible.
Multiple options available.
Refer: 4 Best Free & Paid Game Optimizer Software for Windows
Wise Registry Cleaner
Wise Registry Cleaner is one of the most efficient registry cleaners in the market. It is light and is highly cohesive in its functionality. The best part of the Wise Registry Cleaner is that it can perform the custom scan for finding the junk registries.
A user can perform deep or quick scans as per his need. The cleaning is effective and easy. The custom scans are very effective for a shared computer as they can clean the registry regularly.
The fascinating thing about this Registry Cleaner Software is that it can work on new systems perfectly. However, the cluttering is evident in older versions of windows.
Pros
Not confusing or difficult to use.
Uncluttered and clean interface.
Scheduling is possible for registry cleaning.
Cons
Rebooting is necessary.

Installer may try to add unnecessary programs to your computer during setup.
Download Wise Registry Cleaner here
Refer: How to Increase Maximum Volume in Windows 7/8/8.1/10
WinUtilities Registry Cleaner
The WinUtilities Registry Cleaner is almost same free registry cleaner as any other software on this list. However, there are various advanced features in this that other software doesn't have. The first special feature of it is the selection based cleaning.
The second feature is restoring of the registry at a time. The is also an option of backing the registry up before cleaning it. The compatibility of the software is very good. It supports almost all versions of Windows. It is the best option for people looking for registry cleaner free of cost.
Pros
The license is perfectly valid for up to three PCs.
Intuitive UI.
Cons
This program has a low number few diagnostic tools. So, it might be a bit difficult to tell what actually is the problem with your PC.
No SSD Defragmentaiton.
Download WinUtilities Registry Cleaner here
Refer: 4 Best Free & Paid Slideshow Maker Software for Windows
Comodo Registry Cleaner
Comodo Registry Cleaner is a paid Registry Cleaner Software. The software has many high-end features that make it a great choice for the users. The option to back up the registry is one of the highlights of the software. There is also a custom scan option and the option to choose to scan of the registries. This option makes Comodo very handy and flexible to use.
So this concludes our list of best free and paid registry cleaners. I hope there are some of the software that you would love to use. The choice is (as I always say) based on your need.
Pros
Improves system performance.
One-click clean-up.
No installation restrictions.
Cons
Active Clean feature is only for Comodo System Utilities Pro, not the free version.
Restoration features is not as intense as the competing apps.
Download Comodo Registry Cleaner here
Refer: 10 Best Anti-Spyware Tools for Windows (Free & Paid)
Glarysoft Registry Repair
Glarysoft is one of the best Registry repair tool. The window crashes and error messages are generally due to the issues in the registry. This software provides you with all the issues with your device and helps to solve all of them with individually unique approach.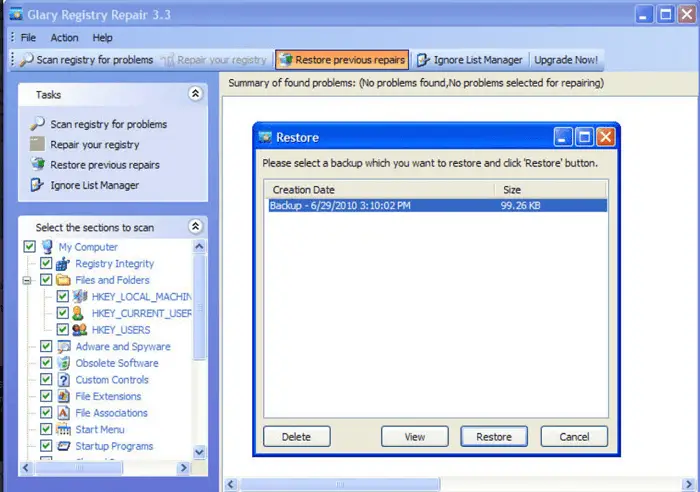 Glarysoft is very safe to use, whenever changes are made to registry an automatic undo file is created for backup, if any user makes a unwilling change, the user can get back to the previous state at any point. It makes sure to inspect various areas in your register and even tries to solve every possible issue.
Pros
It provides very quick and accurate results.
Very safe to use.
It creates backup files whenever changes are made.
Cons
It may sometimes recommend to uninstall your programs if it is found suspicious.
Download Glarysoft Registry Repair here
Auslogics Registry Cleaner
Auslogics Registry Cleaner is one of the most efficient and easy to use cleaner. It provides easy backup of data and one click device cleaning. The user interface being very simple to understand, any new user can manage to use it with ease. It can be installed on all available versions of windows operating system.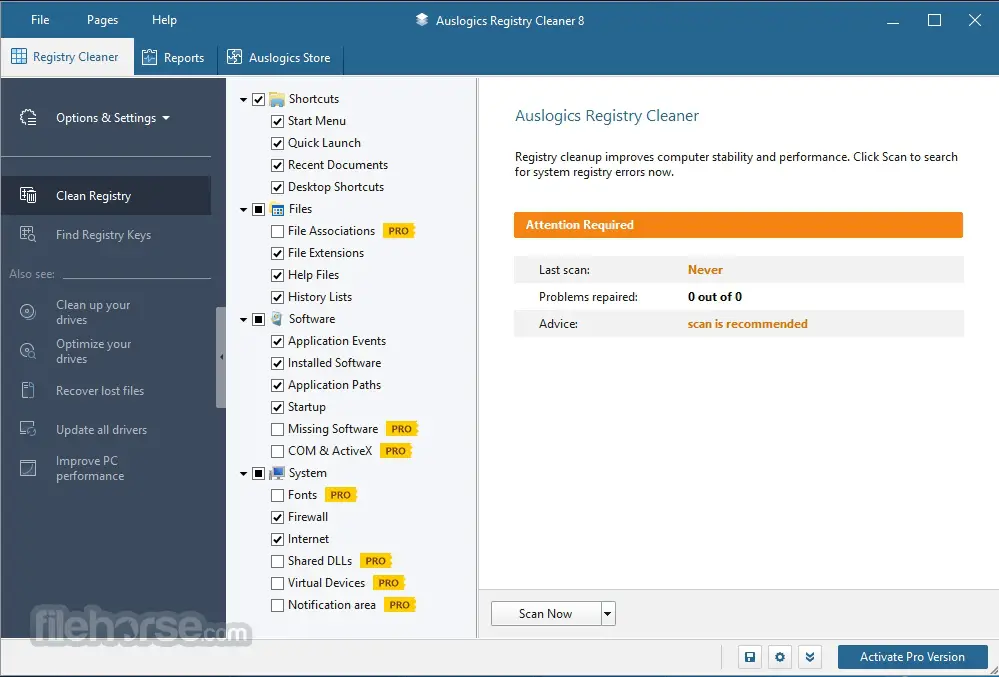 It provides one click scan option which can one can pause and resume at any time. Once your registry is scanned and cleaned, a detailed overview of the cleaning is produced on the screen depending on which you can analyse your PC health.
Pros
It offers a very user friendly interface.
It is very easy to use with one click cleaning and optimisation.
This registry cleaner provides easy installation.
Cons
The setup procedure proves to be a bit risky with additional programs trying to interfere.
Download Auslogics Registry Cleaner here
SlimCleaner
If you are looking for a one step solution to all your unattended useless cache and registry data, SlimCleaner may prove to be the perfect solution for you.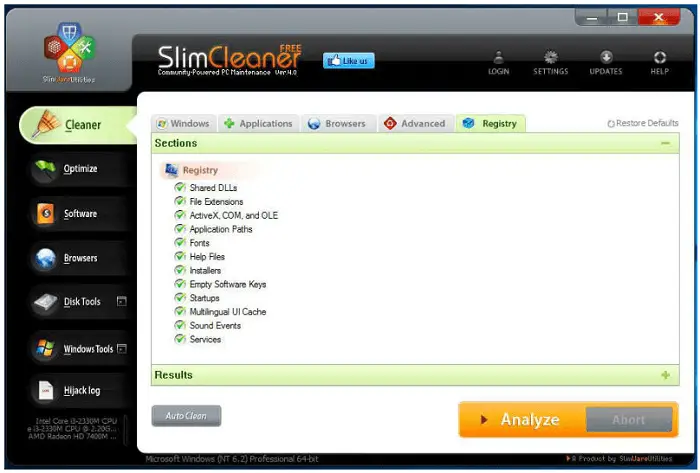 SlimCleaner provides various singular choices during cleaning which will enable you to clean your registry section wise. Initially, all the options in the sections are ticked and you will require to untick them according to whatever you wish to keep or clean.
Pros
It is a cloud based software which does not use up a lot of disk space.
User friendly interface.
Cons
Advance features are available only on the paid version of the software.
Pointstone Registry Cleaner
This software works as a multipurpose software that allows you to clean repair and optimise your device with just a few clicks.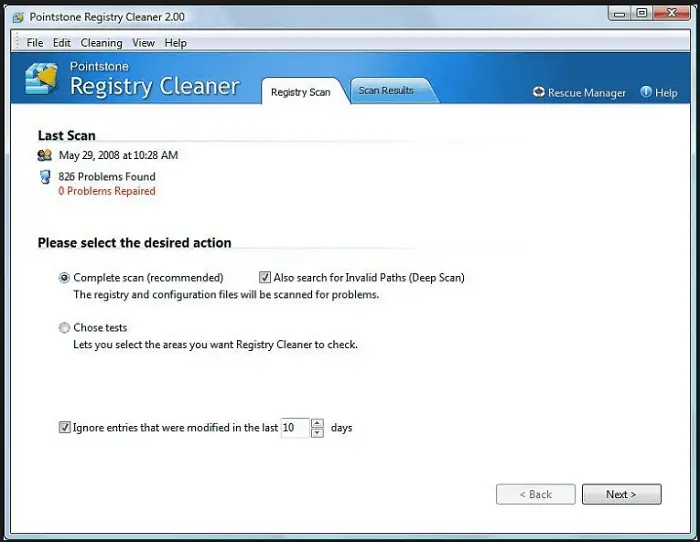 The registries within your device occupies a lot of memory space and it also affects your PC performance to a great extent. Pointstone makes sure that it cleans your registries whenever required so that you get the best and quick services from your device.
Pros
It improves the device startup speed by almost 50% of the actual speed.
Provides easy installation.
Download Pointstone Registry Cleaner here
RegClean Pro
RegClean Pro comes with a smart scan engine which scans for broken and unwanted registries. It helps to remove and improve your registry performance. You can backup your registries before updating them so that you can restore the backup in case you would require the previous one.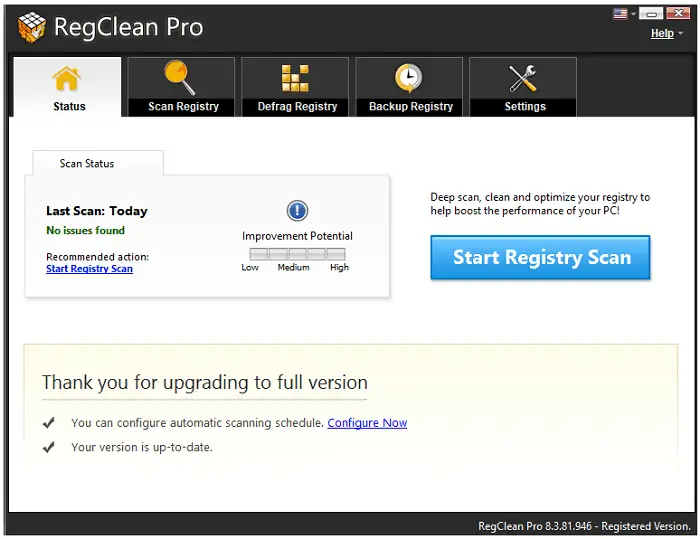 You can manually manage which registries to be included in the scan.
Pros
Provides options for future scan scheduling.
Defencebyte Computer Optimizer
Defencebyte Computer Optimizer is one of the best Registry Cleaner software that provides promising features for cleaning and maintaining your registries. The software not only helps you to clean your registry but it also notifies you about issues in your registries.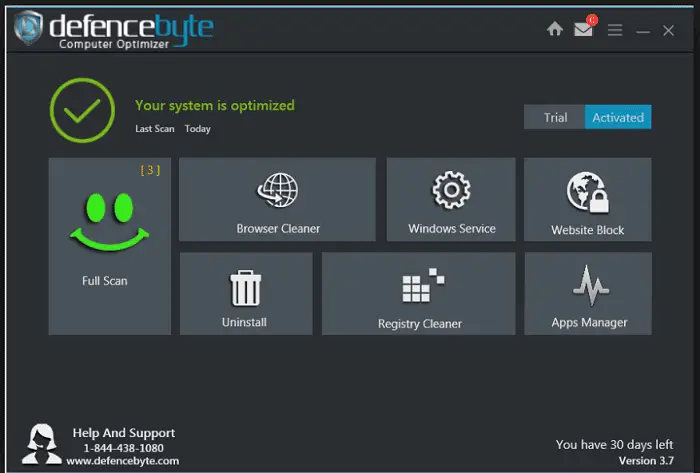 A stand alone registry cleaner is not sufficient to get your PC into ompimal condition, hence the Defencebyte Computer Optimizer comes with malware protection and it can also help you to monitor registry activities that slow down performance.
Pros
It does not contain any kind of ads.
Provides features for scheduled backup of data.
Trial version contains complete free fix.
Download Defencebyte Computer Optimizer here
Easy Cleaner
Easy Cleaner is a very lite cleaner with minimum graphics and very basic operations. It provides features such finding duplicate files. It lets you delete all kinds of junk files and registers to free up some extra storage for you.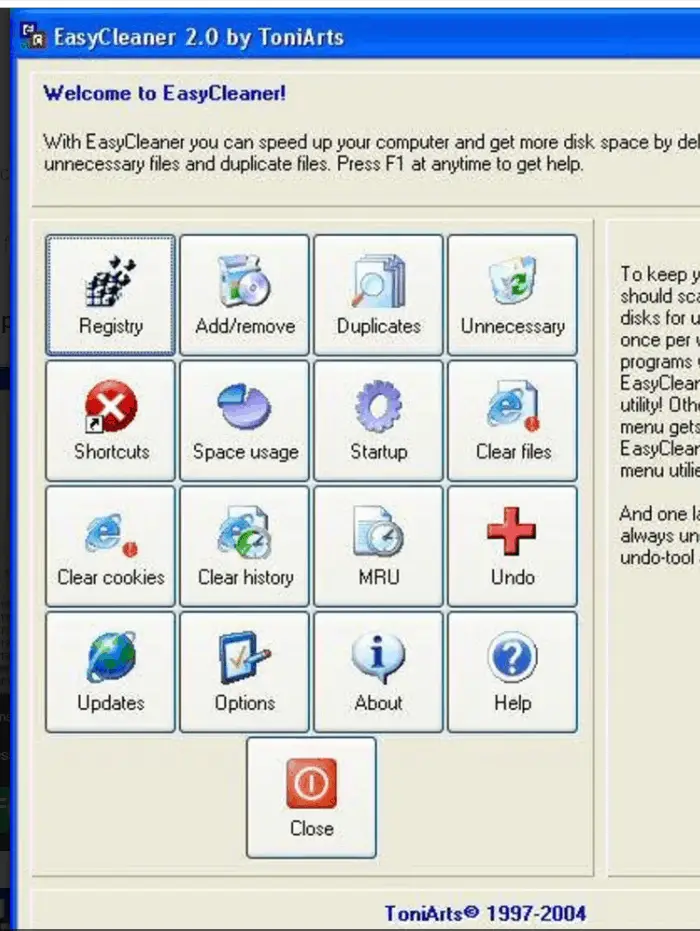 Pros
It allows you to remove unwanted short-cuts.
Cons
Only provides basic features.
Conclusion
Hope you liked our list of top Registry Cleaner Software that we have for you. Let us know in the comments about your favorite one!
Hey everyone! I'm just a simple guy who absolutely loves tech. It's my dream to make sure that all the updates in the tech world reach everyone is simple words. Hope you have a good time on my blog! 🙂