Let's be honest; we love photos. They not only capture moments but also capture our soul. We try taking them for ourselves or others. The photos we take and share have become part and parcel of our life. Photos are not only aesthetic in value but also are a tool to relieve the fondest memories. Thus, you must know about the best Photo Organizer Software of 2021.
Thus, it becomes imperative for us to and organizes these treasured orbs of memories. To keep your life simple here are the best Photo Organizer Software that you can use to organize and edit your photos in the best possible way. So let's get right to it.
Top 17 Photo Organizer Software
Following is the list of & Best Photo Organizer Software tools that we have tested and compiled for you. Do have a look, and find the best one for you.
Adobe Photoshop

Lightroom
A widely used photo editing software, Adobe Photoshop Lightroom is way more than just a photo editing tool. In fact, editing is its secondary use. Its primary function is that of a digital organizer. It can import, organize and export images.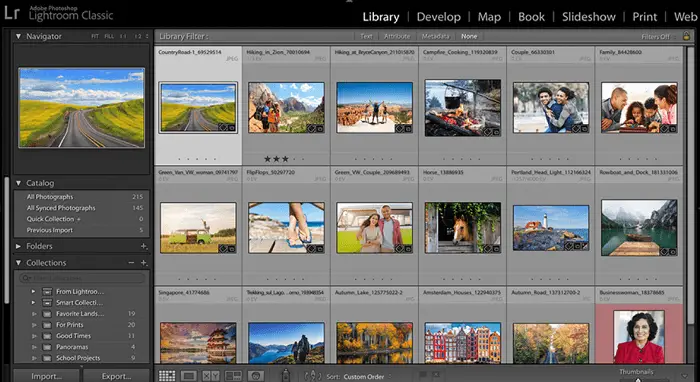 It uses keywords and metadata to sort the images, and it uses the metadata of your images to search through your images. In this way, you will not have to search manually through your images. 
Visit: Lightroom
See also: 13+1 Best Video Compression Software (Both Free & Paid)
Adobe Bridge
Starting our list of best photo organizers is the Adobe Bridge. It is a true masterpiece of Adobe Software. The most underrated product from Adobe is still as effective as other products from the developer. The software not only organizes your photos according to the dates, size or location but also lets you do decide the keyword for the collection of photos.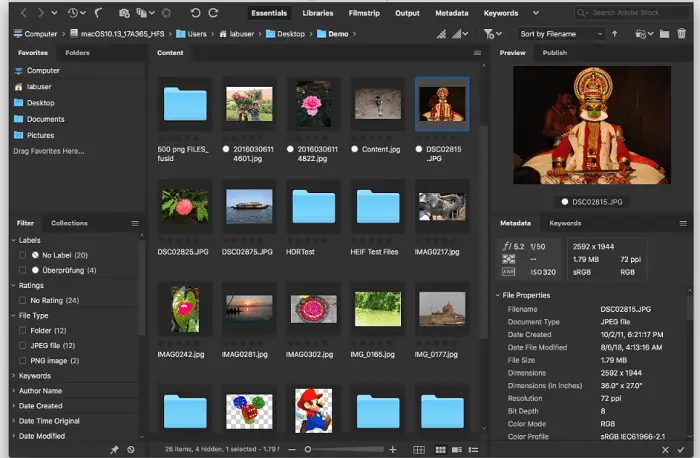 It can sort the photos according to the location with your watermarks and editing. The major advantage of this software is the price. It's free to use. It is also very simple to use and the flexibility to render images make it one of the best software in the market.
Cost: Free, and part of Adobe's creative cloud plan from $9.98 per month.
Notable feature:

Fantastic publishing tools.
Batch Renaming feature.
Mini Bridge, allows you to open the program inside of other Adobe programs that you are using.
One can convert image files directly to JPEG from inside of Adobe Bridge.
Refer: 5 Best eBook Creator Software for Windows | Updated 2019
Adobe Bridge CC
This fantastic piece of software is one of the best photo management software for professional photographers & offers tons of useful features. It comes bundled with any of the Adobe Creative Cloud products like Adobe Photoshop or Lightroom. This means you won't have to pay any extra money for the Bridge CC. If familiar with other Adobe programs, the interface of Bridge will seem pretty familiar. There is an easily accessible option for importing photos directly from your camera, cold-reader, pen-drives, mobiles & other storage devices. You can upload in bulk while keeping the metadata intact.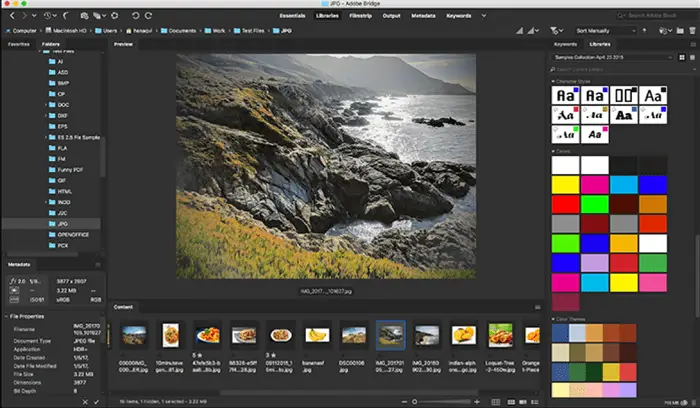 Another great feature of Adobe Bridge is batch editing. You can edit a particular batch of photos simultaneously by applying a unified color scheme. This saves a lot of time & effort from the user. Other useful features include on-demand metadata generation, batch export, batch edit metadata & photo capture time, on-demand thumbnail generation, batch rename, ability to add tags, and adding watermarks for stock images.
See Also: Top 6 Game Development Software to Make Games on Windows
Although this program is one of the best photo managing software out there, it can be a bit overwhelming for managing just personal photos. For that purpose, there are many other programs out there, which brings us to our 2nd product on this list.
Visit: Adobe Bridge CC
ACDSee
The fast and most efficient of all photo organizing software. ACDSee packs style and power in equal measures. The most astonishing aspect of this software is its capacity of handle photos and organizing them in as many as 20 different categories. It is not only used as a photo organizer but it can also be used as a photo viewer. The addition of comparing different photos and sorting them out makes organizing easy.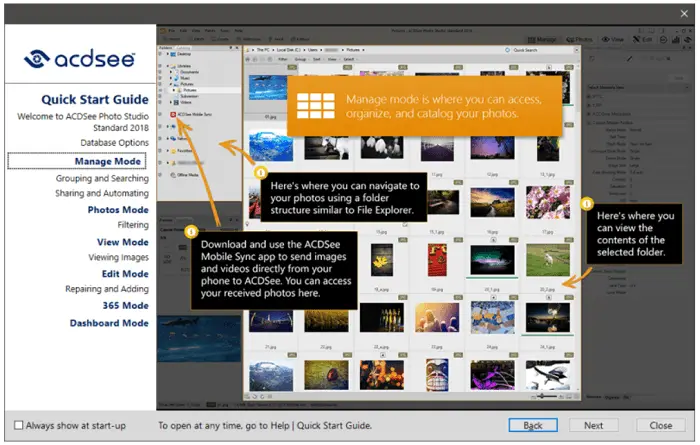 There is also an option to watermark photos and edit them. The "GeoTag" option makes the addition of the location to your photo easy and safe. There is also a wide array of prototype support from jpg to png type. The easy uploading of the photo is just the cherry on top for this beauty.
Cost: $119
Notable features: 

With webcam recording and screen recording paired, you can create vlogs.
Separate audio and video in one click.
Stay competitive with high-resolution recording and rendering in 4K
Drag and drop filters onto photos and videos.
Refer: 8 Best Video Converter Software for Windows (Free+Paid)
Zoner Photo Studio
If you are looking for software that can use by a professional, then look no further than Zoner Photo Studio. The level of details that goes in the editing of the photo is unparalleled. The organizing of photo according to name, place, size, person, etc. is just a part of the wide facilities of this amazing software. Online storage and editing are very useful for many users.
There is a plethora of Photo Organizer Software available online to use, but I have managed to bring you the most viable and usable ones. The truth is that a user needs to decide his demands and requirement. So if you are a beginner try using Picasa but if you are an expert, just go with Zoner.
Cost: 49 $/year, 

4.99 $/month

Notable features:

It has a full-featured system for organizing photos.
Offers a wide selection of editing tools.
 Zoner Photo Studio X software offers both a photo organizer and editor.
Download Zoner Photo Studio here.
Mylio
This is the free and best photo organizing software that can help make your life so much easier when it comes to managing and organizing all your photographs. Mylio works offline and can sync with your calendar to automatically organize your photos based on their capturing time. It maintains your collection of photos on all your available devices, which means you are not restricted to accessing any photo through just one device. 
This software also makes sure that any changes you make on Mylio are reflected across all your devices and uses facial recognition to help tag photographs to make them easier to find. 
Visit: Mylio
See also: 7 Best Photo Editing Apps for iPhone | Top Picks of 2021
Phototheca 3
This photo editing and photo organizing software helps declutter photographs and sort to view them in an efficient and organized manner. Phototheca 3 is an application made for your PC that enables you to tag photographs and videos, remove duplicate photos, and create albums and upload them online.
This software also makes it easier to import photos to your PC from cameras, smartphones, and memory cards. It gives you an incredible amount of control to not only label and organize all your photos but also to create an album or library to suit your personal, organizational needs. 
Visit: Phototheca 3
FastStone Image Viewer
I know that FastStone is not a well-known software, but it is still effective for any new user. The usability of FastStone is next to none. The direct backup to Google drive is a very big bonus for an avid photographer. The simple user layout is easy to use and edit photos.
It is free and easy tagging is very handy at times. There is total of 22 photo file support. It is fast and very user-friendly. The addition of effects and addition of layout is splendid to use.
Cost: Free
Notable feature:

Native support for different camera models.
One-touch best fit/actual size image display support.
Print images with full page layout control.
Support touch interface (tap, swipe, pinch).
Download FastStone Image Viewer here
Refer: 4 Best Free Vector Software for Windows & Mac | Updated 2019
Google Photos
There isn't a single person in the current age who doesn't know about Google. It has a good arsenal of products & services which are currently dominating the digital market. Google photos are one such product. Like many other Google products, Google Photos is free & you will only need to pay for the extra cloud storage. You will never run out of it if you upload images in the standard resolution instead of the original resolution. This means endless cloud storage for your pictures.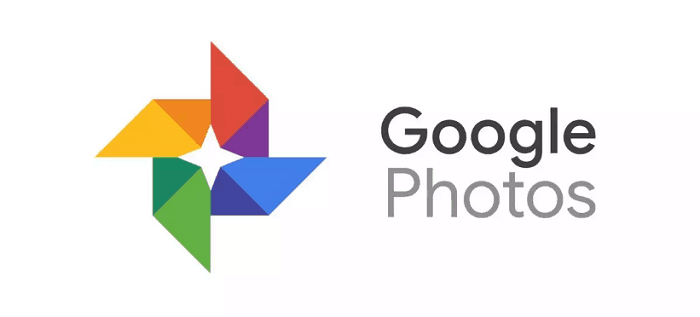 Google Photos also offers the right amount of useful features & some necessary editing tools. The software also uses artificial intelligence technology to categorize your photos automatically. You can also use the face-detection to search for a specific person's pictures and group them. Other salient features include easy drag and drop upload, on-request metadata generation, batch processing, easy export & sharing on social media, tags, and filters.
Thus, it is one of the best free photo management software out there, with many offered features in premium programs.
Visit: Google Photos
See Also: Digital Asset Management System [The Complete Guide]
XnView
XnView is a multimedia viewer, photo organizer, and photo editor all in one program. It recognizes more than 400 file formats. The interface is quite simple and elegant, and it won't take much of your time to learn around it. You can also use this program for lossless JPEG conversion. Its photo editor also is quite rich in features allowing the more experienced users to make the most out of it easily.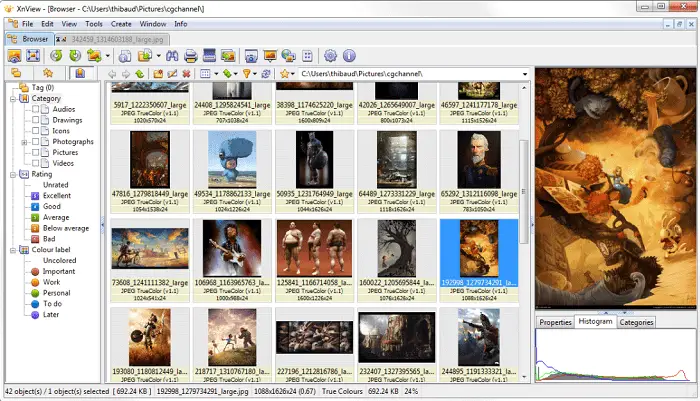 Some of the more useful features include duplicate file finder, batch processing of images, and other fundamental features like categorizing and adding tags. This photo management software is compatible with Windows, Linux, and Mac OS. Also, it is completely free for educational and non-commercial usage.
Visit: XnView 
Picasa
The most obvious choice for a new user is Picasa. As one of the first and best photo organizing software in the market, it had its fair share of the market till 2016 when it closed down.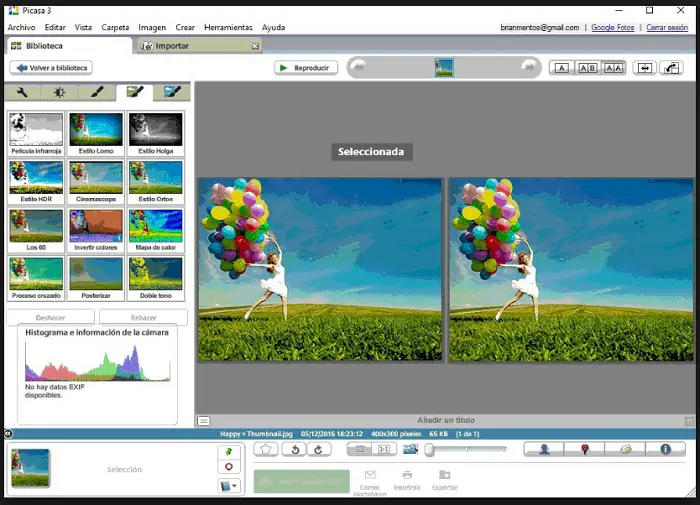 But we can still use it. It is great to edit the photos and organize them. It supports around 25 file types. There are also options to add various modes so that lighting and exposure could be adjusted. There is the option to sort the photos according to dates, places, size, etc.
Cost: Free
Notable features:

Handles everything from importing to sharing your photos.
 Interesting range of effects.
 Add tags to organise your photos.
 Additional features like the ability to create movies, montages, and screensavers.
 Online sharing features.
Refer: 4 Best Free & Paid Slideshow Maker Software for Windows
PaintShop Pro X9
Good photo organizer software must be easy to use, organize and edit. These three boxes are ticked perfectly by PaintShop Pro X9. It is simple and highly effective. The interface is clean and easy to use. Navigation is easy as well. Editing of photos don't take must time and sorting them out according to dates and location is very simple.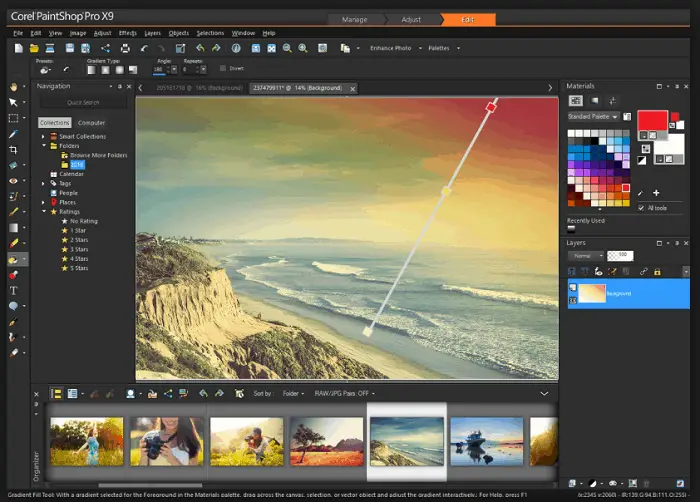 The sturdy UI provides the user with freedom to add as many effects as they need to get the desired result. If you are an aspiring photo enthusiast, this software is for you.
Cost: $63.99 (Unlimited version: 79.99)
Notable features:

Project Templates.
Interactive Gradient Fill.
Guided Tour.
Support for Windows Real Time Stylus.
Download PaintShop Pro X9 here.
Refer: 4 Best Free & Paid Game Optimizer Software for Windows
DigiKam
It is an award-winning image organizer software. It is light to use and very fast. The files that this software uses range from png to image. The organizing of the files is also easy as they can be arranged according to directory or date. The layout of the photos can also be changed using this software.
There is also a face detection support to sort the photos with same face (or person). The red-eye removal and lighting adjustment is also top notch in the software.
Cost: Free
Notable features:

Capable of handling over 100,000 images.
Import photos, raw files, and videos.
Organize your library.
Browse and view items in the library.
Process and edit raw files and photos.
Share and publish photos.
Refer: Top 6 Best Streaming Video Recorder Software to Download
Now you can organize your photos and find duplicates using these apps.
ON1 Photo RAW
Unlike many other softwares, ON1 provides you with an open system. It's main uses are for organizing, managing, and editing your photographs and it gives you complete control over your storage methods. You can easily sift through hundreds of photos to apply ratings and labels, as well as create shortcuts to access your favorite albums. 
Keywords, as well as additional information relevant to an event, can be added to photographs, and they can also be seen based on their editing history. This makes it easier for you to bring up photographs according to the timeline of when you last worked on them.
Visit: ON1
See also: 13 Best Free Drafting Software With Pros & Cons (2019 Updated)
BigMIND Photography
This digital photo organizer software is one of a kind, specifically designed to take on the demands of back up and organizing millions of photographs through an affordable platform. BigMIND Photography uses artificial intelligence to simplify the complex processes that are necessary to manage photos on a large scale. It automatically analyses and structures photographs. This enables you to access them at any time, from anywhere through a mobile or computer. 
It also utilizes artificial intelligence to search for specific photographs that appear in them, making it easy to find particular photos even in the absence of tags or labels. You can also search for photos by camera type, location, date, size, and quality. It also catalogs photos through facial recognition.
Visit: BigMind
Movavi Photo Manager
Another outstanding photo organizing software is Movavi photo manager. It has got certain unique characteristics that make it different from others.
Apart from the usual easy import and organizing and adding tags to pictures for easy compilation, you can also edit a batch of photos here together for a bunch of basic corrections like cropping, resizing, rotating, etc. It also supports a variety of popular image formats. 
Visit: Movavi
Magix Image Manager
 The last on the list but not less in any terms is the Magix image organizer wizard. One can import images from both their photo library and their cloud service and sort them here. One of the best things about this software is that it is very easy to use and hence it is the best for beginners. It provides secure password protect zip archives so you can't export files without permission. You can directly share your files to social media sites like Facebook.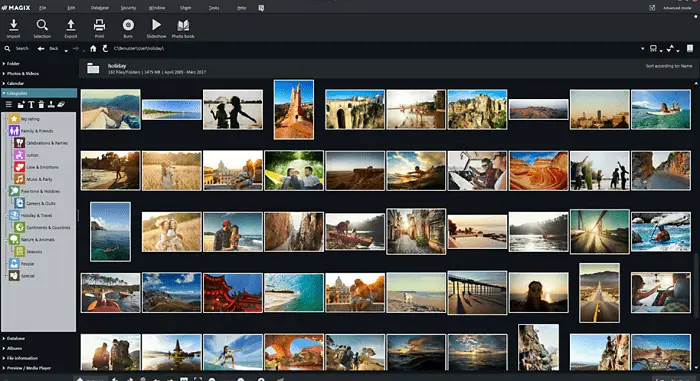 However, if you are an advanced photographer with a large database, then this app wouldn't be the best for you. 
Visit: Magix
Refer: 5 Best Mac Cleaner Software to Supercharge Your Mac
Hey everyone! We are a group of Computer Engineers who have dedicated their lives to tech. It's our dream to make sure that all the updates in the tech world reach everyone is simple words. Hope you have a good time on the blog! 🙂