Most of us desire the iPhone text layout on our Android phones. Technically, it is impossible, but with technological advancement, you can create fake text messages through iPhone text generator tools.
Some iPhone Text Generator Tools For You to Use are iPhone Fake Text, iFake Text Message, iFake SMS, iMessage Fake Chat, and iOS Foxsash.
In this article, we will talk about some of the best tools that fulfill your desire.
Top 5 iPhone Text Generator Tools to Use
These iPhone Text Generator Tools can be aptly used to prank friends and create chats that look real and believable. Give the following a try, and let us know your thoughts!
iOS Foxsash
iOS Foxsash is another popular iPhone Text Generator tool to create curated iPhone conversation threads. It offers a lot of features for users to explore and experiment with. The only drawback of this web tool is its ads popping up and blocking the features. Nevertheless, with its incredible attention to detail compared to the other iPhone fake text generator tools available, this is probably the best in detailing and customization. 
It allows you to change the phone type, for example, iOS 7 or iOS 8, signal connection details, battery, settings like a clock, expand the phone screen for more extended screenshots, etc. Also, it allows you to customize the color of the messages in the threads, add emojis of your choice, and a lot more.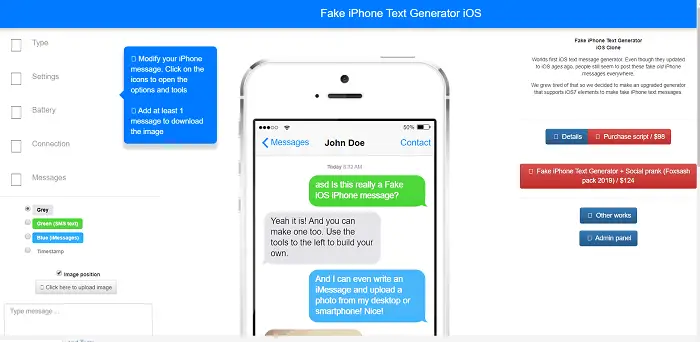 It offers some fantastic features. For example, if you have created a conversation thread and want to delete any message in the middle of the thread, you can hover over the message. How? You can do so by clicking the delete icon without redoing the conversation thread again.
The pictures on this iPhone text generator can be downloaded in PNG format with quite a high quality, making it one of the most helpful text generators for iPhone. People interested in getting the script and creating their text generator for iPhone can do so with a 'Purchase Script' option available at $98 only, which is a cool feature for developers. 
Visit: iOS Foxsash
iMessage Fake Chat 
This is another seamless iPhone Text Generator web tool that provides users with a smooth and efficient experience. You can customize your chat with various phone settings – clock, name, send/receive, and battery settings along with signal settings, even having a Wi-Fi option that many online text generators tend to miss out on.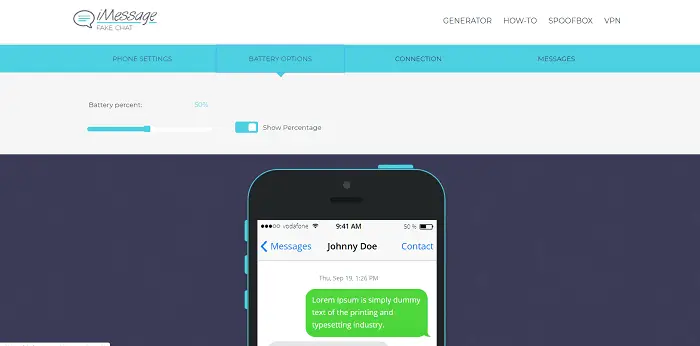 You can customize the message bubbles as grey, green, and blue and include a timestamp for each message, change the background of the message with pictures, and even set whether the user is online or offline. Users can also upload photos they wish to add to create fun conversations and threads. You can download the final image of the conversation and use it as required. 
We also suggest checking out transcription apps that convert your voice to text in Mac.
iFake SMS
This is probably one of the best iPhone Text Generator apps downloadable from the Android app stores to create iPhone text messages. The best part is – you do not require an internet connection to create fake conversations!
The user interface of this iPhone text generator is easy to understand and smooth, providing an excellent experience for users. Advertisements also do not disturb you while taking screenshots of the created conversations. The app offers various settings to customize conversations and save them to a curated folder in your phone's gallery.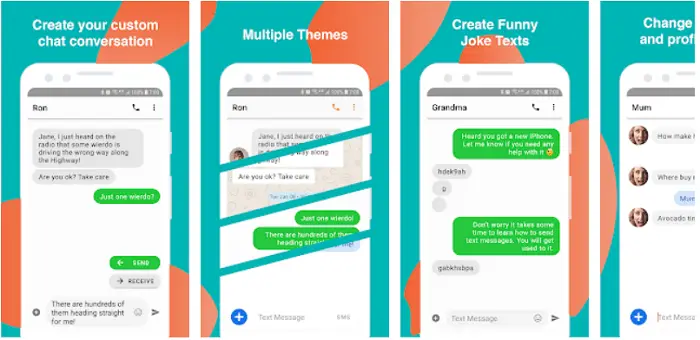 You can share the photos on any social platform via the app, and it also auto-saves the generated screenshots in a folder called screenshots in your gallery. 
iFake Text Message
iFake Text Message is an excellent tool for generating conversations that resemble authentic iPhone texts. With this iPhone Text Generator, you can customize names, battery, signal connection strength, airplane mode, and even connection type. The 'Settings' option has various other add-ons like time, show lock, show alarm, and show does not disturb, blackout the name, and the send button, making it quite a lot of features for users to customize their message.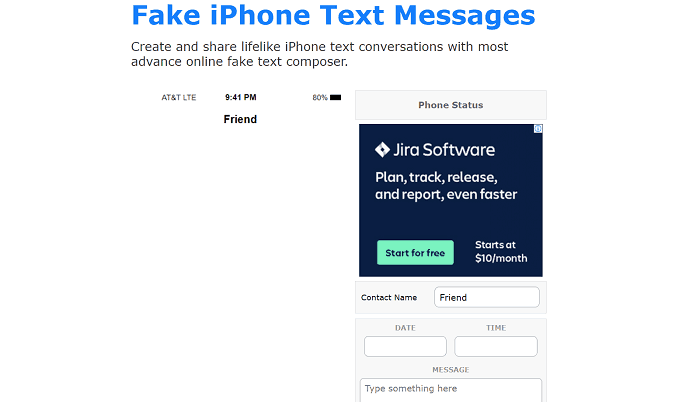 The website doesn't have many pops up. Precisely, nothing can interrupt you while creating your conversation thread. This feature makes it a tremendous and seamless experience for users. 
Visit: iFake Text Message
iPhone Fake Text
This is another simple iPhone text generator that lets you create relaxed conversations and include images for your thread. It lets you change the theme color, signal operator, GPS, battery, signal level, and operator. It also allows you to change the contact name and display. Also, you can add more detail to the conversation thread.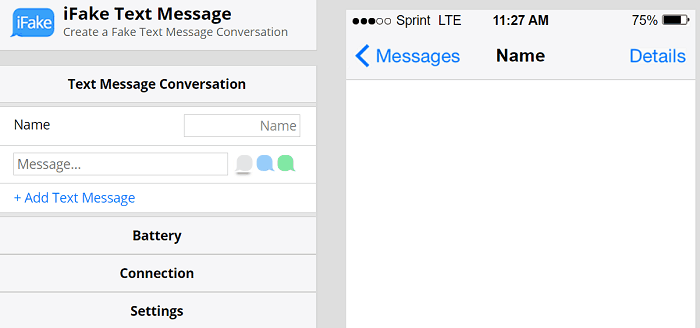 All in all, this is another excellent text generator tool for users. Visit the website and start creating your desired conversations right away!
Visit: iPhone Fake Text
See also: 8 Best Typing Software for Windows 10
FAQS
What is the iPhone text font?
The official text font of the iPhone is Helvetica. It has been used since the first model of 1st generation iPhone launched in 2007. All Apple products, including iPad, macOS, iPhone, Apple TV, etc, use this font as default.
What is the font generator app for iPhone?
On iPhone, you can use the Cool Fonts application to transform essential texts into stylish fonts. They apply on most applications like Instagram, Facebook, Twitter, WhatsApp, etc.
How do I get iPhone fonts on my Android?
To get iPhone fonts on your Android: 1. Download and install a font app from the Play Store. 2. Search for 'iOS' or 'iPhone' fonts within the app. 3. Choose a desired font and install it. 4. Open device settings, navigate to Display > Font style and select the installed font. 5. Enjoy iPhone-like fonts on your Android device.
Can I install a font on my iPhone?
You can install fonts on your iPhone by downloading any font application from the Apple Store. Download the desired fonts from the app, and to access them, follow: Settings>General>Fonts.
Conclusion 
All the picks mentioned above are among the top and most popular ones for 2023. Let us know below in the comments what you think about these iPhone Text Generators and which one was the best according to you!
See Also: Top 6 Best APA Generator Tools to Download
Dedicated group of Computer Engineers making tech updates accessible to all. Our dream is to simplify and share tech news with everyone.