Are you clung in the middle of a creating process where you don't know how to add Font to Gimp? Adding new fonts in Gimp is a simple process, but starters can have trouble with this.
To add fonts to GIMP, first, download the desired font from a trusted website. Next, locate the downloaded file and extract it. Finally, open GIMP and navigate to the "Edit" menu, then select "Preferences." In the preferences window, go to "Folders" and click on "Fonts." Click the "+" button to add a new font folder, navigate to the extracted font files, and select the folder. The fonts will now be available in GIMP.
Do you want to know how to add fonts to Gimp in detail?  Let's find out. Check out other free drawing software in this article.
See also: Free Disney Font Generator | Top 5 Listed For 2023
Gimp
Gimp is a free, open-source graphical designing software creators use to paint and edit images and graphics. It is considered a good alternative to Photoshop, which costs way more than some tools. Even though GIMP didn't create this software for painting, some creators still use it for such projects.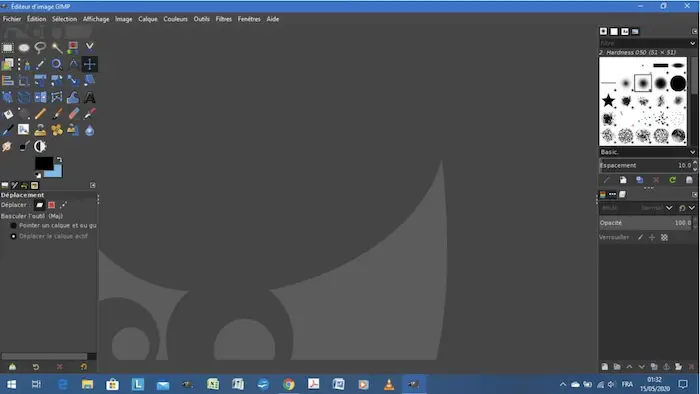 Starting as a digital artist, you might begin with Gimp. Gimp gives you an overview of how digital art software works so that you won't have trouble working with professional software like Photoshop.
See also: 13 Best Free Drafting Software With Pros & Cons (2023 Updated)
How to Add Fonts to Gimp 2
Adding fonts to Gimp on their graphics is pretty standard among creators. Designers want to add distinct fonts to their illustrations to create a unique design for the clients.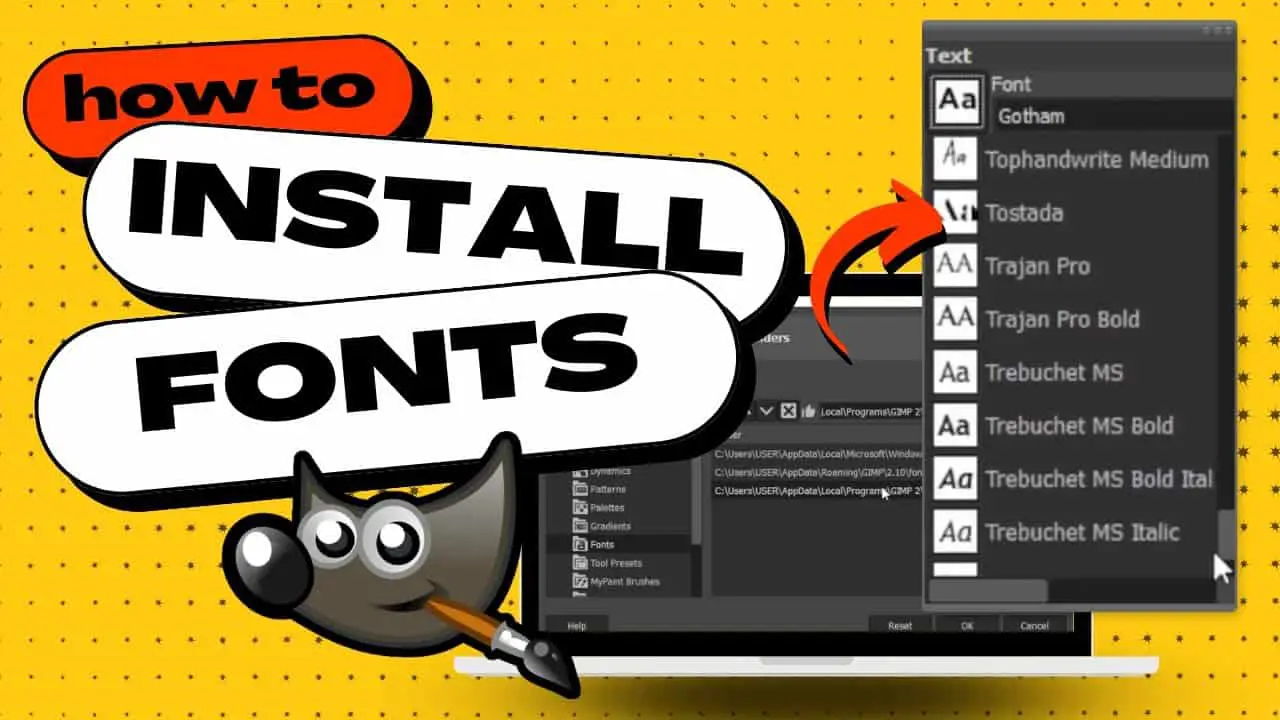 Let us help you install fonts to Gimp:
Download and Extract your onto your System
Firstly, Go to the webpage where you usually download fonts. Let it be any website, as long it is a recommended one.
Secondly, Locate the Font you want to import and download it to your computer. (Make sure you scan the file with a virus scanner for your protection. If you're not downloading from a popular website, there is some possibility you might bring viruses along with you.)
Install your Font
Firstly, double-click on the folder to reveal the contents after extracting your font files. You will witness all the files concerning the Font inside this folder. (Sometimes, the folder will pop up or open automatically once extracted).
Secondly, click on the install button at the top of the folder. The button is denoted with an administrator symbol next to it, so you might have to give the system permission to install it on your system.
Finally, You have successfully installed the Font to your install and are ready to use.
Applications that use OTF (Open Type Font) file type will have the Font in their databases, including GIMP. The Font is automatically added at places, making it easier for users to use.
Find the Font
Finally, we must locate the Font inside the GIMP and use it on your graphics. To do that, first, open the application in the foreground.
Firstly, You will see the front window on your right. If you don't, click on the window tab from the top and navigate to Dockable Dialogues>Fonts. This will bring up the window among your other tools.
Secondly, Your installed Font will show up in this tab if it doesn't, tap on the green button saying 'Rescan all fonts' and wait for the software to scan the SystemSystem for installed fonts.
Finally, your Font will turn up after the scan.
Once the Font shows up, you are free to start using it in your graphics and images.
How to Add Fonts to Gimp macOS
For macOS users, the process is identical. Open Finder, then steer to the folder holding the font file. Double-click to reveal the contents, and click the Install Font button underneath the preview window. Font Book will process it, and it's prepared to use.
Still, the Font is Not Showing up.
Thirdly, Now check if the location in this app is precisely the location where fonts are installed. If not, you may have to change it to the correct location. Or shift the font file to the mentioned location.

A pop-up window will appear where you have to navigate through your computer to find the folder where the Font is installed. Once you reach the location, click on OK.
Now the folder is successfully added to GIMP. Go back to the previous step and rescan the fonts. The downloaded Font should appear in the list. You have successfully learned how to add fonts to Gimp.
Websites From Where You Can Install Fonts for Gimp
There are multiple websites containing thousands of fonts scattered across the internet for you, and you can choose one among them and download fonts to your system.
Here are some of them:
DaFont
DaFont is one of the ancientest and most enormous font sources on the internet, and it has a font for literally any affair you can imagine. The interface is challenging to helm, but proper search tools are obtainable to help you locate what you need.
The only thing to reflect on is that most of the fonts on DaFont are only licensed for personal use, which means you can utilize them for your projects but not for any retail purpose. Be certain to read those licenses and make sure they approve their usage!
Fontspace
Above all, FontSpace proclaims to own over 77000 free fonts in its directory. Moreover, they indeed appear to be more extra than you could ever use in a lifetime.
The organization design is austere, but it would be lovely to combine multiple tags if the Styles section permits you.
Adobe fonts
Adobe Fonts provides a stunning display of typefaces from the top foundries. In addition, with an incredible search tool and extensively customizable previews to assist you in slimming down your options.
All the fonts are licensed for individual and commercial use, which is essential for serious work.
FAQs
What fonts are available in GIMP?
GIMP supports a wide range of fonts. Some recognizable fonts are TrueType, OpenType and Type1. Fonts are useful for adding attractive text to the image. Roboto, Share Tech Mono, Alatsi, Bebas Neue, Beth Ellen, Exo, Graduate, Im Fell Enlish Sc.
How to add fonts to Windows 10?
Firstly, In Control Panel, click Appearance and Personalization. Secondly, click Fonts. You'll now see an extensive library of fonts installed on your computer. Finally, Drag and drop the font file in the font window to install a new font.
Is Dafont safe?
Dafont is safe to use. All their fonts are virus-free and secure to use anywhere and in any software, you can imagine. Just make sure to download reputable fonts. If you don't trust the site, you can always scan for viruses after installation.
How do I add fonts to GIMP Ubuntu?
You need to add the fonts you want to Ubuntu, and then you can use them in Gimp. Download the Font (s) that you like, and once downloaded, you can double click on the font file, which will open Font Viewer; just click on install, and you're done.
Conclusion
In conclusion, your fonts show up as soon as you install them in your system. Therefore, this is the best method you know how to add fonts to Gimp. So, follow the steps carefully and install it from the recommended sites. If not from these sites, scan it for viruses before installing it. Take a look at other graphic designing software if you don't prefer GIMP.
Thank you for reading!
David Carnoy: TechyHost's and CNET's Executive Editor, leading member of the Reviews team since 2000. Covers gadgets, specializes in e-readers and e-publishing.