When you want to draw on a computer, then you have to face lots of difficulties. Some of the drawing tools are free, but some are expensive also.
Here is the best free drawing software in 2023:
Microsoft Paint 3D
Corel Painter
Mischief
Clip Studio Paint
GIMP
In this article, we let you know about the 10 best free drawing software that is completely amazing, and you can easily download them from the link given below. You can choose any software according to your requirement and operating system.
See Also: 7 Free Photogrammetry Software for Windows in 2023
Here's the list of Top 14 Best Free Drawing Software
Here you can find the best list of some of the most well-known and easy-to-use Free Drawing Software. We have ensured to add all possible varieties of options right from very basic ones, so as to help every kind of user with their compatible choices.
Microsoft Paint 3D
We all are well-acquainted with Microsoft Paint. We all have used it once in our life during our childhood. With the release of Windows 10, Microsoft added new software that is the successor of Microsoft Paint, known as Microsoft Paint 3D. With classical MS Paint, you could only work with 2D elements, but with the new Paint 3D, you can work with 2D and 3D elements.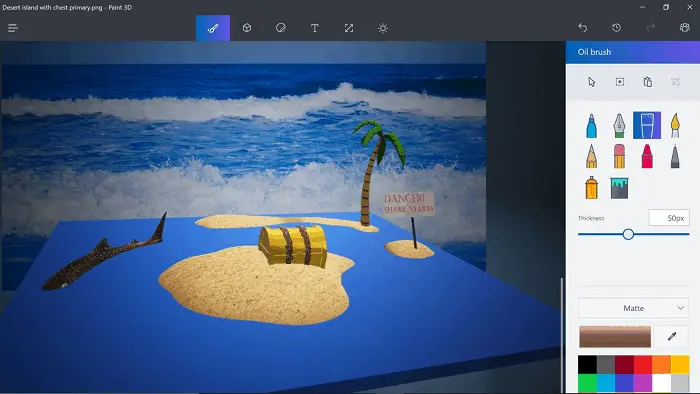 You don't need to download it from any website. If you are a Windows 10 user, you will automatically get it. The cherry on top is that you don't have to pay to use its services. You can easily create and animate the 3D element you have made. The user interface is also straightforward.
Download Microsoft Paint 3D here
Corel Painter
Corel is a renowned company when it comes to making software for graphic designers. One such software that is loved by everyone is Corel Painter. Corel Painter is a free software used to create drawings and paintings. This software is available to both Mac as well as Windows users. If you want to create graphics for your Instagram profile, this is the software. This software will take your drawing to whole different levels with its professional tools.
The user interface is also very interactive. It is not recommended for newbies. This software's professional tools include other color pallets like watercolors, oil pastels, crayons, etc. The developers are continually updating the software and making it more professional. If you are good at digital painting, then do utilize your talent on this software.
Mischief
Don't let the name fool you. Mischief is one of the finest digital painting-creating software. It provides a free version, but you will have to buy this software if you want to use the premium features. This software has gone through several updates after its release. After the latest update, the price of the software was decreased. Now, this software is panel-based, and you can find the tools on your screen.
The canvas is vast and customizable for you to work with even small pixels. You can stretch it as much as you desire. The color pallet is also loaded with great colors. This software also has lots of brushes to use. The new version of this software is worthy of trying.
Clip Studio Paint
You are probably lying if you haven't heard about this famous painting software. Clip Studio Paint is used by professionals to draw their design. This software is used to design Comics, Manga, Magazines, and Animation. Well, now you all know how you can create your superhero comic. Do you know how many people use this software? Over 4 million people! Isn't that enough reason to download the app right away?
The software provides a lot of professional drawing tools and brushes that can be customized. The software is flexible and user-friendly. It is packed with so many features that it is considered the rival of Adobe Photoshop.
Download Clip Studio Paint here
Also read: Top 6 Car Tuning Software to Improve Your Car's Performance
GIMP
GIMP is an open-source image manipulation software that can be used as a drawing tool. It can be used by professionals also. Its painting tool includes various things like brushes, pencils, airbrushes, etc.
It allows you to rotate, scale, shear, and flip a drawing. You can also edit an image by adding effects, objects, texts, etc. You can also use this as a Photoshop. Various file formats like JPG, GIF, BMP, PCX, PDF, MPEG, TGA, PNG, etc. are supported by this application. You can add various fonts to the interface and work with them.
It can work on various platforms like Windows, Linux, and OS X.
Inkscape
Inkscape Illustrator is a kind of drawing tool that allows you to do vector drawing also. It is used to draw on a computer.
Inkscape is used to draw on a computer. Its drawing tools include a paintbrush, pencil, eraser, and various geometrical shapes that help you to make a drawing.
Here you can also use clip art to insert images. You can also use the clone tool, which is an important feature of this tool.
You can add text in different colours, font style and font size, etc. You can also rotate and flip images.
This tool supports various types of file formats like SVG, EMF, PDF, WMF, CCX, etc. It can work on multiple platforms like Windows, Mac OS X, and Linux.
Krita
Krita is one of the Best Free Drawing Software to draw, which can be used by beginners as well as professionals. With the help of the tool available, you can draw simple drawings as well as texture art, illustrations, comics, etc.
Here you can also share your brush set with your friends. One of its amazing features is Brush Stabilizer. This tool supports various types of file formats like XBM, TIFF, PNG, JPG, GIF, GIMP, EXR, CSV, etc. You can also use custom mouse pointers in the tool to make it look better. It can work on multiple platforms like Windows, Mac OS X, and Linux.
MyPaint is the Best Free Drawing Software that is used for painting. It gives you a bunch of brushes with which you can draw and sketch easily. Its drawing tool includes- watercolor, 4H pencil sketch, 2B pencil, rigger, sponge, ball pen, blending, spray, airbrush, etc.
You can also change the hardness, transparency, and size of the brush, pen, pencil, and eraser. It also provides you with undo and redo options.
This tool supports various types of file formats like JPG, PNG, and ORA. It can work on multiple platforms like Windows and Mac OS X.
PictBear
It is also a free drawing software that is easily available online. PictBear can support multiple tabs that allow you to work on multiple projects at a time.
Its drawing tool includes a brush, pen, pencil, eraser, and various geometrical shapes. You can also change the size of the shapes according to your requirement. It also provides you with layer support.
Here you can add text in various fonts, sizes, and colors to your image. It provides you smudge tool that gives your drawing a detailed look. This tool supports various types of file formats like PBX, PCX, tiff, gif, jpg, png, etc.
It is only available for Windows 98, windows me, windows XP, windows vista, and Windows 7.
RealWorld Paint
RealWorldPaint is a drawing and painting software that is freely available online. You can easily download it online. It allows you to create raster as well as vector images.
You can also edit the already-created images. Here you can make GIFs, also. Its toolkit includes brushes, pen, and pencil tools whose size and hardness can be easily changed.
RealWorld Paint provides you with an amazing clone and liquefies tool. It also uses layers that give your drawing a special effect. The tool saves images in SVG and PSD file formats.
It can only work on Window operating systems like Windows 8, Windows 7, Windows XP, window vista, and Windows 2000.
Tux Paint
This drawing tool is specifically for children between the ages of 3 to 12 to improve their artistic skills. But adults can also use it as it has a vast drawing toolbox.
Tux Paint provides you with paint brushes, various geometrical shape tools, various tools to include text into images, and a rubber stamp. It possesses a simple graphical user interface, and that's why it is very popular among kids.
It provides support to numerous operating systems like Windows and Mac OS X.
Smooth Draw
Smooth Draw is also a freely available software used for drawing purposes. Here you can draw whatever you want on a canvas which is already provided you with this tool. Here you can fill the canvas with the background colors. As with other tools, it also provides you with brushes, pens,s, and pencils to draw images.
Here some stickers are also available that give your painting a different look. It also supports layers and provides you smudge tool to give your sketch a realistic view. Smooth Draw saves your drawing as png, BMP, jpg, gif, tiff, etc.
It can only run the window operating system.
Drawpile
Its main feature is that it allows multiple users to draw simultaneously. Its tool lit is similar to other drawing tools. Drawpile also uses a layer feature. In this, to start drawing, you have to first create a session and then join that session.
Its implementation is on Windows, Linux, and OS X.
Drawing 4 Kids
Drawing 4 Kids is a Free Drawing Software. The design for this app is meant mainly for kids. It teaches how to control the mouse. Its tool kit is very simple and similar to other drawing tools. It provides stamps and stickers, and it also has some built-in drawings that kids can color.
It can only work on the Windows operating system.
Conclusion
Here are some of the best Drawing software for you to get all your drawing work done in the easiest way possible. Have a look at all of them and choose the best suitable one for yourself.
See Also: Free Disney Font Generator | Top 5 Listed for 2023
Hey everyone! We are a group of Computer Engineers who have dedicated their lives to tech. It's our dream to make sure that all the updates in the tech world reach everyone is simple words. Hope you have a good time on the blog! 🙂