The media player Kodi does not need an introduction, but if you don't already know, Kodi is an open source media center software or more simply what may be called a home entertainment system. It was previously known as XBMC (Xbox Media Center). This compelling software can open almost any type of audio, video and image format. Plus, it lets you stream live TV, movies, shows, sports, and more. It also enables you to organize all your media in a streamlined way and supports various official and third-party add-ons (all thanks to a fantastic community). However, if you have only started to use Kodi on PC, chances are, you'll know that it's not the most accessible media center to use.
See Also: Best 10 Kodi Addons You Can Install Right Now In 2023
The various features and options in Kodi can be a little over the top. If you have used Kodi in the past, but uninstalled it because you found the setup process to be quite harsh, we are here to the rescue. We, at Techyhost, bring you a complete step-by-step guide on how you can use Kodi on PC in the best and fastest way possible.
Simplest Way to Install & Use Kodi on PC
One of the good things about Kodi is that its available for almost any platform you can think of, which includes – macOS, Linux, Windows, Android, iOS, etc. You can just head over to Kodi's official download page, where you can download Kodi for windows and Use Kodi on PC.
We will show you how to install kodi on windows. When you install Kodi media player for the first time, it will not contain any content. This calls for setting things up manually.
See Also: Kodi Genesis Not Working? Here's How to Fix It
User Interface in Kodi
Although Kodi's interface may not seem very easy to handle, it is very functional on the bright side of things. The Kodi homepage offers sections for Videos, Pictures, Music, Programs, etc.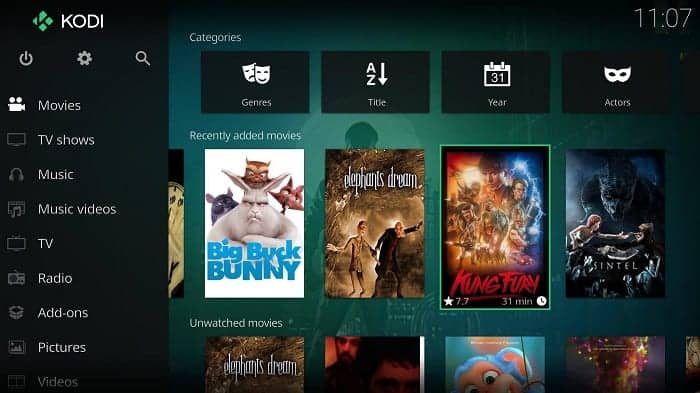 You can just hover over each of these options with your mouse for more features like add-ons, system info, files and settings and so on. It's easy to use Kodi on PC.
At the bottom left corner of your Kodi homepage, you will find the "favorites" button, which displays the add-ons and media content that you may have added to your Favorites. You will also be able to see a "ShutDown" button, which lets the user exit Kodi.
After entering any of these mentioned sections, you will find a "back" button on the bottom right and a sidebar which appears on the left. This lets you select the view and access other miscellaneous options available.
If you are among the people who love using keyboard shortcuts to navigate your way around a computer, you will find Kodi to be very entertaining.
See also: 10 Best Medical Apps for Doctors For 2023 [Ranked]
Settings and Options in Kodi on PC
Creating Locked Profiles
You are offered the ability to develop locked profiles when you use Kodi on PC. The Kodi homepage features the various sections and sub-sections for Videos, Music, Pictures, Programs, and System.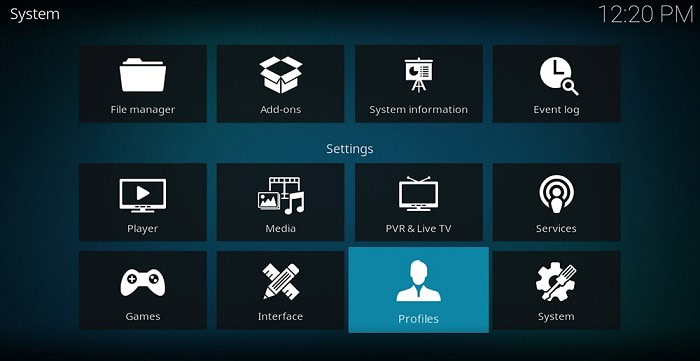 Before you proceed, head over to the Settings page and play with the multiple options, you should consider creating a profile or just set a lock on the Master profile before you Use Kodi on PC. This way no one else will obtain access to your content. This can be done by going to System -> Profiles. You can enable the "login" screen and set lock preferences for your profile.
See Also: 9 Best Video Converter Software For Windows
Preferences
Appearance: In this section, you get to change the skin of the kodi for pc interface to revamp its looks by several levels. You can choose from a list of preinstalled available skins. Alternatively, you can also download new skins for Kodi. You can also change the fonts, sounds, startup window, edit the RSS Feed that scrolls down automatically at the bottom, change the region and language and much more.
Video: Video section packs various options for a video library, acceleration, video playback, subtitles, discs, etc.
TV: Just like Video, you can configure various TV settings here like video playback, parental control, power saving, recording, and much more.
Music: The Music options let you set up the library the way you want. You also get some advanced playback options, file lists, etc.
Pictures: Here, you get to change the file listing settings and configure the way of the slideshows.
Weather: You can just choose a weather service to show you weather-related information on the Kodi homepage. In order to do this, you will need a weather add-on installed first.
Add-ons: If you really plan to Use Kodi on PC extensively, you will be visiting the Add-ons Settings page almost all the time. In here, you will find options to install the add-ons from ZIP files or repositories, whichever method you may choose.
See Also: How To Watch Pay-Per-View On Kodi: Tips And Tricks (2023)
Choosing Settings Level in Kodi
You can head over to the System->Settings and enter any of the available options and select the "Settings Level." These levels range from Basic, Standard, and Advanced to Expert.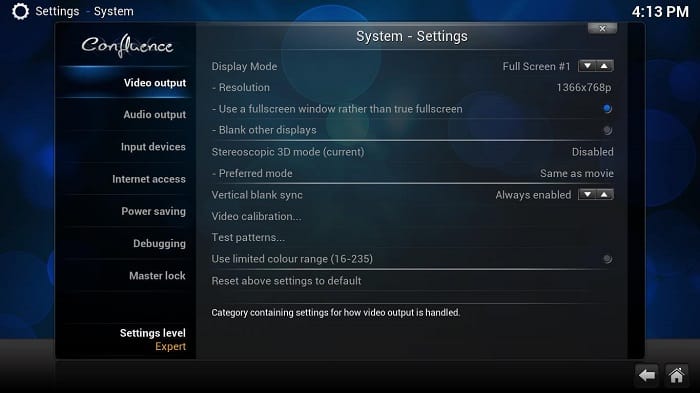 Services: Anything from streaming your Kodi content on to a TV or controlling your Kodi system via a smartphone – it's all in here.
System: The System Settings pack in a lot of necessary features. You can configure the video & audio output, enable power saving mode, set up a master lock, and more. It is finally time to move on to the real deal, the content itself.
Accessing Locally Stored Media on your Kodi
If you have a lot of videos, TV shows, music, podcasts, etc. stored on your device locally, you can easily access it with Kodi windows. First, you will need to add all of your Media to Kodi.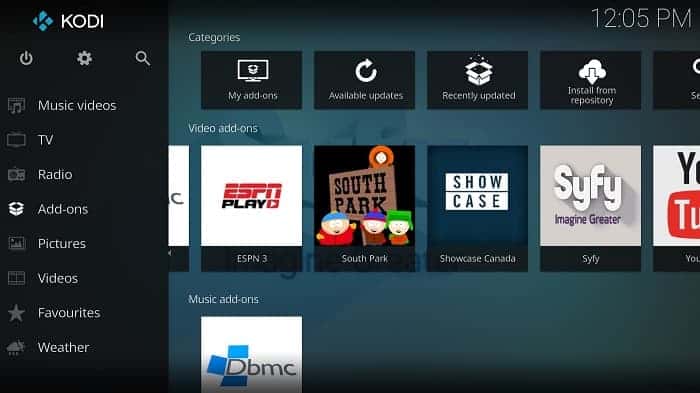 How to Add Media to Kodi
 Place your mouse over the Pictures, Videos or Music section from the home page and then click on Files.
Tap on "Add Music" or whichever section you have selected.
Enter the path address to where your media is stored on the device.
After adding the path, all of the media from that folder will be available for you to play in your Kodi. While you can add as many routes as you want, we recommend you to store all your media files in single unified folders for a better and more organized experience with the application.
Accessing your local media from the media application is quite refreshing while you use Kodi on PC, we agree. But the real fun lies in various Kodi add-ons and repositories that you will be using from time to time.
How to Install Repositories and Add-ons in Kodi on PC
Before we learn how to setup kodi, let us first try and understand what a repository means. Repositories are just a group of add-ons that can be installed in Kodi.
This means you can access the various add-ons it offers with ease. Kodi provides its very own official add-on repository. Official Add-ons for Kodi can be installed and enabled inside Kodi directly.
Unofficial add-ons for Kodi can be installed through different sources or repositories. You will have to add them manually or through ZIP files that are available on kodi download for windows 7.Do you know you can now install Netflix on Kodi, check this out to know more about it.
See Also: Simple Steps to Install Xbox Games Faster | Updated 2023
Installing Official Add-ons For Kodi
Go to Settings ->Add-ons. Click on "Install from repository" and select "Kodi Add-on Repository."
Under this option you will find different types of add-on categories like music, lyrics, look & feel, subtitles, video and more.
Select an add-on type. For instance, you can click on Video Add-ons and then click on an add-on of your choice. Hit "Install" for your add-on to download. You should see an "add-on enabled" notification on the screen.
Installing Third-Party (Unofficial) Add-ons for Kodi
Few of the best unofficial Kodi add-ons are a part of repositories like Xfinity, Superrepo, Fusion, and more. First of all, let's see how one can install a repository in Kodi. To install a repository to Use Kodi on PC, you will have to add its source. Every source comes with its unique link, that you can find easily through a quick Google Search. For example purposes, we will be showing you how to Install the Fusion repository.
Go to System -> File Manager and then double click on "Add Source."
Enter the link source of Fusion, and name of the repository that you want.
Head over to Settings->Add-ons and click on "Install from ZIP." Over here you can check out the sources that you have added. Select "Fusion" or whatever name you may have given to the source. Now, check out the various add-ons and repositories available through that source.
It is usually recommended to first install the Add-on installer add-on from "start-here," since it brings some great add-ons that you can quickly install. Just click on an add-on or repo to install it. After the Add-on installer is installed, you will see a notification that says Add-on installed. You can also install a repository from the "xbmc-repos" folder included in Kodi.
To install an add-on from the repository, click on "Install from Repository" and go to the repository that you want to install the add-on from. Some add-ons may also be available as ZIP files on the internet. Download them and then, install the "Install from ZIP" option.
See Also: 9 Best Free Mac Media Players to Download in 2023
Conclusion
Did you like our guide on how to use Kodi on PC? Do you think that we left something out or something you want us to expand on? Feel free to leave your suggestions in the comments thread below. Explore the settings in Kodi by yourself today and start watching your favorite media content! We hope after reading this guide you're definitely up to Use Kodi on PC. Furthermore, SportsDevil is the most well-known third-party Kodi add-ons , click here to know more.
Hey everyone! We are a group of Computer Engineers who have dedicated their lives to tech. It's our dream to make sure that all the updates in the tech world reach everyone is simple words. Hope you have a good time on the blog! 🙂