In this step-by-step guide, we'll show you how to connect Sonos with Apple TV and the advantages of doing so. By establishing this seamless connection, you'll experience enhanced audio quality and greater flexibility and convenience in your home entertainment setup. Join us as we walk you through the straightforward steps, whether you have a Sonos soundbar or standalone speakers, to elevate your home theater experience with the immersive audio synergy of Sonos with Apple TV.
First, to connect apple tv to Sonos, ensure you have an HDMI cable, the Sonos Controller app, and a TV with an HDMI connector. Depending on your Sonos model, use HDMI ARC or AirPlay to link your Sonos speakers to your Apple TV, enhancing your home theater audio experience. With these basic instructions, let's start our journey on how to connect Sonos to Apple TV. To learn more about Sonos, click here.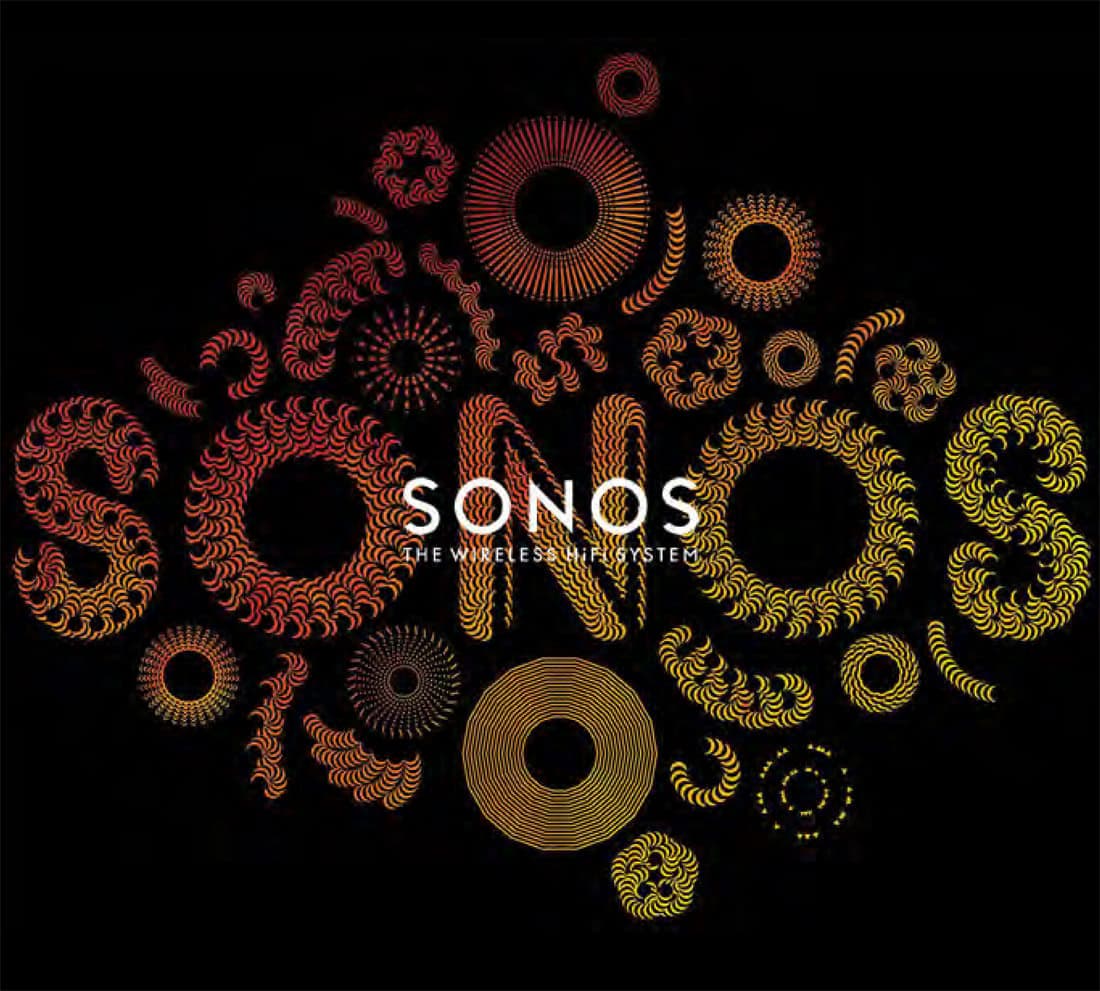 Discover how to elevate your home entertainment by seamlessly connecting Sonos speakers to your Apple TV. In the following sections, we'll unveil the effortless steps and invaluable tips that enable you to enjoy superior audio quality, wireless convenience, and multi-room harmony. This guide promises to improve your audio experience and turn your home into an immersive entertainment zone, regardless of whether you're an enthusiastic gamer, movie buff, or music lover. You might want to check this article on the Z-wave compatibility with Alexa.
Visit: TrySonos
Prerequisites for Connection
There are a few things to think about before starting the process of connecting Apple TV to Sonos. By making sure you have these things ready, you may speed up setup and ensure a seamless integration:
Sonos Controller App: Verify that the Sonos Controller app is installed on a suitable device before moving on. The connection between your Sonos speakers and Apple TV will be made via this app.
TV with HDMI Port: Make sure the HDMI port is present on the television you're using. Establishing a physical connection between your TV and Apple TV will require using this port.
HDMI Cable: If you want to hook your Apple TV to your speakers, you'll need a cable. Make sure you have a sturdy HDMI cable available for use.
These prerequisites will significantly help you in the process of how to connect Sonos to Apple TV. Here is a guide on linking Bose Speakers.
Can Apple TV be Played Through Sonos Speakers?
Your home entertainment system might sound better when using Sonos speakers with Apple TV. Depending on the model of your Sonos speaker, the following combinations of techniques can be used to achieve this compatibility:
Sonos Soundbars (e.g., Sonos Arc or Sonos Beam): Using a Sonos soundbar is the easiest method. These soundbars are directly connected to your TV through HDMI ARC or optical audio. Apple TV's audio will likewise be sent through the Sonos speakers after the Sonos soundbar has been selected as your TV's audio output. If your Apple TV content is compatible with it, the Sonos Arc, in particular, offers cutting-edge audio codecs like Dolby Atmos to improve your audio experience further.
Standalone Sonos Speakers: You can still use AirPlay 2 to wirelessly connect your Apple TV even if you only have solo Sonos speakers (such as the Sonos One or Sonos Five) and no Sonos soundbar. Select the AirPlay icon in the Apple TV settings, then select your Sonos speakers as the audio output. As it's not a persistent connection, this setup can require you to repeat the procedure every time you use your Apple TV.
Using AirPlay with Sonos and Apple TV:
AirPlay 2 offers a convenient way to stream audio from your Sonos speakers to your Apple TV, creating a seamless audio experience. Here's a complete, quick, and easy guide on how to set up and use AirPlay 2 for this purpose:
Prerequisites:
Before you start setting up your Sonos with Apple TV, you need to make sure of these two main points: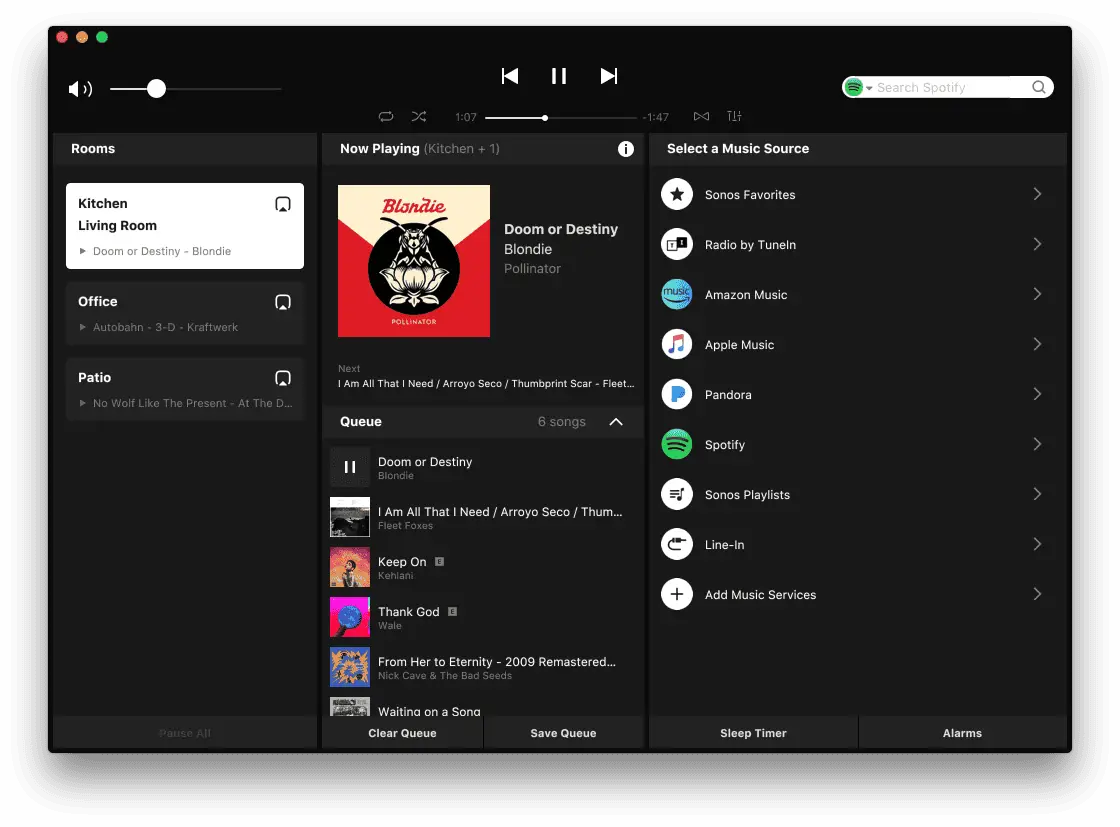 Ensure that your Sonos speakers and Apple TV are connected to a shared Wi-Fi network and not separate.
Also, confirm that your Sonos speakers support AirPlay 2.
Setting Up AirPlay on Sonos:
Follow these easy instructions to set up AirPlay on Sonos.
Launch the Sonos app on your smartphone.
Tap the "Settings" icon.
Select "System."
Choose "AirPlay."
Connecting Sonos to Apple TV: 
Establish that your Sonos speakers are powered on and linked to the same Wi-Fi network as your Apple TV.
Go to the home screen with the Apple TV remote.
Swipe down from the top-right corner of your Apple TV's screen (for newer devices) or hold down the TV button on your remote control (for older models) to access the Control Center.
Find and tap the AirPlay icon in the Control Center.
A list of available AirPlay-compatible devices, including your Sonos speakers, will appear. Choose the Sonos speaker that you want to utilize to output audio.
Your Apple TV will stream audio to the selected Sonos speaker, enhancing your home theater experience.
Different Ways to Connect Sonos to TV:
Several methods suit various setups and preferences when integrating your Sonos speakers with your TV. Each approach offers distinct advantages, enhancing your home audio experience. Here's an overview of the different connection methods:
 HDMI ARC (Audio Return Channel):
Compatibility: Suitable for Sonos soundbars like Sonos Arc and Sonos Beam.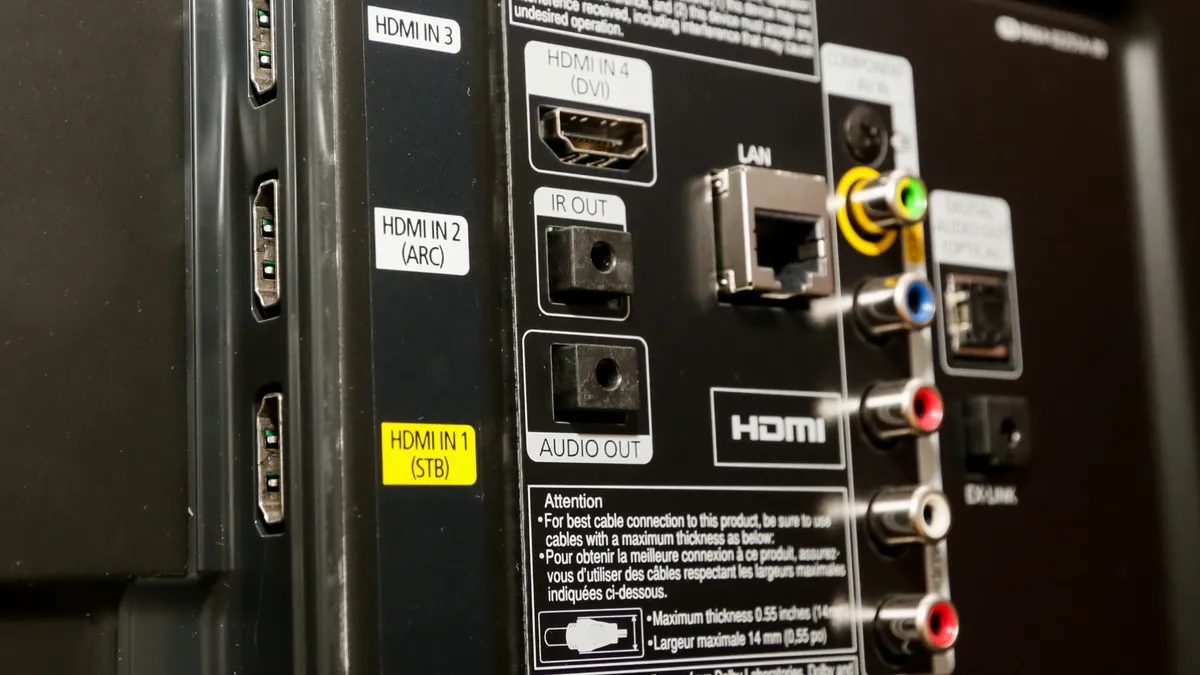 How It Works: HDMI ARC is a two-way communication channel that allows audio and control signals to pass between your TV and Sonos soundbar through a single HDMI cable. When you set your Sonos soundbar as the TV's audio output, it automatically receives audio signals from the TV.
Benefits: Provides high-quality audio, supports advanced audio formats like Dolby Atmos (on compatible soundbars), and simplifies control as your TV remote can adjust the soundbar's volume.
Digital Optical Connection:
Compatibility: Mainly used with older Sonos soundbars like the Sonos Playbar and Playbase.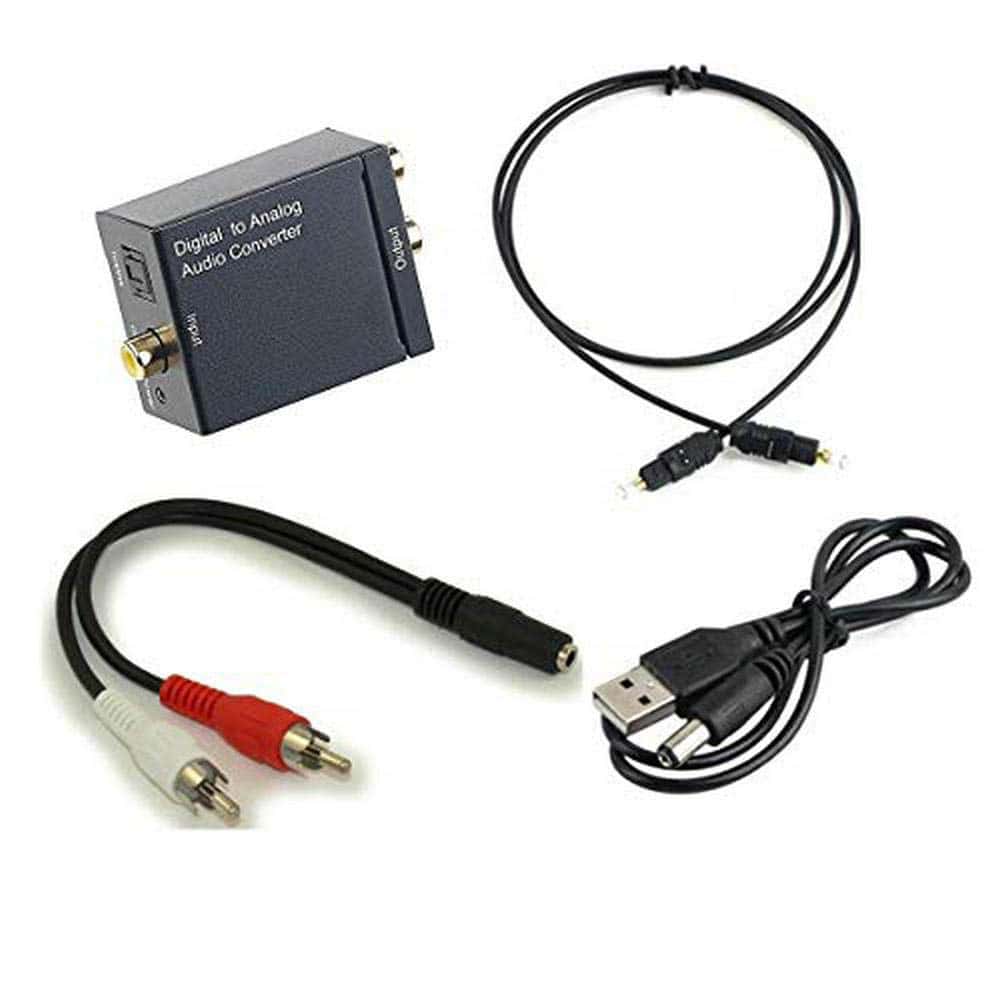 How It Works: Using a digital optical cable, this method connects your Sonos soundbar to your TV. Audio signals are transmitted through this cable, allowing the soundbar to reproduce the TV's audio.
Benefits: Offers good audio quality, especially for older TV models without HDMI ARC support.
Compatibility: Used with speakers like Sonos Five.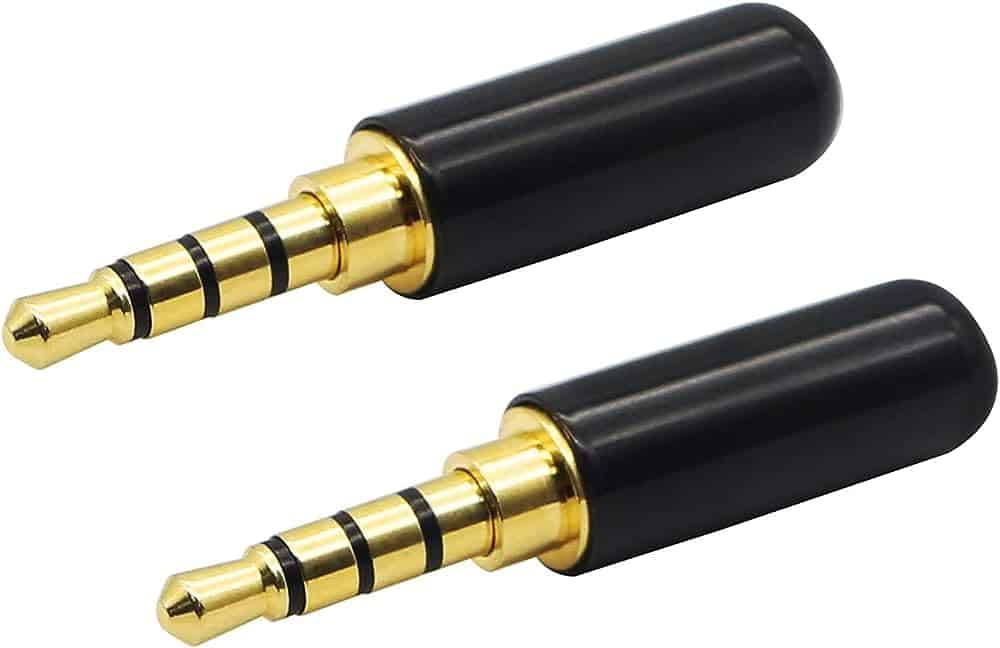 How It Works: Connect Sonos Five or other compatible speakers to your TV's headphone jack using a 3.5mm audio cable. The TV's audio is then played through the Sonos speaker.
Benefits: Simple and direct connection for TVs with a headphone jack, but may provide a lower audio quality compared to other methods.
See also: What Key Features Should You Look For When Choosing A Proxy?
Wirelessly Connecting Sonos to TV:
Wirelessly connecting your Sonos speakers to your TV simplifies your home entertainment setup and elevates your audio experience. Sonos offers a wireless system that seamlessly integrates with your TV, ensuring convenience and high-quality sound. Here's an explanation of the wireless connection process and the benefits of Sonos's wireless system:
Wireless Connection Process:
Sonos has revolutionized the way we connect speakers to our TVs. Unlike traditional setups that require a web of cables and complex configurations, Sonos offers a wireless solution that is both user-friendly and efficient:
Benefits of Sonos's Wireless System:
Now that we have talked about the wireless connection of Sonos with Apple TV let's discuss some benefits of this system.
Wireless Flexibility: Sonos allows you to place your speakers anywhere in your room without the constraints of cables. This freedom will let you create an immersive soundscape that complements your TV viewing experience.
Ease of Use: The Sonos app makes it simple to set up Sonos speakers. Even those unfamiliar with wireless audio settings may efficiently finish the procedure thanks to the user-friendly UI.
Multi-Room Audio: Sonos's wireless system extends beyond your TV. You can connect multiple Sonos speakers throughout your home, creating a harmonious audio network that seamlessly streams music and other audio content.
Control at Your Fingertips: The Sonos app grants centralized control over all connected speakers. Adjust volume, select audio sources, and easily customize your audio experience.
High-Quality Sound: Sonos speakers are known for their exceptional sound quality, delivering crisp, clear, and immersive audio whether you're watching a movie, listening to music, or playing games.
Connecting Sonos to TV Using Bluetooth:
While Sonos primarily relies on Wi-Fi for its connectivity, some Sonos speakers, such as the Move and Roam, offer Bluetooth capabilities, allowing you to connect them to your TV wirelessly. Here's how to pair these Sonos speakers with your TV via Bluetooth, step by step:
Connecting Sonos to TV via Bluetooth:
 Activate Bluetooth on Sonos Speaker:
The Bluetooth/Wi-Fi switch for the Sonos Move may be found on the speaker's rear. Wherever the Bluetooth sign is displayed, press it. The LED signal will change to blue.
For the Sonos Roam, put it in Bluetooth mode by holding the Bluetooth button until the LED flashes and the speaker makes a sound.
Turn On Bluetooth on Your TV:
Choose Bluetooth in the settings on your TV.
If it has yet to be done previously, turn on Bluetooth capabilities. For more instructions on enabling Bluetooth on your TV, consult the user manual.
In your TV's Bluetooth settings, you should see the Sonos speaker (Move or Roam) listed as an available device.
Choose the Sonos speaker from the available options to start pairing.
Your TV will establish a Bluetooth connection with the Sonos speaker.
Adjust TV Audio Settings:
After successfully pairing, you may need to configure your TV's audio settings. Go to the TV's audio output settings and select the Sonos speaker as the audio output source.
Play audio or video on your TV to ensure the audio is now routed through the Sonos speaker. The Sonos speaker should be emitting the sound from your TV.
See also: Haikyuu Watch Order: Guide To Enjoy Every Episode 2023
Using the Sonos App for TV Connection:
You may improve your home audio experience by connecting your Sonos speakers to your TV with the help of the Sonos app, which is simple to use and effective. Follow this step-by-step guide to utilize the Sonos app for a seamless TV connection:
Connecting Sonos to TV via the Sonos App:
You must follow these steps to secure your Sonos App to the TV.
Open the Sonos App: Open the Sonos Controller application on your smartphone.
Access System Settings: Navigate to the "Settings" section of the app or tap the "Settings" icon.
Set Up a New System: Choose "Set up a new system within the app's settings."
Sonos Account Login: If you already have a Sonos account, log in. If not, create a new account.
Add Sonos Speakers: You can follow the instructions in the app to connect your Sonos speakers to the network. Follow the prompts to identify and add your Sonos speakers.
Connect to TV:
Once your Sonos speakers have been properly added, you can connect them to your TV.
Select the room where your TV is located in the "Rooms" section of the Sonos app.
Under the room settings, tap "TV" or "Line-In."
Configure the TV connection according to the on-screen directions.
This may involve using the provided audio cable or choosing an appropriate input source.
Register Your Device: Complete the setup process by registering your TV as a source in the Sonos app.
Test the Connection: Play audio or video on your TV to confirm that the sound is now routed through your Sonos speakers.
Benefits of Using a Bluetooth Transmitter with Sonos
As we are already discussing how to connect Sonos to Apple TV, we could see some of the advantages of Sonos and Apple TV in Bluetooth transmission connection. While Sonos primarily relies on Wi-Fi for connectivity, incorporating a Bluetooth transmitter into your setup can offer several advantages, enhancing your overall audio experience. Here's an overview of the benefits and some recommended Bluetooth transmitters for Sonos:
Advantages:
Recommended Bluetooth Transmitters for Sonos:
Avantree Oasis Plus Bluetooth Transmitter: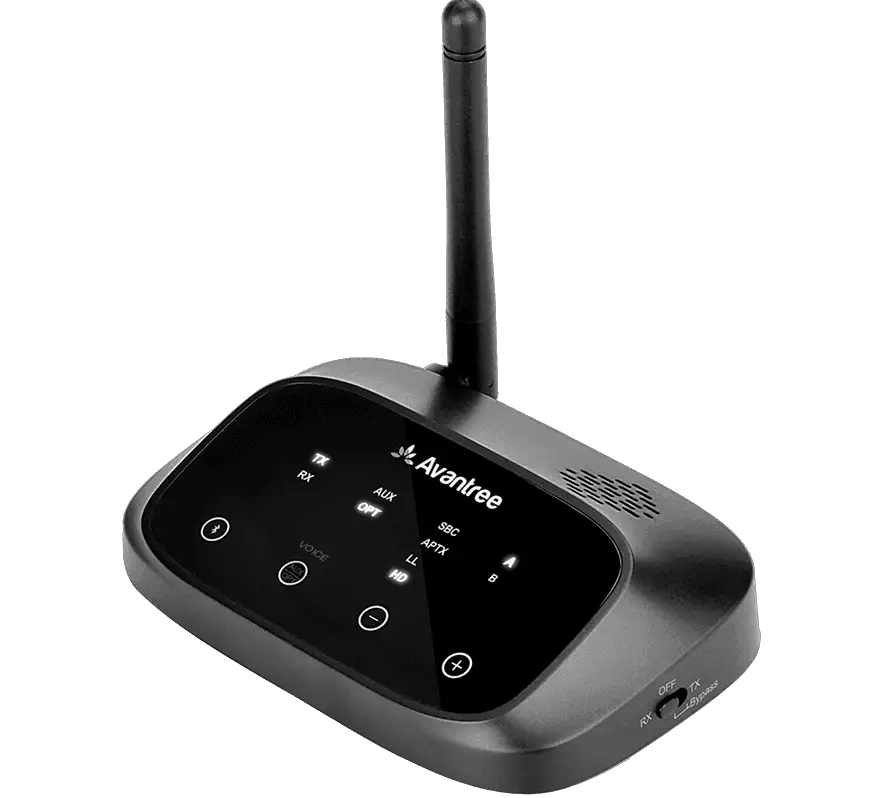 aptX low latency and aptX HD are supported for minimal audio delay and good sound quality.
It is perfect for multi-room audio systems because it connects to two Bluetooth headphones or speakers simultaneously.
Features both optical and RCA audio inputs for versatile compatibility.
1Mii B03 Long-Range Bluetooth Transmitter: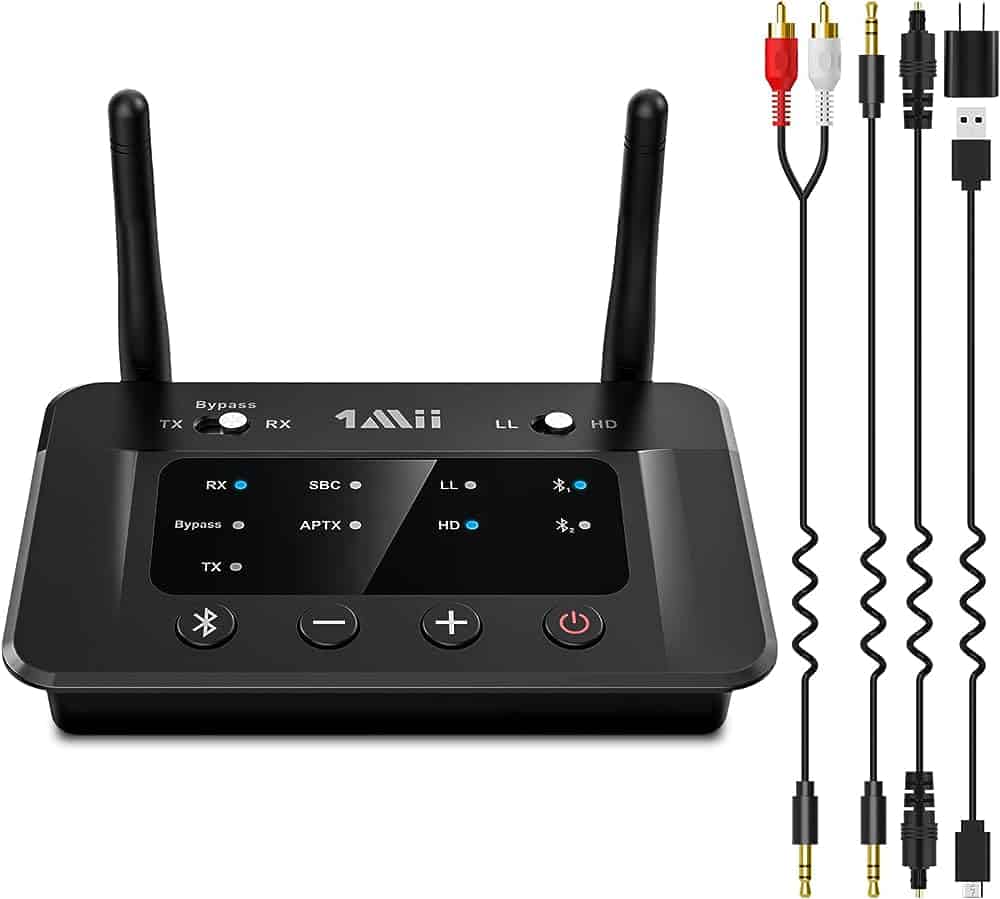 Its expanded Bluetooth range allows it to maintain a connection even in more significant areas.
Low latency aptX support for faster audio.
Features multiple audio input options, including optical, RCA, and AUX.
TaoTronics Bluetooth 5.0 Transmitter and Receiver: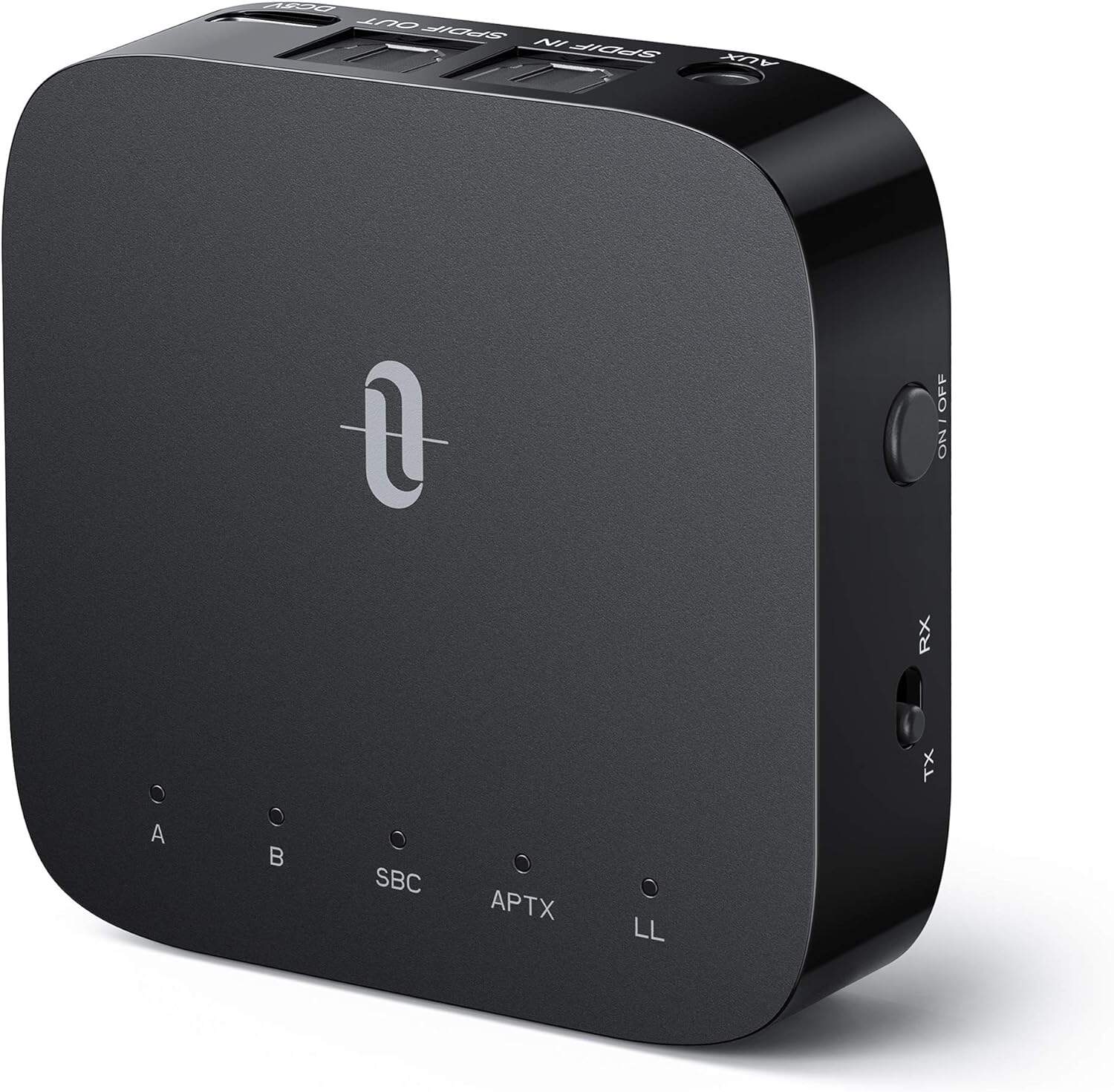 A versatile device that can work as both a transmitter and a receiver.
Bluetooth 5.0 technology for improved connectivity and sound quality.
It supports aptX low latency and can connect to two devices simultaneously.
AirPlay 2 Compatible Sonos Speakers
Sonos has expanded its compatibility by integrating AirPlay 2 into select Sonos speakers. Thanks to this connection, You may stream audio to your Sonos speakers from your Apple devices. Here's a list of Sonos speakers that are compatible with AirPlay 2:
See also: How To Fix-Slack Is Trying To Add A New Helper Tool On Mac
FAQs on how to connect Sonos to Apple TV
Can I connect multiple Sonos speakers to my Apple TV?
Yes, you can connect multiple Sonos speakers to your Apple TV. Sonos speakers with AirPlay 2 compatibility can be grouped in the Sonos app, allowing you to simultaneously play audio from your Apple TV on multiple speakers. This creates a surround sound or multi-room audio experience, enhancing your entertainment setup.
Can I use my Sonos Beam as a soundbar for my Apple TV?
Absolutely! The Sonos Beam is a versatile soundbar that can be used with your Apple TV. For a smooth audio experience, plug it into your TV using an HDMI ARC (or eARC) connection. The Beam enhances your TV's audio quality, offering clear dialogue and immersive sound for movies, shows, and games.
How do I set up multiple Sonos speakers with my Apple TV?
To set up multiple Sonos speakers with your Apple TV, ensure that all the Sonos speakers are AirPlay 2 compatible. In the Sonos app, create a speaker group that includes all the desired speakers. Then, when using your Apple TV, select this speaker group as the audio output source.
Can I use non-Sonos speakers with my Sonos Beam as surround sound?
While Sonos Beam is designed to work seamlessly with other Sonos speakers, it can also be paired with non-Sonos speakers as surround sound components. To achieve this, connect the non-Sonos speakers to a Sonos Amp or Sonos Connect: Amp.
Conclusion:
In this comprehensive guide on how to connect Sonos to Apple TV, we've explored the seamless process of connecting Apple TV to Sonos, unlocking a world of audio enhancements for your home entertainment. The benefits of this integration are undeniable, offering an unparalleled audio experience that complements your favorite movies, TV shows, music, and games.
Connecting Sonos to Apple TV is a gateway to a world of immersive audio, transforming your home into an entertainment hub. It's an investment in superior sound, effortless control, and a dynamic home audio experience that will elevate your enjoyment of every movie night, gaming session, or music-listening session. Embrace the future of home entertainment by uniting Sonos and Apple TV, and prepare to be captivated by the power of exceptional audio.