Car tuning is a process of optimizing the car to help it perform a distinct set of features varying from the original setup. The car tuning software mostly involves modifying the engine and the other management systems of the car to increase the power output. Also, additional changes are made to enable the vehicle to handle such power, including stiffened suspension, widened tires, better brakes, improved steering, and transmission modifications. 
See Also : 5 Best System Monitoring Software You Must Try for Windows in 2020
The 6 of the Best Car Tuning Software to Use in 2022
Below are some of the best car tuning software you must try using for once in your life.
PrecisionCodeWorks ECU Remapping & Tuning Software
PrecisionCodeWorks is one of the best car tuning software if you don't have much time or knowledge to code the computer yourself. This car tuning software simplifies and automates the Engine Control Unit (ECU) remapping process. You need to read and upload the original ECU file, select the modifications you want to make, and PrecisionCodeWorks will send you a new build in a matter of seconds. 
One of the disadvantages of this software is that it works on a credit system. Each new build costs credits and so it is not very useful in case you are working with multiple vehicles. You are also limited to the build options as the software does not give the freedom to manipulate the tables yourself.
Hence, this software is better for beginners rather than professionals. Although it gives you less freedom, you don't need to worry about messing up the ECU.
Visit : PrecisionCodeWorks
Hypertech 32501 Max Energy Power Programmer
 Hypertech is one of the best car tuning software that has all the functions you need to improve the performance of your vehicle. The software focuses on adjusting the speedometer for a different tire radius and rear end gears. It is a usual problem for those switching on to non-stock wheels that could result in accidental speeding if not recalibrated using software like the Hypertech. 
See Also : 5 Apps like Uber for Your Instant Transportation in 2020
Although it can perform custom tune-up of your vehicle, it is also good at speedometer calibrations. It is one of the best software for adjusting tire sizes and can be done very easily by an average tech-savvy driver as well.
Visit : Hypertech 
See also: Best Car History Report Generator Tools Of 2022 [Complete Guide]
DiabloSport I2030 inTune i2 Tuner
DiabloSport I2030 is loaded with a range of performance car tunes to improve fuel efficiency. Also, it increases the horsepower of your car. Inspite of the fact that it is a car tuning software, it also acts as a diagnostic tool to remove error codes and for looking up log vehicle data. The i2 Tuner has the power to retrieve any information related to the car's Engine Control Unit (ECU). For an average car owner, the 'Easy Tune' feature of the i2 Tuner will increase the performance at a click of the button.
 It is one of the best custom tune programmers for those who want to go for more complicated alterations. Also, the tuner has excellent compatibility with Windows and iOS over WiFi connections. 
Visit : DiabloSport
Viezu K-Suite
The Viezu K-Suite includes two powerful car tuning programs. It has several helpful features that make it easier to remap any ECU. The Vehicle List and the Protocol List are the two useful references of Viezu K-Suite. The Vehicle List shows all the supported vehicles and recommends specific tuning suggestions. In contrast, the Protocol List gives you all the necessary information related to ECU, along with accessories you will require for tuning it.
The KESS program in the Viezu K-Suite is one of the most exclusive pieces of remapping software you will ever find. Another program, K-TAG, is available for guided programming. Hence if you are looking for functionality and usability, simultaneously in your car tuning software, then Viezu K-Suite is the one for you.
Visit : Viezu K-Suite
MTune PC-Software
MTune PC-Software is easy to use owing to its simple interface. Besides, a local autotune function, it features a live tuning that gives the users a one-click option for accessing real-time data. The advanced features in MTune are better than other ECU tuning software because of its flexible output systems.
See Also : The 5 Best Overclocking Software for GPU, CPU & RAM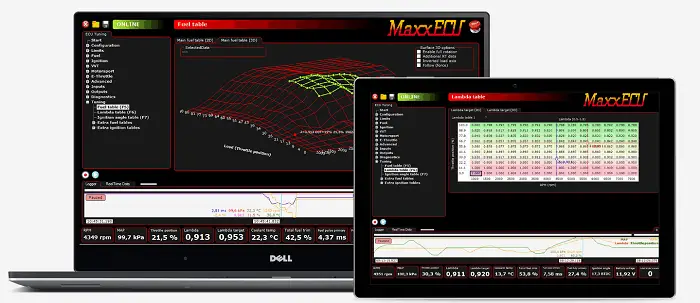 However, remember that this car tuning software is only available for Windows 7 and 10 systems. Although, they offer an MDash Android app for non-Windows users.
Visit : MTune PC-Software
EcuTek
EcuTek's tuning suites are available for seven car manufacturers that include popular brands like Ford, BMW, and Honda. One of the best things about this car tuning software is fast and efficient. It also has all the safety features of modified parameters that limit the chances of any unintended damage. EcuTek is excellent for optimizing engine performance after you make modifications.
All the maps support OEM reading. Hence you don't have to worry about compatibility issues.  However, this program is available for professionals, and its interface assumes a certain level of knowledge. Beginners may find navigating this software confusing.
Visit : EcuTek
Conclusion 
So, what are you waiting for? Go through these above options and choose the suitable car tuning software for yourself! Don't forget to visit us for more content!
Check out these cool car gadgets if you want to add some style to your car.
See Also : Top 6 Fan Control Software to Increase CPU Fan Speed-tuning
Hey everyone! We are a group of Computer Engineers who have dedicated their lives to tech. It's our dream to make sure that all the updates in the tech world reach everyone is simple words. Hope you have a good time on the blog! 🙂