Over the past few years, some of the best overclocking software gained popularity through high graphics games, high-resolution videos, and billions of rows of data. Who wouldn't love improving the performance of a PC beyond its assigned best without even spending a single penny? And that is why, in this article, we will be discussing more about the best overclocking software that you must use to improve the configurations in your PC which includes GPU, CPU, and RAM. However, if you are not familiar with overclocking, the next paragraph is for you.
See also: 5 Best Free Keylogger Software for Windows
What Do You Mean By Overclocking?
Overclocking refers to speeding up the clock rate of the PC's components such as CPU (Central Processing Unit), GPU (Graphics Processing Unit), RAM (Random Access Memory), and the Motherboard. GPU Overclocking is much standard in the case of gamers and video editors. Also, Researches working in Data Science and Artificial Intelligence need to overclock their CPU and GPU for working on terabytes of data.
Just as every coin has two sides, Overclocking has a disadvantage too. As it increases the clock speed by increasing the voltage input to the component, there is a damage caused by increased heat generated due to the increased power. Thus, the computer crashes sometimes (immediate effect), and the life of hardware is also reduced (gradual impact).
However, if the temperature of the CPU stays constant through the cooling system or the manual watch, the overclocking software has a beneficial advantage. Eventually, the response time of the component reduces, and high-quality games install easily without upgrading the hardware. However, overclocking is not officially accepted and, thus, seizes the warranty of the element.
Read Also: 6 Best Free Craigslist Posting Software In 2023
The 5 Recommended And Best Overclocking Software To Use In 2023
There are several freely available and best overclocking software that will allow you to tweak the properties and limits of your CPU and GPU. The key to increasing the performance lies in improving the clock frequency and temperature. We start by pushing the rate by 5MHz increments until it crashes. Also, random shades of color or color full-screen flashes count as crashes. We have curated five most used, highly reviewed, and the best overclocking software.
See also: Best Data Migration Software to Simply Migrate Data in 2023 [Top 6]
MSI Afterburner
Afterburner is the world's most recognized and widely used overclocking utility for both CPU and GPU. It allows full customization over the component and also provides detailed information on the hardware. It supports all brands and entitles to use for overclocking any manufacturers' CPU/GPU.  Besides, it features GPU clock/shader clock/memory clock adjustments and GPU Voltage control adjustments. Moreover, it also offers advanced features like Fan speed adjustment, but it supports only a few compatible hardware.
There are additional benefits, such as fan profiles supporting ten profiles to switch directly. It has Triple voltage providing precision control of the Core Memory. It is entirely free of charge, and you may download it from the below link. According to a statement by AnandTech, "Afterburner is the gold standard of overclocking utilities."
Visit: MSI Afterburner 
EVGA Precision X
EVGA is another best overclocking software. It is free to use and also offers custom user profiles. It offers Clock, fan speed, voltage, and Memory offset adjustments. However, it supports only the Nvidia graphics card and Intel CPU. But is the best overclocking software to date for Intel CPUs.
It has several additional features, including EVGA LED Sync, which helps to sync graphics card and more relaxed with the LED Sync built into the Precision XOC. It offers multiple modes ranging from one-click overclocking to scan mode for finding optimal voltage/frequency.
Visit: EVGA Precision X 
AMD Overdrive
AMD Overdrive is the official and the best overclocking software produced by the manufacturer and supports only the AMD processor. It is most comfortable to use and, thus, is the best choice for beginners if they have AMD. It provides a stability test for monitoring the effect of overclocking.
See Also: Best Data Migration Software to Simply Migrate Data in 2023 [Top 6]
Overdrive has an easy to use interface and simple design. It displays a graph for changing clock speed and voltage settings.
Visit: AMD Overdrive
NVIDIA Inspector
For NVIDIA users, Inspector is the official software released by the manufacturer. Inspector has several limits, it doesn't offer features to monitor the temperature and stability of the system. Thus, there might be a need to install separate software for a particular purpose.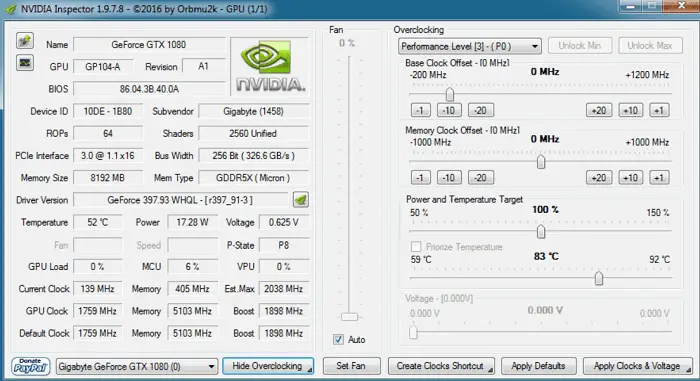 Inspector also has a simple user interface and, thus, is easy to use. NVIDIA users widely use it because of the brand and a simple interface.
ASUS GPU Tweak
ASUS GPU Tweak helps to change Core Clock speed, voltage, and memory clock. It also doesn't offer monitoring stability and temperature. It supports any manufacturer's GPU, and despite having limited features, it is quite famous for a visually appealing interface.
GPU Tweak has red skin exclusively for Asus ROG Graphic Cards. It also offers various modes: Silent Mode, Gaming Mode, OC Mode. OC Mode offers one-click Overclocking. Also, it has custom profiles, and users can tweak the GPU, fan speeds independently for each of the installed graphics card (Synced tweaking is also available).
Visit: ASUS GPU Tweak 
Conclusion – Best Overclocking Software
So, you can always improve the performance of your CPU beyond the official limits mentioned on them. Also, it is likely to achieve through best overclocking software, and other software offers one-click overclocking. An important thing to remember while overclocking is to take care of the temperature of the CPU and don't let the computer crash due to heat generation. That is why we think that MSI Afterburner is the best software in general and has no competitor. But there are several brand-specific software's which can be better for that particular brand like Precision X for Intel CPUs.
See also: Top 6 Piano Learning Software to Improve Your Keyboard Skills
Hey everyone! We are a group of Computer Engineers who have dedicated their lives to tech. It's our dream to make sure that all the updates in the tech world reach everyone is simple words. Hope you have a good time on the blog! 🙂