Data migration means moving data from one location to another new location, which may or may not be an improved system or location. While migrating data from one place to another, you don't want to take any chances, especially if it's an important one. You might migrate your data for backup purposes, cleaning purpose or you are planning to upgrade your operating system to the latest version, a useful data migration tool is an absolute necessity. You can use the data migration software in two modes – online and offline. In this article, however, we will be only talking about offline data migration mode & some other storage options.
Apart from the various reasons as to why an enterprise relies on data migration software, as an individual computer user, you might consider using data migration applications for the following reasons:
Data security.
Transfer data to another disk for backup purposes.
OS cloning.
Replacement of storage device.
See Also : 13 Best Free Drafting Software With Pros & Cons
6 Data Migration Software at a Glance
Instead of using the regular 'copy and paste' method, which becomes irksome when transferring large amounts of data, you can use a data migration software to make your life a little more convenient. Below are some data migration software that can fulfill your purpose.
Mini Tool Partition Wizard
Used by millions of people today, MiniTool is disk management and partition program. You will be able to clone your disk for backup. It will help you to migrate an entire OS from HDD to SSD and vice versa. It is safe and supports almost every version of Windows OS, starting from XP to Windows 10. This application supports FAT, 12/16/32, exFAT, NTSF, and Ext2/3/4 file systems. As mentioned earlier, this application is a partition management program and can hence help you to manage your disk better.
Other features include the ability to check file systems, check and repair disk problems, move and resize partition, manage dynamic volume, make bootable media, and recover deleted files.
Visit : Mini Tool Partition Wizard 
Paragon Drive Copy Professional
Paragon Migration Copy Professional is a very decent application for data migration and backup. It is affordable and now supports Windows 10. Besides, it can migrate data from/to any source/target. It comes with full support for primary virtual machines and deploys fast data migration to new hardware.
One of the new features that have been added to the latest version is Builder 3.0. Builder 3.0 helps to create a bootable recovery medium in just a few clicks. However, this software is not very good at other things except disk cloning and OS migration. If you are not bothered by its cons, then you can go for it.
Visit : Paragon Drive Copy Professional 
Windows 10 Migration Accelerator
Windows 10 Migration Accelerator from Ivanti is ideal for windows upgrades. It takes snapshots of user-profiles and local files from the older Windows version and transfers it to the new version. By doing this, it maintains your customizations such as desktop wallpaper to the arrangement of files and folders across the new OS. This feature comes off as useful as you can continue exactly where you left off.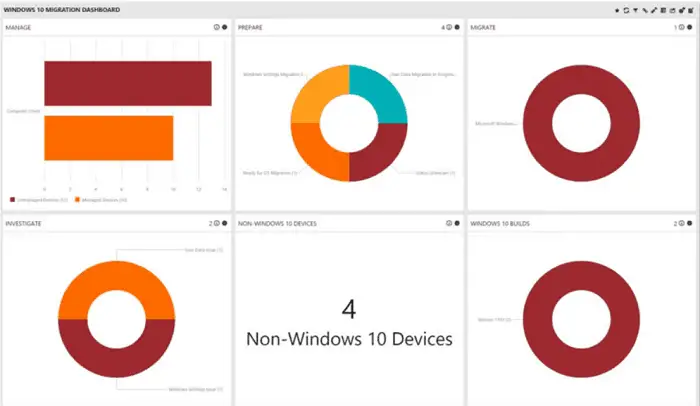 See Also : 6 Best Free Vinyl Cutting Software In 2023
Samsung Data Migration Tool
Many disk vendors like to improve customer experience by giving various software to the customers. Samsung is no exception here. Samsung Data Migration Tool comes with the disk itself and is always a better alternative than most of the third-party applications. The application is designed to help users easily transfer all of their data from their existing drive to a new drive.
It has all the necessary tools required to migrate OS, applications, and data. It is rapid to set up and a lot less complicated than other apps.
Visit : Samsung Data Migration Tool 
Zinstall
Zinstall makes transferring all of your data from your existing computer to a new computer as easy as pie. It is compatible with almost every version of the Microsoft OS, ranging from Windows XP to Windows 10. Zinstall might seem a bit costly, but we can assure you that it's worth all that penny. Zinstall is designed to be user-friendly and straightforward. After installing it on both the machines, connect both the machines to the Internet.
Now, run the application on both the computers and select what you want to transfer, and you're done! It's that simple and easy. However, if you are planning to transfer data from broken computers, you can opt for the pro kit, which costs a bit more.
Visit : Zinstall 
Acronis True Image
This software is a real beast. It will do everything for you, from backing up files and folders to uploading local backups to the cloud. Acronis True Image provides users with real data protection. This application has a feature called the 'Active Disk Learning,' which is capable of making an exact copy of a Windows OS or a Mac OS while the OS is in use.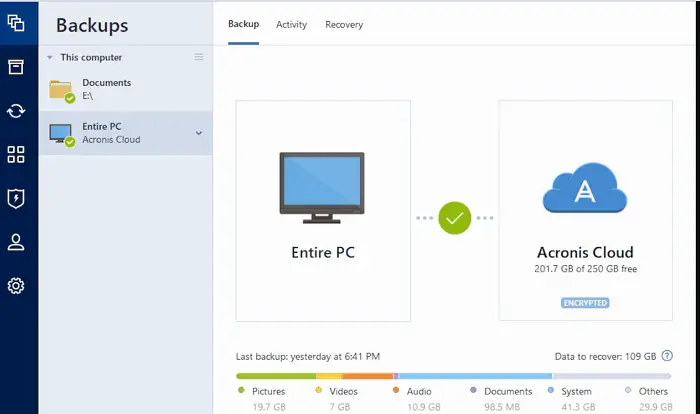 Visit : Acronis True Image 
FAQs
What is data migration software?
Data migration software helps users transfer information from one location to another. For free, they move information to file formats, storage systems, data centers or databases, etc.
What are the three types of data migration tools?
The three types of migration tools are On-premises, Open- source, and Cloud-based.
Do I need data migration software?
Whether you need data migration software depends on the scale and complexity of your data transfer. If you're moving a large amount of data between systems or platforms, specialized software can streamline the process, ensuring data integrity and minimizing downtime.
What is data migration in ETL?
Data migration in ETL (Extract, Transform, Load) refers to moving data from one location or source to another as part of the ETL pipeline. It involves extracting data from the start, transforming it into the desired format, and loading it into the target destination. It ensures data consistency, integration, and quality across systems.
Conclusion
Different data migration software work in different ways. Some software shrinks the entire hard disk to fit on SSD drives and some clones and transfers the operating system as a whole. So, naturally, you may be wondering which one is the best suited for your purpose. We hope the above information help you in going through the pros and cons of the above data migration software. You might have cherry-picked the best one for yourself.
Also, when migrating your data, you can monitor your data as well. Thus, those were some of our favorite data migration software for 2023. If you download any, we'd love to have your feedback. You can drop your feedback in the comment section. If you face any problem with the above data migration software, then let us know about it, we'd love to have your feedback.
See Also : The 7 Best 2D Animation Software for Amateurs and Experts
Dedicated group of Computer Engineers making tech updates accessible to all. Our dream is to simplify and share tech news with everyone.