Most of us use a Windows PC or a laptop. They generally contain substantial hard drives spaces and significant (often questionable) amounts of data filled in them. As with any system, Windows PCs are prone to slow down with time too. You can unleash your inner geek and do some housekeeping using the Operating system's built-in tools. Rather there's a more relaxed and faster way than that. PC Optimizer Software for Windows and one can also have a look at PC Optimizer Software for mac.
We all know and probably have used one or more of these PC cleaner software programs. They do more or less the same things as we would typically do it ourselves, but these alternate interfaces help us do most of that scattered manual work at one place. So if you ever find yourself a need for one, here are 10 best free PC optimizer software for your Windows system.
| Name | Price | Editors Rating | Overall Performance Boost (%) | Number of computer licenses |
| --- | --- | --- | --- | --- |
| Piriform CCleaner | $39.95 | 4.5/5 | 10.84 % | 3 |
| IOLO System Mechanic | $ 14.98 | 4.5/5 | 9.85 % | unlimited |
| IObit Advanced SystemCare | $ 14.99 | 3.5/5 | 6.33 % | 3 |
| The PC Decrapifier | $ 25.00 | 3/5 | 4.53 % | 3 |
| WinZip System Utilities | $ 38.61 | 3.5/5 | 2.25 % | 1 |
| AVG PC TuneUp | $ 29.99 | 4.5/5 | 10.74 % | 3 |
| Norton Utilities | $ 19.99 | 3.5/5 | 3.84 % | 3 |
| Kromtech PCKeeper Live | $ 59.94 | 3.5/5 | 3.30 % | 3 |
| SlimCleaner Free | Free | 3.5/5 | 2.24% | unlimited |
| Comodo PC Tuneup | $ 19.99 | 4/5 | 3.35% | unlimited |
| System Mechanic | $ 30.00 | 3.5/5 | 4.25% | unlimited |
Top 10 PC Optimizer Software for Windows
Here is the list of the 10 Best PC Optimizer Software that we have compiled for you, do have a look and choose the best one for yourself.
See also: Top 9 Best Sandboxie Alternative Tools & Apps of 2021
Piriform CCleaner
This is one of the most famous PC Optimizer Software for Windows out there, and you may know about them with their Android app which does the same thing. Although CCleaner isn't entirely free, the free version allows you to do a lot of clean-up and significantly boost your system to at least a majority of its former glory.
The exe file is a PC Optimizer Software for Windows whose size is just under 1 MB and installs very quickly like a light software should. It is a 3 stage process and you are taken directly to the home screen as soon as it launches. There you can select which aspects of your system do you want to analyse. And like any other app, it will quickly detect and clean your browser history, app caches, etc.
You can find more to do under the tools option. You can control which services to start upon boot up, uninstall apps, disk management, and an ever useful duplicates finder. It sorts out empty copies and of course, duplicates of the same file in the disk partition that you select. I suggest choosing them all for the first time usage.
Pros
Pros
It is a solution intended to clean junk out of your PC's registry and you disk.
It also provides browser privacy by cleaning up your browser history.
Cons
Cons
It is not an option for people who are looking for a comprehensive answer to system performance.
One has to select the detected duplicate files individually.
Download Piriform CCleaner here
See also: 7 Best Photo Organizer Software For Windows
IOLO System Mechanic
This is a lesser heard name in the world of PC Optimizer Software for Windows. Slightly confusing to type too, it is written as IOLO (eye-oh-el-oh). It is beneficial in eliminating small but significant junk files of your system, such as browser cache and history details.
Iolo is more spread out than we think. My old Sony Vaio E series laptop has this built directly into the VAIO care option. It has a built-in RAM cleaner and a disk partition checker which says "powered by iolo." I was not aware of this myself, but it goes to show that this is not a casual lightweight cleaner app by any means.
This PC Optimizer Software for Windows can give you significant performance improvements if you know which buttons to push. This free version of the system mechanic makes a lot of improvements on the running services. This can bog down the boot up speeds. I tried out the free version, which were pretty good, but if you want extra features like file recovery and more, you can buy the premium version at 40 USD. It just might be a useful investment if you feel like this is a must-have tool for all your Windows devices.
Pros
Pros
Firstly, Contains very effective performance-enhancing tools.
Secondly, It has a specified privacy tool for windows 10.
Thirdly, There is no limit over the number of installations.
It provides desktop widget.
Cons
Cons
Repair process may take a longer time as compared to other software.
Download IOLO System Mechanic here
See also: 4 Best Free & Paid Slideshow Maker Software for Windows
IObit Advanced SystemCare
IObit is one of the better-designed PC Optimizer Software for Windows out there. It is not cluttered anywhere. It does not include any hidden menus and complicated ways to achieve anything. IObit is an ugly and simple interface with the essentials of what a PC cleaner must have, with a very straightforward means of accessing it.
A straightforward dashboard allows you to check specific drives for errors. It allows you to make changes to your temp file storage and delete them if required. You can do other much helpful stuff like cleaning duplicate folders and files, clearing browser cache and app caches, the usual good stuff.
If you expect to get an absolute primary tool which does a lot of things you usually struggle to do manually, this PC Optimizer Software for Windows is the one for you.
Pros
Pros
Firstly, Drastically improves PC performance.
Secondly, It provides useful Performance Monitor widget.
Cons
Cons
It has limitations over number of installations.
Download IObit Advanced SystemCare here
See also: 7 Ways to Fix Windows 10 Freezes Randomly Issue
The PC Decrapifier
This PC Optimizer Software for Windows does exactly what its sarcastic name suggests; it decrapifies your system! This software is handy for computers where OEMs have filled up a lot of pf bloatware, calling it as "value added software" for you beforehand. If you like those services, great! Enjoy using them. But I found that I don't have all these crap apps that Sony has thrown into my laptop, out of the box.
It works great to clean out the bloat on your new system. It also helps to unleash the RAM's real potential. The last thing we need is cluttering up our precious storage and active memory. This can be done by allocating it for unwanted, unnecessary apps.An impressive fact is that this app does not install on your system. It opens up temporarily consuming your RAM. It also clears itself out automatically when you're done with it.
You should try this PC Optimizer Software for Windows if you have a new system with a ton of OEM bloatware that you want to get rid of quickly. So, these were some of the handy pc optimizer tools.
Pros
Pros
This software takes up very less amount of disk space, about 2 MB.
It is capable of uninstalling programs in bulk.
It can remove programs without a lot of user actions in some situations.
Cons
Cons
It is incapable of searching a program if a list of programs if provided.
There is no option available to remove a program's entry from the list of software
Download The PC Decrapifier here
See also: 5 Best Mac Cleaner Software to Supercharge Your Mac
WinZip System Utilities
WinZip System Utilities is a perfect PC Optimizer Software for Windows for improving the overall performance of your device including graphics processing, video chat quality, gaming and storage recovery.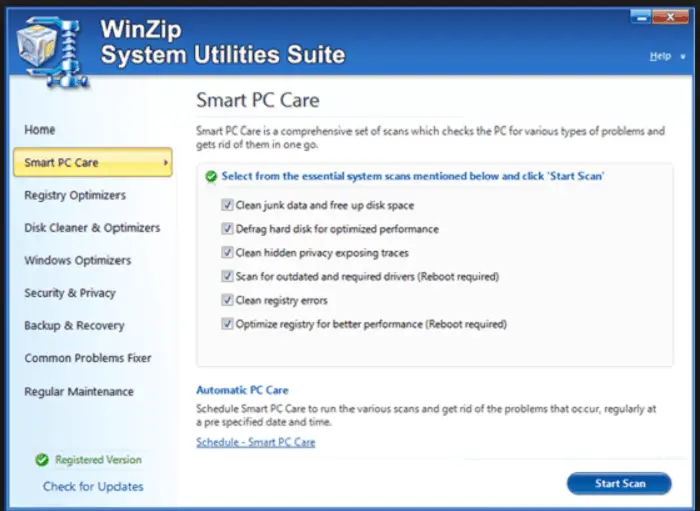 The aspect in which it stands out of the league is storage recovery. When it was put to test, it could recover upto three times more storage than any other similar tool.
Pros
Pros
Firstly, Best for storage recovery.
Overall improvement in performance can be seen.
Cons
Cons
One can face complications while installing this software.
It affects the booting time of the device.
Download WinZip System Utilities here
AVG PC TuneUp
AVG PC tuneup is quite effective when it comes to PC speed boost. It is a PC Optimizer Software for Windows which provides one click scanning and cleaning. The AVG PC Tuner makes sure that whenever an issue is encountered, a pop up appears which lets you control which application to close and what files to delete.
It is sometimes possible that the pop up windows confuse you with complicated issues which may not even be the reason for low speed.
Pros
Pros
It provides a clear report for the on going scan or clean.
Cons
Cons
It provides limited free trial.
Know More: 6 Free Sprint IMEI Checker Tools To Use in 2021
Norton Utilities
Norton Utilities is one amongst the most promising PC Optimizer Software for Windows out there. It finds duplicate and redundant files very easily and notifies you to remove them with easy steps.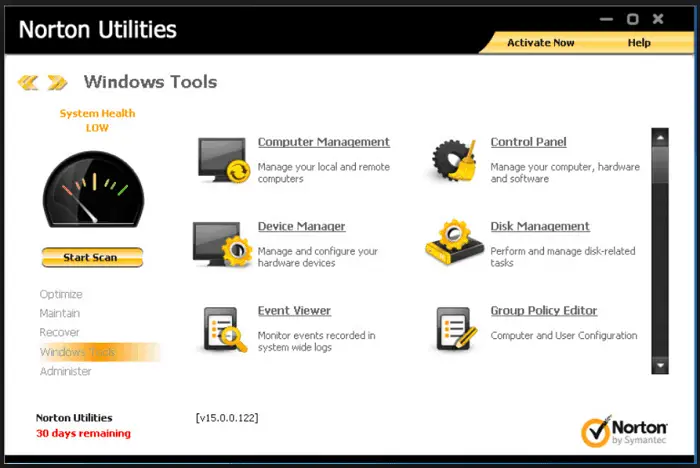 It not only works as a PC cleaner but it is also a very good proven antivirus software. The software makes sure that files that consume a lot of your memory and processor are optimised so that your PC performance improves as a whole. It also effectively increases the booting process of your PC.
Pros
Pros
It is very effective at improving graphics performance.
Cons
Cons
Data processing degrades sometimes after running this software.
Download Norton Utilities here
Kromtech PCKeeper Live
Kromtech PCKeeper Live is one of those PC Optimizer Software for Windows which is going to help you to improve your PC performance drastically by following simple steps. It has a very interactive interface which makes it easy to use for users who are not familiar with technical terms.
Pros
Pros
Firstly, It helps you remove harmful files from your PC.
Secondly, It also provides anti-virus feature.
Cons
Cons
It does not help in case of URL's containing malware.
Download Kromtech PCKeeper Live here
SlimCleaner Free
SlimCleaner Free helps you to remove all the junk and broken files from your PC to get it running in optimal condition. It is basically a free software and it also offers the users with rewards for contribution to the community. There is a paid version available for this software which offers some additional features.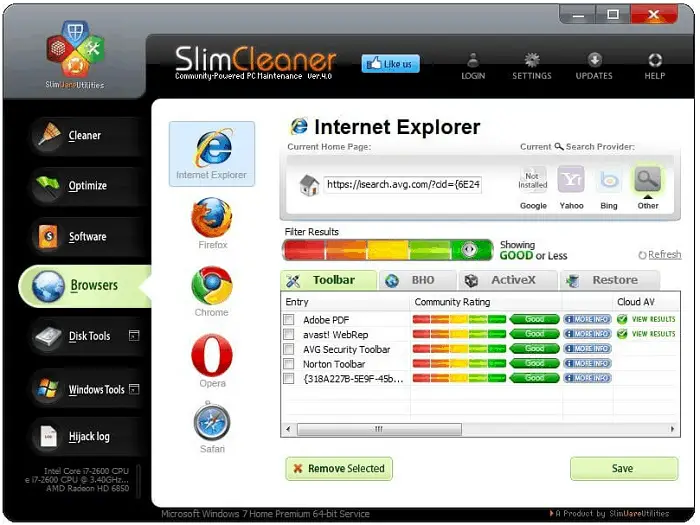 The software does a decent job and works well according to what it claims. It comes with a very light user interface which makes it very simple to navigate through the software. The software gives you warning if you try to uninstall software that has a good rating from the community.
Pros
Pros
Firstly, It has no license restrictions.
Secondly, It provides detailed information about files that are slowing down your device.
Cons
Cons
It sometimes splits into a number of windows when you click certain options which makes it messier to use.
Download SlimCleaner free here
Comodo PC Tuneup
Comodo PC Tuneup provides a very user friendly interface which is divided into two sections with the left section containing all the quick scan options which lead to the main content area. This software provides a perfect combination for speeding up your device in various aspects such as it helps to improve response time and also booting time.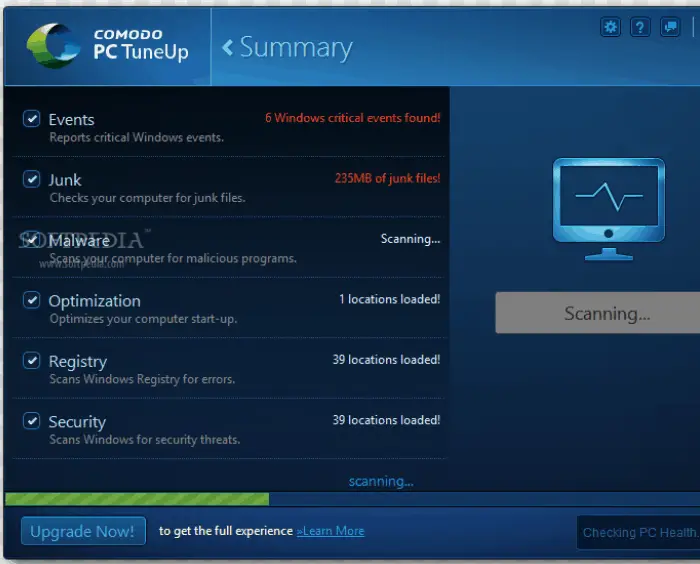 Comodo PC Tuneup also comes with a additional duplicate file finder which can help you clear some extra space on your device.
Pros
Pros
It imposes no restrictions on number of installations.
Cons
Cons
Some advanced features are only available in the pro version.
Download Comodo PC Tuneup here
System Mechanic
System mechanic is one such software which provides features for quick optimisation. The software helps users to find errors that slow down the PC. It stands among the top most software list due to its interface, ease of use and software design. The software provides some advanced features which allows the user to repair PC issues in one click.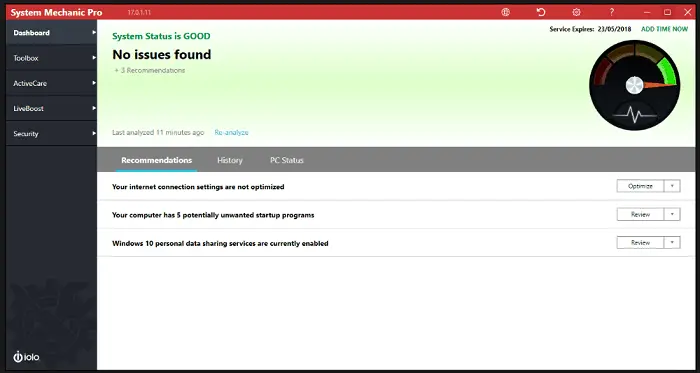 Pros
Pros
Firstly, Easy user interface.
Secondly, It provides advance features for quick optimisation.
Cons
Cons
Customer care is not up to the mark.
FAQ
Does Windows 10 have an optimizer?
Whether browsing the web, watching videos, or playing games, Windows 10 Optimizer can help you get the most out of your PC. Windows 10 Optimizer searches for all possible optimizations in 8 different categories and 340 settings with a single click of a button.
What is a PC Optimizer?
PC Optimizer by McAfee cleans and speeds up your computer – up to 89 percent faster! In a few clicks, it immediately boosts system performance.
Do you need a PC Optimizer?
A PC optimizer boosts your PC's performance without putting it at risk. It keeps your computer clean and secure by performing various tasks such as deleting unnecessary files and programs. It Cleans the computer's registry.
Conclusion
In conclusion, Above mentioned are some of the best and tested PPC Optimizer Software for Windows. Additionally, they have been specially compiled for your convenience and simple utilisation. So, Choose the best one from the options available.
Hey everyone! We are a group of Computer Engineers who have dedicated their lives to tech. It's our dream to make sure that all the updates in the tech world reach everyone is simple words. Hope you have a good time on the blog! 🙂