Before telling you about the best Free Online Proxy Browser Services lets first understand what exactly is a proxy browser. A proxy browser helps you stay anonymous online so that you can browse safely without being watched by any third party. Proxy browsers use various IP address across the globe to mask your real IP address. The IP address keeps on bouncing from one to the other making it impossible for any person to track you. However, your ISP will still be capable of seeing all your browsing activities. A proxy browser intercepts the data between your computer and the website that you are visiting.
Find: Nvidia Capture Server Proxy Issue | How to Solve Easily
Best Free Online Proxy Browser Services
Here are some of the best Proxy Browser Services for safe and reliable surfing. Do have a look and choose the best one suitable to your needs.
VPNBook
You can use VPN book to surf the internet anonymously. VPNBook provides you with free SSL- encrypted web proxy so that you can browse with privacy and freedom. VPN book automatically records your web activities in its logs. This log is maintained for recording any illegal activity carried out through this proxy browser. However, this log gets automatically deleted after a week. This proxy browser supports HTTPS websites too. You can choose proxy browsers based in USA, UK, and Canada or let the website choose one for you randomly.
Pros
Pros
It supports HTTPS.
It has the feature of selecting proxy server randomly.
Cons
Cons
It does not have support to block cookies.
This software has a lot of ads.
It contains limited number of proxy locations.
Also see: Top 6 Best APA Generator Tools to Download | Latest (2018)
Hide my Ass
Hide my ass is another one of the Free Online Proxy Browser Services. This is a very good option if you want to browse the web anonymously without having to download software or add an extension to your browser.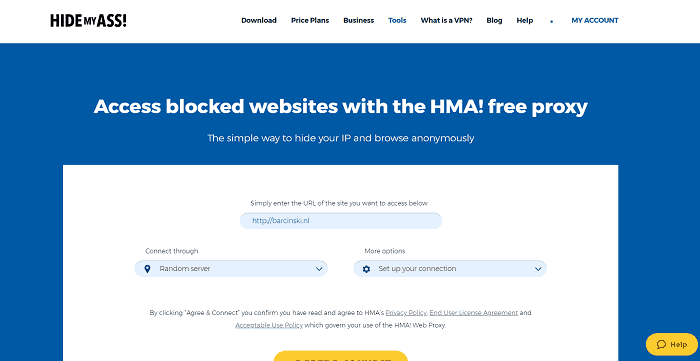 Hide my ass is safe, secure and a fast option for Free Online Proxy Browser Services. It lets you choose proxy servers based in the US, UK, and Netherlands. Other countries are also available to choose from in the drop-down menu. But, to choose servers from countries other than the above mentioned, you have to upgrade to a premium account. Premium account has better features.
Pros
Pros
It allows the user to dcange proxy servers at any time while surfing.
This software provides good speed.
Cons
Cons
It does not support streaming, gaming, or encryption over free web proxy.
This software prefers to keep anonymous logs for statistical purposes.
Click here to visit Hide my ass.
Also see: 5 Best Free Cryptocurrency Apps for iPhone
K Proxy
K proxy is a Free Online Proxy Browser Services. It can be used by visiting its website, by adding K proxy extension to your browser or by installing a portable version of Mozilla Firefox which already has K proxy extension added to it.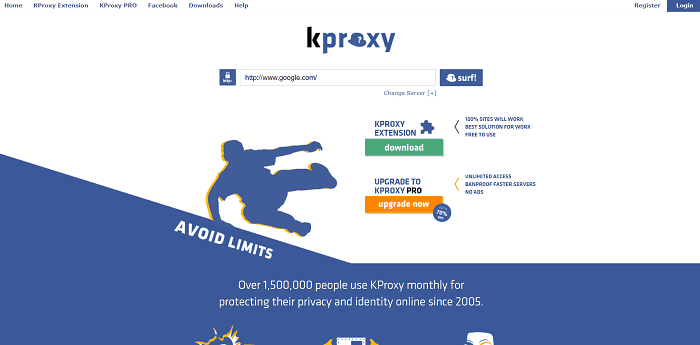 It keeps a log of the records like your IP address; websites visited, pages viewed, etc. The free version of K proxy lets you surf for 3 hours in a stretch. Once this limitation has been reached, a pop-up message will appear requesting you to upgrade to premium account. You can each upgrade to a premium account or wait for 30 minutes and start browsing anonymously for free again.
Pros
Pros
Proxy menu can be hidden while surfing.
It supports Chrome and Firefox extensions.
Cons
Cons
Once the user uses the extension for a specific period of time, one has to wait for 30 minutes to continue using, or pay for a Pro upgrade.
Free version provides limited usage.
Also see: 4 Best PC Optimizer Software for Windows.
Privoxy
Privoxy is the ideal Free Online Proxy Browser Services for all your online privacy related issues. It masks your IP and lets you browse the internet anonymously.
What makes Privoxy different from other websites and software in the list is that with the help of Privoxy, you can turn your PC into a proxy server. So, if you are outside browsing while connected to a public WiFi, you can use your PC as a proxy server. All you have to do is keep the computer on at your home. Privoxy logs your web activity.
Pros
Pros
It has an option to block ads.
This software provides large number of proxy servers and you can switch between them.
It makes it easier to distinguish which browser you are working on.
Cons
Cons
No negatives encountered when using this web proxy.
Also see: 5 Best Mac Cleaner Software to Supercharge Your Mac
FilterBypass
FilterBypass is a Free Online Proxy Browser Services website which is very serious about the security of the person using this website for anonymous browsing. It has some additional security features like URL encryption, page encryption, disabling cookies and scripts.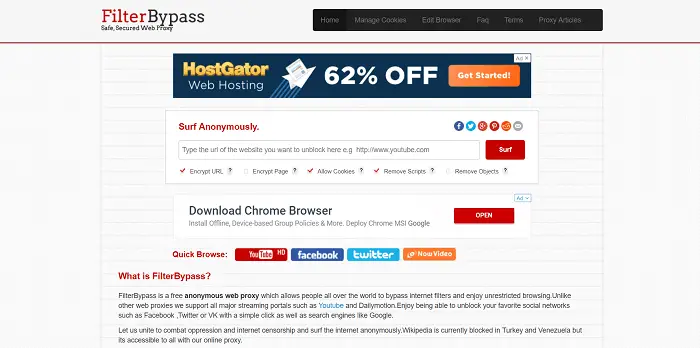 All these features are available for free. These features are often found in premium or paid proxy server websites. FilterBypass logs your activity and releases it if necessary to the government agencies if you have done anything illegal through this website. You can view videos that are not available in your country by using FilterBypass.
Pros
Pros
It is very fast and reliable.
Highly Secured connection which is encrypted with a 128 / 256 Bit SSL at all times.
Very user Friendly.
Cons
Cons
Website speed can decrease because of the complexity involved in calculations for encrypt and decrypt.
Click here to visit FilterBypass.
See Also: Remove Fuq.com Virus Completely | Easy Guide
Securefor.com
Securefor.com is a very basic and simple one of the Free Online Proxy Browser Services. This website does not have a fancy layout or attracting design. But, it does the job of keeping you anonymous very well. You can use this website for surpassing restrictions imposed by your country or college and visit websites and watch videos anonymously and safely with relative ease. All you have to do is visit this website, type the URL in the search bar of the website you want to attend anonymously and press enter.
Pros
Pros
Very user friendly.
Interactive user interface.
Cons
Cons
Click here to visit Securefor.com.
NewIpNow.com
The best feature of this Free Online Proxy Browser Services is the multi-IP feature. Which means you can choose a new IP whenever you wish to and start browsing using that IP address.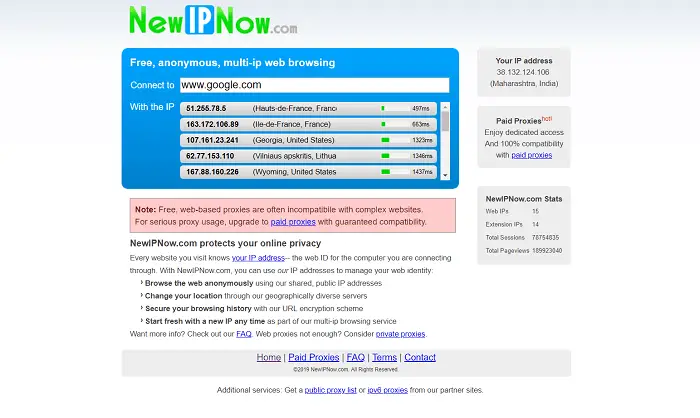 On the front page of the website, you will see the most used proxy servers. These servers are mainly from the US and UK. NewIPNow.com protects your browsing history with their URL encryption scheme. This website is a safe and useful website for browsing anonymously.
Pros
Pros
Secures your browsing history with URL encryption scheme.
Cons
Cons
Performs very slow at times.
Click here to visit NewIPNow.com
Hide.me Proxy
What makes this Free Online Proxy Browser Services my personal favorite is the fact that there are no annoying ads whatsoever on this website. You can easily use this website for browsing anonymously. Hide.me proxy is very safe and secure.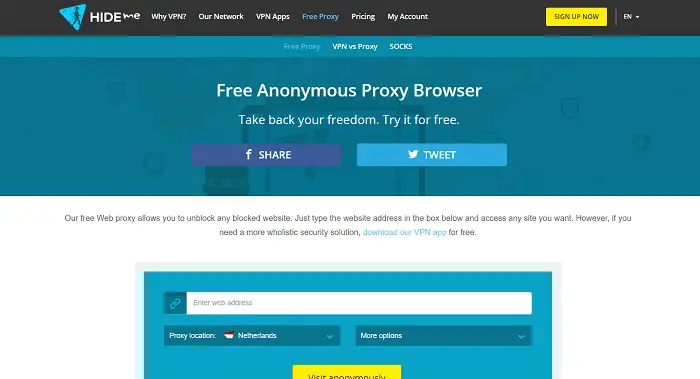 All you gotta to do is type the URL you want to visit in the search bar placed at the head of the screen and press Enter. You can choose proxy servers from the US, Germany, and Netherlands. Another unique feature about this Free Online Proxy Browser Services is that they do not let any servers log your web activities. This website is in use by more than 5 million users across the world which makes it pretty trustworthy.
Pros
Pros
Enable or disable web technologies.
Offers free VPN service.
Free VPN has no ads.
Cons
Cons
Free VPN service is limited to 2GB of data transfer.
Cannot access Netflix content.
Click here to visit Hide.me proxy
4everproxy
4everproxy is widely adapted by a large number of users mainly due to the fact that it provides unlimited bandwidth and speed. It is not only the best Free Online Proxy Browser Services but it also serves as the best proxy site for videos. This proxy service gets you safe by hiding your geographical location and other private information related to your device such as your IP. One can also unblock content that is not available in their own country using 4everproxy.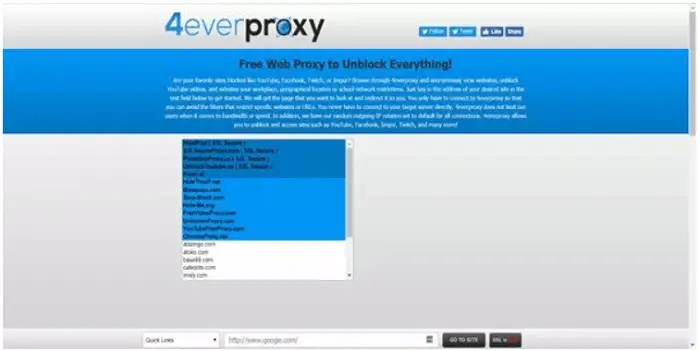 It also makes sure that the user is provided with high level security to private data. 4everproxy makes sure that the browsing sessions are deleted every two hours to maintain user privacy.
Pros
Pros
It provides high level security to user privacy.
It makes sure that the user gets access to unlimited bandwidth and speed.
Cons
Cons
The proxy provider can access your IP.
Click here to visit 4everproxy
Hidester
If you are very specific about your private data and surfing then Hidester may prove to be your best choice. There are various malicious websites out there which may harm your device if you try to access them without a proxy support such as a SSL proxy support. You must have noticed most of the VPN services make your internet connection speed go down, you need not worry about it while using Hidester.

It provides very good speed while surfing also it is available free of cost. The default version allows you to choose between US and Europe servers. You can also get access to servers from various countries with the paid version.
Pros
Pros
It is highly reliable for any device.
It does not pull down your internet speed like some other proxy services.
Cons
Cons
Megaproxy
Megaproxy totally is a deserving entry into this list. It has some of those exceptional features that you wont find in any other proxy services.
The features that make it stand alone are, you can choose to completely remove adds from your browser and also choose to enable or disable identification information according to your comfort.
Pros
Pros
It is very secure.
Allows you to access blocked content in your country.
Cons
Cons
It restricts the number of pages that you can view to 60 pages every five hours.
It restricts download file size.
AnonyMouse
If you wish to keep your browsing details safe, then Anonymouse is one of the best options for you. It enables you to browse anonymously throughout the web and also allows you to view location-based restricted content.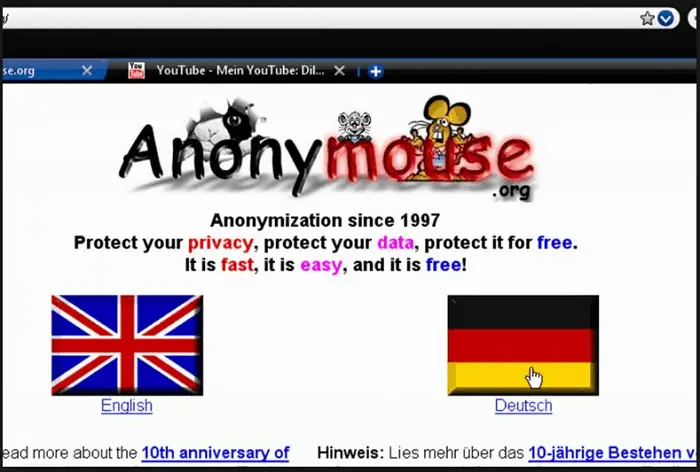 You can choose between a paid version and a free version. The paid versions get you to access additional features such as encrypted connections and cookie management. However, the free version can help you with all the necessary work such as anonymous browsing and email services.
Pros
Pros
It has multi-lingual support.
Cons
Cons
The free version has issues working with flash files.
Click here to visit AnonyMouse
Whoer.net
Whoer.net offers you to choose a proxy server manually amongst seven different location options available. It sticks to the claims that it makes and helps you to browse through the web anonymously. Unlike other proxy services, Whoer.net does not degrade your internet speed.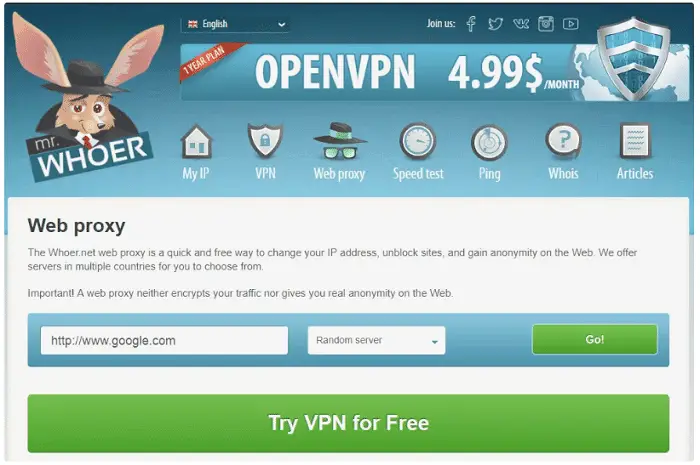 Pros
Pros
You can leave the server choice to be made automatically.
Cons
Cons
You cannot remove the big advertise bar at the top, asking you to buy the proxy service.
Final Words
Mentioned above are some of the best Free Online Proxy Browser Services which you can use for safe surfing. We understand how important a user's privacy is and hence we have made sure to only include the safest options available so that you can choose one amongst them according to your own personal need. Happy surfing!
Also, don't forget to check out free live TV apps with premium-quality video streaming right on your Android or iOS smartphones' screens.
Hey everyone! We are a group of Computer Engineers who have dedicated their lives to tech. It's our dream to make sure that all the updates in the tech world reach everyone is simple words. Hope you have a good time on the blog! 🙂