TV has evolved over the years. In this era, there is no necessity for TV subscriptions. The total live-streaming concept has become a part of Millenials' daily life. Have you ever wondered why?  Well, it's because we want everything according to our convenience. In this fast-moving world with our busy lives, who would want to follow the scheduled timings of our favorite shows, news, movies to watch for free, and many more by cable services? All we want is a restriction-free life. So, we bring to you the list of the best free live TV apps to spend your lockdown with.
Best TV Streaming Apps of 2023
Best Budget: Philo.
Best for General Entertainment: Sling TV.
Best to Replace Cable: DirecTV Stream.
Best for Exclusive CBS Shows: Paramount+
Best for Sports Fans: fuboTV.
Best for Families: YouTube TV.
Best for Bundling: Hulu With Live TV.
Best for Add-Ons: Amazon Prime Video.
Need for Live TV Apps
Knowingly or unknowingly we have been dominated by the world of live TV streaming services, to be honest. From a 5-year-old to a senior citizen, everyone knows how to stream live TV. This insanely increasing demand for such applications has led to the boosting increase of a number of streaming apps across the world. Though some free live TV apps only cater to the regional audience most of them are available on a global level.
Apart from that, there is a huge target audience of each of the applications which differ. We will provide the best live TV streaming apps list comprising of all kinds of apps – regional as well as global.
Hence the live TV apps are blooming exponentially. 
So let's explore the best live TV apps out there. If you are fond of TV serials and web series, sports, etc, here you go, we brought together a list of best TV streaming apps.  
See Also: Peacock On LG TV: A Comprehensive Guide
Top 8 Live TV Apps For Android And iOS Platforms:
These are wonderful free live TV apps with high-quality video streaming right on your Android or iOS smartphones' screens. Let's have a sneak peek at each app's functionality:
Sony Crackle
 One of the best free live TV apps.
Features:
Variety of genres such as drama, action, comedy, etc
Suggests recommendations from the Crackle team
Watch later list
Visit: Sony Crackle
Mobdro App
This is certainly one of the best free live TV apps that is available in more than 10 different languages from more than 30 different countries. It gives a wide array of content to choose from.
The app interface is user-friendly and is extremely easy to use.  The best part of the app doesn't require you to have any login account.
Features:  
 Gives regular updates of shows.
Can download movies.
Queue movies to watch later.
Visit: Mobdro App
Hulu TV
This is a content specific-delivery platform.
It works on the same freemium model. The good thing about this one of the decent free live TV apps is that it offers premium sports programming like NBA, Football WC, Serie A, EPL, and other live sports for free but with a 5 minutes delay.
Popular Sports Broadcast for Free
Runs even on low network
Simple and Easy to Navigate the site
Visit: Hulu TV
Exodus Live TV App
Get access to the popular channels and has a large library of live streams that you can choose from. It does not provide any special requirements to play this one of the best free live TV Apps and the device with 4.125 or above is generally up for running.
Basically you will not find any issues with the buffer with a good internet network.
     Features:
Alerts for new movies;
Option to add films to the queue to watch later;
In-app sharing options and more.
Visit: Exodus Live TV App
RedBox TV
 This is one of the best free live TV apps that has over 800+ live channels. It gives news from almost 15 different countries. It has built-in support for all the famous media players. RedBox TV is very easy to use and also just select the channel you want to see in the media player and done.
It also offers sports channels, entertainment channels, science channels, channels, etc from countries like Indian, Pakistani, Malaysian, German, etc. —
   Features:
Alerts for new movies;
Option to add films to the queue to watch later;
In-app sharing options and more.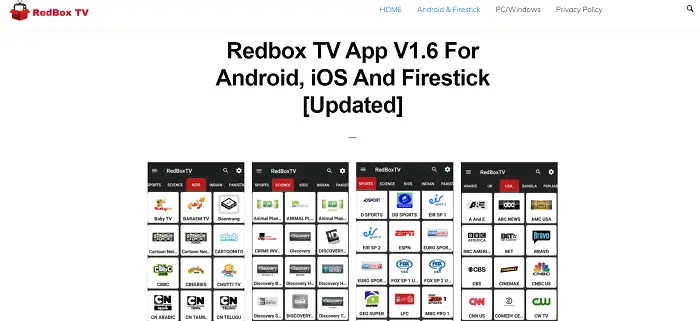 Pluto TV
The best part about this one of the perfect free live TV Apps is you need not go through sign up process.
Features:
User-friendly interface;
Remote access;
Full support for subtitles and more.
Visit: Pluto TV
TUBI TV
This is a moderately known one of the best free live TV apps that is slowly getting its popularity because of its amazing offerings.
 Features:
Chromecast and Airplay support
Create & manage a personal video playlist
Multiple devices syncing
Option to resume watching
Visit: TUBI TV
See also: Jailbreaking Apple TV 3rd Generation Using Blackbox (Detailed Guide)
JioTV 
This app is like that one-stop destination where you wish to watch Indian programming on your smartphone. But there is one thing to this beautiful App unlike other free live TV Apps is that you have to use SIM cards on your device to run the channels.
     Features:
Universal access;
Availability of 20+ years of web history;
Multiple device sync options and more.
How to Be Safe?
Visit: JioTV 
See Also: 5 Best Ghost Hunting Apps for Entertaining Paranormal Activities
FAQ's
Which free app has live TV?
TVTap is an app that provides free live TV streaming to users. It works on Android devices and enables users to surf from various TV channels worldwide. This app has a collection of TV channels, Sports channels, entertainment channels, news, movies, and reality shows.
Is there any free TV online?
The ABC website provides a free TV setup for the users of the USA. This TV is very similar to classic TVs with ad-supporting channels. ABC also has a collection of unlocked shows for free.
How can I get a free TV app?
Here is a list of free TV apps: Tubi, DistroTV, Pluto TV, Xumo Play, Freevee, YouTube, The Roku Channel, and Peacock.
How to watch live TV?
You have the option to view live TV streaming platforms such as Hulu Live, YouTube TV, or Sling TV. These platforms offer live channels over the internet. Additionally, some TV networks have apps or websites where you can stream live content by logging in with your cable/satellite provider credentials.
Conclusion
Generally, few of the free live TV Apps listed above might have many programming related issues with copyright infringement under its plate, because which you might be under the eyes of your government for watching or streaming the content which is not bided by the system or law.
From the nature of the App, there could be very few who can resist themselves from using it. But you can stream safely by using a VPN service, which is advisable. You can refer to this article to know about online video watching apps to cure boredom and enlighten your mood.
See Also: Kodi Genesis Not Working? Here's How to Fix It
Lead Photographer, Lead Advice Editor for @CNET in Europe. Love: the outdoors, music, food, snowboarding, animals, beer, coffee, lists. Personal views.