The understanding of the paranormal activities have been quite a contradictory topic over the past few years. Yet some of the people who believe in the haunted activities have different eye onto this cases. However, if you are a fan too of knowing the spiritual souls while sitting at home, you can use any of the following ghost hunting apps for fulfilling your perspective. It could be a perfect plan at night out plans or sleepovers. You can also check out detective apps to have a thrilling adventure!
See Also : 9 Best Flight Tracker Apps for Android & iOS (Updated)
Top 5 Ghost Hunting Apps to Play With in 2023
Deducing and reasoning with regards to elements beyond the common rationale appeal to our inquisitiveness. As a generation that grew up watching GhostBusters and Goosebumps, it is almost intrinsic in most of us today to have such likings and tendencies about the ghost hunting apps. Here's a list of modern-day ghost hunting apps that would cater to such exciting trends.
Ghost Hunting Tools
It is one of the modern ghost hunting apps that tops the playstore and apple store charts significantly helps users experience how professional ghost detectors close in on the position of possible paranormal elements.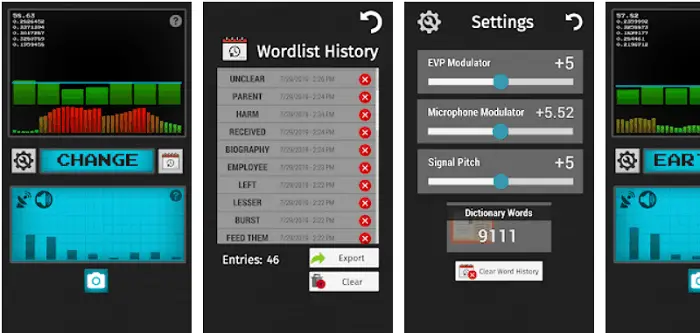 See Also : Top 10 Grocery List Apps for Android & iOS to Save Time
Features
EMF Presence Detector: The unreasonable fluctuation in the electromagnetic field existing in a region might indicate to be an indication of the presence of supernatural entities. This particular app provides a three-axis emf fluctuation detection mechanism using a magnetometer, which makes the reading more accurate. It plots a graph and keys for reading the well-defined figures in the app.
EVP or the Electronic Voice Phenomena Analyser: Electronic Voice Phenomena are those sounds or grunts that the average human cannot hear since it doesn't occur in our hearing frequency range. However, these do produce a disturbance which you may up by tapping into the FM bands. The microphone converts this to some standardized audio, and the playback anomalies plots accordingly. Different abnormalities lead to different sets of plotted wavelengths.
A dictionary: What for? You might ask. Well, here's the fun part. The app reads the EMF deviations and the EVP anomalies and analyses them to suggest a word. The words have been defined in the dictionary. These words tell you what you're up against. Interesting, isn't it?
The ease of access and simplicity of this tool makes it so accessible, and if you're willing to get a taste of the so-called 'other-world lies,' I highly recommend this application.
Platforms: Android, iOS
Developer: Weasel
iEMF+
iEMF+ is an app store exclusive electromagnetic field detector and one of the famous ghost hunting apps. It is lightweight and simpler to use as it offers only the electromagnetic field anomalies in a given region. The app interface is exceptionally user-friendly, and there are a lot of settings that can be played around with, the colors, filters, units, sensitivity being a few of them. For any individual wanting to play-pretend as anything from a rookie Ghost Hunter or a professional GhostBuster, this application is ideal.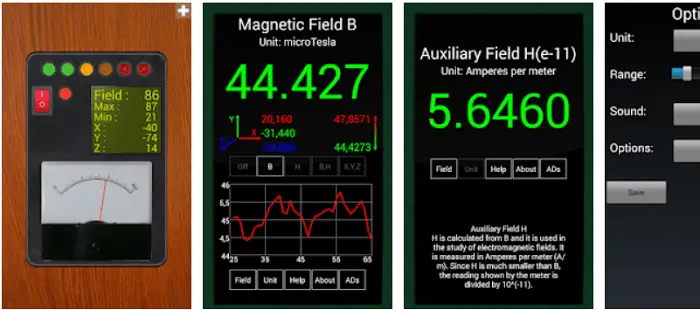 Features 
It measures the electromagnetic field variations among various units.
It has the unique option of providing a magnified output from the signals picked up, making it possible to detect low levels of deviation as well.
Platforms: iOS
Developer: Joshua Waller
Ghost Detector Radar Camera
Tired of looking for ghosts using just electromagnetic field sensors? If you want to have, then this make-believe camera-based application is your go-to. Ghost Detector Radar Camera provides an immersive environment with built-in ghosts and spirits that show up on your camera.  This feature of the app makes it interesting when compared to other ghost hunting apps.
The user interface of the app is immersive – it has a green camera filter, which gives users that sense of eerie and makes the image of the ghost even spookier. The best part is that the different users of this app update the stories. Hence a global network of like-minded ghost story loving individuals is created where everyone shares their unique lived experiences for others to ponder. In conclusion, if you're looking for some paranormal entertainment and creepypasta, this is the app you need.
See Also: Top 7 Free Raw Image Editor Software | [2023]
Features
The fun part is that you can interact with these ghosts, ask them questions, and as surprising as it might sound, you will get answers.
The app has rich support as the developers regularly update the ghosts, add new ghosts, and fix bugs.
Another exciting aspect of this particular application is the segment about scary stories. This app provides various haunting and eerie tales, which are regularly updated.
Platforms: Android, iOS
Developer: First Class Media B.V
Also take a look at these fun gaming apps, Fishing Apps.
Ghost Hunting Sonar
The Ghost hunting sonar provides a unique approach to look for paranormal elements. It shows a heat map, tracking the areas of high activity in contoured shades of red. The three-sixty degree heat map also gives the user their coordinates and the level of activity at their location. Precisely, what more you can ask from one of the amazing ghost hunting apps.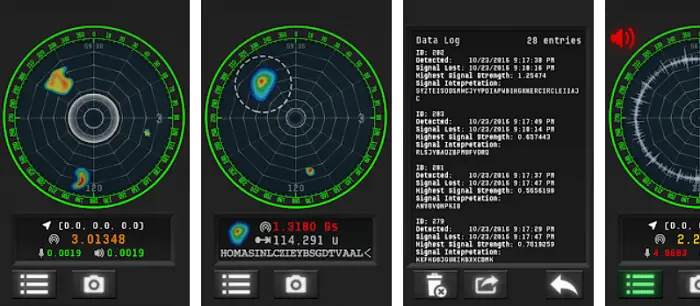 See Also : Voice Recorder App On IPhone For Free In 2023 | Top 4 Apps
Features
The app logs the data to an in-built journal. It is so because when you encounter a region of high activity along with a unique signal interpretation, it looks like a hexadecimal string of letters and numbers.
This app is entertaining to play around with, especially if you want that spooky feel of finding ghosts as they show up on a heat map.
Platform: Android, iOS
Developer: Weasel
Spirit Board Simulator
If you fancy the world of the supernatural and follow the horror genre regularly, you've heard of the ouija board and the nuances that come with this powerful toy. In 2023, instead of buying a new board, you have the option of just downloading the spirit board simulator, which serves your purpose. Thus, offering an entertaining segment to the ghost hunting apps.
Features
To start a seance, you need to place your finger on the wooden piece, which, in the paranormal world, is known as a planchette and ask a question. The planchette now moves across the letters of the ouija board and traces out the answer that you asked for. Be careful, however, not to ask controversial questions and bring the wrath of spirits upon you!
For entertainment, this app is ideal when compared to the other ghost hunting apps. After that, Put some candles on, take out your iPad or tablet, sit down with your friends, and turn the lights off. Let the spirits guide you through a night of spooky entertainment.
Platform: Android, iOS
Developer: First Class Media B.V
FAQ's
What are ghost-hunting apps?
Ghost hunting apps are mobile applications aimed at paranormal enthusiasts, designed to detect and document potential ghostly activity using smartphone sensors.
How do ghost-hunting apps work?
These apps utilize smartphone sensors like magnetometers and microphones to capture and interpret environmental data, offering tools for analysis and even spirit communication.
Are ghost-hunting apps accurate?
The accuracy of ghost-hunting apps is debated; skeptics attribute readings to natural fluctuations, while believers find significance in the data. Scientific evidence supporting ghosts needs to be included.
Can ghost-hunting apps guarantee paranormal experiences?
Ghost hunting apps cannot guarantee paranormal experiences; effectiveness varies based on personal beliefs and interpretations. Some attribute experiences to coincidences or psychology—approach with an open mind and skepticism.
Conclusion
In conclusion, These paranormal and ghost hunting apps are quite a trend followed in different corners of the world. And of course, if your friends are easily scared with the haunted sites, then any of the above ghost hunting apps could play a perfect role in a prank. Happy Ghost Hunting! Here is a list of the best hunting channels on Youtube. These are channels that offer hunting videos for all the hunters out there, whether you are a beginner or an expert.
See Also : Top 7 Video Sharing Apps to Binge With Your Friends | 2023
Dedicated group of Computer Engineers making tech updates accessible to all. Our dream is to simplify and share tech news with everyone.