The raw image is an unprocessed image captured by a digital camera. There are more details in the data that you can't print or edit with a general photo editor. Raw images occupy more space than an underlying image in an uncompressed format. Stock photo or video editors are not sufficient to edit raw images. Thus raw image editors software comes into the picture.
The best ones include Photivo, IrfanView, Raw Therapee, LightZone, Darktable, and more. Different camera brands have their own raw image formats, but there are several free image editing software options available for Windows that can help you enhance and edit these unprocessed images, providing you with greater clarity and vision without the need for expensive software.
Here are seven free raw image editing software programs that perform various operations on your images. And it provides a plethora of features to ensure your satisfaction. They support a wide range of raw image formats from almost all digital camera manufacturers. Here is a guide on the best WYSIWYG HTML editing software.
Advantages Of Free Raw Image Editors
Here are some pros of these editors.
Cost: Most free raw image editors software is free, so a wide range of people can use it.
Essential editing tools: Many free raw image editors have basic tools like cropping, resizing, and adjusting brightness, contrast, and saturation.
RAW support: Free raw image editors are made to work with raw image files, so users can edit and process the raw data to get the best results.
Open-source code: Some free raw image editors have open-source code, which lets users see, change, and help develop the code.
Community-driven development: When it comes to free raw image editors, users and developers often work together to improve the software.
See Also: 10 Best Apps As Picasa Replacement You Should Use
Disadvantages Of Free Raw Image Editors
Here are some cons of such editors.
Limited features: Unlike paid software, free raw image editors may have fewer features, limiting users' editing and processing options.
Limitations on performance: Free raw image editors may not work as well as paid software, so editing and processing may take longer.
Problems with compatibility: Some free raw image editors may only work with some operating systems or hardware configurations, making them less valuable.
Lack of regular updates: Some free raw image editors may not get regular updates, so bugs and security issues may not be fixed on time.
Unreliable performance: Free raw image editors may not be well-tested or reliable, which means that users may run into errors or other problems when using the software.
Features Of Free Raw Image Editors
Here are some features of Raw Image Editors.
Raw photo editor frees users to undo or revert changes without affecting the original image file.
They are built to work with raw image files, so users can edit and process the raw data to get the best results.
Most free raw photo editors have tools for correcting the white balance, which can be especially helpful for fixing color casts in photos.
They have noise-reduction tools that help eliminate grain and improve image quality in low-light situations.
They support several platforms, including Windows, Mac OS X, and Linux, making them accessible to more people.
Best Free Raw Image Editor Software | Top 7
Photivo
Photivo is an image editor which also deals with raw images and bitmaps. It supports various editing tools for stock photos as well as natural pictures. RAW includes features like CA correction, Green equilibrium, line denoise, insufficient pixel reduction, wavelet denoise, and median filters.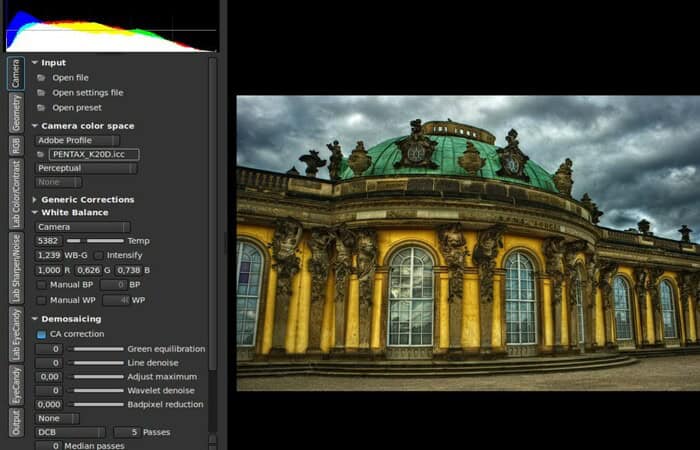 It supports necessary editing tools, and you need not choose other editors for that purpose. It has five language translations, including Dutch, French, German, Italian, and Russian.
Visit: Photivo
IrfanView
IrfanView is a minimal and compact freeware raw image editor software that can edit raw images. It supports the multi-language feature. It lets you cut, crop, and apply various filters to make your RAW format look more original and beautiful.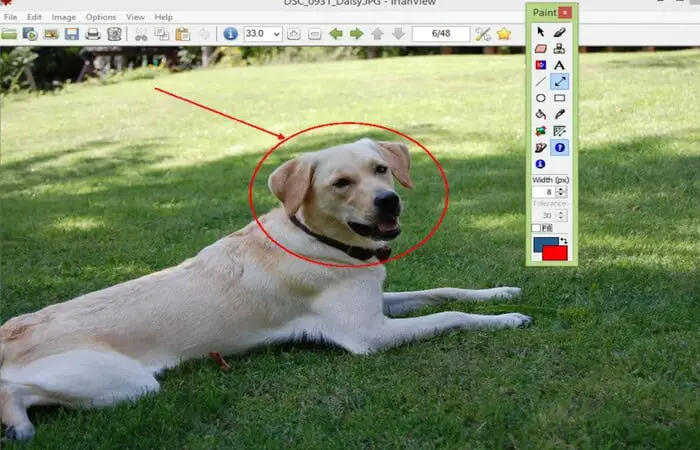 For advanced features, you can download plugins from the website and add them to enable your editor to support the extra features embedded in the plugin. It is safe to use as it does not change registry values without the user's discernment.
Visit: IrfanView
See Also: 10 Best Video Compression Software (Both Free & Paid)
RawTherapee
Raw Therapee is a dedicated raw image editor software whose sole purpose is to edit raw images. A raw image is similar to a digital negative which, in the process, gives a final output of the image. It supports various raw file formats and variable features.
It lets you perform multiple operations on the unprocessed image to obtain its desired look. You can adjust brightness, color, contrast, sharpening, and other essential editing features.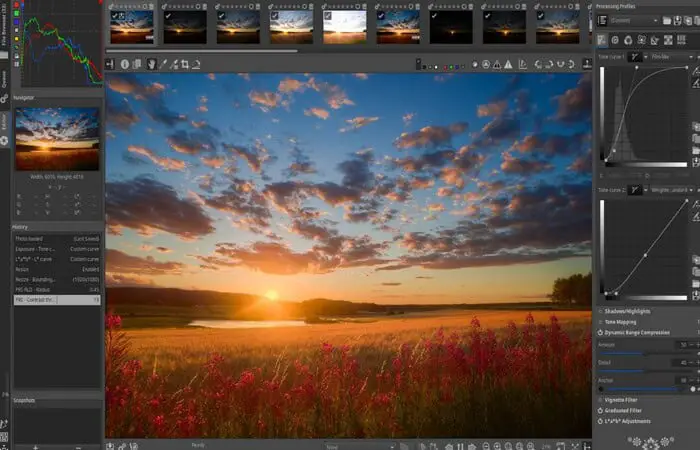 It lets you create a snapshot of the editing at a particular instance so that you can restore this image if any further editing has spoiled the image.
Visit: RawTherapee
LightZone
LightZone is a professional-level digital darkroom that processes and edits raw image files. It is an open-source freeware utility. This software is fully featured and doesn't demand any money to access advanced features.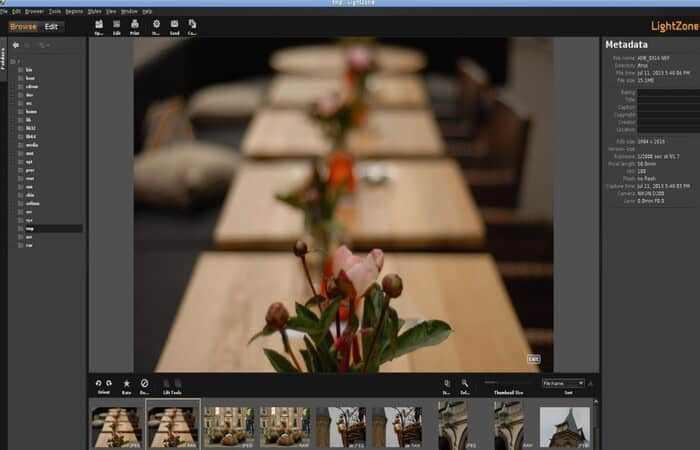 Lightzone can read raw data and display the metadata that includes: exposure, ISO, flash, etc. You can apply different filters to the raw images and get an original image with a refined look. Primary editing modes like cropping, rotating, zooming, and other tools are available.
Visit: LightZone
See Also: 5 Best Focus Stacking Software for Windows (Open Source)
Darktable
Darktable is an open-source raw image editor software. It acts as a virtual darkroom for photographers to get a clean and edited image as output. Also, it maintains a database of your raw photos. This helps you search them quickly by searching with tags, image ratings, color labels, and much more. It supports different file formats of standard, raw, and high dynamic range formats.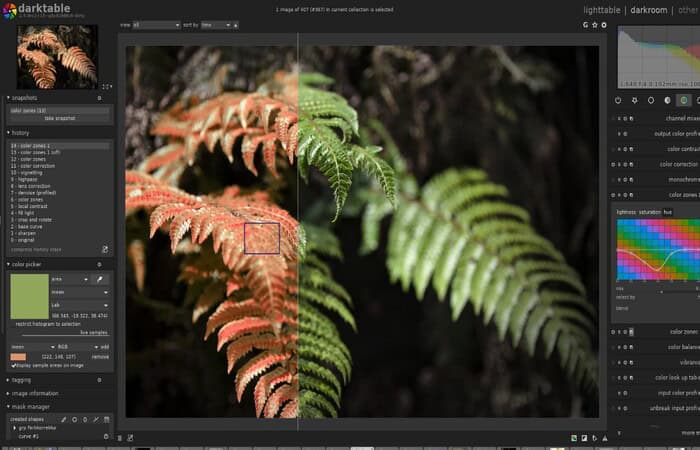 It supports 21 different languages. This helps users to stay in their comfort zone while working with a language. Also, Darktable supports all basic image editing options like cropping, rotating, base curves, exposure controls, highlight reconstruction, demosaic, white balance, and inverting.
Darktable includes correction modules like sharpening, equalizer, denoise, lens correction, spot removal, chromatic aberrations, raw denoise, and hot pixels. Download the software to explore many other exciting features and master your skills.
Visit: Darktable
See Also: Free Photo Stitching Software For Creators To Download In 2023
Fast Stone Image Viewer
Fast Stone Image Viewer is a quick and user-friendly raw image editor software capable of reading and editing ordinary and raw images. Its features include image viewing, management, comparison, red-eye removal, emailing, resizing, cropping, retouching, and color adjustments. Its other features include high-quality zooming and a slideshow of your images with 150+ transitions.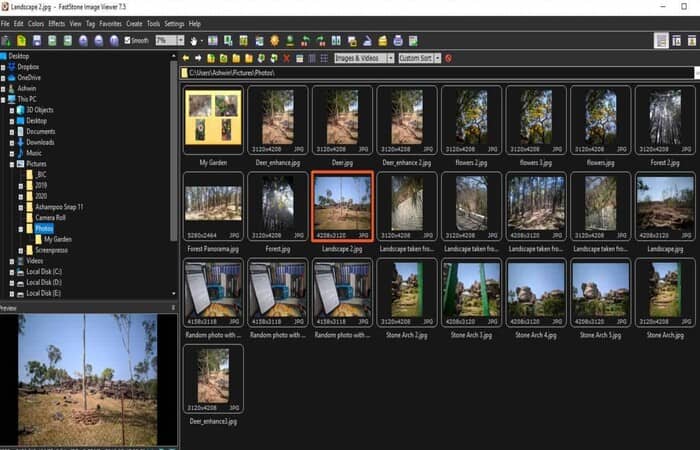 It has multi-level undo/redo capability. It allows you to draw shapes and objects on the image. You can apply special effects and filters. This makes your image look even more highlighted. You can compare images side-by-side to decide upon one and delete the rest.
There are many more exciting features embedded in the software that grabs your attention. You are free to explore all of its features. This software costs none for your unlimited access.
Visit: Fast Stone Image Viewer
Fotor
Fotor is a raw image editors software. It supports various file formats, including raw files. It has powerful, easy editing tools and 20+ different layouts for collages. You can selectively blur your image on specific grounds. This makes your image look creative and professional. You can mix up effects and add borders and text to your image.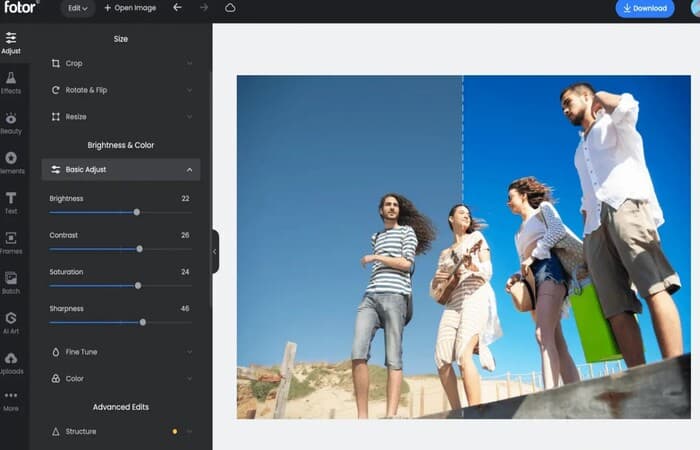 It includes 13 distinct 1-Tap Enhance scenes that virtually add different conditions. This makes framing difficult while capturing images. Beauty- which provides wrinkle-free, blemish-free, red-eye remover, and teeth-whitening effects- is another exciting feature.
Examples of photo effects are Lomo effects, cool effects, funky effects, color splash, mosaic, and blur effects. You can even use the software to create banners.
Visit: Fotor
FAQs
Can Snapseed Edit RAW?
When you open a RAW file, Develop will launch automatically. Still, you can also access it from the Tools and Filters menu. Once the image is open, swipe vertically to access the edit menu. Swipe horizontally after selecting an option to enhance it.
Can Google Photos Edit RAW?
Google Photos will mark all RAW photos taken with the Pixel 3 with a shutter icon. It will not display a proper preview of RAW images due to their large size. RAW images can be edited directly on your Pixel 3 or Pixel 3 XL using any photo editing app that supports it.
Can You Edit RAW In GIMP?
GIMP is a powerful photo editing program that is also free. Use a plug-in like RawTherapee to open raw camera files in GIMP. After connecting the plug-in, you can use it to open files in GIMP. Darktable, a free photo editing program similar to Lightroom, allows you to open raw camera files in GIMP.
What Is The Best Free Raw Photo Editor?
Various free raw picture editors are available; the ideal one for you will depend on your requirements and tastes. Rawtherapee, GIMP, Darktable, and LightZone are all well-known choices.
How Does Raw Photo Editing Software Free Compared To Paid Software?
Raw free photo editing software can do many of the same basic editing and processing tasks as software that costs money. But paid software often has more advanced features, like a broader range of editing tools, faster performance, and better technical support.
What Are The Primary Advantages Of Utilizing A Free Raw Photo Editor?
There are many good things about free raw photo editors, like editing and processing essential image files and allowing you to try the software before you buy it.
Is It Possible To Do Professional-Quality Work With A Free Raw Photo Editor?
A free raw photo editor can do work that looks like a pro did, but it may take more time and effort than a paid program. Most free raw photo editors have fewer advanced features and can be harder to learn. But one can still get impressive results.
Conclusion
In conclusion, This was our guide to the top 7 free raw image editor software. We hope you liked it, and in case of any queries, feel free to comment below.
Dedicated group of Computer Engineers making tech updates accessible to all. Our dream is to simplify and share tech news with everyone.