Photographs are actually the pieces of our treasured memories. They keep reminding us of the beautiful past, which should be cherished for a lifetime. It can be with our loved ones or something we love the most. In today's digital time, we can use advanced technologies to preserve memories. Using the best Old Photo Restoration Software, people are saving their memories.
Here is the list of Best 6 Old Photo Restoration Software For Windows:
Retouch Pilot
SoftOrbits Photo Retoucher
SketchWay
AKVIS Retoucher
Inpaint
Image Mender
In this post, I will help you pick the best old Photo Restoration Software For Windows. Also, you may like to check out how to download photos from Shutterstock without Watermark.
Best 6 Old Photo Restoration Software
Here are 6 types of old photo restoration software for Windows that can be used to make old photos amazing again.
Retouch Pilot
If you are having your favorite photos stained or scratched, this is nothing to get worried about anymore. Don't get scared since the Retouch Pilot Software is able to fix these cosmetic issues. In fact, this software can fix stains, scratches, hair particles, and dust particles that have ruined a favored original photo or become apparent during the scanning and uploading of said photo. Keeping it short, Retouch Pilot excels nicely removes unwanted detail as well as altering proportions and form.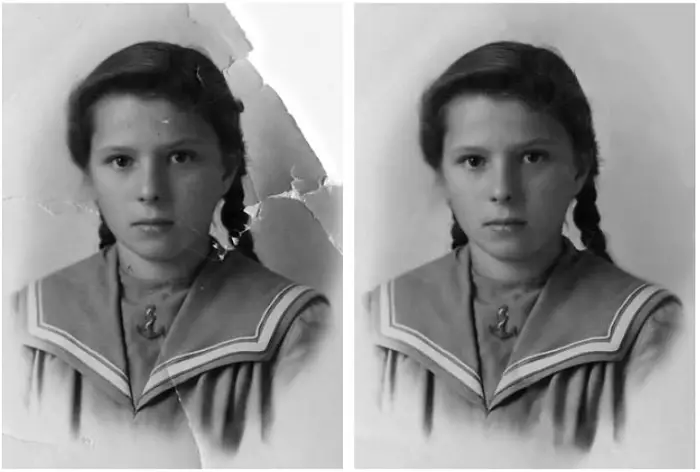 Let this photo restoration software manipulate your photos to perfection. Remember to check out the 'Smart Patch' feature since it is very popular among current Retouch users. The software, Retouch Pilot, is compatible with Windows versions between Windows XP up to Windows 10.
Also see: 10 Best Photo Viewers for Windows 10/8/7/XP
SoftOrbits Photo Retoucher
It helps to clean up your favorite digital photos. With the SoftOrbits software, you will be having the ability to remove all of your beloved and favorite photo imperfections with a simple click of a button. You can give the gift to yourself of a perfect picture with the SoftOrbits Photo Retoucher.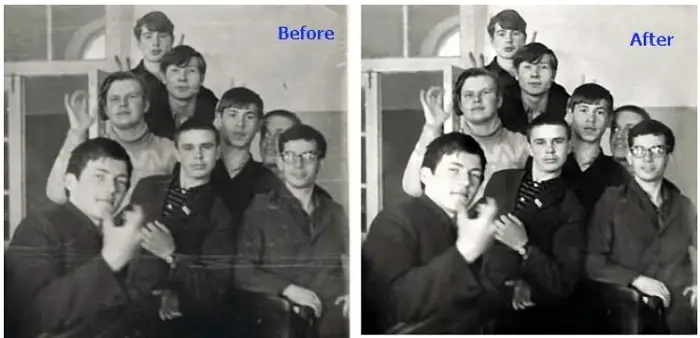 Abolish all those imperfections, erase that background photobomber, and smooth out any unwanted blemishes with the restoration software. The SoftOrbits Photo Retoucher can make any sort of object vanish, whether it is large or small, with its advanced content-filling algorithms. Everyone wants to reproduce a stunning photo to look way better than the original one.
Download SoftOrbits Photo Retoucher here
Also see: 7 Best Photo Organizer Software For Windows (2023 Updated)
SketchWay
The SketchWay photo restoration software is another platform for Windows that utilizes filling algorithms for repairing and restoring old and tired photographs. SketchWay deletes scratches, stains, and dust in order to clean up any sort of damage to photos. Impressively enough, the program can also remove writings that may lay atop an older image, restore any previous alterations, remove obstructing details, and even reconstruct cracks.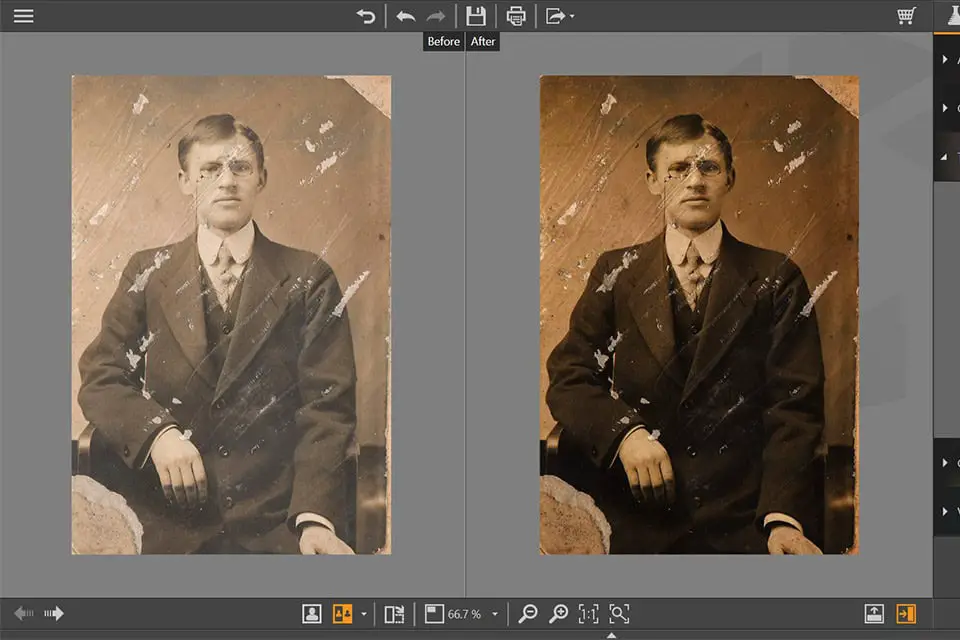 SketchWay can analyze photos thoroughly and is capable of reproducing backgrounds that should have been where the object or obscurity was cut out. With the SketchWay photo restoration software, you are only a few clicks away from an amazing, clearer photo.
AKVIS Retoucher
It erases any sort of unwanted objects from your prized photographs with the AKVIS Retoucher! This old photo restoration software provides a quick and easy way of restructuring older photographs by deleting displeasing details like scratches, aging, and damages. Moreover, it also Improves the quality of your photograph's composition with AKVIS and its intelligent photo restoration techniques like cloning and background blurring.
The best feature of the AKVIS Retoucher, old photo restoration software, is its adobe photoshop pairing plugin which means you will reap all of the advantages of the AKVIS photo retoucher as well as all it has the photo editing capabilities just like Photoshop. So, it is the right time to fix your photo imperfections with the impressive AKVIS Retoucher.
Inpaint
Enhance your photo appearances with the Inpaint photography software that specializes in erasing unwanted objects from your favorite photographs. This photo restoration software is not only user-friendly but there is also a plethora of helpful tutorials within the platform to aid you in editing your photographs. The Inpaint software provides watermark, date stamp, and element removal, as well as a huge array of digital facial retouching options.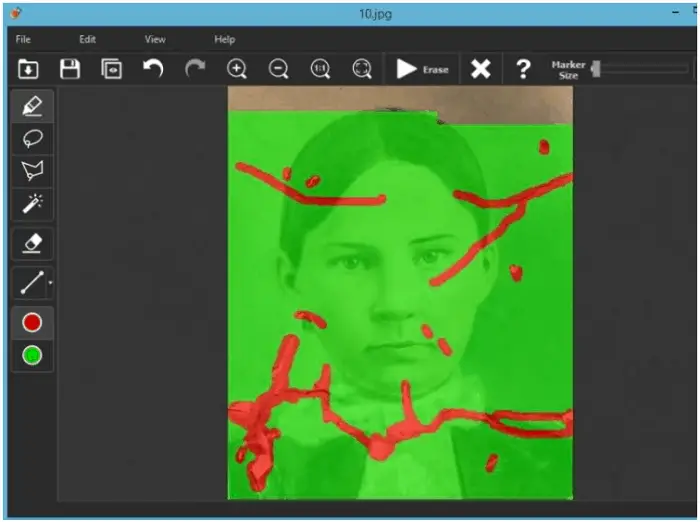 With Inpaint, you will be able to blur blemishes, remove skin discoloration, and make all of your photos look amazing again, clearer and brighter. Make your photos look new again, just like they were before, with the Inpaint photo restoration software for Windows. Just say goodbye to all the pesky power lines, buildings, and photobombing tourists.
Image Mender
Image Mender will become your photo editing sidekick very quickly because it allows you to remove logos, stains, scratches, and any unwanted objects from your favorite photographs. The platform's design is clean and self-explanatory, making the whole editing procedure painless. Use the Image Mender software to brush away distracting details with its zoom capabilities.
Abolish large and huge buses down or small out-of-place hairs. There is no detail too big or too small that the Image Mender program cannot fix. Use this tool and clean up your old photos right now. All the above features make it one of the best entries into the Old Photo Restoration Software list.
FAQs
How can I restore an old photo?
Utilizing AI-powered photo restoration tools represents a top-notch approach to rejuvenating vintage photos. These tools leverage advanced algorithms to autonomously enhance and repair aged images, meticulously resurrecting them with remarkable precision and intricacy.
Can old faded photos be restored?
In the realm of modern technology, the ability to restore ancient images and undo sun damage has become a remarkable capability. This advanced restoration process can effectively rejuvenate photos to their original state, even those that have significantly faded over time.
How do I convert old photos to digital?
Utilize a scanner to create digital copies of your home photos, utilizing options like a flatbed photo scanner. Employ a digital camera for photo digitization. Opt for an app on your phone to digitize your photos. Explore the possibility of utilizing a professional photo-digitizing service for a comprehensive solution.
How do I restore old photos on Android?
Begin by launching the Google Photos app on your Android device. Next, navigate to Library Trash, which can be found at the bottom of the interface. To restore a particular photo or video, press and hold the item of your choice. Then, select Restore from the menu located at the bottom.
Conclusion
So, these were 6 types of the old photo restoration program for windows. This post will help you to know about these programs in detail. So, before getting upset, think that you can restore your photos and make them look new again.
Dedicated group of Computer Engineers making tech updates accessible to all. Our dream is to simplify and share tech news with everyone.