If you click good photos, you need a good photo viewer on your computer to enhance them. As we all know, the primary photo viewer that everyone is familiar with is the Windows Photo Viewer. It provides all the necessary functionalities like simple view, slide show, photo printing, email sharing, etc. But recently, Microsoft has upgraded their photo viewer from Windows to Photos. Though not liked much by the users, it is the default application for Windows 10.
Here are the top best photo viewers for windows:
Microsoft Photos
Movavi Photo Manager
ImageGlass
GonVisor
123 Photo Viewer
Apart from the default software that Microsoft provides, several choices and alternatives have proven to be more user-friendly. Above all, find the Best Photo Viewer for yourself with this article.
Top 15 Best Photo Viewers
Here are the 15 best-tested Photo Viewers for the best photo viewing experience. Choose the best one for yourself.

Name
Formats Supported
Type of Tool
IrfanView
BMP, GIF, JPEG, JP2 & JPM, PNG, APNG, TIFF, ECW, EMF, FSH, ICO , PCX, PBM, PDF, PGM, PPM, TGA, WebP, FLIF etc
Basic
HoneyView Image Viewer
BMP, JPG, GIF, PNG, PSD, DDS, JXR, WebP, J2K, JP2, TGA, TIFF, PCX, PNM, PPM, All raw image formats and compressed file formats.
Basic
FastStone Image Viewer
BMP, JPEG, JPEG 2000, animated GIF, PNG, PCX, TIFF, WMF, ICO, TGA, CR2, CR3 and Sony's ARW
Advanced
XnView
2BP, AI ,APNG, AWD, BLP, BMP, C4, CAM, CE, CIN, CIT, CPT, CT, CUT, DCM, DCX, DDS, DPX, DRZ, EMF, EPS, FAC

Advanced
Picasa
jpeg, tif, tiff, bmp, gif, (not animated), psd (Photoshop), png
tga, Raw image formats
Advanced
ACDSee Ultimate
BMP, JPEG, JPEG 2000, animated GIF, PNG, PCX, TIFF, WMF, ICO, TGA, CR2, CR3 and Sony's ARW
Basic
Freshview
RAW, PSD, AI ,APNG, AWD, BLP, BMP, C4, CAM, CE, CIN, CIT, CPT, CT, CUT, DCM, DCX, DDS.
Basic
Windows photo viewer
jpeg, tif, tiff, bmp, gif, (not animated), psd (Photoshop), png
tga, Raw image formats
Basic
Nomacs
jpeg, tif, tiff, bmp, gif, (not animated), psd (Photoshop), png
tga, Raw image formats
Basic
Apowersoft Photo Viewer
jpeg, tif, tiff, bmp, gif, (not animated), psd (Photoshop), png
tga, Raw image formats
Basic
Microsoft Photos
If you are looking for a photo viewer from the Windows Operating System makers, then Microsoft Photos is the name of that software. This photo viewer is compatible with any version of Windows. Windows users prefer this over other software because it is straightforward. It also allows you to edit your pictures. With no hassle, you can get rid of red eyes and blemishes in your background.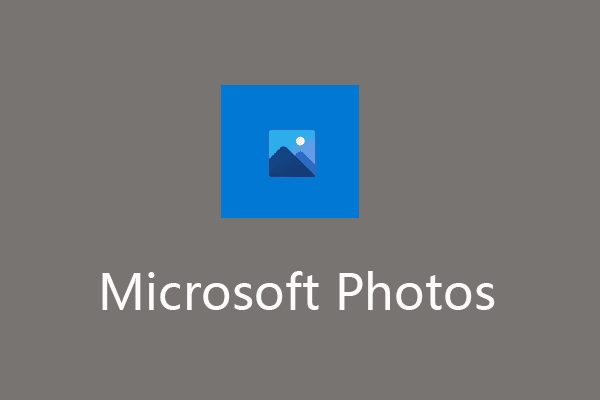 You can find features like cropping, rotating the photo, color correction, light control, and much more. Also, you can set your desktop background using this viewer. This viewer allows you to navigate through your photos and albums. You can view the pictures in a slideshow. This image viewer supports formats, including JPG, JPEG, PNG, BMP, etc.
Download Microsoft Photos here
Movavi Photo Manager
Secondly, Movavi Photo Manager is an Image viewing software developed by the renowned Movavi Company. This software is specially designed for Windows. You can edit a single photo or multiple at the same time. It also allows you to do basic editing like rotating, trimming, resizing the image, and much more. This software selects all the same-looking photos for you. It also allows you to add tags to your photos.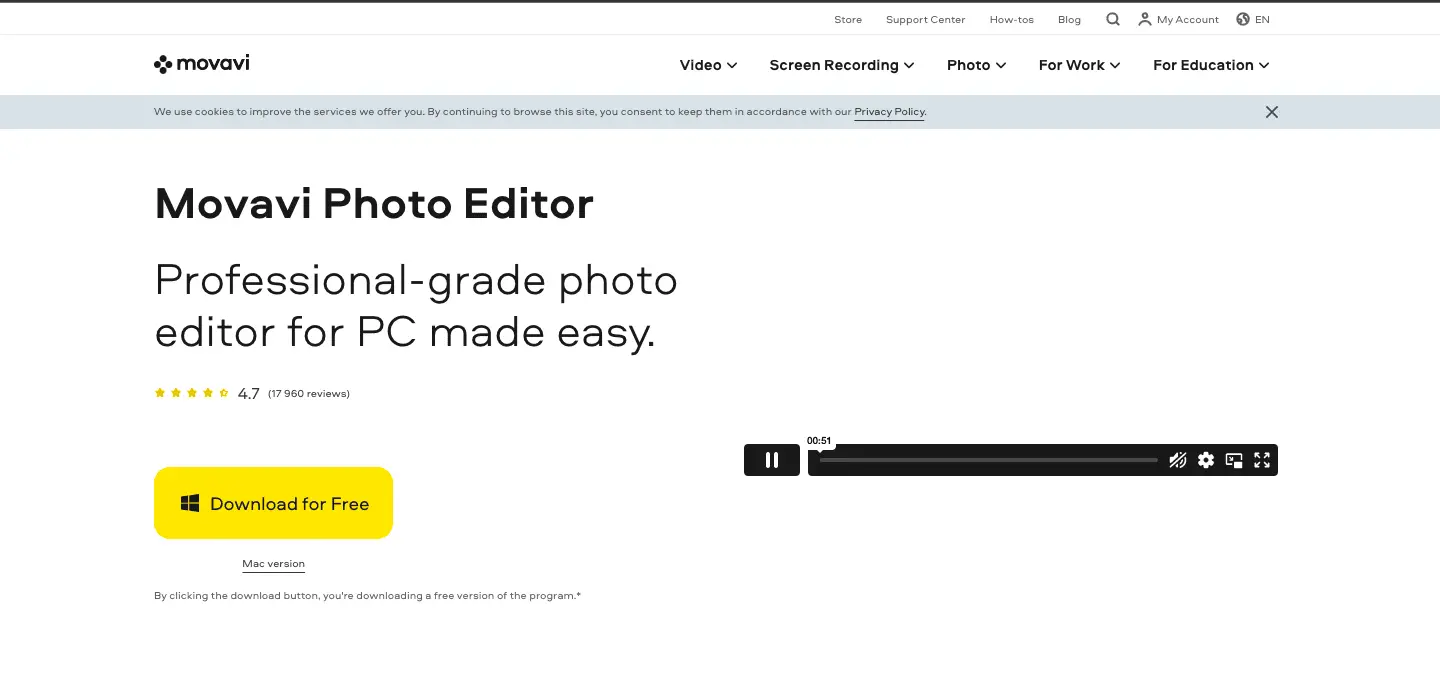 Movavi Photo Manager can work with almost every image format comprising, including RAW, JPG, JPEG, PNG, and much more. One of the best features of this app is that it automatically detects the faces in the images and makes an album according to the person.
Download Movavi Photo Manager here
See also: Top 7 Free Raw Image Editor Software | [2023]
ImageGlass
Thirdly, ImageGlass is a straightforward Photo Viewing Software. It is super light and reliable freeware. This software is well known to support more than 70 image formats. The software is fully customizable.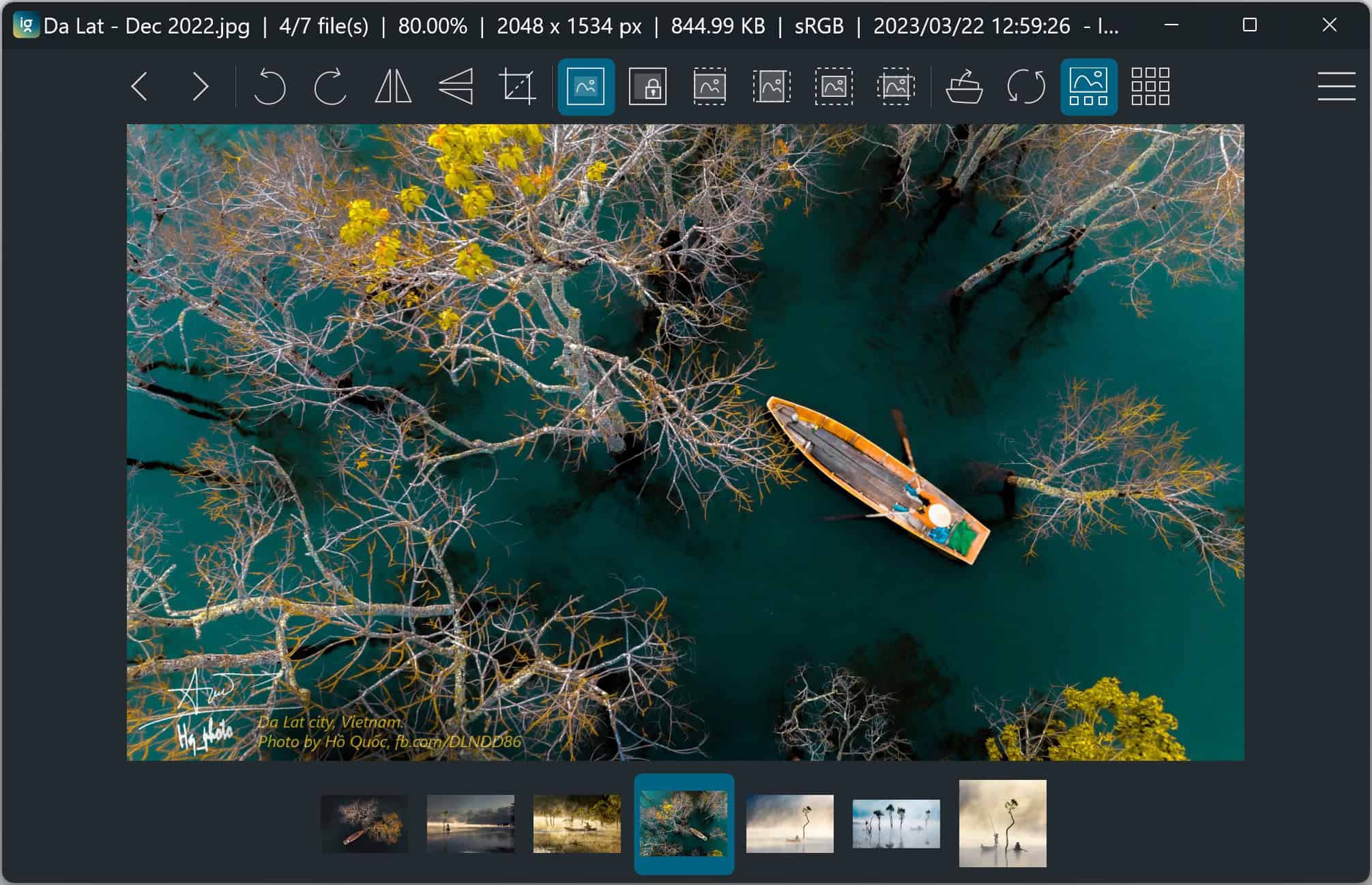 You can make it according to your wish. This software can swiftly switch between images in the blink of an eye. It is specially designed for Microsoft Windows 10, 8.1, 8, 7, and Vista.
GonVisor
Do you want to view your images in the form of your favorite DC or Marvel Comic book or your beloved Magazine? Then you should try GonVisor. It is a no-cost sequential photo viewer. This software is prevalent and comes with lots of pre-installed languages like English, French, German, Latin, etc. You can quickly view images and sort them. It also allows you to write a description of your photo.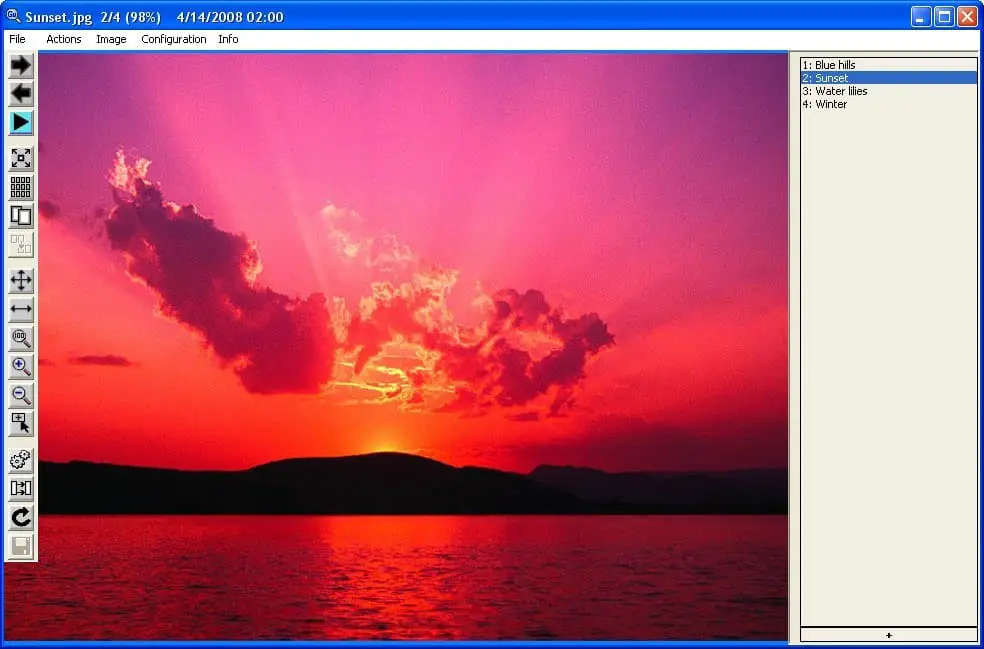 This software will enable you to do elementary photo viewing things like resizing, rotating, and full-screen viewing. One feature that everyone loves about this software is that it can quickly enhance blurry images or scanned copies.
123 Photo Viewer
123 Photo Viewer is one of the essential Photo Viewing software for Windows. It has a pretty straightforward interface. It is so simple that you can press keys on your keyboard. Press the delete key to delete the images quickly, the Escape key to quit the application, etc.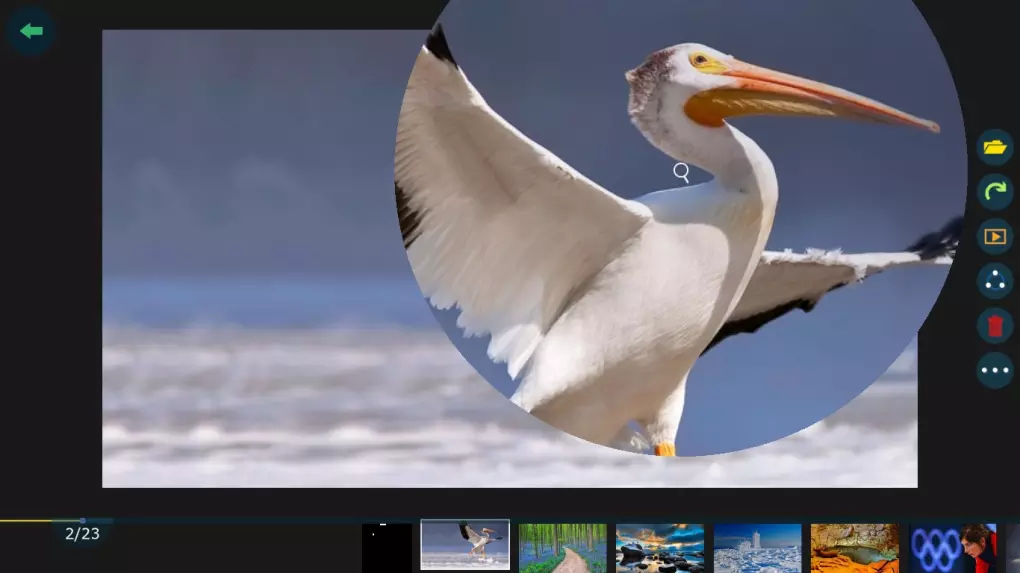 This software allows you to zoom in and out of your photo. You can easily drag and drop images into it. This image viewer supports formats including JPG, PNG, etc.
Download 123 Photo Viewer here
IrfanView
Old is always gold, and IrfanView proves this in every way. It was first launched in 1996 and is still among the most popular photo viewers. It is available for free. The most crucial advantage of IrfanView is that it is simple and reliable.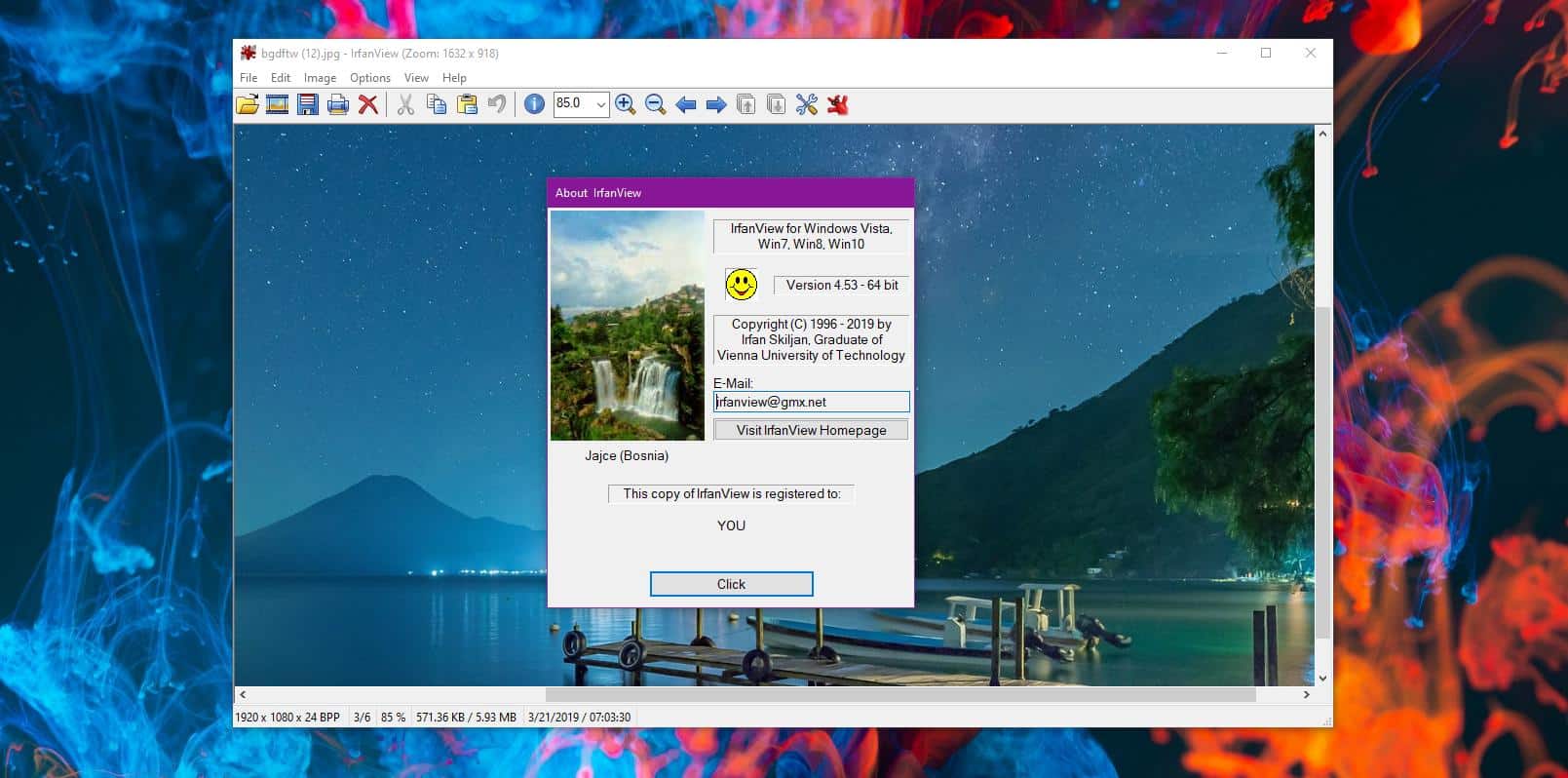 IrfanView is the Best Photo Viewer and optimized software for fast image display and loading times. It has all essential editing tools like resizing, cropping, red-eye detection, rotation, etc.
Users can create a slideshow with an audio file in the background. Slideshows can contain video clips too.
It supports various file types and image formats such as JPG, GIF, PNG, JPEG, BMP, APNG, TIFF, ECW, and raw photo formats from digital cameras.
The current version of IrfanView is 4.52, which is suitable for all Windows versions.
Also see: 4 Best Free & Paid Slideshow Maker Software for Windows
HoneyView Image Viewer
If you are still not used to the absence of Windows Photo Viewer, HoneyView can fulfill your demands. Basically, it provides a similar kind of environment.
Some essential functions of this Photo Viewer include rotation, resizing, fitting the image by height and width percentages, zooming in and out, etc.
It is suitable for users who like doing tasks with one keystroke.
Major file formats supported by HoneyView are JPG, PNG, GIF, PSD, etc.
There are no advanced editing tools available.
The latest version available is 5.31.
Download HoneyView Image Viewer here
Also see: Top 7 Free Raw Image Editor Software | Edit Raw Images Free
FastStone Image Viewer
FastStone is a free and open-source tool. This Best Photo Viewer provides a relatively faster, high-quality image viewing. It is stable and reliable. It supports multi-monitor configuration, color space management, magnifier lens, etc.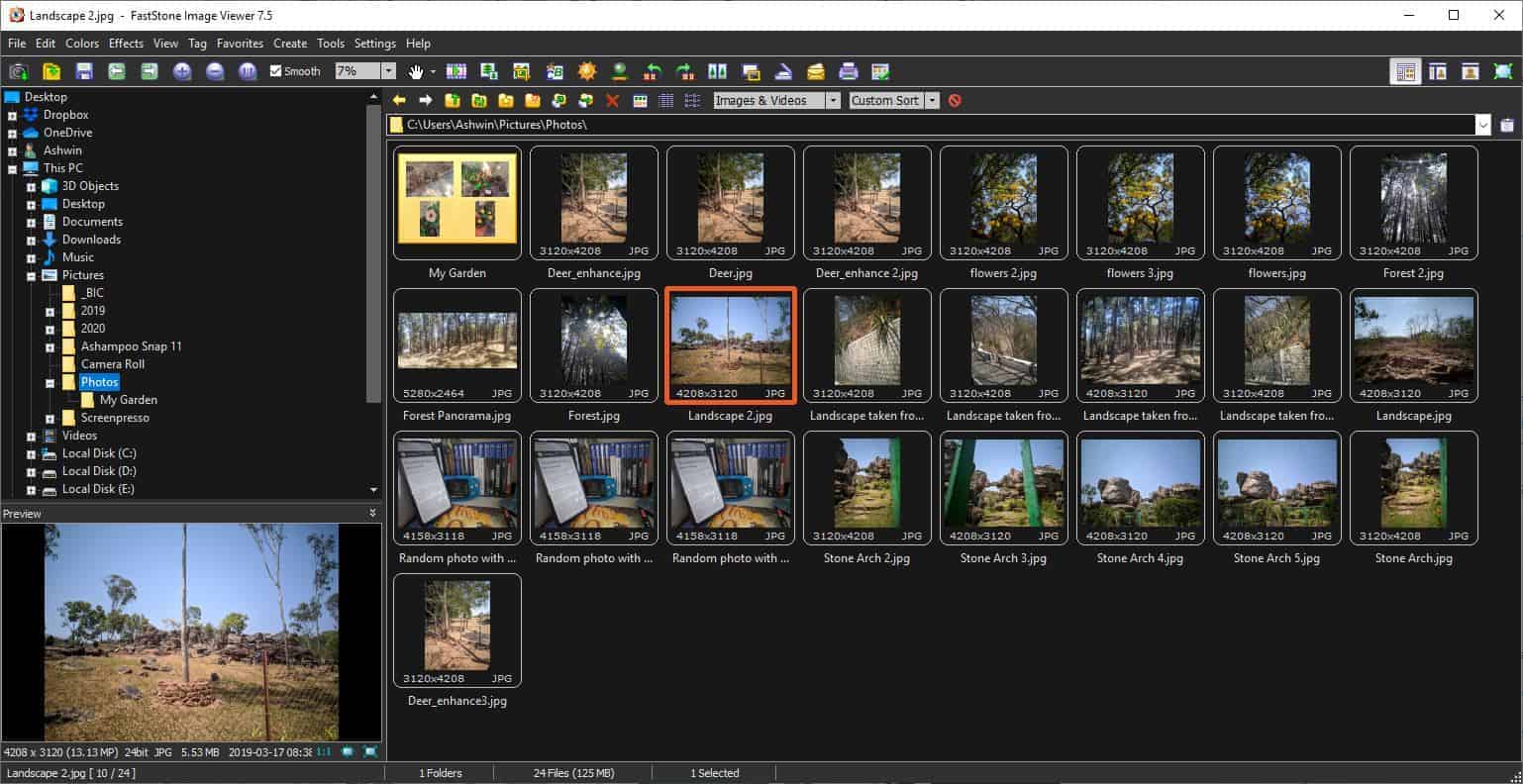 The most appreciable feature of FastStone is it supports batch renaming and converting. Users can also have a portable version on a flash drive which can run without installation.
The files can be directly attached to emails. Drag/Drop and Copy/Move features are also available. Also, it supports many languages.
FastStone supports all measure image formats like JPG, PCX, GIF, TIFF, WMF, ICO, etc.
The latest version, 6.6, is available for educational and non-commercial use.
Download FastStone Image Viewer here
Also See: 7 Best Photo Organizer Software For Windows (2023 Updated)
XnView
XnView is one of the Best Photo Viewers and editing software and works as an image organizer and a general-purpose file manager. Its built-in features include batch renaming, hex inspection, and screen capturing.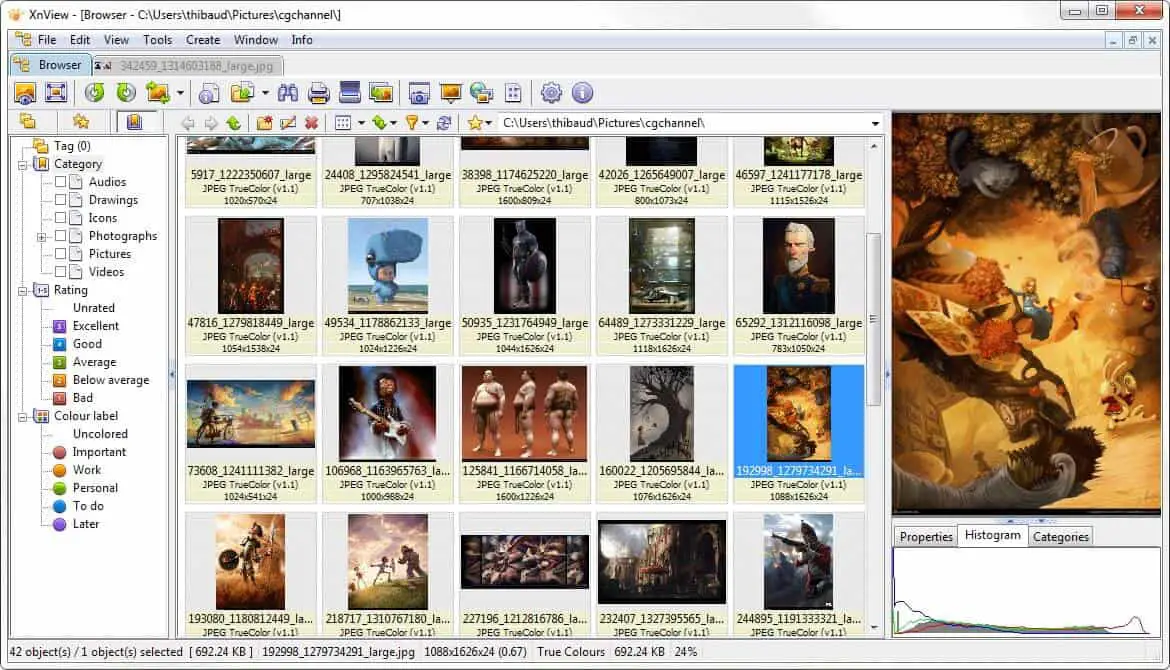 Previously it was available for UNIX as well. It is a robust software and supports multiple languages. Most of its features are similar to IrfanView, but comparatively, it is fast, and the image rendering quality is good.
XnView can be used as a portable version too. Raster images can be edited using this software. It supports a large file format base.
It supports all the image formats, which are close to around 500.
Picasa
If you are someone who uses photo viewers and photo editors very frequently, you must be familiar with Picasa.
It is one of the most well-known photo-viewing software of all time. Picasa scans every image from your device and helps you arrange them in a timeline format so you do not have to search for images in various folders.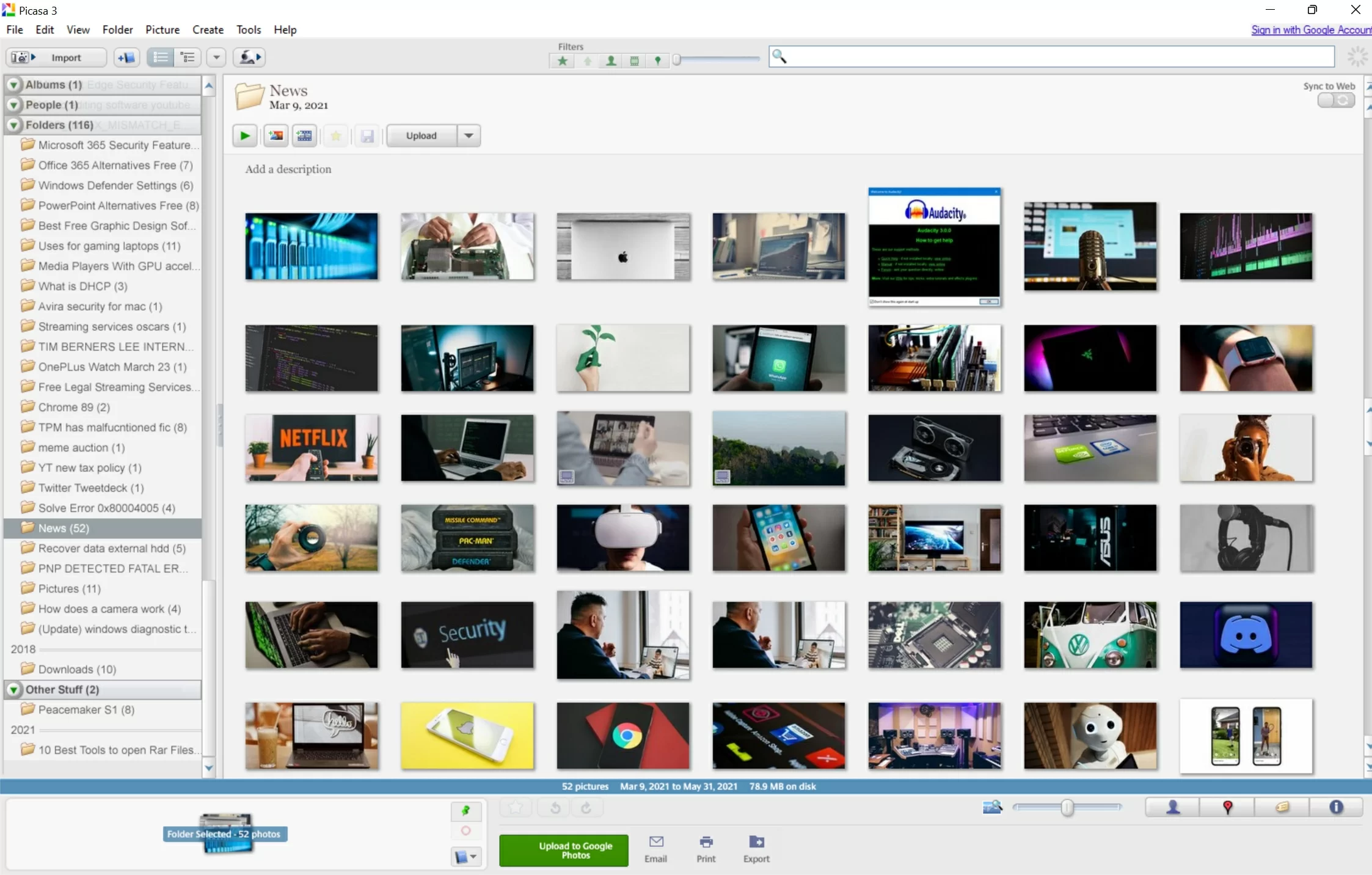 This app also offers options for crop, cutting, and editing images with various filters. You can also set privacy options by selecting which drivers and folders to be accessed by the software.
ACDSee Ultimate
ACDSee Ultimate is a software that offers a lot of unique features. Its highlighted features include thumbnail views, instant rotation, resizing, and crop options. It is also well known for one of its unique features that allows you to look at images in a zip file without extracting the contents of the file.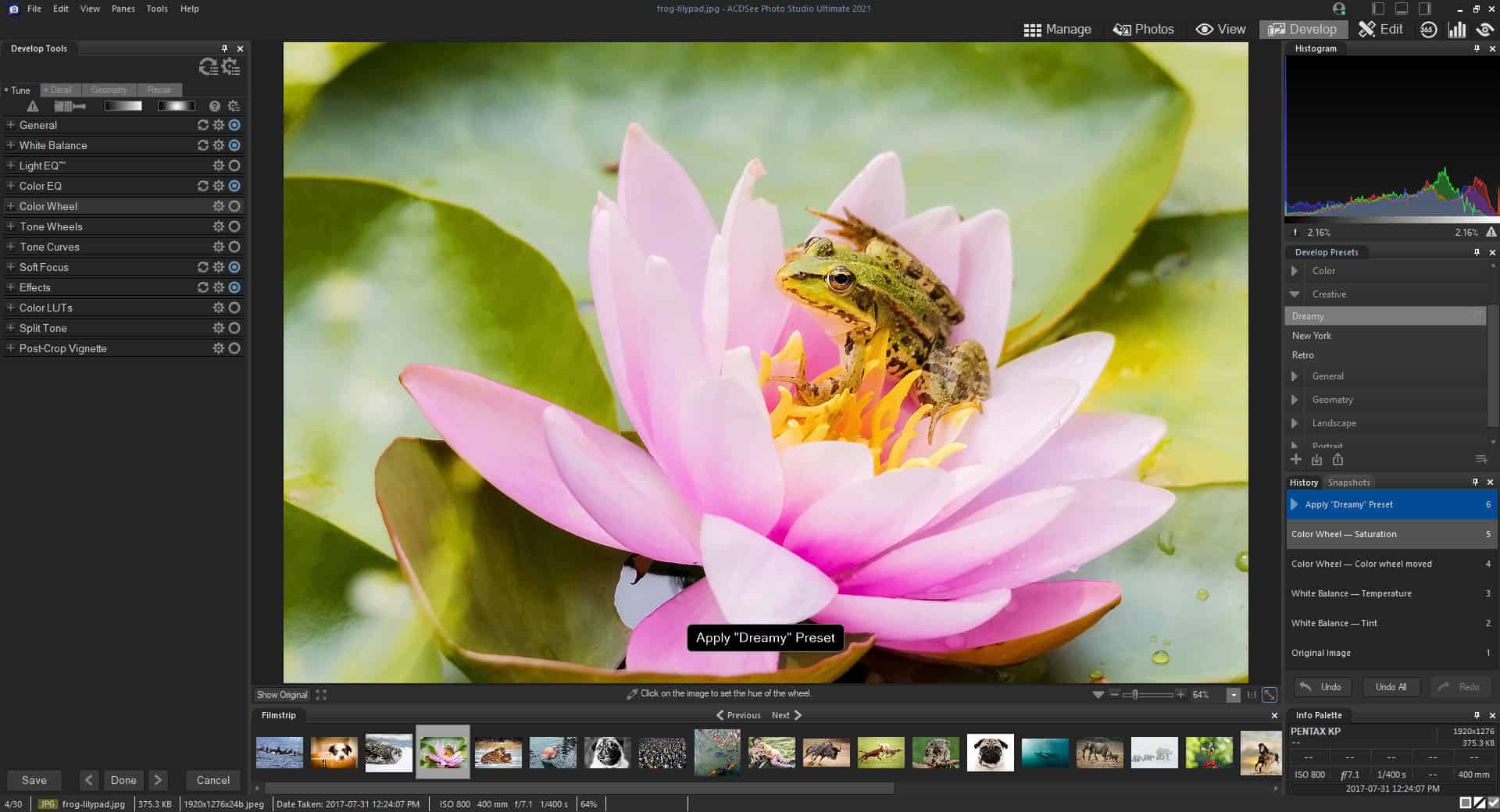 The software also provides options to adjust the images' brightness, contrast, and hue, along with red-eye removal.
Freshview
Freshview is a lightweight software that lets you quickly view and organize images. You can even visit Fixthephoto to learn more about free and online photo-organizing software. It provides a thumbnail browser that lets you get a better view and glide effortlessly through the interface.
The software has a powerful editing tool that fills life in your images. You get some advanced editing options and the basic cut, crop, and resolution adjustment. It is entirely free to use.
Windows photo viewer
Windows photo viewer is a tool you get by default with your Windows installation, it's been part of the Windows family for a very long time, but now Windows has replaced it with its universal photos viewer. However, the tool is not completely removed from your Windows device; One needs a registry file to trigger it.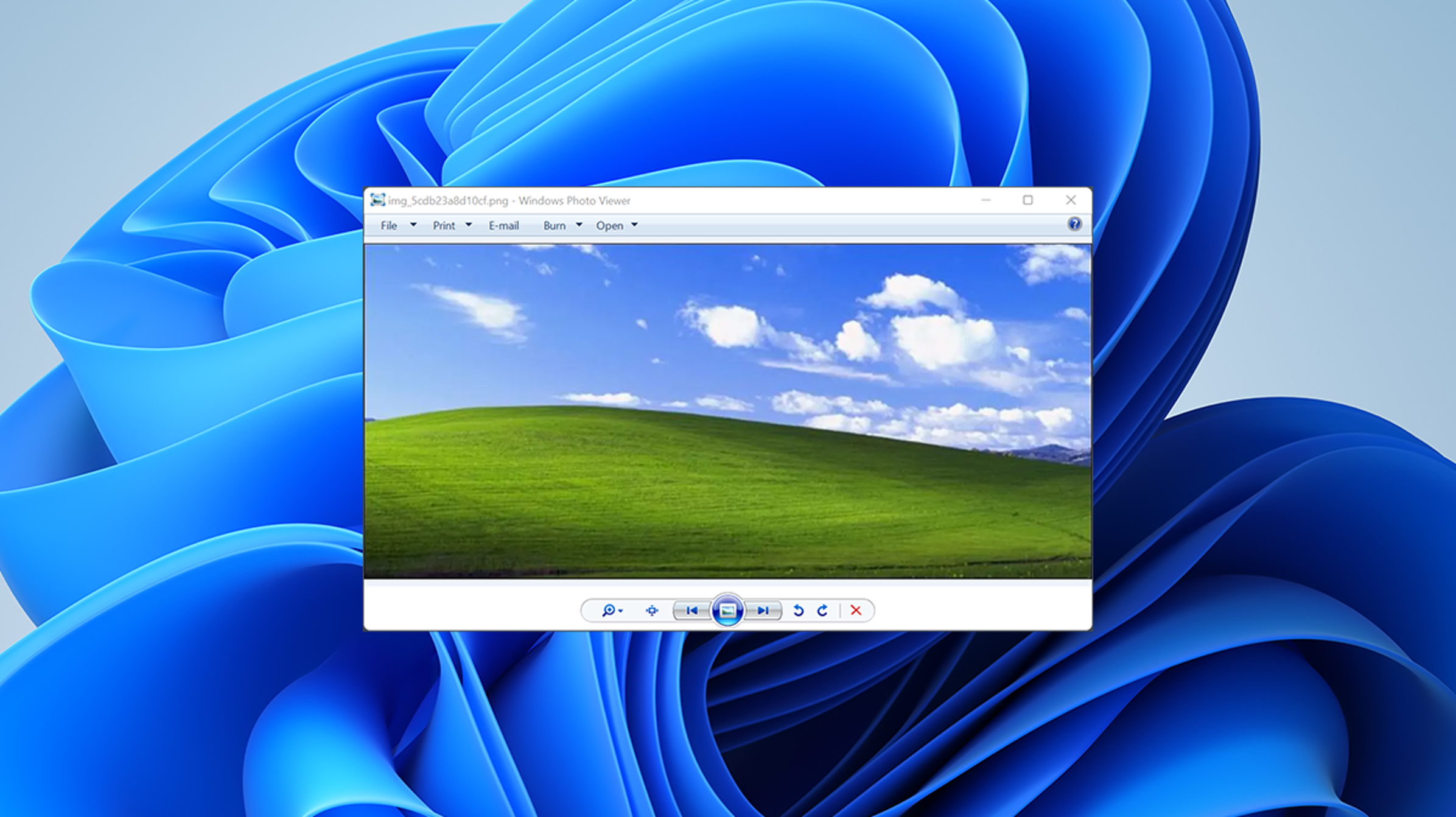 Windows Viewer is a tool with some basic editing options, such as rotate and save in orientation. One can also click on the slideshow button to start a slideshow of images in that folder. One of the tool's best features is its speed and loading time.
Nomacs
Nomacs is a free tool that one can use to view or for basic image editing. The tool lets you generate a mosaic based on similarities between histograms. It also lets you overlay one image on the other by controlling the opacity of each. The tool provides a feature for comparing images by zooming, pinching, and overlaying them.
It can read images that are in a zip file. The tool supports all the major photo formats and also provides basic editing options such as brightness and contrast control.
Apowersoft Photo Viewer
Finally, Apowersoft Photo Viewer is an open-source, lightweight photo viewer that works best for Windows 10. The software offers some of the most comforting features, such as allowing the user to adjust the view area, and it offers an entirely ad-free interface. It is one of the best replacements for Windows photo viewer as it can do everything that Windows photo viewer can do.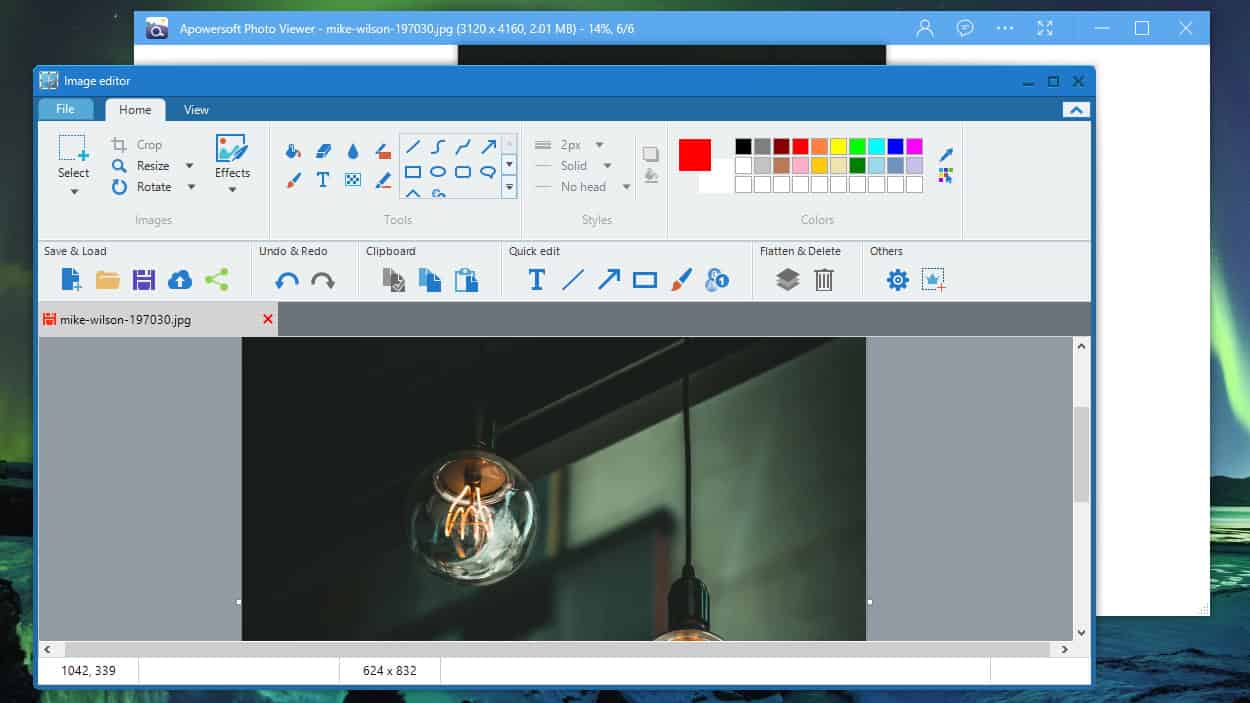 You can edit images to correct brightness, contrast, and hue. The software allows you to play slideshows and supports over 30+ image formats.
Download Apowersoft Photo Viewer here
FAQS
Which is the best app to view Photos?
Apps like Movavi Photo Manager, IrfanView, and Adobe Photoshop Elements are excellent choices for viewing photos as they present images in good resolution with color correctness and Editing features. Other apps for photo viewing can be Google Photos, Microsoft Photos, and Nomacs.
What is the fastest image viewer?
To view images quickly, use FastPictureViewer, an app built with 64-bit hardware giving a great experience to the user.
What is the best Microsoft app to open JPG files?
Try Microsoft Photos On Windows to view JPG files with utmost enhancements and Editing options.
What is an image viewer app?
An image viewer app displays graphical images on the screen. It can view them in formats like JPG, PDF, or MP4. They also render the image's details, resolution, and dimensions for a pleasing final look.
Conclusion
In conclusion, here are some of the Best Photo Viewers so that you can choose the best-suited one for yourself now, stop worrying about arranging images among folders and drivers for a better view. So, download any of this software, and you are good to go.
Dedicated group of Computer Engineers making tech updates accessible to all. Our dream is to simplify and share tech news with everyone.