Most of the time we get low storage space warning its due to the presence of duplicate photos. At first glance, it might seem a very trivial thing as to how could the duplication of an image the size of 6 MB or even lesser hog down on storage space. Well, when you consider that at least a 1000 such image duplication we are no more talking on MB then it becomes a massive 6 GB of data. The remedy to this is to delete those duplicate images using duplicate image finder. This article will help you to find the Best Duplicate Photo Finder tool.
Things aren't exactly that simple when you consider that you have to find 1000 duplicates and then delete them. Don't get panicked, because we've got you covered with tools built to remove such duplicate photos for windows. Keep reading to find out the Top Duplicate Photo Finder Tools for windows.
Best Duplicate Photo Finder Tools For windows.
Below are some of the Best duplicate photo finder tools that can help you to free up device space that has been occupied by duplicate images. Now get that extra spaced free by using tools mentioned in this article.
Duplicate Photo Cleaner
To kick things off we have Duplicate photo Cleaner. Duplicate photo Cleaner works by comparing photos just how an individual would and not compare them by their names to find duplicate photos. Not only this but the software can also work with grayscale photo comparison too. One of the best features about this Duplicate Photo Finder Tool is that it has support for all popular image formatting. We are talking about JPG, PNG, GIF, RAW and more.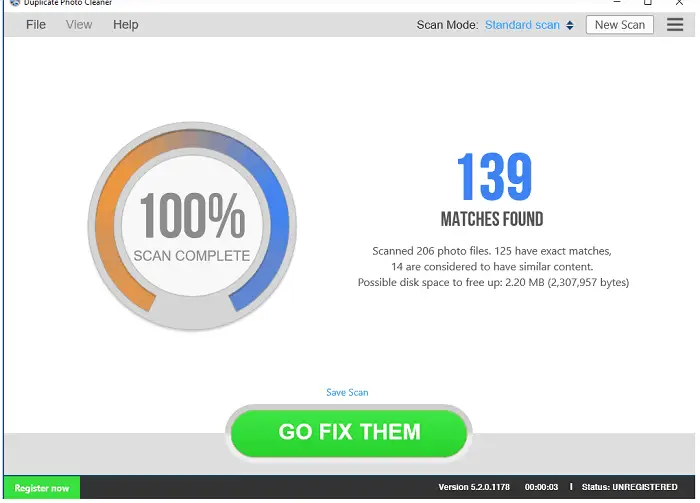 With options available for both PC and MAC Duplicate Photo Cleaner is a great Duplicate Photo Finder Tools for windows.
Download Duplicate Photo Cleaner here
Easy duplicate finder
Easy Duplicate Finder is a pretty powerful tool for searching those notorious duplicate photos. The features that make this Duplicate Photo Finder Tool powerful is that apart from being able to remove duplicate photos it can also search for duplicate songs, documents, videos. It is very simple to make duplicate media free file, one has to just drag and drop files or folders. That's all.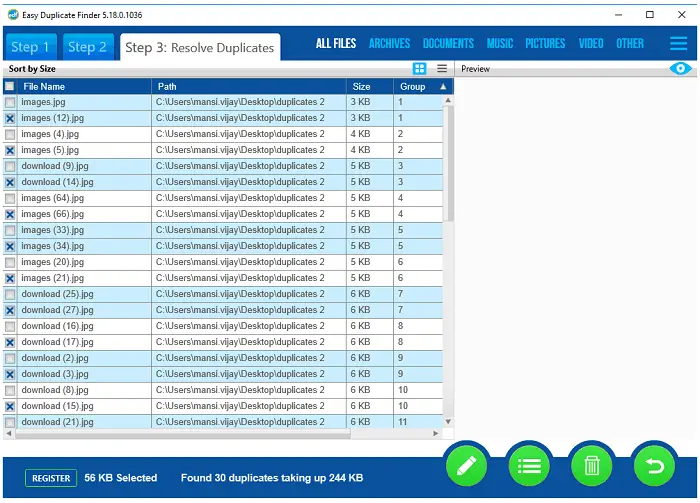 Again, with options available for both PC and MAC this should definitely be on your radar for Duplicate Photo Finder Tool.
Download Easy duplicate finder here
Also see: 4 Best Free & Paid Slideshow Maker Software for Windows
Awesome Duplicate Photo Finder
Awesome Duplicate Photo Finder is another free Duplicate Photo Finder Tool for windows. The software like the prior ones helps you find and get rid of duplicate photos on your PC. However, unlike the prior mentions, this Duplicate Photo Finder Tool only removes photos and thus is much lighter than the previous two. The software is also able to compare the resized version of the same image.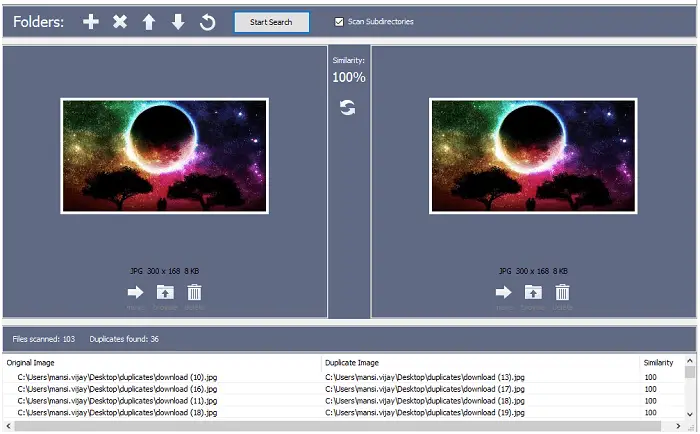 The software is popular due to its zero: adware, popups, registration or spyware features.
Download Awesome Duplicate Photo Finder here
Also see: 4 Best PC Optimizer Software for Windows
VisiPics
VisiPics is probably one of the smallest Best Duplicate Photo Finder out there. Coming at under 2.5 MB this small, yet powerful tool is a completely free software that packs a punch. It brings features like Strict, Basic and loose search. The search is made based on the user's requirement of removing completely identical, moderately identical and identical matches.
Its also comes with features like auto-select which checks for images with smaller uncompressed duplicates with lesser resolution.
Duplicate Sweeper
Duplicate Sweeper is one of the most versatile and Best Duplicate Photo Finder tool on our list. Although the software is not completely free it yet packs a couple of features that are unique to itself. Once the software is installed and the folder for the search is completed, the tool shows how many duplicates are present and what is the total size that the duplicates have been consuming. It also allows the user to keep the oldest or the newest file as per the user's choice.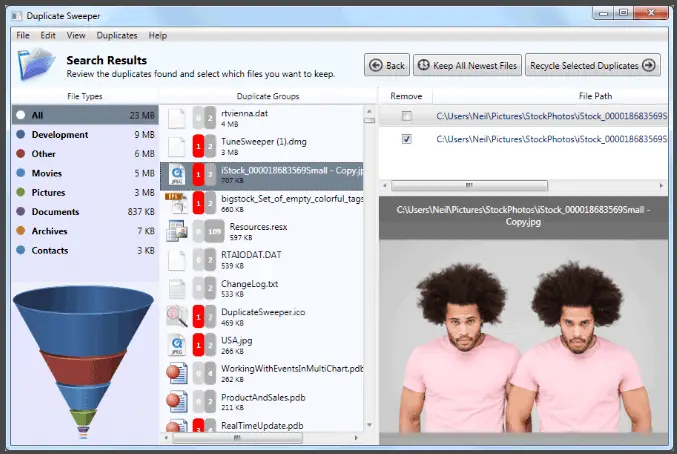 It is options like the ones mentioned above that gives the users complete freedom comfort over the search made by the software. Thus, making this tool appear on our top 10 best Tools for windows.
Download Duplicate Sweeper here
Duplicate photo fixer
Duplicate photo fixer, which again is another versatile .The tools has a unique feature to itself. This is the only Duplicate Photo Finder Tools for windows on our list that allows its users to set the identical level of search for the images that are searched.
This is also the only software on our list that can make its search on any external storage device. Duplicate Photo Fixer is a great feature considering all those duplicate photos that users might have backed up on their external hard drives that might have been sitting their taking space that would have been free
Download Duplicate photo fixer here
FAQ
Is there a free Duplicate photo Finder?
Cleaner Plus (Windows & Mac). A Duplicate Finder tool is included in both editions. As a result, the free edition of CCleaner can be used to find duplicate photos. CCleaner can detect the same images, movies, audio files, and most other data types.
Is Duplicate photo Finder safe?
Yes. Duplicate Photo Cleaner is entirely risk-free to install and use. It does not contain any adware, malware, or viruses.
How can I find duplicate photos?
Drag some folders to the scan area in Duplicate Photo Cleaner. You can also connect your camera or phone to the scanner to include it in the scan. Start the scan and relax while Duplicate Photo Cleaner searches for duplicate and related photos. The scan will not take long.
Conclusion
Each of the software that we looked onto performs the same task of removing those duplicate photos that hog up free space and yet offer even more than that. Some of them bring some amazing features on the table such as giving the users the freedom to choose between newer or older photos.
While others have features that go beyond the scope of not only just removing duplicate photos but also other forms of media too. With options available for even cleaning up duplicate photos not only on your local drive but also external ones. Readers are definitely going to find these tools for their windows device.
Hey everyone! We are a group of Computer Engineers who have dedicated their lives to tech. It's our dream to make sure that all the updates in the tech world reach everyone is simple words. Hope you have a good time on the blog! 🙂