Who wants slow internet and with the advancement of technology we can easily resolve this problem by using a Wi-Fi analyzer iphone tool in your wireless network. IPhone user's penetration is burgeoning day by day and the features which are coming in them are innumerable so as to enhance its performance. The most salient feature which comes in handy is the Wi-Fi and it has gained lot of prominence as with the evolution of new technology enabled gadgets. One can enhance their wifi connectivity using some of the Wi-fi analyzer apps for iPhone mentioned in here.
See also: 10 Best Wi-Fi Analyzer App For Android To Download In 2023
What is Wi-Fi Analyzer?
How much is your Wi-Fi signal strength and how will you measure it? there are Wi-Fi network analyzer tools available in iPhone for the comfort of the users.
It analyzes the channel and helps the users to connect the least crowded channel and deliver the best performance. It provides an in-depth report of your wireless network making it easy for you to identify the obstructions.
Top Wi-fi Analyzer Apps for iPhone
Here are some of the best wi-fi analyser apps for your iphone that can enhance your networking experience with few clicks. Do have a look and choose the best one for yourself.
Fing
It is a free as well as a popular Wi-Fi analyzer and channel scanner used by millions of people as it provides profound check of your network covering all the areas. The wifi app for iphone once installed asks for the scan of the devices available in your network.
The app offers a variety of features like Wi-Fi Scanner, port scanner, ping, service monitoring. With the help of Fing users can get instant alerts and notifications whenever a new device gets connected to the network. There is a ping utility together with trace route for network quality measurement. The strength of the Wi-Fi speed can also be tracked through this multipurpose app.
Also see: 9 Best iOS Emulators for Windows | Updates 2023
Network Analyzer
This app counters the issues which are if any present in your Wi-Fi network setup. It is a highly advanced tool which helps the users to scan their LAN, diagnose a network. It also scans yours Wi-Fi network and checks the speed of your internet connection.
Not only this but also this app lets you scan all reliable network devices. The app has been made in such away which allows the users to detect various problems and such as poor signal strength, connection drops and many more it sends the and results through emails and messages.
Download Network Analyser here
Also see: 10 Best Microphone Apps for Android & iOS in 2023
IP Network Scanner
When it comes to one of the fastest Wi-fi analyzer apps for iPhone, nothing can beat the IP Network Scanner as it is known for its precision in delivering the results. It also has customized features where preferred names can be assigned to the connected devices.
It comes with easy to use interface. It helps the users to analyze all the available Wi-Fi router channels and also check the quality before choosing the network. The outcomes can be exported and imported via emails. It has multifarious tools in it which one can further use in iPhone.
Download IP Network Scanner here
Also see: 7 Best Flight Tracker Apps for Android & iOS (Updated)
Scany
Scany is another Wi-fi analyzer apps for iPhone which is compatible with various IOS devices. It comes with a dark color scheme which lets the users get into some confusion but that is not the case as this app has a lot to offer as it is having a real time network path trace route monitor which assists the users in finding the open spots and this app comes in handy when the network related problems has to be rectified.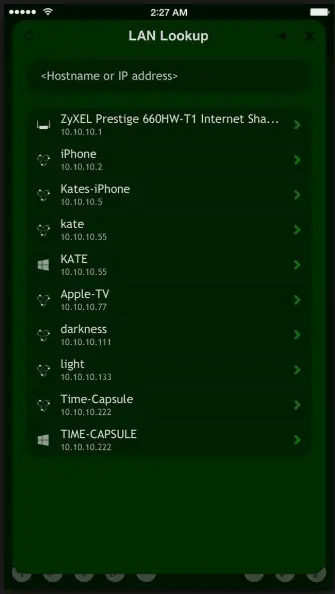 Scany has a powerful Wi-Fi/LAN and internet scanner which is capable of working with large networks by efficient search algorithims. The instant lookup feature allows for instant detection and IP lookup the app projects the names, addresses and makers of the devices that you connect to a LAN or Wifi. It includes a variety of handy features like DNS lookup, port scanner, trace and many more to bank upon.
INet Network Scanner
The app guards your device through threats as it can keep the network under its control by evading the security risks. Tracing of Wi-Fi can be easily accessed with the help of this app as it lets you know without any prior constant that who is using your wifi.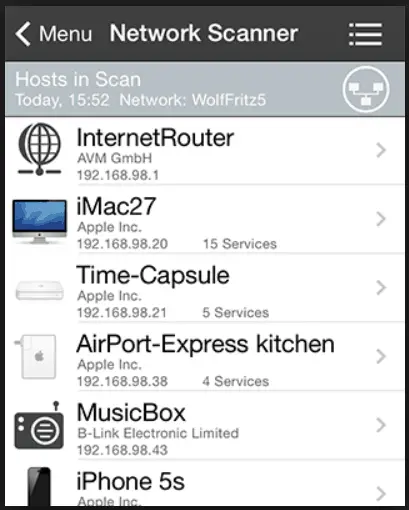 The app quickly outlines the computer network even to an new user it also helps the users to find the devices which are connect to the network. It exhibits all the devices that you can connect to your network. It is having a "Save Scan "feature which automatically saves the last ten scan automatically and there is an iNet pro version which gives greater benefits than this but it comes with a price.
Download INet Network Scanner here
Wi-Fi SweetSpots
It is very good at locating Wi-Fi spots with the help of their speed. This helps in finding the best spots for the Wi-Fi router.
Depending on their speed, the spots are split into categories by fastest and slowest areas. It optimizes the network performance which makes it one of the best Wi-fi analyzer apps for iPhone. However, the Wi-Fi speed connection fluctuates. It is a free app available on both the Apple store and the Play store.
Download Wi-Fi SweetSpots here
Dr. Wi-Fi
If you are someone who is beginner in this Wi-Fi network-related thing. If you want only the basic features like checking your Wi-Fi signal Strength; then no other app is better than Dr. Wi-Fi.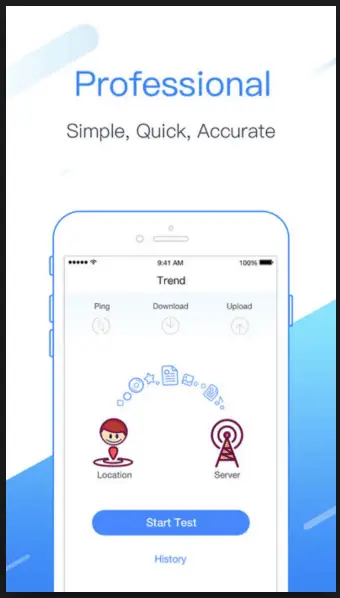 This app provides the basic features of a network analyzer like a list of users connected to your network, shows upload and download speeds, checks vulnerability in the user's network and is a light-weight, super fast and free. Android users can also enjoy this app.
FAQ
What is the best network scanner app for iPhones?
Fing is the no 1 Network Scanner: discovers all the devices connected to your Wi-Fi and identifies them with our patented technology used by router manufacturers and antivirus companies worldwide.
Is Wi-Fi analyzer free?
One Wi-Fi analyzer app that has received countless raving reviews from real users and professional reviewers alike is NetSpot. You can download it for Windows, Mac, and even mobile devices.
What do Wi-Fi analyzer apps tell you?
It changes your android phone into a network analyzer. Displays the Wi-Fi channels around you. It helps you to find a less crowded channel for your wireless router.
Conclusion
To conclude, With the use of these handy Wi-fi analyzer apps for iPhone you can quickly know in and outs of your network connection in a few minutes. In addition, There are a number of apps available in the marketplace. It comprises of free and paid apps with different features. Still, these were some of the best Wi-Fi analyzer apps that IOS has to offer, which are economical and consist of an easy-to-use interface.
In the hoard of trying out best Wi-Fi analyzer apps, stay away from malicious apps which falsify the benefits of giving you all the amenities which the best apps are providing as the main motto of these false apps is to take away money from your and record your data so that it can be misused for various purposes in the near future. So it is better to try only the reliable sources when downloading the Wi-Fi analyzer tools for your IOS devices.
Give us your feedback on these Top 5 Websites to Download Free Ringtones for iPhone.
Hey everyone! We are a group of Computer Engineers who have dedicated their lives to tech. It's our dream to make sure that all the updates in the tech world reach everyone is simple words. Hope you have a good time on the blog! 🙂