Nowadays smartphones can be used to do almost anything. They can double up as a TV remote or serve as a replacement for your camera. Not only this, you can turn one into a baby monitor for your baby as well. If you have some spare android devices lying around, you can use one in place of an actual baby monitor. Thus, you must know about the best Baby Monitor Apps out there.
You need another device in order to receive the information from the spare device. There are a lot of apps available on the Play Store to do this precisely.
List of Best Baby Monitor Apps
We know that no app can replace the presence of birth parents so, here are some of the best baby monitor apps for android
Baby Monitor 3G
Baby Monitor 3G is one of the best baby monitor app android for your device. It makes use of a Wi-Fi or 3G connection for communication. Also, the app features live video and pictures with night light apart from continuous crystal clear audio transmission from your child's room. And, it even has a built-in remote to talk to your child over the app in real-time.
Baby Monitor 3G records and maintains a record of all the sounds made by your baby. Also, these records help in keeping track of your child's sleeping patterns. Now, the app is not free and needs to be purchased from the play store.
Download Baby Monitor 3G here.
Also see: Digital Asset – Best Crypto Channels On Youtube-2023
Dormi – Baby Monitor
The baby monitor free app by Dormi is one of the most popular baby monitor apps for smartphones. Also, it makes use of Wi-Fi or mobile data to provide unlimited coverage and can be used on multiple devices simultaneously. The eye-catching feature is intelligent audio which dynamically adjusts the noise levels according to the sound and microphone sensitivity.
You can also talk to your child about the devices using the talkback option. The app has an info-centre where all the information about the child is stored for the parents. Also, this app contains other such tricks to make sure you are not disturbed during your chores and is available for free on the play store.
Download Baby Monitor-Dormi here
Also see: 9 Best iOS Emulators for Windows | Updates 2023
Wi-Fi Baby Monitor – NannyCam
NannyCam is yet another app to turn your device into a baby monitor. What sets it apart from the other baby monitor apps is the motion detection feature. It turns your device into a motion detector and sends notifications if it detacts any motion. You can turn the flashlight on the child's end to see your child in low light.
The recorded videos and motion detected videos are backed up to the cloud for safety. NannyCam allows unlimited devices to be connected and maintains a secure encrypted connection at all times. The app is available for free and has many other features in it.
Baby Monitor by MVA
The Baby Monitor app by MVA detects if your baby is crying and sends you an alert through a call or a text message. You can change the sensitivity to fine tune the settings and use image surveillance; you can capture a picture and have it sent to your device. The devices are warned if they run out of battery to ensure continuous monitoring.
You can also check out the Baby Facts section in the app to treat your baby better. It is also one of the free baby monitor apps on Play Store to turn your device into a baby alarm.
Download Baby Monitor app by MVA here
Also see: 10 Best Microphone Apps for Android & iOS in 2023
Baby Monitor by faebir
Even though this is another app in the list for Baby Monitor apps, it is entirely free. This means you can use all the features within the app without any ads or making any purchases. You can configure the app to only trigger an alarm only due to baby noises and no background noises. You can use it without an internet connection.
In such a case, it makes use of calls and texts for notification delivery. Otherwise, you can use Skype for communication between the devices. Similarly, this app provides continuous monitoring, even during low battery. You can specify multiple contacts to receive notifications.
Download Baby Monitor by faebir here
BabyCam – Baby Monitor Camera
BabyCam is one of the baby monitoring apps to control your baby's actions using your android smartphone. The parents can see the other device's recording in real-time, with the ability to control the flashlight of the device. Not to mention, you can send voice messages using the Activate sound button in order to talk to the child. The latest version even supports notifications on Android Wear.
However, the app is resource intensive and thus it is recommended to keep your device plugged in at all times during its operation. Also, another limitation is that the app supports only communication over Wi-Fi connections.
Baby Monitor/ Baby Alarm by Knirk Applications
One of the best baby monitor apps on the list, Baby Alarm is one of the simplest ones. You can play previous recordings to comfort the baby. Also, the app features automatic restart that automatically makes the app restart after an alarm.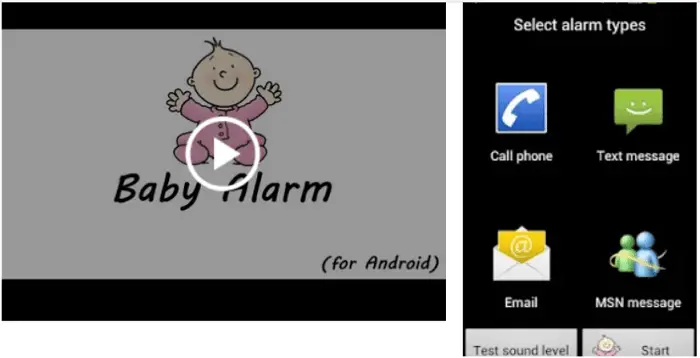 You can quickly adjust the sound sensitivity for setting the threshold for alarm trigger. The app provides features to talk to the baby after the baby has woken up. Also, this is a trial version of the app and an in-app purchase can be made to unlock the full features.
Final Words
No app or baby monitor can ever replace real parents. It is highly recommended that you check in on the baby yourself from time to time if possible. Also, since the baby monitor apps mentioned in the list make use of resources that drain your device's battery, make sure that you connect your device to a power source. Finally, keep the devices in a region with good network reception for uninterrupted operation.
See also: 7 Ways To Make Best Tasker Profiles In 2023 (Cool & Useful)
Hey everyone! We are a group of Computer Engineers who have dedicated their lives to tech. It's our dream to make sure that all the updates in the tech world reach everyone is simple words. Hope you have a good time on the blog! 🙂