Keeping track of your flights is an obvious thing which all borders need to do. It used to involve making tons of calls and being in front of a computer the whole time, but now, incredibly simple these days, thanks to the numerous online apps and services. With some handpicked Flight Tracker Apps, you can keep track of the status of your flights using just your Android or iOS-based smartphone! If you think you need to check this out for your convenience, or you are someone who frequently takes flights and want live updates on the same, this list is for you.
Top 5 Flight Tracker Apps
Here are top 5 best flight tracker apps for your Android/iOS smartphone. Download them on your device, and enjoy your trip!
Flight Departures
That is the actual name of the app. This one of the Flight Tracker Apps is as simple as it sounds, it is just a board which contains information about different flights and their status from across different airports. This is useful for those who do not need detailed information on every single flight, but just want an overview of the current flight status.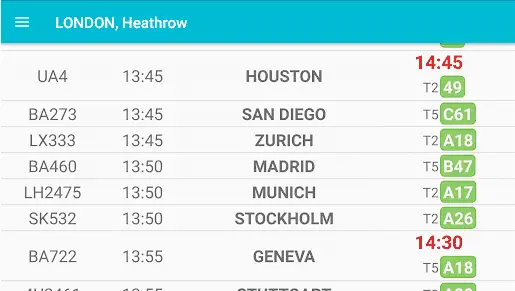 It allows you to switch between departures and arrivals of selected airline flights, from different airports at the location of your choice. It's effortless and straightforward way of getting fast and relevant information. I found the details to update every 5 minutes seemingly or so, which is pretty quick for a free app service.
Also See: 4 Best Driver Update Software for Windows (2018 Updated)
The app has a different name on iTunes, but it is the same app. You can download this app for your device from these links.
GateGuru
GateGuru is a trendy app among flight details and trackers apps. It allows you to have a custom plan for your travel. You can choose the place that you want to set as the destination and select the route you want to take. The app and its smart planner does the rest.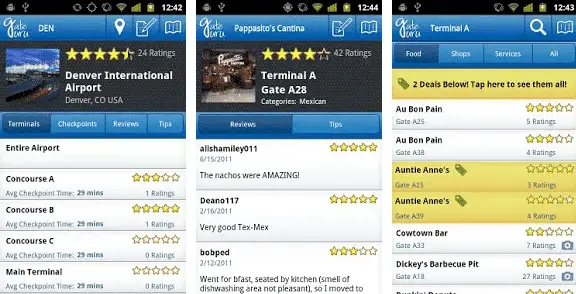 This one of the Flight Tracker Apps promise to provide you detailed and accurate information on the flight duration, the current status, the time of departure including any intermittent delays, which gate to take, the weather forecast, estimate time you have to wait to get the security clearance, etc. It acts as a flight details app as well as a reliable trip adviser service.
Try it for free for your phone. Not only do they support Android and iOS, but they also support windows phones! Check out their website for more info on the app and for links to download the app on your respective platform.
Flightradar24
Flighttradar24 is a pretty intuitive one among the rest. As the flights are scheduled, you can get real-time, on-demand status. There are some unique features which other apps do not provide you with, such as a view of the cockpit!
Things get entertaining if you have a fast internet connection, because you get a pretty good view from a pilot's perspective, thanks to augmented reality being implemented there.
Of course, it serves your travel purposes by tracking flights and their timings and other information that you might want to know. You can check out their official website for more detailed information on the same.
FlightView Free
This one of the Flight Tracker Apps is very easy to use implementation of a flight tracking service on your phone. All you need to do is forward the emails that you have received a confirmation, and let the app manager do its thing. You get a detailed insight about your flight's itinerary along with live updates and important messages that you need to see.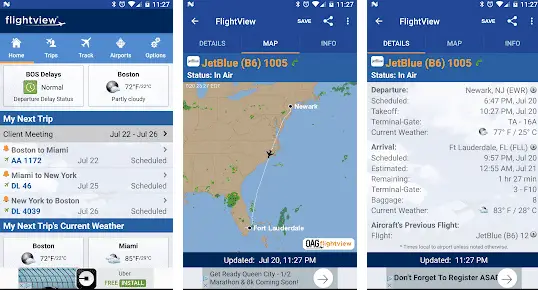 You can add your information and notes to the flight, such as some vital address that you need to remember, or the reservation numbers for the hotel that you planned to stay in, etc.
Also See: 5 Best Anatomy Apps for Android & iOS
It is also possible to get weather updates and delay notifications as expected from such an app. You can even get some driving directions to the airport using your phone's built-in maps. Check out this app for your phone.
App in the Air
Funny name of this one of the Flight Tracker Apps, but surprisingly good service. It has a sleek user interface with proper emphasis given to the essential details about your flight. You get all the basic, but prominent stuff first. It reminds me a lot of the Google. Now, with the same card like interface to show you updates and details.
Just like google now, you can dismiss the info cards. Choose the order in which they need to populate on the dashboard of the app. And also hide any specific detail card you want to. These cards show up as soon as you tap on the flight you want to concern yourself with.
This one of the Flight Tracker Apps gives you all the necessary details. Such as the boarding time of the flight. Also time of arrival at the destination, what is the time when you can check in, etc. It's pretty sweet to have in your pocket all the time.
Get this app for free on your device. You can download this app on your respective mobile platform from these links: