Anatomy subject has always been annoying and monotonous for the students. Reading tons and tons of pages with text as small as ants and even no pictures, it can be disappointing. Moreover, there are innumerable books to read and all of that just give us an insight of a little of the structure and composition of the human body. Not to mention the innumerable times we fall asleep. Thus, you must know about the Anatomy Apps out there.
So why not study such a complex subject in an interesting and a non-monotonous manner that will not make its students fall asleep as soon as they open their book. Sounds impossible right? But no, this has been made possible, thanks to the application developers that spent a lot of time reading the books in your place to give you the best app that you deserve.
Also See: 5 Best Flight Tracker Apps for Android & iOS (Updated)
Top 5 Anatomy Apps for Android to Get Now
Still confused? Below listed are the best applications which will help you study Anatomy. So let's get right into it:
Essential Anatomy
With all its features and design, this app deserves number 1 spot. Essential Anatomy is a complete guide to the human body, it contains all the information regarding the same, plus all the data can be easily understood too.
This one of the Anatomy Apps suggests you watch a tutorial video on using the app efficiently without getting confused now and then and for easy navigation.
Both Male and Female bodies are available can be studied in the complete detail thanks to the super-real 3D design that the application has designed. You can add and erase any body part to view the one behind it and so on.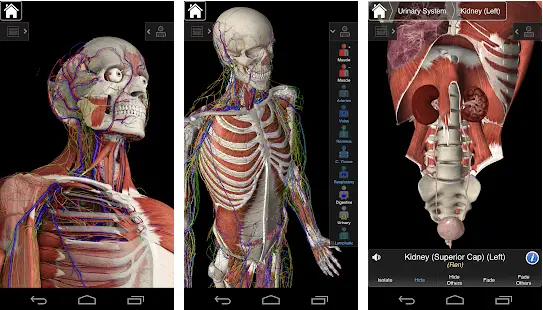 Moreover, you can see everybody part solely by merely clicking on it; other functions include viewing and studying of the lymphatic system, bronchi, muscle, veins, arteries, nephrons exclusively and separately in the human body. It tops the list of the most engaging and exciting graphics designing.
Anatomy Learning – 3D Atlas
Anatomy learning application is specifically designed for medical students and provides information about every body part in detail. The developers seem to have loved the subject, and as a result, they designed a special template for every body part as well as bone and muscle.
The best part about this Anatomy Apps besides that you can study every nook and corner of the body is that when you tap on a particular organ, bone or muscle, the application reads it aloud letting you know its correct pronunciation.
You can quickly search and study about every function and system in the body (respiratory, nervous, etc.) in a lot of detail.
This one of the Anatomy Apps is idle for young doctors and physicians who aim at having a complete knowledge about the body; then this app is not for you.
Lean Muscles: Anatomy
As the name suggests, this application specialized in the muscles section of the human body exceptionally lean muscles. It has sections divided into the leg, face, torso, arm, etc. muscles and provides an overview as well as detailed information about the same.
Other than muscles, this application also focuses on muscle-related parts like muscle fibers, etc. with complete diagrams and layout. If you not in a mood to read the detailed description, then you can also opt for the audio version and listen to the description in a clear and understandable voice.
There are one hundred thirty-two images in total accompanied by tons of videos on each -section of muscles.
The coolest part is that after you are done studying. You can choose the quiz for the particular section of your study. From over five hundred quiz options and can also create examinations as well.
Visual Anatomy Free
Although this one of the Anatomy Apps is not designed for a detailed study for the medical students. It can prove to be a good reference. As the name suggests, visual anatomy has high-resolution images (12 in total). Which covers the whole of the human body.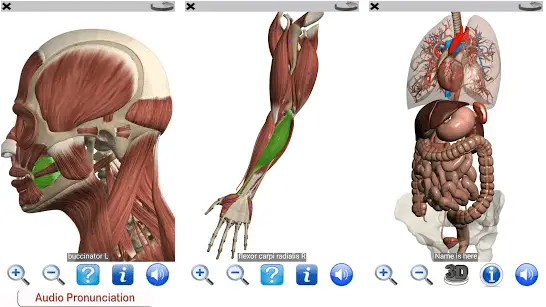 Each image comes with a group of four to five organs and parts about which there is information in the description. Nephrons, arteries, veins and other such parts can also be studied.
You can take tests and score marks after the completion of each of the group of parts.
Essential Skeleton
Unlike the other applications in this industry that features all the body parts and muscles of the body, essential skeleton only features a detailed study of the skeleton/bones of the human body.
The user can rotate the skeleton in the 3D space. And study in detail about every bone from every direction and aspect. This is one of the latest technology development in the medical industry.
This Anatomy Apps is entirely free and is available for both Android and iOS. You can download any one of the above-stated applications for a complete and detailed study of the human body.
If you know any other application of the similar type then please comment below. We would love to feature them on our list.