Top 9 Best Construction Apps For Civil Engineers In 2023Are you the one getting the grocery for your home daily, weekly or monthly? Then, you must be quite familiar with the struggles you face with this grocery stuff. Memorizing the list and sometimes forgetting few items, writing the list on a paper and losing it sometimes, revisiting the store to get the forgotten items and many more issues. Isn't this process annoying? You can make this process easy. Wondering how? Well, the device that you carry everywhere without a miss can save you from this tiring process. Thus you must know about the best Grocery List Apps out there.
Grocery Apps! Yes, grocery apps are the best remedies for your traditional paper lists. Save papers, save trees and save yourselves with these apps. Moreover, there are hundreds of apps available in the store that save your time and energy. Here, we present you the top 10 grocery list apps that meet your requirement and help you in your grocery shopping.
10 Best Grocery List Apps
Out of Milk
Out of Milk is the best grocery list app in the store for its simplicity and easy-to-use interface. It has a shopping list, pantry list, and to-do-list all embedded in a single app. It allows you to store multiple lists for multiple purposes.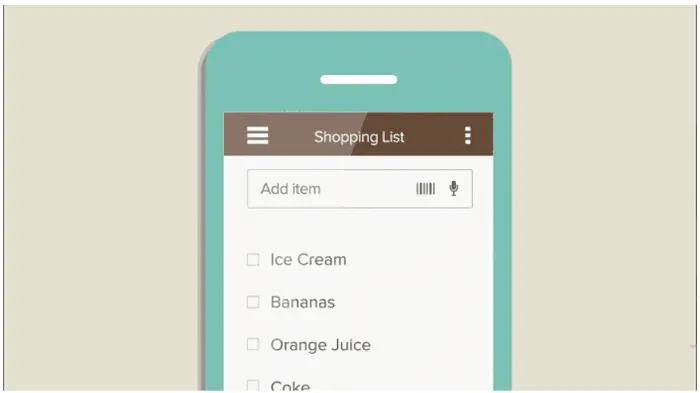 Sync and share your shopping lists for easy access from anywhere and anytime. Group your items into categories for easy analysis and in-store purchases. It displays the total bill and the running bill from your cart and helps you manage your budget.
Also see: Top 14 Free Programming Apps for Android (2023 Edition)
Our Groceries – Shopping List by HeadCode
Our Groceries Shopping List gives you a fantastic shopping experience in your out-stores. Add your recipes to the list and share them with your family and friends. Add photos to items and access them quickly.
You have a particular barcode scanner in the premium version. Get the latest version and enjoy your shopping with the smart app by saving time and energy.
Shopping List- Voice Input
Shopping List – Voice Input as the name specifies can take the input of item list directly from your voice commands. It has two voice input modes – single item and multiple items.
You can import a text file of an item-list split by lines to add them into the app-list. It is possible to sync the app with your other devices and access the list from anywhere. You can customize the look and feel of the app in the settings.
Grocery Shopping List by Listonic
Grocery Shopping List by Listonic is a useful and time-saving best grocery list app. You can add any number of items on the list and check them off when you have purchased them. The app comes with tips and hacks to buy, store and preserve the grocery.
Share the lists with others directly through the app. Give a voice command and watch the item gets added to the list. Uncertain about the overall bill? Just add the items and the total bill is estimated in the app which makes your life easier and budget manageable.
Bring!
Bring! is a trusted app by thousands of users around the world. So, you can Create and share your shopping lists via social apps with your friends or family. Add product photos to get the right item from the store.
The app is available all over your tablets, smartphones or smart watches. Get the app and ease off your shopping strategies.
Shopping List by Kiwi3
Shopping List by Kiwi3 is an extra time-saving app with its embedded suggestion feature. This one of the Grocery List Apps has features like multiple lists for multiple stores, share the lists on WhatsApp or any other social app, suggestions for your items while you are still typing it and many such amazing features.
You need not always type the products to add to your shopping lists, previously added items are shown as suggestions from where you can directly drop them into your current list.
Shopping List- Buy Me a pie
Buy Me a Pie! is a secure shopping technique that saves your time and plans your budget. Add items from the database of plenty of items and save your time in inputting the items into the app-list.

Share your list with your friends and family via social Grocery List Apps and let them include your list in their shopping while you don't have time to go shopping. The app allows you to create multiple lists for multiple needs.
Shopping List by Maloii Shopping
Shopping List by Maloii is a simple yet useful best grocery list app. Additionally, you can add items to the app simply by importing from the database, typing on the keyboard, using your voice and scanning the barcode.
It is a smart app that doesn't require much of your effort in inputting the list. Just tap on the 'bought' indicator to check the item off the list.
Grocery King
Grocery King is a highly customisable, fully featured and one of the best Grocery List Apps that is designed to save your time and energy. 1000's of built-in products with images will help you just to tap and add your products to the list.
Share your lists with friends and family and let them shop on your behalf. You can access your history and previous bills and plan your budget. Know the timings of your store and plan your shopping accordingly.
Mighty Shopping List
Mighty Shopping List is one of the smart Grocery List Apps that recognizes your voice and transcribes the items into your list. This one of the Grocery List Apps has extensive features like, multiple lists, master lists with allowed customization. In addition, It keeps an account of price, quantity, and taxes allowed. You can travel back to the history and check on your previous purchases.
You can manage your monthly budget efficiently by following this grocery shopping app. The app acts so smart that it syncs the grocery lists with other lists, scans bar-codes and store the recipes. This app saves your time and effort to the extent that you don't have to memorize the list and revisit the store to get the missed items.
Download: Android
FAQ
Is there a free app for grocery lists?
Out of Milk allows you to take your grocery list wherever you go without a pen or paper. It also allows users to create a fun, interactive shopping list. You can also make personalized to-do lists and keep an up-to-date home pantry inventory for reference.
Is there an app for a family grocery list?
The OurGroceries app (available for iOS and Android) syncs your family's grocery lists across multiple devices, keeping everyone informed of changes. The app works with smart devices such as the Amazon Echo, so you don't need to have your device nearby if you have an idea.
What is a master grocery list?
What exactly is a Master Grocery List? A master grocery list is exactly what it sounds like. It lists food and household items you frequently purchase, with space to write down additional articles you may require.
Conclusion
This article will get you all the essential Grocery List Apps that are going to make your life a bit easier than it was. So, go ahead and download them to get a helping hand in your day to day life.
See Also: 10 Best Sites Like Fingerhut To Shop From [Full Review]
Dedicated group of Computer Engineers making tech updates accessible to all. Our dream is to simplify and share tech news with everyone.