Watching movies is a delight! Don't you find it challenging to keep track of the details of your downloaded movies? Are you looking for an enhanced and convenient way to arrange your data in a more organized manner? Instead of wasting your time wondering and looking for free movie apps, it is always better to have an organized collection of your favorites or the film you frequently watch. Here we come with some of the best Movie Catalog Software to your rescue.
With technology advancement, you can watch TV with free live TV apps with premium-quality video streaming right on your Android or iOS smartphones' screens.
Top 8 Movie Catalog Software for Organizing your Movies
We have handpicked top movie catalog software that would definitely help you to organize your movie library, thus saving your time as well as energy.
Ant Movie Catalog
Ant Movie Catalog is a free and easy-to-use Movie Catalog Software. It allows you to import movies from various sources that you can use to create and maintain your movie database. You can also add movies manually and further information about a film like Director, Category, Release Date, etc., which can be retrieved from the internet using services like IMDb (Internet Movie Database). Then, the final database is saved in the AMC format or XML format.
It also allows you to create a hard copy of your database, or CD/DVD Covers can also be printed using its various predefined templates. This arrangement of multiple movies in sequential order or the desired order makes it user-friendly.
Visit: Ant Movie Catalog
moVee8
moVee8 is a lightweight movie catalog software that retrieves detailed information about the movies from TMDb (The Movie Database). The home page shows the latest "BOX OFFICE," "COMING SOON," and "TRENDING" movie details.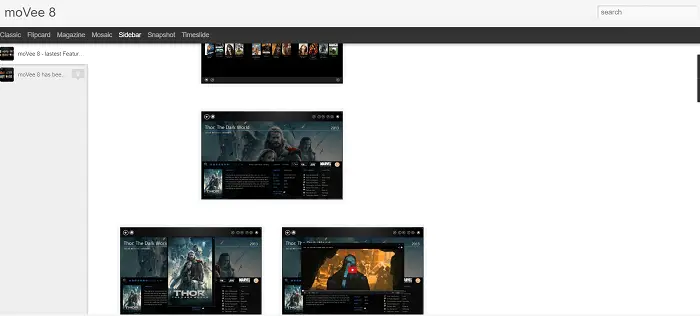 IMoVee8 automatically fetches all the required detailed information from the web. ts detailed movie and actor information allows you to keep track of your movie collection. All you need to do is add movies from the folder by clicking the "browse for folder" button on its home page. It renames movie folders, automatically removing all the unwanted words. You need to follow this simple process without any hustle.
Visit: MoVee8
Movie Explorer
Movie Explorer is a super-loaded software that is quick in performance and provides exquisite features to the user. The best thing about this movie Catalog software is that it is portable.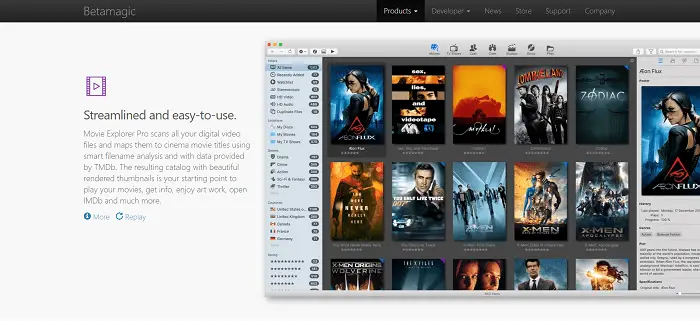 It is a program that scans your hard drive and gathers all the required movie details from IMDb. You only need to click the "PLAY" button to watch a movie. Movie Explorer is, therefore, convenient software to have a better-arranged database in no time. Also, there are many YouTube channels that have been created by movie lovers, who share their knowledge with others through these channels.
Visit: Movie Explorer
 GrieeX
GrieeX is another movie Catalog software that is used to add movies to the database quickly. This is done using elementary steps, which include "add with file," "add to folder," or "add manual" option.
It collects all the information about a movie, and you can play it by clicking the "PLAY" button. The program will upload the database to your Dropbox account also. So, next time if you want to watch a movie, select from your database.
See Also: Top 7 Video Sharing Apps to Binge With Your Friends | 2023
jMovieManager
jMovieManager is a portable java-based program. The application file can be extracted from a small archive, so there is no need to complete the whole installation process. To use this movie catalog software, first, you need to execute a JAR file.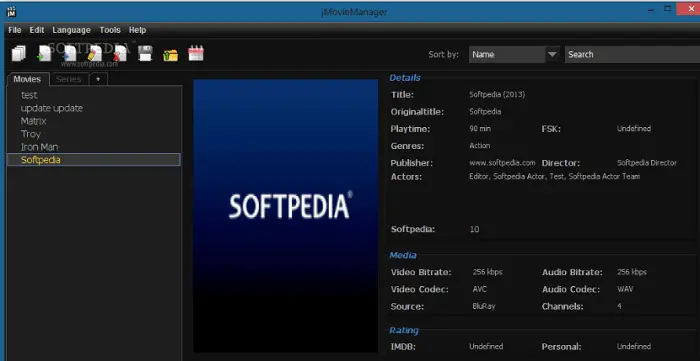 Now, add the movies to the database and search for the required title, which will fetch the information about movies from IMDb websites. You can manage movies and TV series on separate tabs. It also provides a calendar view mode, which displays the information of recently released movies.
Visit: jMovieManager
Data Crow
Data Crow is an ultimate movie catalog software that allows you to create a catalog for movies and all the collectible items such as books, software, music album, images, etc. It asks you to choose a program interface language as soon as you run the program.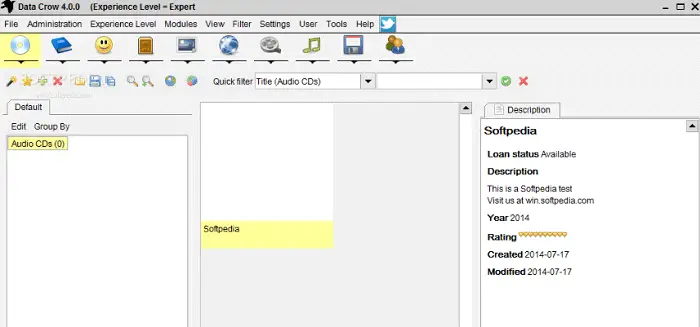 Once you select the program interface language, you can easily add new items by clicking the module at the right. Now, it will fetch all the movie details from various websites like IMDb.com, or you can also manually add the movies by typing the title. After adding the features to your database, save the information, and your work is done in no time.
Visit: Data Crow
EMDB
EMDB stands for Eric's Movie Database. It is an essential cataloging utility for keeping track of physical disks like DVD collections and media files stored in a folder. This movie catalog software automatically imports the data from IMDb websites, reducing your part of work. EMDB is a multi-language user interface.
It doesn't require any other libraries as it operates via C++. It provides time to time updates. And EMDB includes its translations in the setup itself, making it a more reliable software.. EMDB is available in several languages: English, Danish, Dutch, Italian, German, Portuguese, Slovak, Spanish, Hungarian Croatian, Swedish, Greek, Catalan, Czech, Norwegian, Serbian, Arabic, and Portuguese (Brazil).
Visit: EMDB
Filmotech
Filmotech is a free media manager that organizes data for you in a relaxed manner. It retrieves data from the web and automatically fills in your database of movies.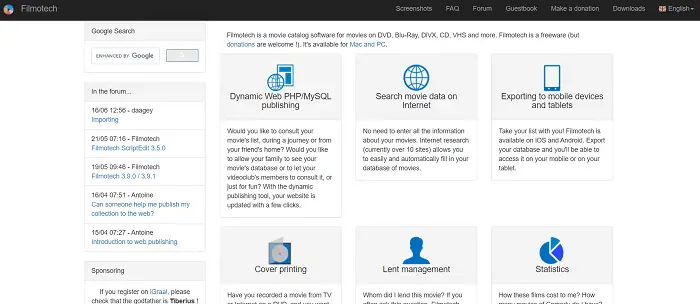 This movie catalog software has the best feature that allows you to lend the movies to others using "lend date" and "lend to" options, which helps track the shared details from your database. Hence, Filmotech is a most helpful movie catalog software. 
FAQs
What is software for movie catalogs?
A tool that enables you to manage a database of your movie collection is called movie catalog software. It allows structured and orderly tracking of information such as movie titles, directors, release dates, and more.
Why should I use software for movie catalogs?
Software for movie catalogs has several advantages. You can find specific movies more easily when you want to view them by keeping your movie library organized.
Do these movie catalog software alternatives cost anything?
The list includes free and commercial versions of some movie catalog software with additional functionality. On the various websites of each software, you may find information on availability and pricing in more detail.
Do I have the option to import movies into the catalog software?
Most movie cataloging systems let you import films into your database. Typically, you may manually upload movies by filling out their metadata or use tools to import movie data from web resources automatically.
FAQs
Conclusion
Therefore, manage your movies, TV series, and videos and keep them perfectly arranged. His movie catalog softwares can help you keep track of all your downloaded movies and categorically sort them. In addition, you can start your exciting journey of watching movies as well as videos online. Let us know about your experience in the comment section below.
Dedicated group of Computer Engineers making tech updates accessible to all. Our dream is to simplify and share tech news with everyone.