The camera is a powerful invention, freezing memorable moments and serving security purposes. However, hidden cameras pose a rising threat. To ensure our safety, we can take measures such as blocking websites on Google Chrome and detecting concealed cameras. In this article, we will discuss tools for detecting hidden cameras, allowing you to choose the best app that suits your needs.

Detectify is a free hidden camera detector app for Android users. With its top-notch algorithm, it efficiently detects hidden cameras, microphones, and spy bugs. Easy to use and lightweight, it has garnered rave reviews from satisfied users on Google Play.
We should be aware of these hidden cameras. I know you will doubt that "How are we able to detect these Hidden Cameras?" Please don't be worried. 
See Also: How To Use PS3 Camera On PC
Top 11 Hidden Camera Detector Apps in 2023
Select the best-hidden camera detector app from this list that best suits you. You can download it on your mobile phone for Free using the Google play store, or if you are an iOS user, you can get it using the App Store, and you can easily install this on any of your mobile phones.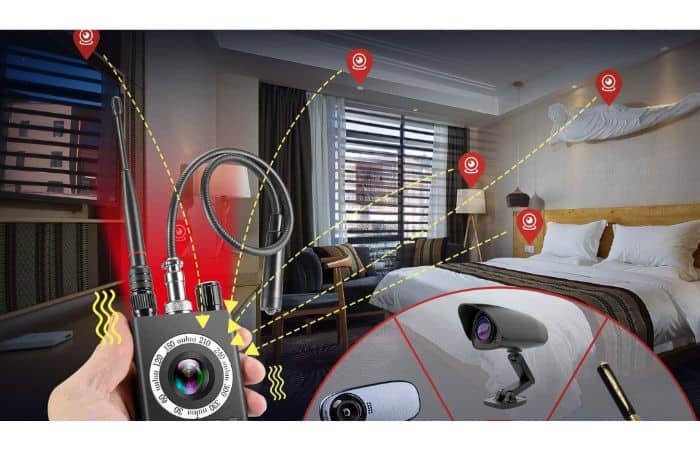 Let's dive in!
Detectify
Detectify is a decent hidden camera detector app that you can download for free in Google Play, and it is only available for Android users. It has the best algorithm to detect hidden cameras and other electronic devices like microphones near you.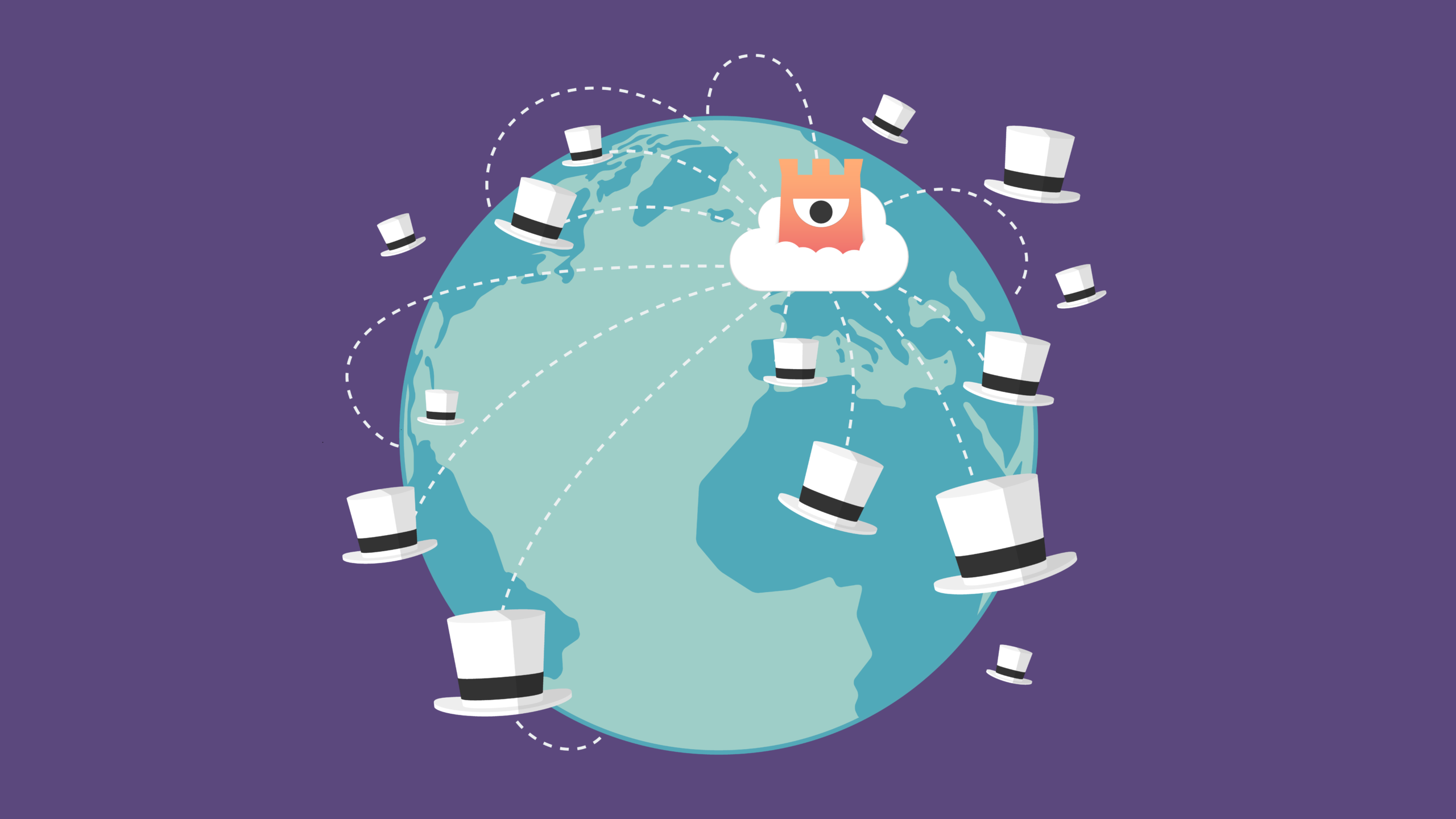 This app is easy to use and is a lightweight application. Also, it identifies the listening devices and spy bugs. This application received excellent reviews from users.
Visit: Detectify
See Also: MacBook Pro Camera Not Turning On Error
Hidden Camera Detector
Hidden Camera Detector is also one of the best detecting applications available on both Google Play and in the Apple app store. This hidden camera detector app detects secret cameras using a feature called Magnetometer, so your phone should have a magnetic sensor.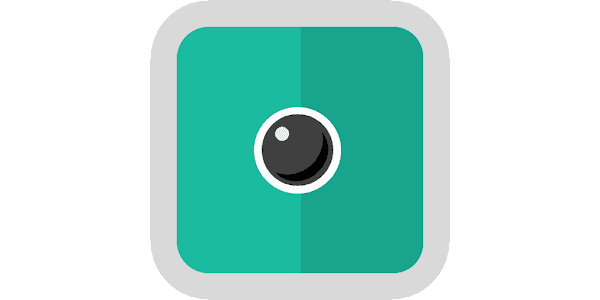 This app also has a premium version Hidden Camera Detector Gold. If this app finds any cameras, it will produce a beep sound, and you can investigate that place to find the camera.
Visit: Hidden Camera Detector
Radarbot
Radarbot is one of the best apps which use GPS to detect all types of cameras. This hidden camera detector app also has features like a speed camera warning device, real-time traffic alerts, and an advanced speedometer. It was created by Iteration Mobiles & Vialsoft Apps.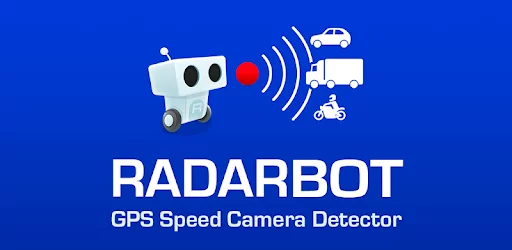 This app also has a paid Pro version which has standard functions and is free from advertisements. It is available in the Google play store and the App Store. 
Visit: Radarbot
See Also: Best WhatsApp Spy Software To Track & Monitor
Hidden IR Camera Detector
This hidden camera detector app is a perfect tool that allows you to find hidden cameras, microphones near you. This is an Android user interface. This app also emits infrared light for the detection of hidden cameras and other electronic devices.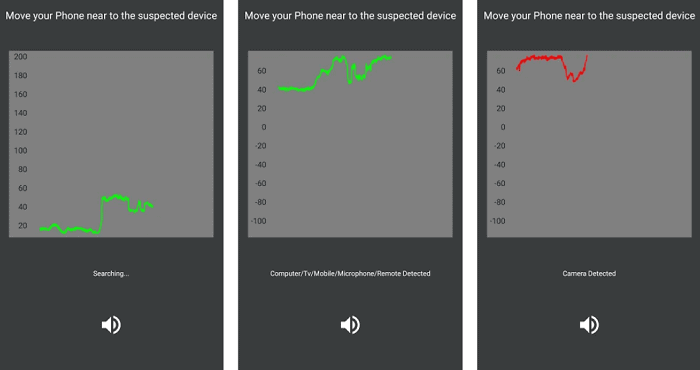 You cannot see these infrared lights with your naked eyes. It is an easy interface to use and has a special camera filter, lightweight application, spy camera detector, and IR camera detector. You can download this application from Google play store free of cost.
Visit: Hidden IR Camera Detector
Don't spy
Don't Spy is another popular application for iPhone users.

It detects hidden cameras, hidden microphones, smartphones, and other electronic instruments, and it can also find spy bugs. You can use it easily in your hotel rooms, washrooms, workplaces, and even in other places. This hidden camera detector app is available only in the App Store.
Visit: Don't spy
See Also: Best Ghost Hunting Apps
Glint Finder
This is a great hidden camera detector app that can certainly help you find spies. However, this app only works on android phones.
It uses a feature called retro-reflection, which uses a camera flash to allow the user to identify better shiny objects in the camera's point of view. You can get this app in the Google play store for free.
Visit: Glint Finder
Hidden Camera Founder: Detective Camera Simulator
This hidden camera detector app helps you to stay safe wherever you go. If you have any doubt that any secret camera is present in your room, I recommend you to download this app. This application helps you to find concealed cameras, microphone bugs, and glints. 
It emits infrared rays, and at once, if it finds any devices, it starts to produce beep sounds. You can find this app in the Google play store, and you can download it for free.
Visit: Hidden Camera Founder: Detective Camera Simulator
Spy Detector
The finest item on this list should be Spy Detector. This software's user interface (UI) is elegant, but it is still simple to use. Above all, this program gives you access to more features than just a hidden camera finder.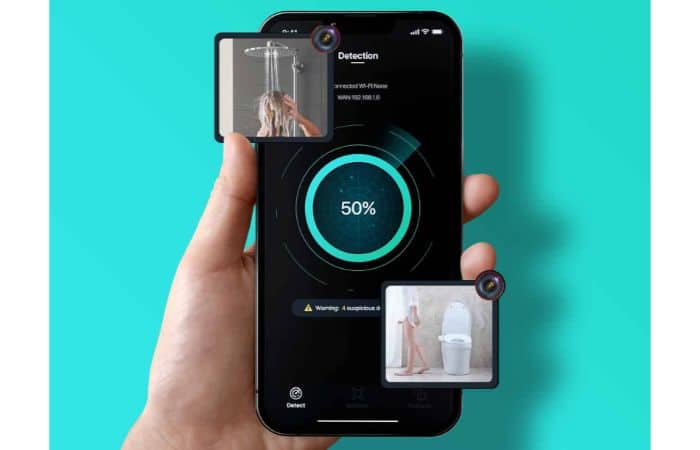 The Spy Detector app has more advanced technology than the majority of the apps on our list. This app uses current AI technologies to find cameras and lenses in your neighborhood. By doing so, you may say that the scanning features are stronger than others.
According to some, the finest hidden camera detector app for the iPhone is Spy Detector.
Although the software is free to download, you must purchase additional items from the integrated store to operate properly. Spy Detector is still worth a go.
See Also: Detective Apps For The Mystery Enthusiasts
Electromagnetic Detector app
Most tools for finding concealed cameras would typically search Wi-Fi for unwanted devices. However, some applications also use electromagnetic waves to find undesired objects. The Electromagnetic Detector app is one of the ones that will help you out in that regard.
By detecting any potential electromagnetics in your vicinity or room, the system will assist you in spotting unauthorized cameras and other gadgets, as the name of the app suggests. Generally speaking, this program is created for more than just hidden cameras.
However, Electromagnetic Detection is a strong contender if you're seeking a hidden camera detector software download for the iOS platform. The app will alert you with a beep when an electromagnetic signal is found.
Get: Electromagnetic Detection
DeviceOwl
In general, there are a lot of apps that provide functionality for concealed camera detection. On the contrary, DeviceOwl is a free program that offers several powerful tools to find concealed cameras in space. This is why so many people adore the app – it is useful while staying in public areas.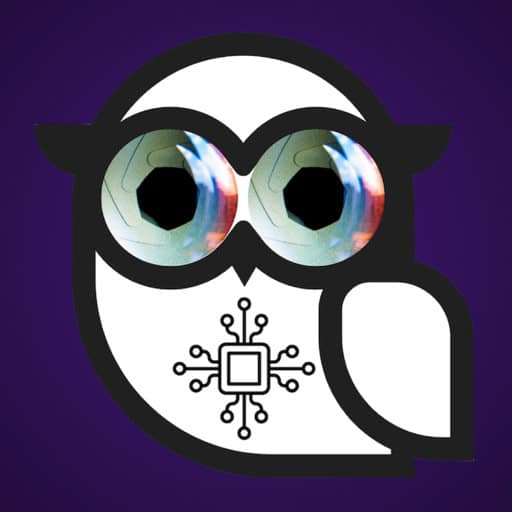 Things are already complicated enough without this software adding to them. Once you've downloaded DeviceOwl, connect it to a nearby Wi-Fi network, and disable the built-in camera. After that, you can point your camera toward any object or camera that seems suspicious.
You will be promptly alerted through the app if there is a camera or lens in the space.
With this program, everything is quick and uncomplicated, making things exactly as they should be.
However, you need to look more closely at the capabilities provided if you seek a free hidden camera-detecting app. Therefore, why not give DeviceOwl an attempt? Only iOS users can get this app from the App Store.
Get: DeviceOwl
Spy Camera
Spy Camera isn't the best free hidden camera app for mobile devices. However, consider utilizing this app if you don't mind paying for services.
Spy Camera gives customers access to a greater variety of capabilities than other premium programs. You can purchase total security from all types of unlawful devices in your neighborhood or a hotel room for a one-time fee.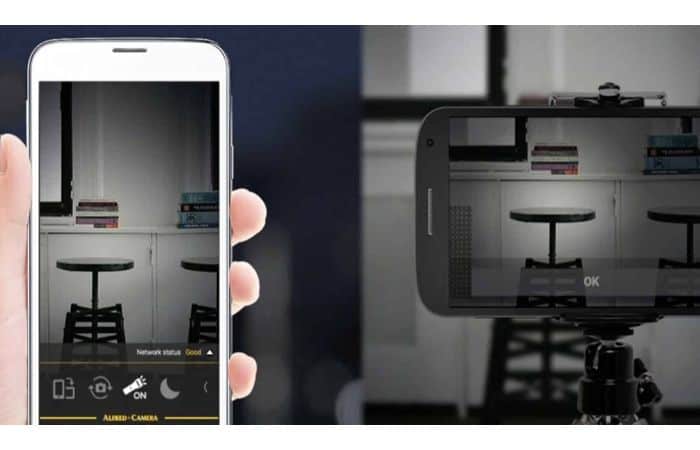 The system will identify any potential spy cameras and other recording devices in your area once you download the software and carefully follow the instructions. It would help if you chose between manual and automatic recognition modes to use the functions. This app is more than worth the payment.
FAQs
How can I detect a spy camera?
Turn off the bulbs, shut the curtains (the room must be dark), and activate the flashlight and phone camera. Then position them in the direction you suspect a hidden device is hiding. You will notice a glare on the smartphone screen if your assumptions are right.
How can you detect if there are hidden cameras in your room?
To detect hidden night vision cameras, turn off the lights in your room. The night You can use the vision security camera functioning principle to locate hidden cameras in your room. The majority of covert security cameras use red or green LEDs. In low-light settings, the LEDs will blink or shine.
Can a cell phone detect a hidden camera?
Smartphones are capable of detecting hidden cameras. This app detects electromagnetic field detection and Magnetic fields. You must, however, have a concept of where the camera might be positioned. If a strong field is detected, a camera is most likely hidden within the wall or object.
Conclusion
To conclude, with today's technological advances, there is no reason to become a victim. So, make the most of the evolution of technology and be safe wherever you go. Additionally, don't let anyone spy on your activities as a good hidden camera detector app can detect a concealed camera anywhere no matter wherever the spies hide it. Do tell us bout your experiences below in the comment section!
Dedicated group of Computer Engineers making tech updates accessible to all. Our dream is to simplify and share tech news with everyone.