If you were looking for the best-infrared camera apps that have already revolutionized 2023, you've landed at the right place! Thermal imaging helps to experience and visualize heat energy by clicking pictures in night mode. If you are on any other website, you might want to check this article on free movie apps for Android.
Here is a list of the best Infrared Camera apps for Android in 2023:
Thermal Camera FX
Seek Thermal
Thermal Scanner Camera VR
Thermal Camera Illusion & Flashlight
Thermal Camera Simulated
VR Thermal & Night Vision Camera FX
Thermal Camera VR Simulated
But what's more interesting to know is that with the advent of technology and digitalization? There is no need to buy extra equipment. Also, it is free of cost. In this article, we will discuss some of the best-infrared camera apps that will enhance the photographer image in your group.
See Also: 10 Best Android Screen Recording Apps (Free & Paid)
7 Best Infrared Camera Apps to Use in 2023
We have brought for you, under one roof, the best-infrared camera apps for Android, which have already revolutionized 2023.
Thermal Camera FX
If you've always wanted to see what objects around you would look like in the dark, this application is getting that wish fulfilled. Claimed to be the best-infrared camera app out in the market for thermal effects, this app not just allows you to edit saved photos and videos from the gallery itself and view them after applying effects.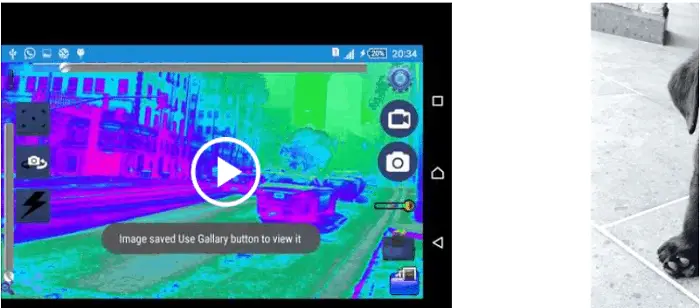 The user can even change the results during recording as well! The app DOES NOT detect heat energy. It provides thermal effects. The most striking feature is the real-time effects like a flash with a front camera, hardware camera button, autofocus, on-screen zoom effect, and many more.
Download: Thermal Camera FX
Seek Thermal
After being awarded the Product of the Year by Popular Science and This Old House, the developers of Seek Thermal are ecstatic to bring to you the best way to experience and visualize thermal energy on the go. Using your smartphone/tablet, you can accurately inspect, detect, measure, and see heat energy right before your eyes.
Not only does it enable infrared vision, but it also allows capturing and storing those images. With multiple viewing modes and color palettes, it captures the best and most desirable thermal image even in absolute darkness, total daylight, or special conditions like fog, smoke, etc. Thereby, it is one of the most used infrared camera apps.
Download: Seek Thermal
Thermal Scanner Camera VR 
While listing the top infrared camera apps, how can we miss out on this one? With the introduction of Virtual Reality mode, this application has surely been modified to stand out. Now, you can see everything in thermal effect, irrespective of the brightness of colors or absence of light. That's not it; it also gives the user a wide range of effects and multiple color palettes to choose from.
See Also: 6 Best Free Alternatives Apps Like Photoshop In 2023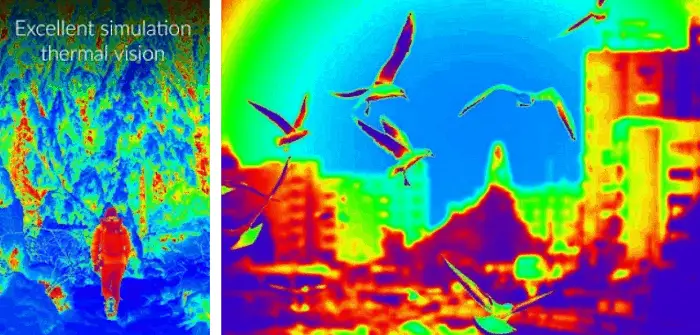 This color palette includes Thermal, Mono, Heat Map, Fire & Ice, Iron Man, Rainbow, Predator, and Neon. Not satisfied with the option? Don't worry. The app allows you to create a color palette of your own! With Thermal Scanner Camera VR, add effects to photos from your gallery and thermo-scan images from your gallery with additional features like zoom, front camera, flash, and fast capture.
Download: Thermal Scanner Camera VR 
Thermal Camera Illusion & Flashlight 
This One tool is one of the best-infrared camera apps. It guarantees perfect night vision along with the option of an in-built flashlight. To enable thermal vision and experience the thermal energy around, the user needs to turn on the flashlight using the flashlight button and let Thermal Vision see in dim light or even in complete darkness.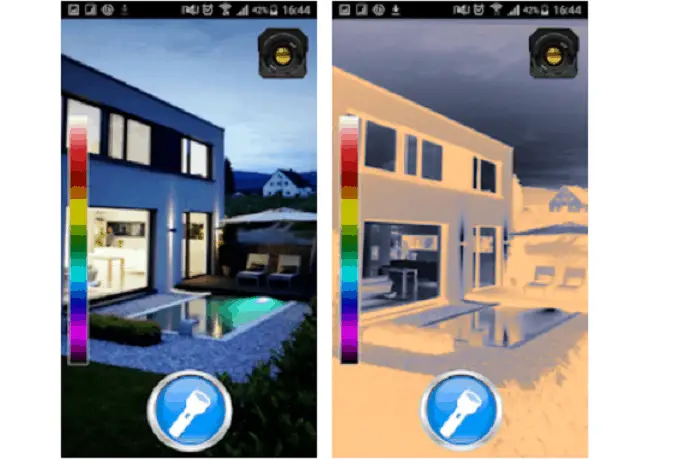 Talking about the add-on filters, it uses High Contrast and Blue Orange Filters with a bright flashlight. As known for its "all-in-one" facility, this app features in the top applications for infrared cameras.
Download: Thermal Camera Illusion & Flashlight 
Thermal Camera Simulated 
Being the most recently launched and one of the few fantastic infrared camera apps, it comes with the most new-age and technologically relevant features. Being a real-time thermal camera effect provider, it can also simulate an infrared camera. It can mainly be used as a simulation of the thermal camera as it DOES NOT detect real temperature changes.
See Also: 6 Best Online Video Watching Apps For Android
The image quality depends on the device it is being used on; lens, resolution, ISO sensibility, etc. The download size is tiny compared to the resulting images it produces.
Download: Thermal Camera Simulated 
VR Thermal & Night Vision Camera FX 
With a newly introduced feature of virtual reality, experience thermal vision like never before! This one of the best-infrared camera apps is available in VR mode, giving you the feel of using a real thermal vision device. Not just this, it is loaded with features like the 'Ultraviolet Vision Effect' and 'Honey Bee Vision Effect.'
With realistic and real-time effects, the app also provides the option of multiple effects for editing existing photos and videos, along with numerous night vision effects, which are a huge plus point. Your visuals become more active.
Download: VR Thermal & Night Vision Camera FX 
Thermal Camera VR Simulated
A must-have for your device if you want to experience virtual reality. This application allows you to turn into whatever you want; a spy, a soldier in a war, or whatever you may like. Additionally, it uses virtual reality effects with thermal effects in a hassle freeway.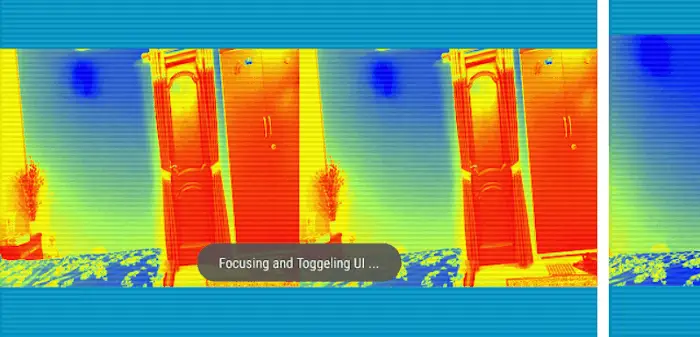 Apart from using a unique technique of tonal mapping, which simulates an infrared spectrum, it also possesses features like adding real-time effects to photos and videos with ease. In addition to these, it also comes with features like autofocus, front camera flash, and multiple thermal palettes and effects to choose from.
Download: Thermal Camera VR Simulated
See also: Top 10 Best Free Movie Apps For Android 
FAQ'S
Are these infrared camera applications available for free download and use?
You may download and use these infrared camera applications for free. They give users access to infrared and thermal photography without additional hardware.
Can these infrared camera apps detect natural heat energy?
These infrared camera applications do not find actual heat energy. They replicate thermal imaging and deliver thermal effects. They use infrared-like filters and products for images and videos to improve the photographer's image.
Do all Android devices support these infrared camera applications?
Most Android devices should work with these infrared camera apps. It's always a good idea to check the app's compatibility requirements and make sure your smartphone meets them.
Can these infrared camera apps be employed professionally?
Although these infrared camera apps can provide amusing and unusual thermal imaging effects, they are often not intended for use in business or science. They offer a different level of precision and accuracy than specialized thermal imaging equipment.
Can these infrared camera apps capture and store thermal images?
You can take and save thermal photographs using some infrared camera apps, like Seek Thermal. However, the hardware of your device and the particular app may affect the quality and functionality.
Conclusion
In conclusion, This brings us to the end of the list of the seven best-infrared camera apps to use for Android. Thus, getting access to the free services of any app still gives the cloud nine feelings. So, as you have read all about infrared camera apps, it is time to choose the right one for you to click and edit pictures.
See Also: Top 7 Video Sharing Apps to Binge With Your Friends | 2023
Don't forget to visit us for more articles!
Dedicated group of Computer Engineers making tech updates accessible to all. Our dream is to simplify and share tech news with everyone.