Technology and social media play a vital role in this modern era of chatting, searching, and surfing. Not only loved by youngsters but also by elders, Social networking sites like Instagram, Facebook, and Snapchat are must-have applications for a smartphone. We all know different apps, commonly known as apps, which are freely and readily available on your Android phones. However, the most lovable ones are the funny faces apps to improve everyday lifestyles.
Here is the list of the Best Funny Faces Apps For Android in 2023:
Funny Face Maker App

Face swap app

Face changer app

Ugly Camera App

Animal Faces App

Clown Face Changer App

FaceApp

YouCam makeup
However, Some apps are so unique that they will change your photo-clicking experience, forcing you to click/change more and more photos. So, Be ready to activate that great photographer or editor within you with these funny fave applications. You can also have fun by using baby face generators.
See Also: 10 Best Photo Viewers for Windows
Here are Funny Faces Apps for your Smartphones
The following are the eight best-ever funny face apps for Android. These apps can enlighten your social media wall with their unique features.
Funny Face Maker App
So the first app which hits the list is Funny Face Maker. This app perfectly blends a funny face app and a photo editor. You can add special effects and filters to your photo. Cropping and resizing your image will be much more fun with this funny face maker.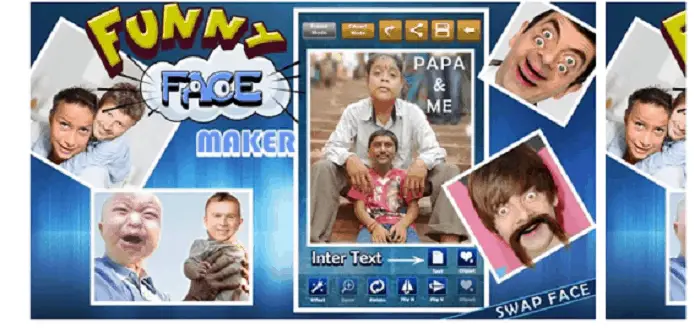 And like the cherry on the cake, this app is free. You can download it with a press of a button easily.
Download: Funny Face Maker App
Face swap app
As the name suggested, face swap gives you a fantastic experience by swapping your face with real-time surroundings. You can change your look anytime, anywhere, whether it be your friends or relatives. Face swap is one of the most loved face apps.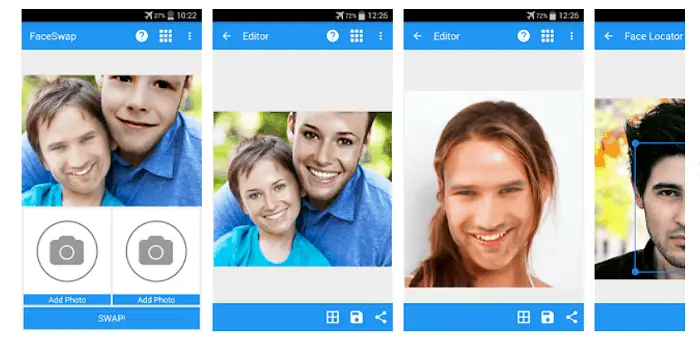 This app doesn't include unnecessary features that make it easier to use. The app is free and readily available at your Play Store, present on your Android phones.
Download: Face Swap App
See Also: Top 5 Best Android Face Swap Apps of 2023
Face changer app
Have you ever wondered how people look more stunning in their photos than in real life? Being a little chubby in real and toned in reel life is just magic done with the help of a face changer help. This app is perfect for someone who wants a little fun with a serious makeover to their photos.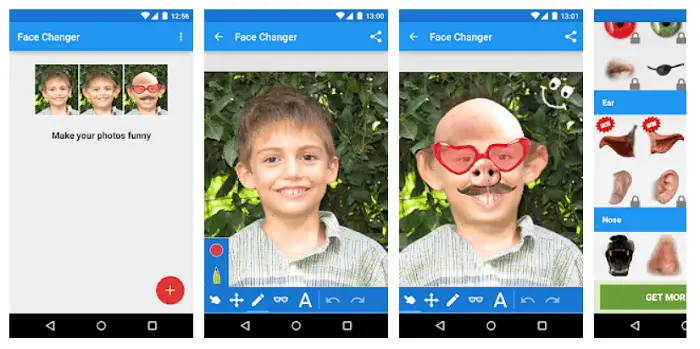 You can easily be skinny and sexy. Chubby and hottie with this face changer app as it changes your face quickly. You can also change the photos stored in your gallery. It is available free in your Play Store.
Download: Face Changer App
Ugly Camera App
With the ugly camera app, being ugly is no worse. Being ugly will turn into a myth. With the help of a nasty camera app, you can instantly add a funny twist to your photos. It can add some volume to your eyes and thin your lips simultaneously, making your face a little ugly, but weirdly, you can have a lot more fun with this app.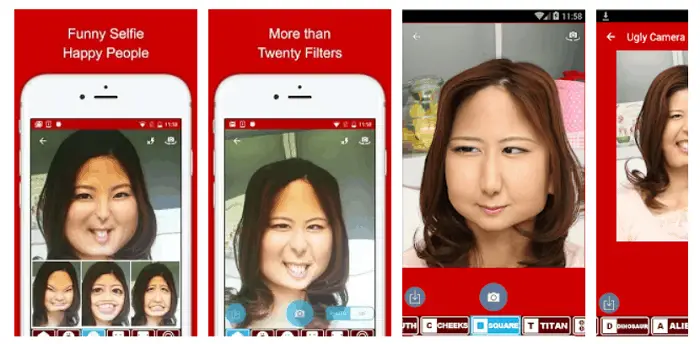 You can directly take photos using the unpleasant camera app feature with your phone camera. This is among the best Funny Face apps that are also free of cost and readily available.
Download: Ugly Camera App
Animal Faces App
Everybody loves animals, but adding some features of the animal to your photo or face adds fun to your image. You can choose over 90 styles of animal faces that can make monkey giggles instantly.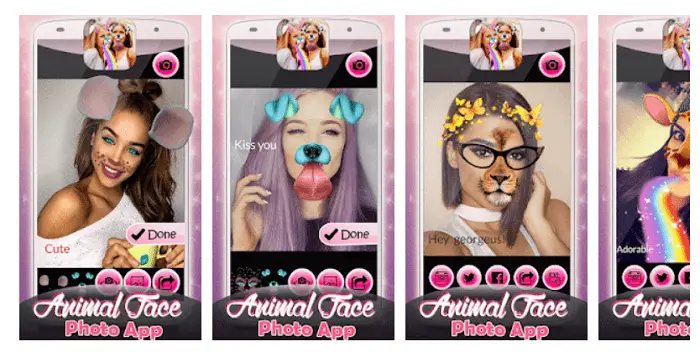 You can click the photo in real time or use this filter on pre-loaded images. This app is available on both Android and IOS free of cost.
Download: Animal Faces App
Clown Face Changer App
The clown is a word that is associated with fun. And clown face changer helps you to add that little fun to your photos. Many options are loaded with many features, making this app more unique.
This app is fantastic for kids. Freely available and easy to use.
Download: Clown Face Changer App
FaceApp
One of the most popular funny face apps is the face app, which gives rise to many funny memes on social networking sites. This app allows you to get old, not in age but within seconds. You can select or click the picture to see how amazing you look in your old avatar.
Rated top among all face apps, this is among the funniest of the Funny Face apps and is freely available in the Play Store! It is a must-try app.
Download: FaceApp
YouCam makeup- Makeover App
This is for all those sexy but lazy girls tired of spending too much time and money on makeup. Youcam makeup app is just perfect for giving you that glam makeup look on the go. Additionally, Features like lipstick shade, eyeshadow shade, and many more will provide you with a makeup look.
Therefore, This app can detect and apply makeup to your face without hassle. It is also available readily and free of cost for all Android phones.
Download: YouCam Makeup- Makeover App
FAQs
Are face filter apps safe?
Absolutely not. Despite the seemingly innocuous nature of face apps, many well-liked applications amass an unsettling amount of data, leaving their utilization to be more precise. Consequently, maintaining vigilance becomes paramount. Shifting from complacency to caution is essential. While some may regard their data as insignificant, it could contribute to a broader mosaic of personal information.
What app has funny2 filters?
Funveo, an immensely entertaining and whimsical application, specializes in applying comical and imaginative photo filters. It offers users a delightful assortment of face-altering filters, ensuring a genuinely captivating and interactive experience that will delight them utterly.
Can you use FaceApp for free?
Within mobile applications, FaceApp operates as a freemium model, allowing users to explore its features without monetary commitment, yet subject to specific conditions. If a subscription fee is not chosen (available monthly or annually), users will encounter promotional content during their attempts to effect edits. The application appends a discernible watermark onto the resulting photograph as users complete their edits.
Can apps see Face ID?
Apps receive notifications only about the success of authentication, indicating if it's successful. However, it's crucial to note that apps cannot retrieve Face ID data linked with the enrolled face. This deliberate restriction ensures the protection of sensitive biometric information, maintaining its confidentiality. The entire trustworthiness of the authentication process is strengthened by this unique distinction, which also maintains user privacy.
Conclusion
These were some of the fantastic Funny Faces apps to brighten your mood and face.
Dedicated group of Computer Engineers making tech updates accessible to all. Our dream is to simplify and share tech news with everyone.