Technology is heightening day by day, and so are our smartphones. From features like advanced editing to funny camera filters, they are the central attraction today. One such part is our beloved Face Swap. If you haven't seen your face being swapped with your friend's dog's face, trust me, you're missing out big time. There are so many Android face swap apps to create the funniest to the most camera-ready faces!
Here is the list of the Top 5 Best Android Face Swap Apps of 2023:
Snapchat
B612
Face Swap Booth
Cupace
MSQRD
Snapchat whisked up this new feature. Thanks to the incredible Android developers, we have plentiful wondrous apps on the Playstore that are very comfortable to use and full of fun experiences. You can also have fun by using baby face generators.
See Also: The 8 Best Ever Funny Faces Apps For Android
The Best 5 Face Swap Apps
To narrow it down a bit, here is the list of the best 5 Android Face Swap Apps available on the Play Store for you to play with. These apps are selected to have slightly different specialties while providing the Face Swap you came for. So look no further, and let's start the ride:
Snapchat
Snapchat is undoubtedly the most popular camera app we know today. With more than 1B downloads, plenty of features, and over 200M daily users, Snapchat is used by almost every teenager and adult you will come across. Snapchat has evolved a lot in the past years, and one of its recent features blowing up is this very entertaining feature as a face swap app.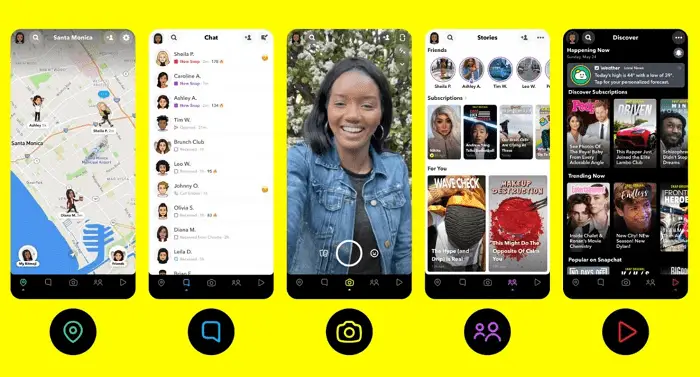 Learning to face swap is a piece of cake. Once you have the face swap lens on and your face lined up, you can exchange it with absolutely anything. Use your friends, a statue, or an animal. Have nothing around you with a face? No worries. You can face swapping with a picture from your camera roll too.
Snapchat does not only work as an Android face swap app, but on iOS as well. Whereas all the features are free to use. For those who do not wish to join Snapchat only for the face swap feature, here are more options for you.
Download: Snapchat
See Also: Top 7 Free Raw Image Editor Software | [2023]
B612
After my fair share of experience in camera apps, this is by far my favorite. Offering the ultimate selfie camera, it has 500M+ downloads on Playstore and is #3 on top free. B612 is famous for its beauty filters and adorable stickers, but guess what? It has a clean-cut face swap and acts as a photo swap app too.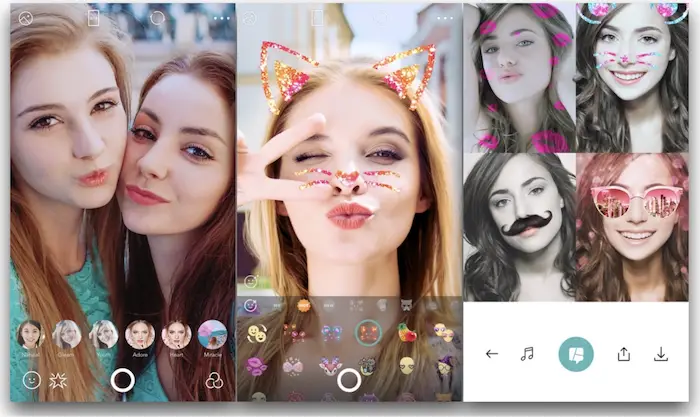 However, unlike Snapchat, it needs 2 people in the frame to swap faces. So if you don't have a companion, this may not be the best option for now. Once 2 faces are detected on the screen, they will automatically interchange, and you take pictures or videos. Lastly, it also allows you to make collages of the masterpieces you have created.
If you want a simple-to-handle selfie camera with the pleasure of editing, this is just the app for you.
Download: B612
Face Swap Booth
Face Swap Booth is a little different, but very amusing to use the app. The app lets you swap faces with multiple people at once. Implying you can add faces to a bunch of people in one picture with only your face itself. Its advanced features let you decide whether you want to swap the whole face, just eyes or lips, and so on. The app auto-detects a face for you too. You can use pre-loaded celebrities and have fun whenever you want.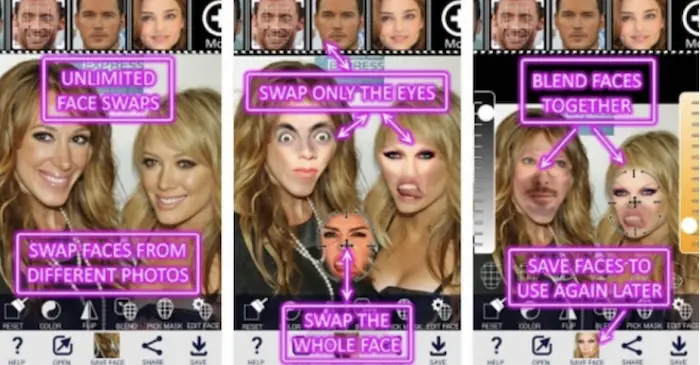 They say everything has its cost. Even though the app is free, you'll oblige in-app purchases for some extra features like removing ads, and watermarks or saving unlimited photos with this face changer.
Download: Face Swap Booth
See Also: Top 7 Free Raw Image Editor Software | Edit Raw Images Free
Cupace
Love creating memes for your friends to laugh at? Cupace is the perfect app for you. This photo editor app can help you cut out a picture manually, use a magnifier for perfection, and paste it on someone or something else. All the cutout images are saved in the app, which can be used again. Add captions or stickers to turn them into memes. A simple cut-paste app that serves as an effortless option for face swaps. Which makes it a user-friendly face-swapping app.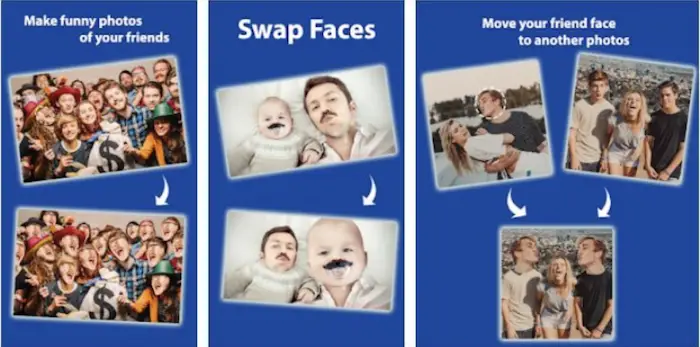 Space is available only for androids, so it's a blessing for us. Its peculiarity of manually extracting faces from a picture makes Cupace a remarkable app over others. Thus it makes it to the list of the best Android face swap apps.
Download: Cupace
MSQRD
The free app, later acquired by Facebook, is a great alternative for Snapchat-like features. Just as the name 'Masquerade' for MSQRD suggests, it'll allow you to transform into things like an ape to celebs like Tony Stark. Although the app isn't necessarily a face swap app, it offers quite a lot of entertaining filters with animations that can replace your face.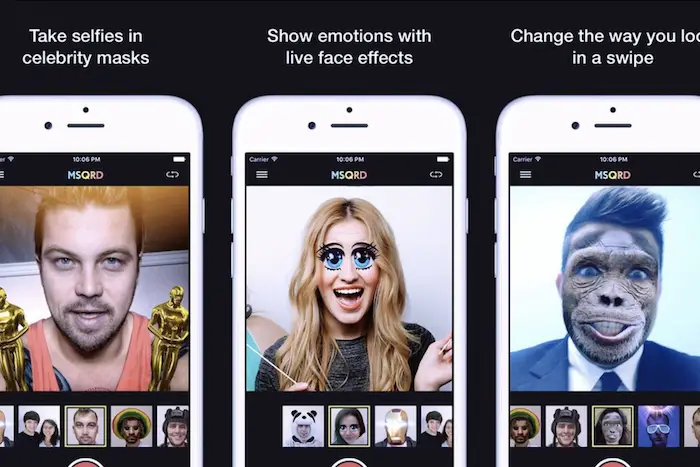 The app is well-made, especially for video selfie lovers considering it can handle a picture as well as a 45sec video. Your characterized image moves along with you. The photos and videos can be externally shared or continued with a direct Facebook live option. Overall the app is satisfactory for normal users as a free face-changing app.
It is a win-win for all Android and iOS users as this app is compatible with both.
Download: MSQRD
See Also: 11 Best Free Animation Apps for Android & iOS (Updated)
FAQs
What is the best app for swapping faces in pictures?
Cupace – Cut and Paste Face Photo. A simple but powerful option for Android users… Swap faces, parts of faces, or portions of photos between pictures.
What app lets you put your face on another body?
As the name suggests, Face Swap lets you superimpose your face pretty much anywhere, so you can see what you'd look like with a new hairdo, a different body, or as a creature or in a scene. The Android Face Swap app launched on Google Play this week and is coming to the App Store soon.
Is Reface free?
Yes and no. Reface is a free download from the App Store and Google Play Store for iPhones and Android phones, respectively. Most of the app is also totally free to use. You can browse a huge collection of photos/videos to reface yourself with, add multiple faces, and easily share your creations on social media.
Conclusion – Which App is the Best?
Now even though all these Android face swap apps are in-list here, they are imperceptibly different in their ways. So, if you're into making funny photos or memes, go for Face Swap Booth or Space. If you fancy a socially connected app to share your content, Snapchat and MSQRD are the ones for you. Looking for beauty filters along with fun filters? B612 is what you require. Thus, each of them has its unique features. It's up to you to decide which one you like best!
See Also: 15 Best Photo Viewers for Windows 10/8/7/XP
Dedicated group of Computer Engineers making tech updates accessible to all. Our dream is to simplify and share tech news with everyone.