Babyface generator tools are very mainstream for pranks, fun, and entertainment. Many devices on applications and websites let users visualize their baby or change their face and relive their childhood. Using face recognition technology, babyface maker generators are a great way to relax and enjoy.
Best Baby Face Generator Tools are:
Luxand Baby Maker
Your BabyMakemebabies.com
Baby Maker
What My Baby Looks Like
Baby Funny Face Camera
We have brought together some of the best Baby Face Generator Tools for you to enjoy. Check the article to create a meme using the Dame Da Ne generator.
Best Baby Face Generator Tools in 2023
Here we have compiled the top 6 best babyface generator tools to try and savor:
See also: Top 5 Best Android Face Swap Apps of 2023
Luxand Baby Maker
Are you eager to know what your baby would look like? Luxand Babymaker is suitable for you. This leading AI-driven Luxand baby maker website is simple, and with just a few steps, the baby maker will accurately produce a picture of your baby. Satisfy yourself and predict what kind of baby you will have. Luxand is highly popular, and its product includes baby-making faces and whole-face recognition SDKs.
This baby face generator technology is super fun. It has even been featured on The Graham Norton Show by Jennifer Lopez and reviewed by the TV channel Brazil, Global TV. You can even upload scratched or faded photos and still get an accurate and high-quality baby prediction. After you are satisfied with your result, you can email it to your friends with a few clicks and enjoy it!!!. Isn't that great?
Visit Luxand baby maker.
Your Baby
Are you tired of your day? Relax and enjoy your leisure time with this Android app. This baby face generator lets you have what your future baby will look like. It uses the best face recognition technology to make your future baby instantly use this makes me a Baby app.
With over 1 million downloads, it's a highly excellent, straightforward, and easy-to-use app. Visit your Google play store or App Store, download your baby face application, and have fun with your friends and loved ones. Get your partner's picture and yours and see the magic. Engage your friends and start your day smiling, hoping you will get one of your babies to look like you using this one of the best babyface generator apps.
Visit: Your Baby
See also: 5 Best iPhone Text Generator Tools in 2023
Makemebabies.com
Whether you are married or have a crush on anyone, if you are curious about what your future baby looks like, makemebabies.com, a simple website, is the right choice. Pick your loved one's picture and upload it on this website. Then, it will scan your photos and give you your perfect future look like a baby. Have thoughts in your mind? Visit this site and generate your future baby. You will have facial parts like eyes, nose, lips, etc., providing accurate baby results.
Share your funny memories of how your results came out with this one of the best babyface generator tools. Most importantly, it's completely free and easy to access. It's fun.
Visit: Makemebabies
Baby Maker
Baby Maker is one of the top babyface generator tools. Like other tools, this baby face generator requires your face and another face to merge and show the possible results of how your future baby will look like. It has a rich and friendly user interface and features you won't see in other tools. It will show high-quality photos, but be sure to find the best images to see the variance of your upcoming future baby.
This app also has a paid version of its own. It also supports colorful backgrounds, that is, frames that will give you the feeling that you already have one. Enjoy and share it with your friends and family.
Visit: Baby Maker
See also: 5 Best Instagram Caption Generator Apps for Android & iOS
What My Baby Looks Like
Want to have more entertainment? Then there's another app called What My Baby Looks Like. You can know your future baby's appearance here. This app will make sure to make you or any other face convert to a younger version and, through its calculations, make a model of how your baby's face will likely be. This unique app stores your previous attempts and has a babies' gallery function where you can see all the baby pictures available. You can even zoom and crop the baby picture with your desired size and share them with the ones you love.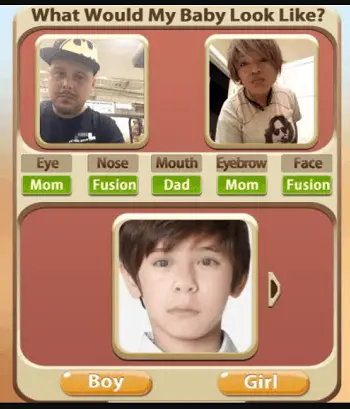 What's more interesting, which makes this app one of the best baby generator tools, is that it lets you control the kid's age and gender so that it will surprise you. This app is available on both Android and iPhone. So, give it a try and have fun.
Visit: What does my baby look like
Baby Funny Face Camera
Are you missing your childhood days? Do you want to be a baby again? This last app, Baby Funny Face Camera, is exciting, and you can trick anyone with the photos you produce from here. It has a simple user interface and has a good editor. Use the funny face of your own or friends, and with funny backgrounds, you can create your perfect baby face and of your friends using this excellent baby face app.
Share your humorous babyface over social media and watch how your friends react. And it has many baby stickers and even supports text. Use your creativity and brighten your day with these funny photos. Ask your friends and relatives to try it out. Trust me; it will be addicting. In addition, it's one of the best babyface generator tools, as it's free. So, you can get your own at Google Play Store.
Visit Baby funny face camera.
See also: 10 Methods to Fix Google Chrome Won't Open Error.
Frequently Asked Questions
How do baby face generation tools function?
Babyface creation software examines the facial characteristics of the parents or other people in the provided pictures. These programs consider elements like eye shape, nose structure, and other face traits to create the simulated image. Using algorithms, they affect how these traits might form a possible baby's face.
Do baby face generator tools produce accurate results?
Different baby face generator tools may need more accuracy. Although they employ sophisticated algorithms and face recognition technologies, the outcomes are not genetically or scientifically proper. The generated images are created purely for entertainment purposes and shouldn't be taken as an accurate depiction of what a genuine baby would look like.
Can a baby face generator identify a baby's gender?
While some baby face generator apps produce a random gender, others allow users to select the gender of the simulated infant. It's crucial to remember that because these tools are based on algorithms rather than actual genetic data, the anticipated gender may not be exact.
Are the tools for making infant faces free to use?
While many baby face generator tools are free, others might offer more features or a premium edition with more capabilities. If appropriate, it is advisable to verify the specific tools' or websites' web pages for information on their cost structure.
Dedicated group of Computer Engineers making tech updates accessible to all. Our dream is to simplify and share tech news with everyone.