All of us like mystery and suspense, and what better than a game of wits and intelligence to have a thrilling time! For all those curious and sharp minds, various detective apps have been introduced by various companies, which have been gaining a lot of popularity and interest these days.
Here are the Best detective apps for mystery enthusiasts:
Nobodies
Criminal Case
Mystery Manor
Adventure escape mysteries
Who is the killer? Episode l
Hidden hotel
Today we bring you a list of another 7 cool ones. We hope you enjoy playing with them.
See Also: 6 Best Resource Management Games You HAVE to Try in 2023
Top 6 Detective Apps in 2023
Here is a list of the best detective apps for you to play and uncover mysteries.
Nobodies: murder cleaner
Overall rating – 4.6 stars
In this one of the finest detective apps, the government terrorist-counter organization is responsible for wiping the terrorists from the country. It kills all the terrorists it can. Your work starts after they have been killed. You have to wipe out their dead bodies and leave no proof that you were ever here. You have to hide all the evidence of your superior's actions.
This game has many puzzles and twists that only wits and cleverness can solve. It is one of the best mystery games for iPad.
Visit: Nobodies
Criminal Case
Overall rating – 4.6 stars
This is another one of the mystery game apps which tests your detective skills. You are the detective, and you gave a series of crime scenes, and using your brain, you have to find the criminal. You have to find hidden objects and enquire about people, collect clues, and join them to conclude.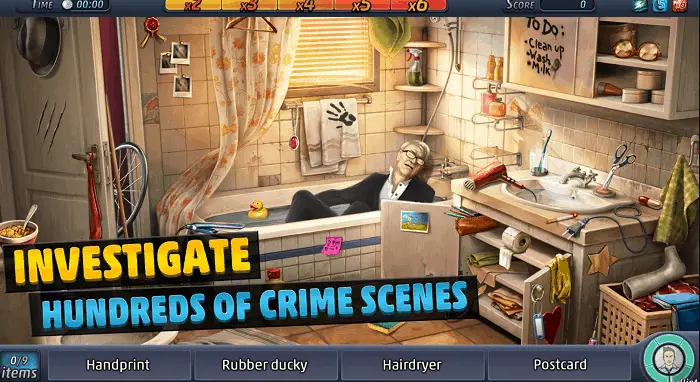 Every crime scene is a big adventure, and its mysteries make it more addictive. This award-winning game has gained much popularity.
Visit: Criminal case
Mystery Manor: Hidden objects
Overall rating – 4.6 stars
The mystery manor owner has left the mansion, leaving all the residents to solve the mysteries themselves. Here your need arises, detective! Each room here contains mysteries, Hidden objects, and dark secrets. You have to roam around the mansion to look for clues and come to a conclusion.
This is a mystery puzzle-solving game that needs your brain to be used effectively. Each room tells a different story and has harder and harder puzzles. Everything's up to you in this detective app.
Visit: Mystery Manor
Adventure escape mysteries
Overall rating – 4.4 stars
This game allows you to experience another three types of mystery app games. You can choose which type of mystery you want to play.
One is where you are Princess Nimue as she plays her quest to save her people from the cursed kingdom.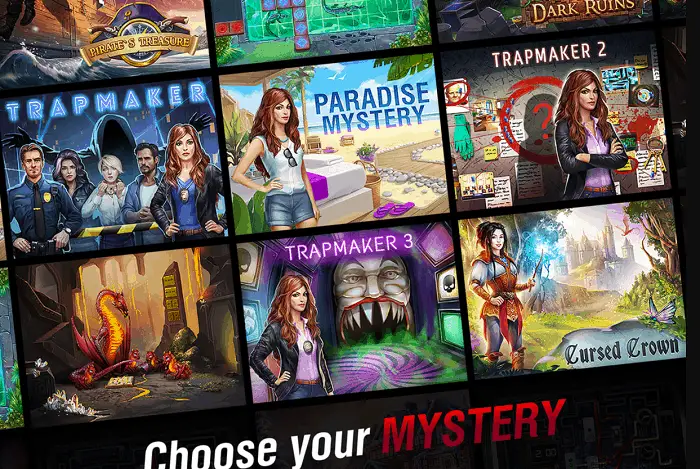 You learn terrific spells, meet different creatures, and solve mysteries to save your people and kingdom. Another is where you play Detective Kate Gray and investigate different murder scenes in Trapmaker. You interrogate suspects and use your wit and mine to solve various crime scenes. The last is where you escape a ruined city and stop a hurricane threatening the world. You are among a team of archeologists who rediscover a cursed city. This is a mystery where science and magic are used together with wit. Overall this is one of the detective apps, which is also a fantastic one. It offers different experiences and unique puzzles to entertain the player and is one of the best mystery games for iPhone and Android.
Visit: Adventure Escape
See also: 5 Best Free & Paid Game Optimizer Software for Windows
Who is the killer? Episode l
Overall rating – 4.4
This is a mystery game with a unique plot. You are trapped in a castle with seven other characters, of which one is a murderer. Every day the murderer kills one of the characters, and you have to find and arrest the murderer before he kills everyone. Anyone could be the killer and can have different reasons to do it.
You must use your mind, investigate front scenes, find and join clues and arrest the killer before it's too late. You don't have much time to solve the mystery, which increases your adrenaline, making it more exciting.
Visit: Who Is The Killer
Hidden Hotel: Miami mystery
Overall rating – 4.3 stars
This game is more about finding Hidden objects and treasures. You must find hidden objects like weapons, accessories, etc., to get clues for the crime scenes. You also get to do treasure hunting. This game helps to increase your observation capability.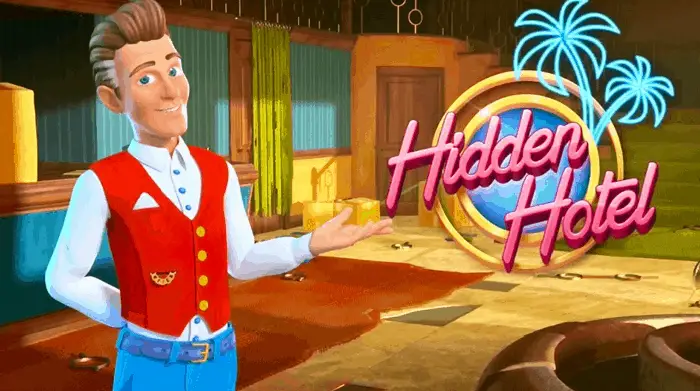 It also offers many search tools to help you in your adventure, like a lantern highlighting the Hidden object or clock, giving you an extra ring to search for the object, or radar showing every hidden object for three seconds. All these things make this one of the most interesting and exciting detective apps.
Visit: Hidden Hotel
FAQS
What games are like Duskwood?
Other mysterious games like Duskwood are Dead City, I Am Innocent, NOX, and Sound Of Magic.
What is the game where you guess the killer?
Wink Murder is a game where a selected player can kill other players secretly, and the rest must find him to win. It is a mystery thriller game with fascinating twists and turns.
How to create a mystery game?
To create a mystery game, Pick your Cast, prepare a mystery scene, and give a motive to each character of the cast. Next, develop backstories for each character and involve suspense by solving them while moving forward in the game. Involve slow revealing of the truth till the final level of the game. And that's it, announce the winner at the end.
Are suspect games based on true stories?
No, suspect games are fictional and do not base on a true story.
Conclusion
So can you feel the excitement these games can bring out in an individual? If you love a game of wits and mystery, try all these detective apps today!
See also: 10 Best Browser Games to Play When You're Bored
Dedicated group of Computer Engineers making tech updates accessible to all. Our dream is to simplify and share tech news with everyone.