Chrome is one of the best, fastest, simple, and secure browsers for all our devices. Most mobile and PC users always wish to use Chrome for any searches and works.
Such a great browser does not have a built-in feature on how to block a website on Chrome that you do not need to visit. This article will give you ways to Block Websites on Google Chrome. Sites or add-ons like Block Site, Simple Blocker, Web Nanny, StayFocusd, etc., assist in blocking websites.
There are several sites that you may not wish to visit as they may be used by hackers, or they may cause unnecessary downloads which may harm your device. In such a case, you may think of blocking such sites. To learn about the best Chrome themes, click here.
See Also: How To Text Someone Who Blocked You On Android: A Guide
Top 6 Methods to Block Websites on Google Chrome
Block Site
It is one of the add-ons which is available in the Chrome store.
Download the Block site in the Chrome web store.
Search Block site in the store and click on Add to Chrome option, and then click on the Add option to confirm it to add it in your Chrome.

The new extension is get installed in your Chrome, and the icons for usage will be available to the right of the address bar. Then click on the Block Site icon, and in that, search for the Block Site settings menu.

Visit: Block Site
See also: 7 Best Free Trusted Jar File Opener Software | Latest 2023
Simple Blocker
It is the temporary blocker that will distract you away from specific websites, and thus you can focus on your job without any interruptions. This does not work as a standard blocker. This will block you from the specific site for few times.
Simple Blocker will be the perfect extension for you to save time in your work.
Visit: Simple Blocker
Web Nanny
This is one of the top websites to block unwanted websites on Chrome. It will also help you off from adult content, so it will help many to distract themselves from several addictions.
Then tap on Add to Chrome; this will make the Web Nanny get installed in your Chrome. Then go to the options in the Web Nanny and type the URL which you like to block. And next, click on the Save URL option, and then if you try to access that particular website, you will just get the error message which will restrict you from that site.

Visit: Web Nanny
See also: 10 Best Google Chrome Extensions to Block Facebook
StayFocusd
It is another popular and useful Chrome extension to Block Websites on Google Chrome that you would not like to visit. It is an efficient site to block websites in Chrome.
Visit: StayFocusd
Website Blocker (Beta)
It is one of the best and worth extensions of Chrome which you should install if you want to Block Websites on Google Chrome. This is the extension that helps you to block several sites for a particular time, and it will also provide you the chance to write a warning message that someone receives if they try to get into the website. And here is a way to use it.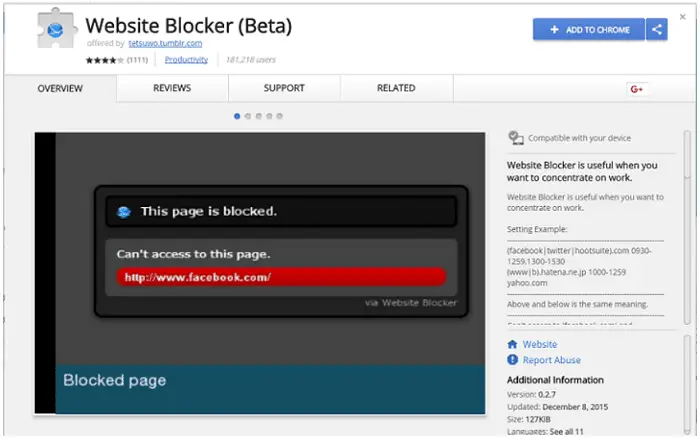 Look for the Website Blocker (Beta) in the Chrome store and click on the Add to Chrome option to add the extension in Chrome. Then open the site which you wish to block.

Visit: Website Blocker (Beta)
Personal Blocklist
It is the next extension that you can install in Chrome. It does not have a lot of features compared to the others mentioned above. But it is one of the worthy extensions to Block Websites on Google Chrome.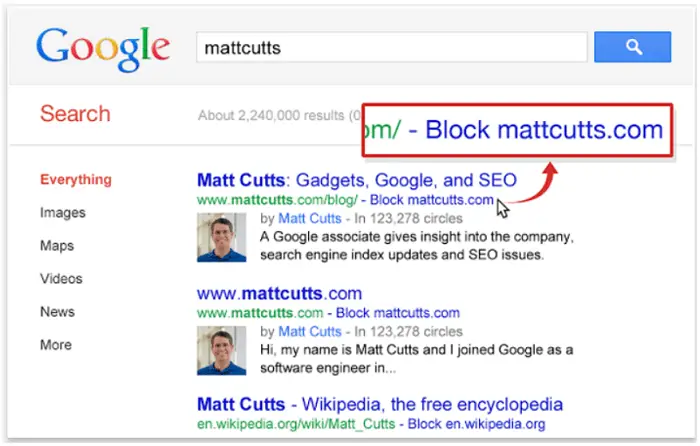 First, launch the extension in your Chrome. Then enter it and search for the site which you must block. Here you do not need to give the URL of the site to block.

Visit: Personal Blocklist
See also: 10 Methods to Fix Google Chrome Won't Open Error
FAQs
How to block websites on Chrome using BlockSite?
To block access to a website, visit the desired site and click on the BlockSite icon at the top right corner of your browser. From there, choose the Block this site option to activate the blocking process and restrict access to the selected website. This straightforward procedure prevents users from accessing the designated site using your browser.
How to block specific websites on Android and iOS using an app?
When it comes to blocking websites on your phone, you can easily achieve this by using dedicated apps designed for this purpose. One popular option is BlockSite, available for both iOS and Android platforms. This app allows you to efficiently block unwanted websites, allowing you to manage your online experience effectively.
Is BlockSite safe?
BlockSite is a reliable and secure Android app that effectively enhances productivity by curtailing access to distracting websites, apps, and notifications. To bolster device security, acquiring apps exclusively from trusted platforms like the Google Play Store or Apple App Store is advisable. By adhering to these established sources, users can ensure the safety of their devices.
How do I block a website for 24 hours?
StayFocusd, an available productivity extension for Google Chrome, assists users in maintaining work focus by limiting their time spent on unproductive websites. Once users utilize their allotted time, the extension renders blocked sites inaccessible for the day. This proactive approach enhances task management, boosting overall productivity and focus.
Conclusion
The ways I have mentioned are some of the worthwhile ways to Block Websites on Google Chrome that you like to stay away from. It can be in use by the user of the system to block another user from accessing it. It will also be a great advantage to parents to block specific sites to avoid their children.
If you do so, only an error message will display. If for some reason, your Google Chrome stops working, then follow this guide. But make sure that it doesn't say that "Unfortunately, Google Search Has Stopped Working." Try one of the extensions to Block Websites on Google Chrome.
See Also: Can You Turn Google Play Credit Into Cash? Easy Guide
Dedicated group of Computer Engineers making tech updates accessible to all. Our dream is to simplify and share tech news with everyone.