The fishing season is now on the verge. Precisely, it is time to prepare for the outlook for a place that can help you to get a good sum variety of fish with your friends. From suggesting you the best weather to maintaining your logbook, these fishing apps will do everything for you. Thereby, no longer you have to research for the perfect location for a fishing trip. 
See Also : 9 Best Flight Tracker Apps for Android & iOS (Updated)
7 Best Fishing Apps for Android & IOS
The following seven fishing apps have various things to offer, such as logbooks, weather features, maps, etc. 
Fishing Points
Fishing Points crunches all your fishing tools into one. Perhaps, it aims to provide the ultimate fishing experience for both Rookie and Experienced Anglers. You can save your favorite location, trolling paths, and trotlines on the app and later find them using GPS on your phone.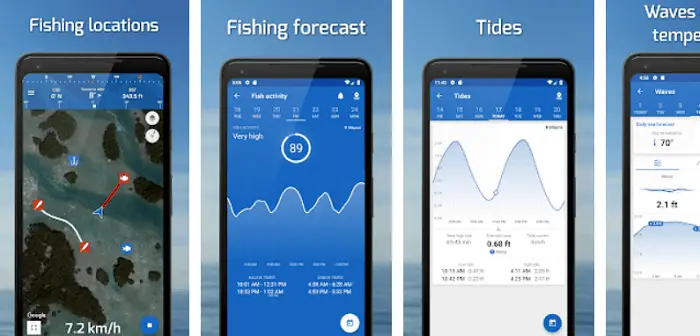 Fishing Points advanced their algorithm by providing one of the best fishing apps experience like daily fish activity, hourly wave forecast, and tide prediction charts, and accurate feeding times. These would enable you to synchronize your fishing schedule. You can save your catches and create fishing logs and also share catch photos, thereby contributing to and enriching an ever-growing community.
Fish Angler
Fish Angler's USP is that it lets you gain access to millions of fishing spots at no cost. Its forecasting feature gives hourly predictions with high accuracy, be it wind, wave, tide, or water temperatures. You can track & organize your fishing trips & catches with over 45 catch attributes using the Fishing Logbook while maintaining complete control over your privacy setting.
See Also : 5 Apps like Uber for Your Instant Transportation in 2023
Fish Angler gives you access to one of the largest angling communities on one map where you can share your catches and connect with anglers like you. Its social newsfeed keeps you up to date with the latest happenings in the Angling community, fish species, and water bodies. Lastly, Fish Angler's in-house database contains details of over 33000 fish species and provides valuable Intel to knowledge-hungry enthusiasts.
Fish Track
The fish track aims to provide sea surface temperature (SST) charts, global satellite imagery, and marine weather forecasts to saltwater anglers with high accuracy and a user-friendly interface. Saltwater fishing requires an in-depth fishing chart that contains parameters such as Overlay bathymetry, ocean currents, and sea surface height.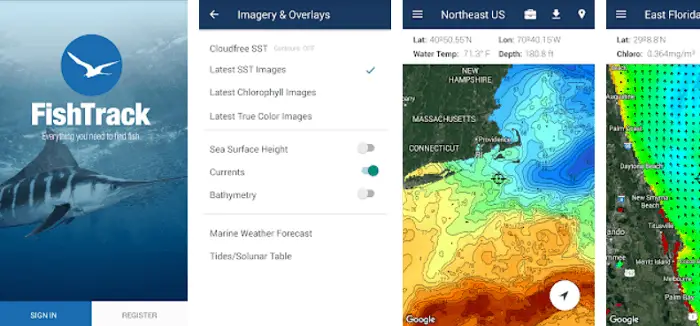 Fish Track is one of the best fishing apps available in the market which creates interactive fishing charts available for both online and offline. You could also see your location both online and offline. You can also save waypoints of fishing spots and catches and create routes to plan a trip and view distances and headings. 
Fish Brain
With over 9 million users and 7 million catches logged, the Fish brain may well be the go-to app for fishing tools. Whether it is personal fishing log, map, or forecasting, owing to Fish Brain's immensely accurate Catch positions and advanced forecasting. You could always expect to be at the right place at the right time. You could log your catches and see a statistical report on catches based on historical data, which in turn would lead to better opportunities and improved catch performance.

Joining the Fish Brain community would give you unparalleled access to a wealth of knowledge, tips, and tricks. The app enables you to keep track of fellow anglers and see top hotspots on the map. Finally, organizing a fishing adventure for your friends and family has never been easier since Fish Brain provides pro tips that would help you catch the big catch. Definitely, it is one of the best fishing apps you must try. 
See Also : Top 7 Video Sharing Apps to Binge With Your Friends | 2023
Fishing and Hunting Solunar Time
Failing to prepare is preparing to fail. Fishing and Hunting Solunar Time aims to make you for the perfect fishing experience by providing you with precise Fishing Forecasts based on Lunar and Solar positions and phases. The methodology used is based on the Solunar Tables theory application and has proven to be highly effective.
Apart from the features above, there are a few auxiliary features to set the app apart from its competitors. Some of them are Tides Charts, Day Rating, and Calendar for checking solunar data in advance. Precisely, it is worth trying among other fishing apps.
Angler's Log
Angler's Log is primarily a logging tool that allows you to log details about the trip, catch, species of fish, find a location, fishing spots, and bait. Its interactive map enables you to view popular fishing spots as well as spots marked by you. Angler's log allows you to analyze your catches through its detailed statistics page.
Besides, it will enable you to share your photos and entries via Facebook, Instagram, or any social media sites. Also, among most desirable fishing apps. it inspires the spirit of competitiveness and a detailed analysis of past success.
Winning Fishing
Winning fishing is much more than a fishing apps logbook for the angler. It is a platform to build incredibly detailed databases containing information on species and subspecies of fishes. It aims to invoke the explorer in you. As it provides a platform of journaling the details of species of fish that you encounter.
See Also : Top 10 Grocery List Apps for Android & iOS to Save Time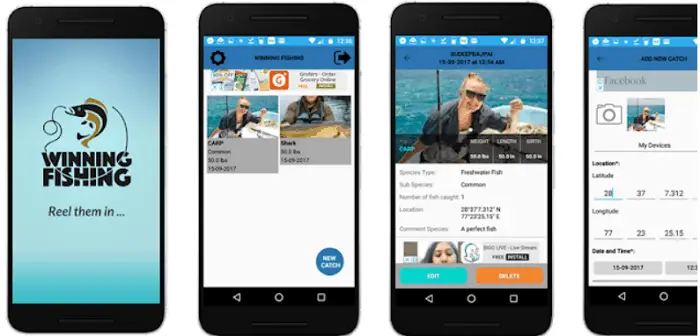 Its USP is its compatibility; with the Navionics chart wherein you could Overlay your catches on a Navionics chart and sort the scores to identify areas for potential future success. Remember that if your stay extends with more than twenty entries, then the cost might associate with cloud storage.
FAQ
What is the best fishing app for free?
FishAngler is 100% FREE. No hidden charges or subscription fees. Download the #1 FREE Fishing App for anglers! With FishAngler, you can discover new fishing spots, get real-time fishing forecasts and find the best times to catch fish.
Is there an app to find fish?
Fishidy fishing is free to download and offers anglers a real-time feed of current catches in canals nearby. In the free version, you can notice an activity feed with details on present conditions, recent pictures, and posts that you have made.
Is the Navionics app free?
Navionics' paid app has evolved into one of the most favored mobile marine navigation solutions. Navionics presents a free version of its app.
Conclusion 
The above mentioned were some of the best free and paid fishing apps available for both IOS and Android. In addition, As the seven said displays a variety of features, you may distinguish the best for yourself. Before it gets too late, start using it for your next trip.
See also: 7 Best Free Baby Monitor Apps For Android: Updated List
Dedicated group of Computer Engineers making tech updates accessible to all. Our dream is to simplify and share tech news with everyone.