Regarding the processing power of desktop PCs and laptops today, gaming is the most demanding of the casual uses of a CPU. Neither of these processor chips is made for the modern gaming scene. The article discusses every difference you need to know for Intel Celeron vs AMD A4.
Intel Celeron and AMD A4 are a series of budget-friendly processors well-suited for casual use and light professional office/work use. Anything beyond casual usage would bring in demand for multi-core, multi-threaded processors, like Core i3, i5, or Ryzen. They have many differences regarding Battery Life, Heating issues, and integrated graphic cards.
They target the lower-end consumer market and are usually paired with low-quality monitors and laptop body builds. The demand for such laptops does exist but is rapidly dropping with better budget alternatives coming out. Read below to learn more about Intel Celeron vs AMD A4.
See Also: The 5 Best Overclocking Software for GPU, CPU & RAM
Why Choose The AMD A4 Series Processor?
Here are some features of the AMD A4 Series Processor.
Multi-Core Performance: One can't go wrong with the AMD A4 series if the priority is performance. The AMD A4 chips have the edge over the Intel Celeron chips when it comes to multi-core performance. This means you can work on your documents, sheets, or presentations with songs or movies playing in the background. It has minimal loss on performance in Intel Celeron vs AMD A4.
When the processor chip is paired with the integrated(in-built) graphics card of the AMD A4 series, you could also run low to moderately demanding games. The Intel Celeron would lag quite a bit even when performing the most basic tasks if they cross the threshold of the average/below-average memory and performance usage threshold. 
Better Integrated Graphics Card: AMD A4 series laptops/CPUs come with relatively better integrated/in-built graphics cards. This allows for gaming. But, you will have to keep your expectations in check as you'll have to lower a fair amount of settings to increase your gaming experience's stability and smoothness.
Trading visual fidelity for performance is a trade-off worth having rather than no gaming at all. Regardless, you would still get a better video playback and video streaming experience on web browsers and apps running natively on Windows, like the VLC media player and graphic design software. This becomes possible with a good video card such as the AMD A4 integrated graphics card in Intel Celeron vs AMD A4.
Safe Overclocking With AMD's Turbo Boost Tech: Overclocking is risky as you remove the factory-set limits on the processor clocks and push them to their limits. But it becomes the need of the hour as you long for performance as you try to perform the task. Whether it is gaming, work, or streaming. Thanks to AMD's inbuilt turbo boost, you get to overclock your CPU within the safe frequency range, ensuring you don't overheat and fry your chips as you keep pushing your machine to the brink of its life.
See Also: How to Download Web Series from Telegram Channel
Why Choose Intel Celeron Series Processor?
Here are some features of the Intel Series Processor.
Consistent Single-Core Performance
With their limited single-core performance, Intel Celeron chips ensure a consistent user experience if you use the machine as intended. All the basic tasks, from documenting to creating presentations, from browsing the web to exploring your personal content or digital possessions. It will work smoothly if done one at a time, as with Intel Celeron vs AMD A4. Check a great resource about Intel Celeron vs i3 on PcGuide101.

Increased Battery Life
Such controlled load on the processor ensures limited battery usage, leading to longer sessions on a single full charge. This allows maximum remote usage without plugging into your nearest charging station.
No Heating Issues
The limited performance also leads to very limited to no processor heating. Overheating is the cause of a lot of problems that reduce the life of a CPU and the battery. With no heating, an Intel Celeron laptop's life increases drastically compared to its AMD counterpart in Intel Celeron vs AMD A4.
How To Improve On Performance?
Performance is the key to a smooth and satisfactory user experience. Both of these chips in Intel Celeron vs AMD A4 can be paired with external tools to help improve performance within a reasonable range with CPU benchmark software.
Pairing Up With An External Graphics Card
You can pair up the processor with an external graphics card that will help you push the limits of your CPU's capabilities. It allows running of medium to high-end applications at reasonable settings.
But there are some caveats to pairing up processors with external GPUs, which we will discuss very soon in Intel Celeron vs AMD A4.
Switching To An SSD
The day-to-day tasks involve a lot of reading and writing on the disk, copying and moving files and folders in and out of drives. It also helps in uploading and downloading your digitized assets.
These can become significantly faster if you switch to an SSD. A fairly expensive investment, but if your budget allows, an SSD upgrade. It would be a decision to make your everyday tasks easier.
See Also:  7 Best Graphics Cards For Mining Ethereum [Top Picks]
Why Go For Something Else?
Both of these processors in Intel Celeron vs AMD A4 are entry-level. Even the casual users of today would find themselves struggling with these CPUs for the simplest of tasks.
Bottlenecking
The graphics cards and the CPUs are coupled and intertwined in their combined functionalities, regardless of being separate processing units. They work in complete synchronization to run the programs properly. A bottleneck happens when the GPU's processing is codependent on the CPU's processing, and the CPU isn't just fast enough to do create graphic design ideas. This leads to programs running erratically, stuttering, and occasionally freezing to compensate for the processing bottleneck.
This is why modern GPUs, as the lag, can't always be paired up with low-performing processors. The performance loss makes it almost impractical to run and use applications that fulfill the GPU requirements but not the CPU.
Degrading Performance
These chipsets don't stand the test of time. With time, their performance degrades drastically.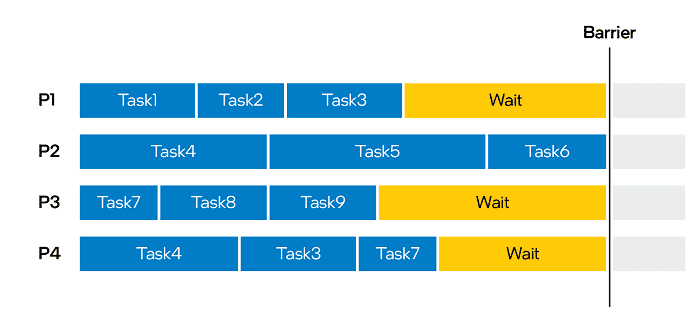 You can't restore the "out-of-factory performance" back, no matter how many times you fragment, clean up, and optimize your machine.
FAQs
Which one of the two to opt for a school work setup?
Schoolwork student tasks are singular, focused tasks that don't need much processing power, let alone multi-tasking. An intel Celeron processor system would greatly fit the use case. If one needs to make a purchase of systems in the school for students, they would greatly benefit by going with the desktop variant instead of the laptop variant, as the desktop variant outperforms the laptop-grade Celeron CPUs. This option is budget-friendly and perfectly meets the needed performance requirements.
When choosing an Intel Celeron CPU, which processor to go for?
Generation matters the most, as Intel improves the Celeron chip's performance with every generation. Choosing the latest Celeron series processor systems would give you the best Celeron chip performance and not exceed your budget.
Intel Celeron versus AMD: Which is superior?
Both have extremely weak processors. The Intel Celeron is a more powerful and effective CPU, while the AMD processor will have slightly better graphics. Email, word processing, and viewing or reading PDFs can all be done with these.
Why is AMD superior to Intel?
But AMD CPUs are typically more adaptable than their Intel counterparts when it comes to overclocking. AMD is a great option if you're interested in overclocking your CPU to get more processing power to run the newest and most demanding games.
Conclusion
It is about every difference you need to know for Intel Celeron vs AMD A4. Your choices would come down to these two due to budget; where to go from here? The rule of thumb when choosing between the two is simple. If you want performance from your CPU, choose AMD A4. If you aim for better battery life and longevity, use an Intel Celeron.
See Also: Free MAC Games For Mac Users to Download Now In 2023
Carly Earl, Guardian Australia's pic editor, was a photographer and pic editor in Sydney for 8 yrs. She worked for The Daily Telegraph and Sunday Telegraph.