The Internet is a broad platform. It contains all our wants, interests, and needs for proficiency. There are social media, news sites, weird websites, etc. for knowing both the global and current affairs of your friends and the whole world. There are many video sites and entertaining sites for music, funny clips, newly released items, and documents, etc..,
Also, there are different sites like academic sites, shopping sites, business sites, etc.. It will make us easier to find knowledge, products, jobs, or services that we want. Additionally, there are exciting holiday sites like blogs and vlogs that make us closer to the people and places which make us fun and enjoyable. We can shop online, bank online, work online, entertain online, etc.
We can't explain the uses of the Internet and its websites in our words, because sites and its uses are unpredictable. The Internet is the most source of information and knowledge. Therefore, people are using it for 24 hours. In short, we can say that people are living with the Internet and its different types of websites to make their life easier.
The above discussed are the uses of the Internet and about the useful websites on the Internet. But also there are many weird websites on the Internet which we don't know. The Internet is as odd as it is terrific. Every website started with an idea; some of those ideas were to be fair. 'Strange,' to say the least. That least useless and mad website is called weird websites.
Check out these story-driven websites specially gathered for Fashionistas.
See Also : 6 Best Online Video Watching Apps For Android
Most Weird Websites to Know About in 2023
Precisely, here we list down some of the weird sites on the Internet you should know about.
Ducks are the best
It's a type of game. If we like 1980,s quality computer graphics as well as an unhealthy obsession with ducks, then this is the site for us. With every quiver of the mouse, more and more ducks will appear on the screen until we can see nothing but these loveable bundles of feathers. Yes, this is the first on our list of weird websites in the world.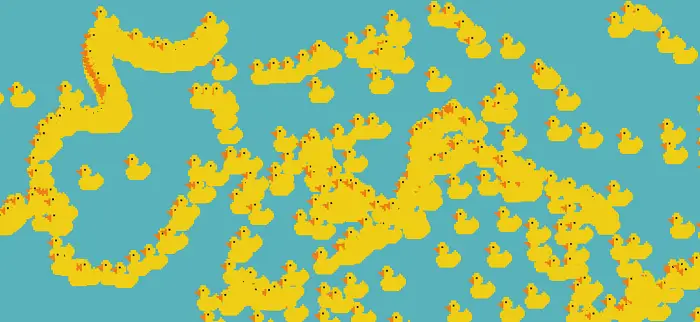 Visit : Ducksarethebest.com
The quiet place
It is one of the other weird websites showcasing a dull image. If we spend way too much time sitting at a desk and staring into a computer screen, then this website will certainly be well appreciated. The only thing we will need to do is press our spacebar and read 'ENJOY.'

Visit : Thequietplace.com
Cross divisions.com
Here comes the third in our list of weird websites. It is a mad and hypnotic website. It does nothing more than make us feel a little bit sick. Moving gradients, expanding tunnels, and a creepy red tone adds to the overall weirdness and pointlessness of this website.

Visit : Crossdivisions.com
Falling
This is one of the weird websites that can make you sick just by sharing the name. The music in the background, coupled with the moving graphics, actually does make us feel like we are falling into infinity.

Visit : Fallingfalling.com
Nohomophobes
This website scrapes Twitter and displays the number of times a tweet has a homophobic word within it. Its purpose is to highlight the usage of homophobic language within everyday conversations.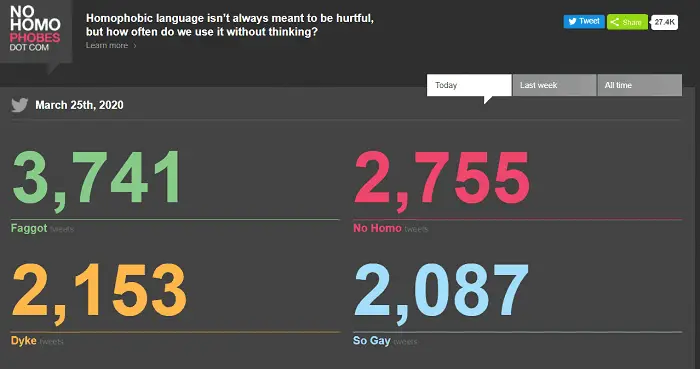 Visit : Nohomophobes.com
Zombie passions.com
It is a bizarre website for most people. Still, if we are a zombie lover, zombie survivalist, zombie prepper, or just an ugly zombie freak, then we will love one in a few weird websites with dedicated zombie dating and social networking site. Who needs the run of the mill dating sites when we leave this extremely niche zombie love fest just a few clicks away!

Visit : Zombiepassions.com
Straggeringbeauty.com
A weird eel type creature that moves when we put our cursor over it. There are some freaky, psychedelic backgrounds as well, which isn't great if we suffer from epilepsy. Plus, this is one of the rare websites one should visit.
Download : Straggeringbeauty.com
Partridgegetslucky.com
Alan Partridge is a legend who introduced this website. He was over there in the UK. A little loop of him playing the bass to Daft punk's get lucky is simply genius!. There's nothing much to it, but some of the most fabulous ideas are just that…simple.
Visit : Patridgegetslucky.com
FAQ
What is the most fun website?
Numerous websites can keep you company when you're bored. They are: Find the Invisible Cow. MapCrunch. The Useless Web. Hacker Typer. Paper Toilet. News of the Future. Pointer Pointer. Bees Bees Bees!
What is the creepiest thing in the world?
The 13 creepiest places on earth The Catacombs of Paris. The Tower of London. Eastern State Penitentiary in Philadelphia. Port Arthur, Tasmania. The Chernobyl ghost town of Pripyat. Old Jewish Cemetery, Prague. Tuol Sleng Genocide Museum in Phnom Penh. Ghost tours of Edinburgh.
Why is Israel blurred on Google Maps?
The entire country of Israel is shown in low resolution in all U.S.-based mapping services, including Mapquest, Bing, etc. This is a result of the Kyl–Bingaman Amendment to the National Defense Authorization Act of 1997
Conclusion
The above mentioned are some of the weird websites on the Internet. After reading about all these weird websites, we understood the weirdness of these websites. They are so wasteful. We noticed that these websites began without any super or particular ideas. Thus, they couldn't help people in any way. They can only waste others' time.
Some of these weird websites are making the person mad and sick. It will create many problems in society. When we go through this type of website, we can understand that they started this only for fun and without any aim or ideas. So, there is nothing inside some of them. Those categories of websites can't be used at least for a child. Because nowadays children also have some more knowledge about the Internet and its websites. Therefore, we can say that those types of sites are the weirdest websites on the Internet.
In a nutshell, we can say that the Internet contains both useful or successful and weird websites. Some of them are more valuable or successful websites, and some others like the above are funny and weird websites. So, people need to choose the best and worst of the sites on the Internet. The best websites help us in many ways: job, service, purchase, chill, etc. And the worst ones create many problems also for us. Thus, we should select the best weird websites which help us and complete our wants or needs.
See Also : Top 14 Best Moba Games for PC You Can Download
Hey everyone! We are a group of Computer Engineers who have dedicated their lives to tech. It's our dream to make sure that all the updates in the tech world reach everyone is simple words. Hope you have a good time on the blog! 🙂