Ever kept track of time? How hours complete to make a day? Are days complete to make a week? Are weeks complete to make months? Months form up to a year? And yes, the cycle continues. But things could be easier when you have access to free checkbook software! Not only time but technology is also advancing daily, and so are the people!
The top free Checkbook Software includes:
Gnucash
Checkbook Ease
Mint
AceMoneyLite
Activity
KMyMoney
YNAB
 Want to save or pay? Use cash, checkbooks, online transfer, and much more. Remember the old times when people used to walk long distances, and phones were unavailable, etc.? Only the Riches had that privilege. However, being rich meant earning money and maintaining constancy in handling the financial reservoir. Keep reading to learn more about checkbook software and how to save time using it!
See Also: 10 Best Free Online Fax Services (#4 is recommended)
The 7 Best Ever Free Checkbook Software for a Hassle-free Life
Well, it's 2023 now, a new year with new resolutions and promises to handle events better. If you want to gain financial knowledge then some youtube channels can help you out. Checkout Now.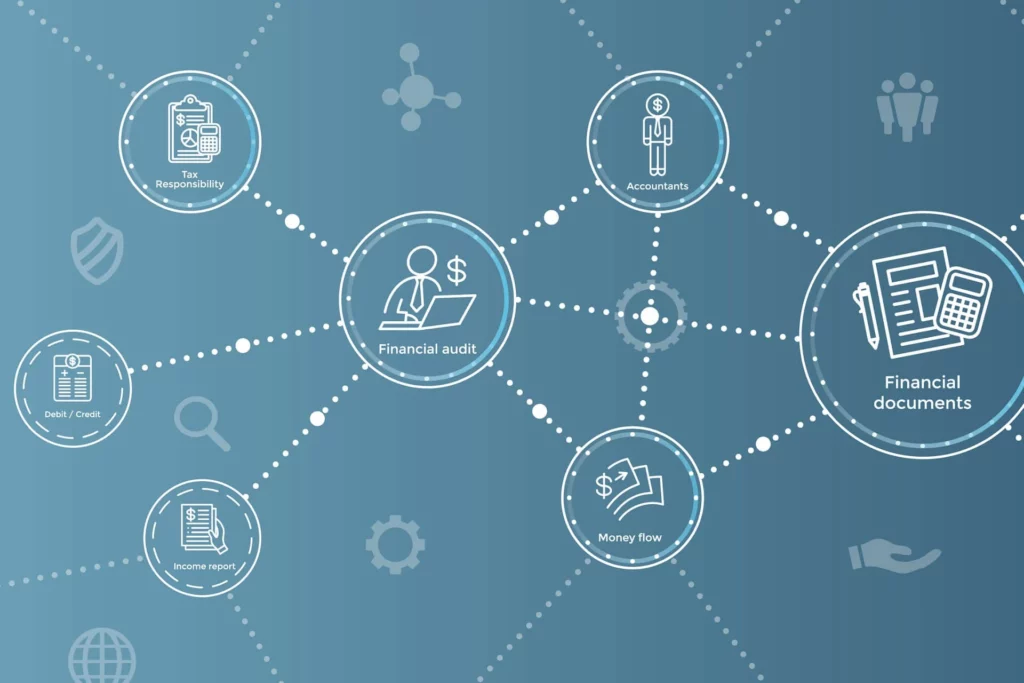 Meanwhile, Let us take a peep at the 7 Free Checkbook Software which will make the handling of your finance easy:
Gnucash
Along with free checkbook software, it is accounting software that supports Mac, Windows, Linux, and flavors of Unix. It helps in keeping track of cash, credits, and investments. Its comfortability is its consideration of assets, liabilities, income, and expenses incurred in accounts. It makes debiting and crediting much easier. Thus, a transaction transfers two versions (the sender and the receiver).
Besides the checkbook style, it allows split transactions, multiple accounts in a single window, summaries (via reports or graphs), and account reconciliation, which makes it worth a try.
Advantages of Gnucash:
Management: Users can manage their funds more effectively because of its various features, including support for split transactions and account reconciliation.
Customizable reports: Users can access its customizable reports and graphs and may gain insightful information about their financial performance.
Disadvantages of Gnucash:
Difficult: GNUcash may be more difficult for individuals new to financial management than specific accounting applications.
Open-source nature: Due to its open-source nature, it might get less development or support than some other commercial software solutions.
Visit: Gnucash
Checkbook ease
The User Interface (UI) makes using this free checkbook software more appealing and easier. Some valuable features are the availability of scheduled transactions (with a reminder facility), Checkbook balance, checkbook numbering, download transactions, planning a budget with multiple budget categories, prior bank statements, password protection, and secure backup and data restoration.
It is compatible with all systems like Windows, Mac, and Linux.
Advantages of Checkbook:
Simple to use Interface: Chequebook Ease's interface is clear-cut and easy to use even for non-technical persons.
Security solutions: Security solutions provided by Chequebook Ease ensure user data is kept safe and private by providing password protection, secure backup, and data restoration choices.
Disadvantages of checkbook:
Limited functions: Chequebook Ease provides essential tools for handling personal accounts, but it might not be appropriate for those who need more complex accounting functions.
Lack of Mobile App: Chequebook Ease needs a mobile app, which could be troublesome for consumers who prefer to manage their accounts while on the go.
Visit: Checkbook ease
Mint
Also known as 'Intuit mint.' Once you download this free checkbook software, you use this for transactions, the billing process, planning and analyzing budgets, reminders set for goals, pending sales, handy reports, and more.
The automatic categorization is accurate, provides budget suggestions based on the previous spending history, sets a goal for each account, and gets reports for net income, debts, assets, and net worth. Data security at the bank level, tax tools, e-mail or message alerts, and Windows, Mac, and iOS support.
Advantages of Mint:
Technical levels: Users of different technical levels may use Mint thanks to its user-friendly interface, which is simple and intuitive.
Automatic Categorization: The program classifies transactions automatically, making it simple for users to keep tabs on their expenditures and create more effective budgets.
Disadvantages of Mint:
Limited Customization: Although Mint provides extensive budgeting capabilities, customers could find it challenging to tailor their budget categories to meet their specific requirements.
Financial product: Financial product adverts are present on Mint, which some users may find off-putting.
Visit: Mint
AceMoneyLite
Its UI on the homepage might look quite simple, but it stands at its best when handling financial work. It is pretty easy to install available software that flows through creating accounts (sample file available for ease of use) and working with the transactions.
You may view the transactions on the calendar, and a new checkbook transaction asks for the payee, the amount to be transferred, and further details.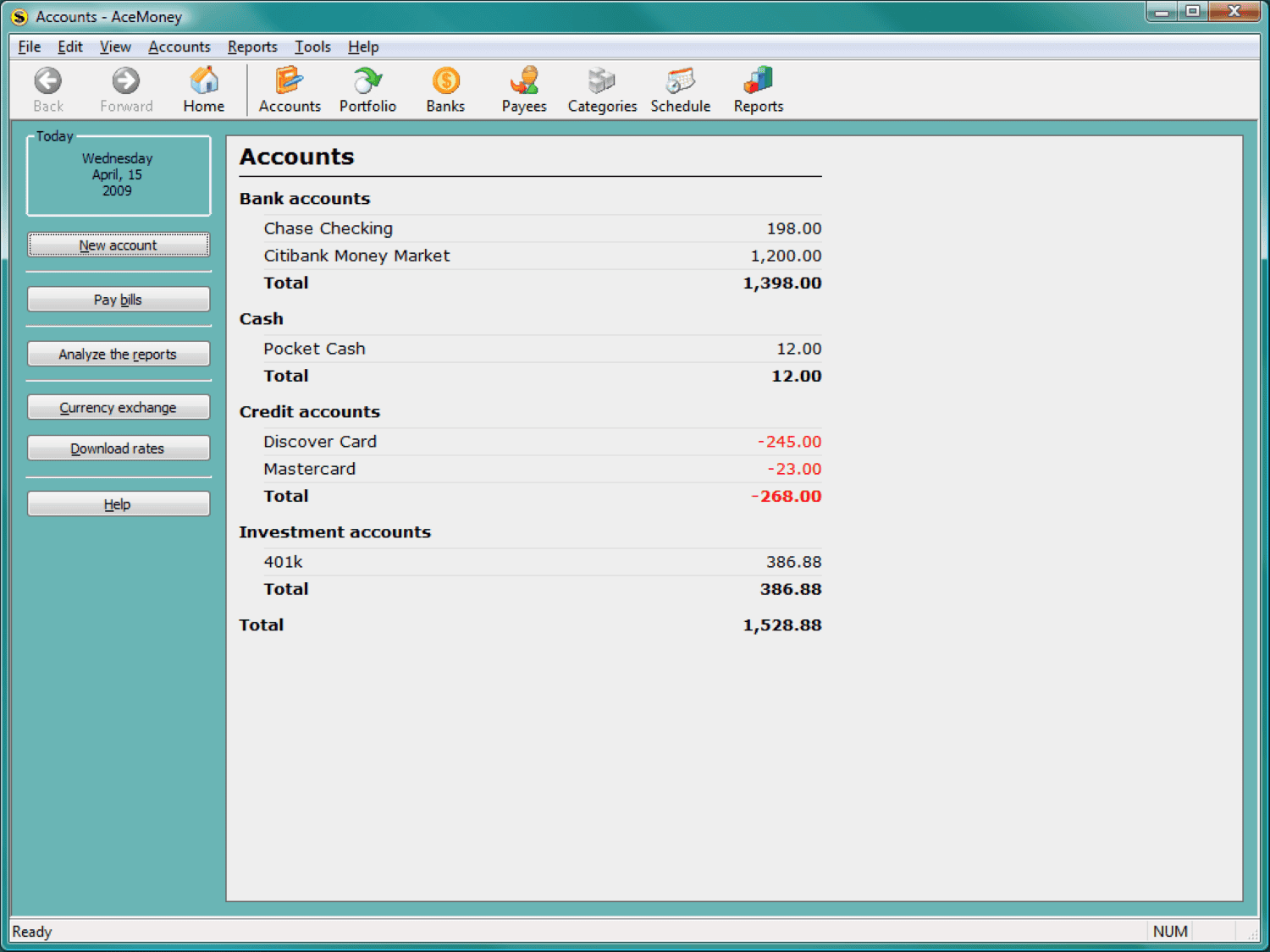 But you must download the statement for each transaction separately. A budget tool is provided, which helps in the creation of categories or subcategories as per requirement. This free checkbook software includes support for Windows, Mac, and Linux.
Advantages of AceMoneyLite:
Customizable Reports: AceMoneyLite enables users to design personalized reports that offer in-depth analyses of their financial situation.
No Ads: Unlike Mint, AceMoneyLite offers a more streamlined user experience by excluding adverts.
Disadvantages of AceMoneyLite:
Limited tools: AceMoneyLite needs more sophisticated accounting tools, making it suitable for those with complex financial requirements.
No Automatic Transaction Categorization: The software's lack of automatic transaction categorization can make it difficult for consumers to manage their funds efficiently.
Visit: AceMoneyLite
Activity
An alternative to the bank, this too is a full-featured software for account management. This free checkbook software became available for the Mac user in the year 2018 and since then has achieved high credibility. It includes an easy setup of accounts and an end-to-end encryption facility where the data is secure at both the sender and the server site.
Keep track of cash availability, funds, and budgets from month to month. The summary view helps in viewing the income, expense, net worth, running balances, return on investments, and much more. This detailed information makes it easier to handle checking accounts.
Advantages of Activity:
End-to-End Encryption: Activity provides end-to-end encryption to ensure user data security during transmission and storage.
Summary view: The software's summary view, which gives users a thorough overview of their financial standing, makes it simple for customers to keep track of their income, expenses, net worth, and other financial data.
Disadvantages of Activity:
Limited Customer Support: The product has limited alternatives for customer support, which may make it challenging for users to address problems or obtain assistance with utilizing the software.
Lack of Mobile App: Users who prefer to manage their finances while on the go may find it troublesome that Activity does not offer a mobile app.
See Also: 13 Best Free Drafting Software With Pros & Cons (2023 Updated)
KMyMoney
This free checkbook software, comprehensive software with a familiar UI, supports a Linux user well, making it an easy-to-use platform. In addition, The traditional availability of headings: Edit, File, View, Transaction, Account, and Tools in a row make it easier to handle the information.
The list of checking accounts, payees for each transaction, and registered entries of spending aid in the easy gathering of relevant information. There is a provision for a subcategory, but it still lacks some user-friendly options.
Advantages of KMyMoney:
Easy access:  Easy access to pertinent information is made possible by a list of checking accounts and payees for each transaction.
Comprehensive: Software that is comprehensive and includes a list of checking accounts, payees, and spending tools.
Disadvantages of KMymoney:
Some user-friendly options are absent.
Subcategory provision may use some work.
Visit: KMyMoney
YNAB
Termed from the complete form 'You Need a Budget,' this personal free checkbook software helps you plan your financial reserves monthly. Account reconciliation, checkbook balancing program, investment planning, and analysis are some of the tasks which are tough to tackle. However, it can be quickly resolved by YNAB.
The sender and the receiver's withdrawal limits to acquire the desired transaction amount are all easily handled by the YNAB. Thus, it provides a secure account linking to the bank and integrates the required information.
Advantages of YNAB:
Keeping track: A personal financial program called YNAB assists users in creating monthly budgets and keeping track of their spending.
Reconciliation: To ensure that all transactions are accurately recorded, it offers tools for account reconciliation that users may use to compare their bank statements to their budgeting software.
Disadvantages of YNAB:
Paid membership: YNAB offers a free trial period, but after that, customers must pay a monthly or yearly membership cost to keep using the program. Users who are looking for entirely free software may find this to be a disadvantage.
Learning curve: Because of YNAB's numerous features and functionalities, new users may need time to use it. Some users may find it frustrating to have time to get accustomed to the software's UI.
Visit: YNAB
FAQs
What is checkbook register software?
A computerized application called checkbook register software enables users to keep track of their finances by recording and documenting their income and expenses.
Is there free checkbook register software for Windows 11?
Windows 11 is compatible with free checkbook registration software.
What is the best free checkbook software?
GnuCash is the best checkbook software with features like double-entry bookkeeping, budget tracking, and financial reports.
Is there free checkbook register software for Windows 10?
A few free checkbook registers programs, such as Buddi, AceMoney Lite, and GnuCash, are accessible for Windows 10.
Can you recommend check register software?
A few check registers include Buddi, AceMoney Lite, and GnuCash.
Conclusion
So Gear up and get ready to use these free checkbook software, making your life easy to spend, tension-free, and analyze other aspects of life. 
See Also: Top 10 Free Data Monitoring Apps for Android
Lead Photographer, Lead Advice Editor for @CNET in Europe. Love: the outdoors, music, food, snowboarding, animals, beer, coffee, lists. Personal views.