The invention of the Fax machine was a breakthrough at the time. It made the transfer of vital documents from one place to another possible. It proved to be very useful for all businesses around the world. However, the Fax machine is not as popular as it used to be. With the likes of email and IMs, nobody uses fax machines anymore. Even if you want to avail services of a fax machine, you don't need to have a fax machine anymore.
While FaxZero employs HTTPS encryption for file uploads and SSL or TLS for outbound file transmission, the company indefinitely retains sender and recipient information, such as names, emails, and phone numbers.
There are several websites that let you send documents to a fax machine. Following are ten such Free Online Fax Services.
Top Free Online Fax Services
Here are the top free online fax services.
My Fax
My fax lets you send no more than two faxes within 24 hours. It supports formats like Excel, word, pdf, jpg, gif, etc.
The maximum size of the fax you can send with this Free Online Fax Service is 10 MB. My fax has a very simple and user-friendly website. You can use My fax to send a fax to as many as 40 countries in the world. My fax also provides you with your toll-free number for 30 days.
See also: 10 Best Video Compression Software (Both Free & Paid)
Fax Zero
Fax Zero is another one of the Free Online Fax services that lets you send fax online. Faxzero is very simple to use.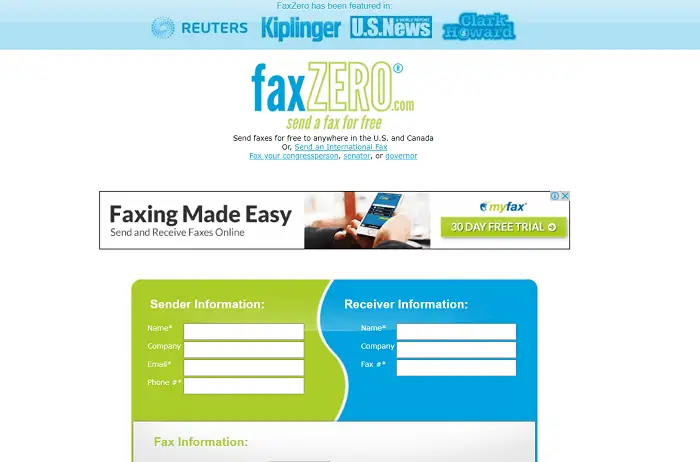 On its home page, there are two sections, i.e., details of the sender and details of the receiver. You can select and send multiple documents and the same time from your computer to a fax machine. You can send up to 5 faxes for free in a day. If you wish to send more than five fax a day, you can upgrade to its premium version for less than 2 USD.
See also: 4 Best Free Vector Software for Windows & Mac | Updated 2023
Hello Fax
Hello, Fax is another Free Online Fax Services website. You can send five fax every day for free. All you require to do is log in using your Google or Hotmail account, and you are ready to send the fax.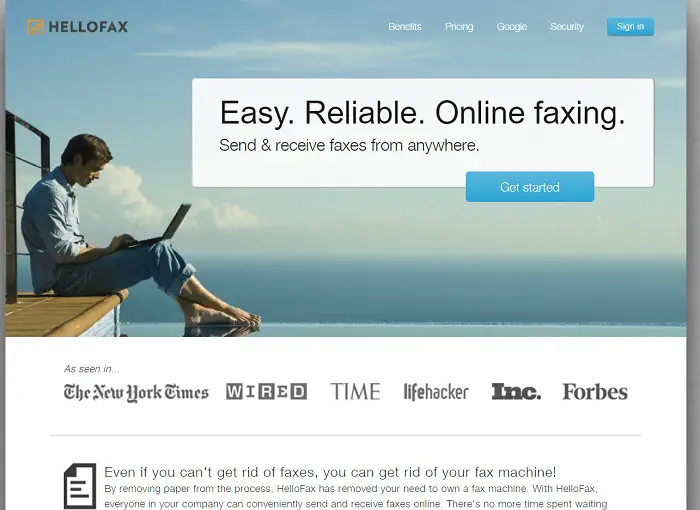 The drawback of this website is that to receive a fax, you have to pay 5 USD. The useful feature of this website is that it stores all the fax you send in your Google Drive. Hello, fax is confidential and secure to use.
See also: 8 Best Free Online Proxy Browser Services (2023)
E Fax
E Fax is one of the best Free Online Fax Services. According to its website, E-fax has more than 11 million people availing the service of E-fax for sending fax online.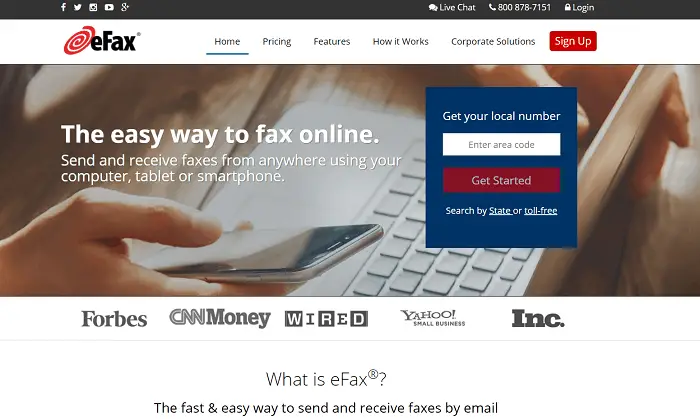 E-fax can be used through your PC, Mac, or mobile phone. You can choose your fax number. You have to signup and provide details like your city and country. E Fax is a popular, safe, and secure website for sending fax online.
See also: 5 Best Mac Cleaner Software to Supercharge Your Mac
PamFax
Pam Fax is a trusted website for sending a fax and is fully integrated with Skype. It gives you three free fax pages after signup. Pam fax is supported on Windows, Linux, Mac, and Android devices. It is a safe and protected way to send a fax. Pam fax also gives you a free trial fax number.
Got Free Fax
Got free fax is a Free Online Fax Service that lets you send a minimum of 2 fax and a maximum of 3 free fax per day. It has a user-friendly website that is very easy to understand and use. On its home page, you have to put in the details of the sender and the receiver. You can both upload the file from your computer or type the message that you wish to send.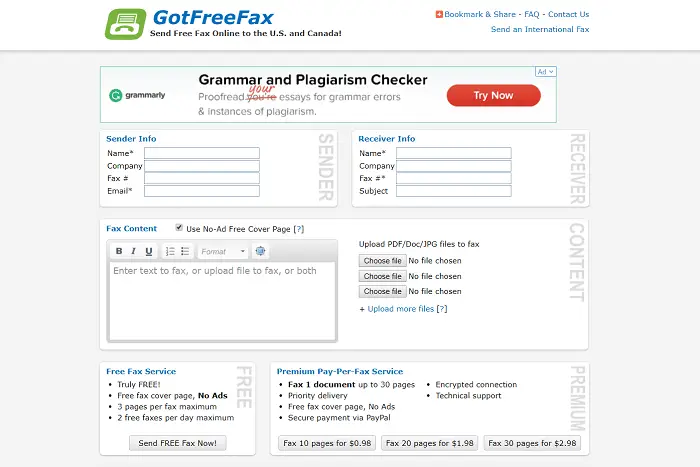 PopFax
The unique feature of the PopFax is that you can send a fax to multiple contacts at the same time.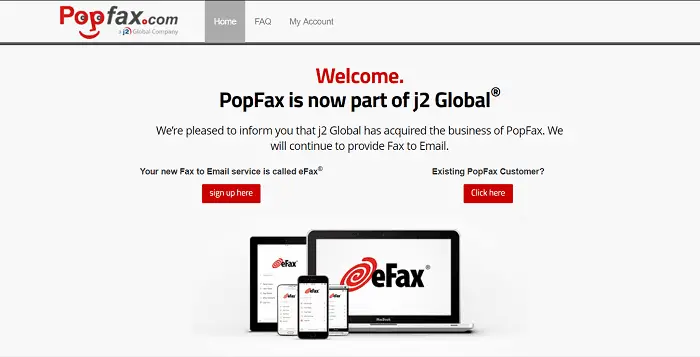 You can create a broadcast list of people you want to send documents to at the same time. All you necessitate to do is log in to pop fax, and you can directly start sending the fax. Pop fax can be used from your PC, tablet, or mobile phone. Pop fax is one of the best and safest fax-sending websites.
Ring Central
Ring Central is a US-based Free Online Fax Service that gives a free trial to every customer for some days.
You can choose to upgrade your account if you wish to by paying some money. Ring Central is a trustworthy web company. Thousands of people use various web products provided by Ring Central. Ring Central is PC and Mac compatible.
Nextiva Fax
Nextiva Fax offers up to 500 free faxes per month. If you are someone who wants to send a lot of free faxes, this website is for you.
Nextiva is a well-reputed web company. It is a very simple and easy way of sending fax online. It gives you a free trial, and if you want to, you can purchase their premium services. Nextiva is a safe, secure, and fast way of sending fax online.
Trust Fax
This is a customer service-oriented Free Online Fax Service as they have a dedicated customer service team 24×7.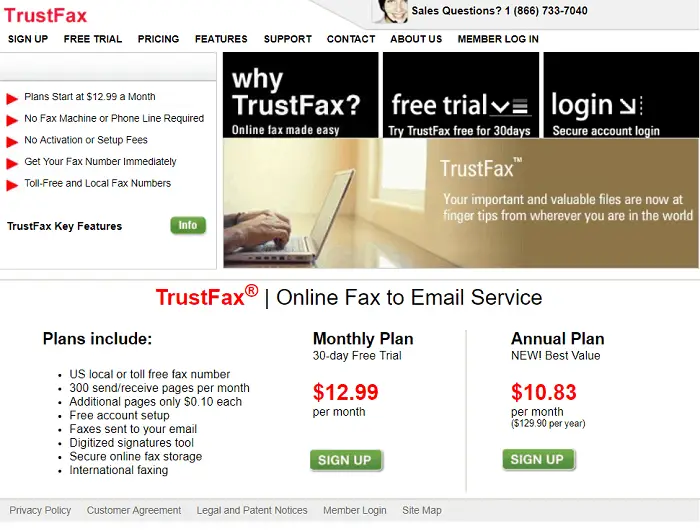 Customer satisfaction is their main motive. Additionally, They provide you with a 30-day free trial plan. Therefore, The process of sending a fax through this very website is very simple as all you have to do is fill in the basic details of the sender and receiver.
FAQ
Are there any truly free online fax services?
PamFax is free to join, and new users get three free fax pages. PamFax is available for the web, Windows, macOS, iPhone, iPad, and Android.
Does Google have free fax service?
Fax PDF files and Documents directly from your Google Docs. Simple and free online fax service. You can simply open your PDF file from your Google Drive or choose a PDF file from your computer and we can send them as Fax to any fax number in the world.
What is the best free fax online service?
Three services are the best for free faxing: Fax. Plus, HelloFax, and FaxZero. Fax. Plus lets you send 10 pages for free (ever for your account).
Conclusion
In conclusion, here are the best Free Online Fax Services on the internet. Feel free to try each and every one out. Thank you for reading!
Dedicated group of Computer Engineers making tech updates accessible to all. Our dream is to simplify and share tech news with everyone.