"It is hard to keep up with the stressful work life and anxiety that comes along with it." This line successfully grabs the attention of millennials and maybe, signs them up for their paid membership program. The constant increase in global predicaments contributes to the increased anxiety of millennials. In such a situation, calming websites have been playing a great role in helping people out to relax.
Mental health has become a huge factor in the contemporary world. People are deeply attentive to things like mental health and mental well-being. In an era where people have limited time to meditate or concentrate on their mental well-being, calming websites come into action. These websites help their users relax in a brief amount of time. If you want to relax by playing piano, you can click here.  Although most of these websites haven't been certified by and benchmark organization, they've proved successful based on their user engagement and feedback.
Check this out: Stores Like Aritzia For All Fashionistas In 2023
See also: Safe Place to Get ROMs | Ultimate ROM Sites List
Top 6 Calming Websites in 2023
Some of the most popular calming websites for anxiety are listed below.
WTF Fun Facts
You got it right! Who doesn't like reading facts? Facts are such statements that are fun to read through and knowledgeable at the same time. WTF Fun facts is a website that breaks the monotony and leads you towards some interesting content, daily updates, and facts.
WTF Fun Facts website has been a go-to for relaxing websites to give you the best update in a hilarious and witty manner.
Visit: WTF Fun Facts
See also: Top 6 Kickass Ways to Block Websites on Google Chrome
Gnoosic
You surely might not have heard about this stress relief website, but now you will. Gnoosic is a music website that spots new music recommendations. It's easy and fun!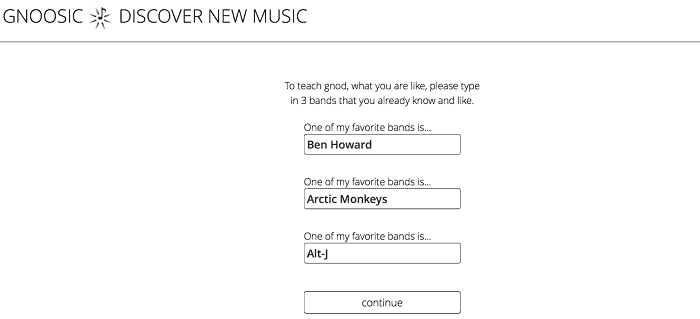 The websites ask for your best heard and liked bands so you can take some time out and chill between the hectic hours of work. More than that, you have the option to actually like and dislike and mark out for something which creates familiarity between you and the website. This website is something more than just for music enthusiasts but for all who really need to take a break from all those files on the table. Gnoosic is a One of the best calming websites ever.
Visit: Gnoosic
GIPHY
When you actually feel the absence of being goofy and giggling at the silliest times, GIPHY is the best website to have it all back.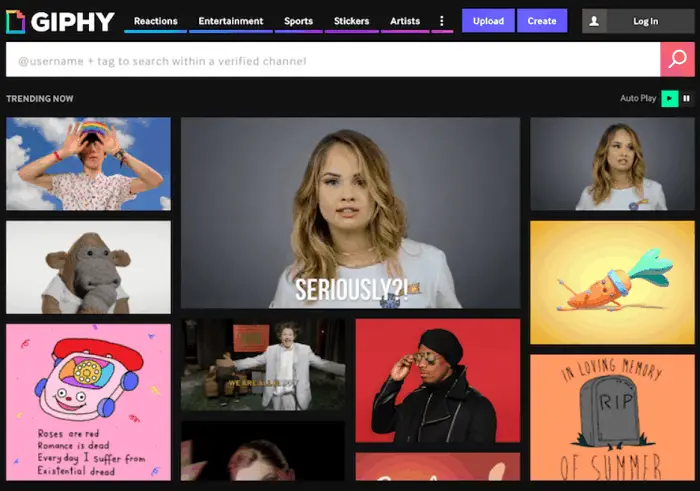 It's the most interesting and popular website of all time, which works on circulating creative GIFs all around the world. Its reach is insane over the internet and has proved to be a great source of entertainment at all places. A place where you could express yourself in the funniest manner and express what you exactly feel without offending anybody, not even your boss. So, next time you feel like yawning, GIF it. 
Visit: Giphy
See also: Download Gamecube Roms From These 6 Websites Safely
 

NOIYS – post, read, forget
I think this will be the strongest soothing website of all in solving the purpose of an escape. NOIYS is a website to post anonymously and to leave a note which any can view. It is a perfect website for venting things out which might be triggering you while working or might be refraining you from working.
The best part about this website is that you don't have to worry about the consequences. Rather, you can vent out things on a daily basis by writing whatever may come to your mind without thinking twice. Be it that tie of your boss that you completely hate. The story or the words sticks around on the website for a stipulated time which is 24hrs, after which it will disappear, so you don't have to worry about anything. Considered to be one of the best calming websites ever.
Apartment Therapy
Well, I think this is something way too interesting and helpful at the same time. Especially for the ones who have a huge penchant for their own amazing ideas of home décor or DIY projects. This website is a sort of one-stop platform which helps you collect ideas about how to make your house look welcoming and pleasing.
Along with that, this website allows you to take a visual tour of people's apartments to get the inspiration and light up about what you might be missing and wanting at your own place. This helps you design your abode fantastically and comforts you with the thought of changing your place accordingly. So, next time if you don't like the topic of the meeting, you know exactly what to do.
Visit: Apartment therapy
See also: Top 6 Closet Organizing Apps for Android [Latest 2023]
BuzzFeed
I think we all are addicted to this site when we actually need a break and wish to calm ourselves down a bit. BuzzFeed today is the top of the most popular websites in the millennials. It offers the best content of articles, interesting facts, places, updates all at one plate. It provides you with write-ups, best topics of discussions, indirect hints to solve your problems, fashion in trend, culture, and new. One of the best calming websites ever.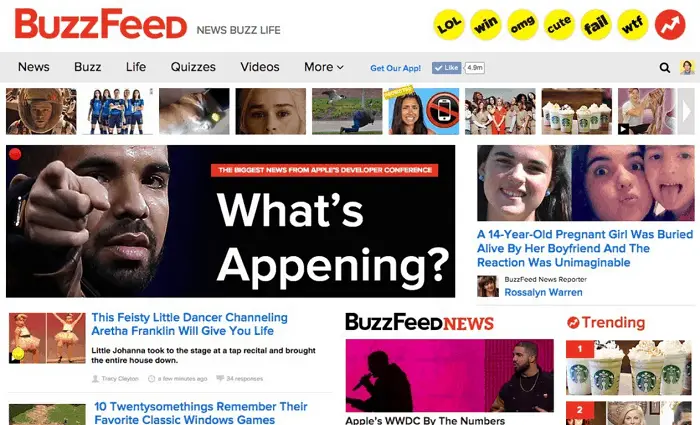 One can get lost once entering this website. Because it has created a world of its own which helps you connect with the world around you. So, more than just relaxation websites, it's a place to be having all packed from most of the year 2023.
Visit: Buzzfeed
Conclusion
With mental well-being becoming an ever-increasing topic of concern for the current generation. These calming websites will surely help you to sit down, relax and just BREATHE.
Hey everyone! We are a group of Computer Engineers who have dedicated their lives to tech. It's our dream to make sure that all the updates in the tech world reach everyone is simple words. Hope you have a good time on the blog! 🙂