Isn't it absurd to see that different PC components exist for various purposes? We used to use one keyboard for all. Let it be gaming, coding, or simply typing, we used that old white keyboard designed by IBM. There are gaming keyboards, video editing keyboards, 3D design keyboards, and the list goes on. Additionally, find some of the best typing software to practice faster typing. It significantly improves your coding speed.
Here is the list of the Best Keyboard For Programming You Can Buy Right Now:
Logitech MX
Corsair K55 RGB Gaming Keyboard
Kinesis Gaming Freestyle Edge RGB
Microsoft Sculpt
Das Keyboard 4 Professional
Razer BlackWidow Lite TKL
Happy Hacking Professional BT PD-KB600BN
Redragon K552
You'll sit in front of your computer for hours until your hands wear off. Typing for hours should be comfortable and painless to get your job done effectively on time. If the keyboard is stiff and rigid, your fingers will begin giving up on you in no time. So, a smooth and compatible keyboard goes a long way for your work. In this article, you can analyze and choose the best keyboard for programming.
See also: Top 17 Free Programming Apps for Android (2023 Edition)
Top 8 Best Keyboard For Programmers
Below is the list of best keyboards any programmer could have: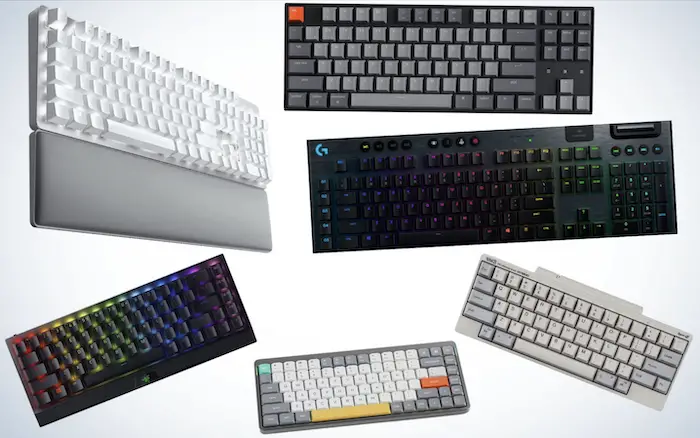 Logitech MX
Logitech MX is committed to providing users with an exceptional experience that improves their daily working and coding sessions. MX Keys is the best wireless keyboard for programmers. It has neatly arranged keys that make working on them really fun. Within adequate Bluetooth range, it is easier to work without wires.
This product has an excellent battery life, making it extremely useful for users. Logitech also claims that the keyboard can be used for a week on a single charge, making it the best programming keyboard available.
Features:
The keyboard is extremely thin, making it easy to use.
This keyboard has a long battery life, ideal for long coding sessions.
Users can work in the dark thanks to the automatic backlighting sensors.
It comes with a wireless USB dongle, which eradicates potential connecting issues.
The keyboard has been designed with a coder in mind. So, overall this is a good keyboard at a reasonable price. If you're a coder on a daily basis, you should have this as an option.
See also: How To Hire Java Developer For Startup: Top Things To Remember
Corsair K55 RGB Gaming Keyboard
The Corsair K55 keyboard has various features and an ergonomic design that makes it easier for users to work with. This keyboard is enhanced by effective responsiveness and operation. The K55 features silent typing, making it easier for users to work quietly.
If you are a coder, its low latency will make it the best coding keyboard ever.
Features:
K55 supports Silent typing to reduce the sound it produces while pressing the keys.
This keyboard responds quickly and efficiently, allowing commands to be transmitted instantly.
There are programmable keys that you can twerk to meet your needs.
The emphasis is on providing comfort while typing and working long hours.
This is a standard keyboard with some enhanced features, but the keys are difficult to press and thus irritating.
Kinesis Gaming Freestyle Edge RGB
Kinesis Gaming Freestyle Edge is a next-generation keyboard with a myriad of features. The most notable features are RGB lights and the keys' advanced responsiveness. The most exciting aspect of this keyboard is its design, which allows coders to use it for multiple purposes while staying comfy. You can use diverse programmable keys to execute quick commands. It can be the best keyboard for coding.
Features:
This keyboard has RGB lights, making it ideal for lighting and programming a classic background while working at night.
Custom programmable keys for quick commands.
Advanced responsiveness makes it an excellent choice for professional use.
This keyboard has a unique design that differs from standard ones. As a result, it is a risky call for users. But it is worth the risk because it is comfortable and austere, making it the best keyboard for programming.
Microsoft Sculpt (5KV-00001)
Microsoft Skulpt's creativity and innovation do not stop in the gaming industry, and they occasionally create unique hardware products. This keyboard is an excellent example of this because it allows proper arm placement. It is helpful for coders who type for long sessions. So is it the best keyboard for programming? Let's look at the features first.
Features:
The most striking attribute of this keyboard is its distinct design and wrist-friendly key layout.
Along with the keyboard, there is a separate num pad.
It focuses on providing natural tilts, making it easier to type for extended periods.
Below the keys, a palm-resting section is provided, making it extremely useful and comfortable.
Like all Microsoft products, this keyboard is suitable and easy to use. The only liability is its unconventional design, which may take some time to get used to.
Das Keyboard 4 Professional
Das Keyboard 4 is a flawless masterpiece that features cherry MX keys. It is still one of the most popular keyboards due to its smooth design and efficient operation.
According to the designers, Das can withstand up to 100 million key presses, or nearly 20-30 years. The volume knob on the corner lets you configure it to your requirements.
Features:
This keyboard is entirely dependable and long-lasting. 
The Cherry MX switches and gold contacts make it extremely fast.
It features a dedicated volume knob for increasing or decreasing computer sound.
You can remove the lower section of the keyboard to expand the keyboard usage section to type easier.
For simple integration, this keyboard employs the IFTTT protocol.
This keyboard is exceptionally advanced and ergonomically designed. Still, the volume knob is difficult to hold, and there is a better option at a much lower price.
Razer BlackWidow Lite TKL
The Razer BlackWidow Lite TKL is a fantastic keyboard with a rhythmic texture. The color gradient on the keyboard's backlight perfectly matches the environment.
You must use this keyboard in professional settings. Most importantly, it has a quick response time. This keyboard falls into the perfect budget category with this feature, making it a good choice.
Features:
Firstly, This keyboard is outfitted with high-quality ABS keycaps.
Secondly, BlackWidow is one of the quietest keyboards available, ideally suited to the office environment.
This keyboard forces you to work quickly, increasing your efficiency.
This is a good keyboard, but it is only suitable for studio use and is not ideal for gaming or entertainment.
Happy Hacking Professional BT PD-KB600BN
The Happy Hacking Professional is unquestionably the most unique because it is entirely focused on improving performance on Topre switches.
The most promising thing about these switches is that they work instantly. So, it allows users to push in large amounts of code quickly. The unfortunate part is that the keyboard lacks arrow keys and a side-by-side Numpad. As the name suggests, it is the best keyboard for programming you can find.
Features:
This keyboard consists of the highest quality switch known as Topre switches, which improves the overall quality of the keyboard.
Secondly, It operates almost instantly, making typing work simple.
Thirdly, Happy Hacking Keyboard is highly durable and takes up very little space.
This is an entirely coded dedicated keyboard that professionals can use to increase efficiency. It is still distinct from standard keyboards, but it lacks arrow keys. It is a bummer for some users.
Redragon K552
The Redragon K552 lives up to its reputation. It is available in various colors, effects, and attractive features. The keyboard makes some noise when clicking, but it performs admirably and is compatible with both Mac and Windows.
So, if you want an affordable and stylish keyboard, RedDragon is the one to go.
Features:
Firstly, This keyboard is of high quality; you will notice it as soon as you start using it.
Secondly, it has a variety of RGB lights that enhance its appearance. Using it at night is fun and enticing.
Thirdly, with multiple effects and color gradients, this keyboard is designed in the most beautiful way possible.
This is a good keyboard, but many others have similar or additional features. You can go for better ones in the market for this price point. If you are looking forward to buying the best keyboard for programming, this may not be a good choice.
FAQs
Is a mechanical keyboard better for programming?
Mechanical keyboards are the holy grail when it comes to keyboards. Mechanical keyboards are better for coding. A mechanical keyboard uses spring-loaded switches that offer an unmatched tactile feedback when typing.
Is a 60% keyboard good for programming?
60 percent of keyboards, in particular, lack arrow keys, which can make editing text difficult - so we probably wouldn't recommend these for programmers or students in most circumstances.
Are MX keys suitable for programming?
The Logitech MX Keys is an excellent programming keyboard. It has a solid build quality and is compatible with most desktop operating systems. The scissor switches offer a light typing experience with good tactile feedback; its indented keys reduce typos.
Conclusion
In conclusion, it is still your choice to choose a developer keyboard based on your needs. Whatever the list suggests, you know yourself better. So, considering your purpose and budget, choose wisely. So, comment below if you find your best keyboard for programming.
David Carnoy: TechyHost's and CNET's Executive Editor, leading member of the Reviews team since 2000. Covers gadgets, specializes in e-readers and e-publishing.