Do you know that you can use a PC inside your existing PC? You can control the screen of a computer whose server is far away from yours. It is impressive to see how the tech industry has grown in the past decade.
We can do crazy stuff with our computers. There are virtual data rooms that hold millions of terabytes. Overall, you can use virtual machine software for particular purposes like hiding confidential files and sometimes gaming.
In this article, we have gathered the best free virtual machine softwares for you to choose from.
See also: 10 Best Android Emulator for Linux | Complete Guide
List of 9 Best Free Virtual Machine for 2023
Following is the list of best Virtual machines that are available for free:
VM Monitor
VM Monitor is a real-time free VM tool for your Microsoft Hyper-V host and VMware vSphere. It displays CPU, RAM, and the count of configured Virtual Machines.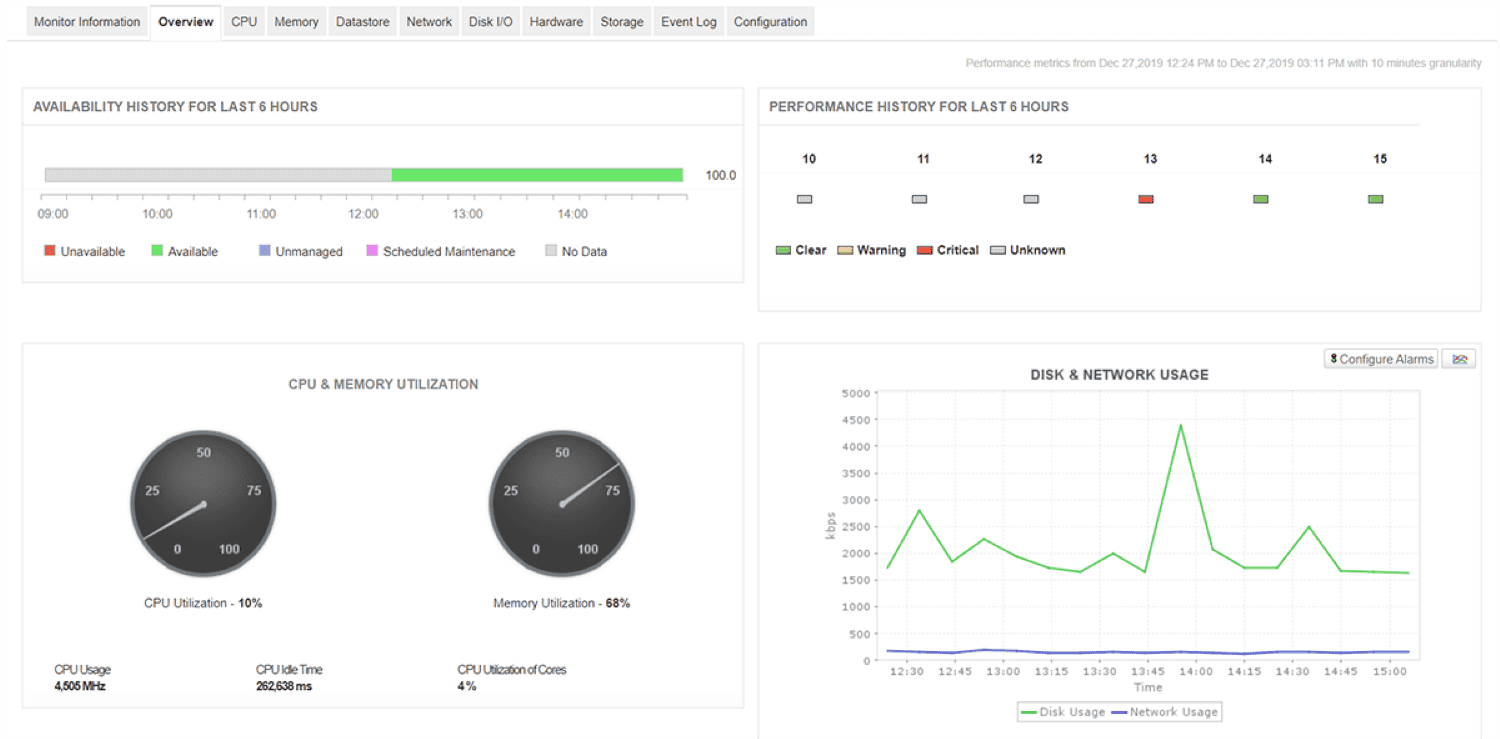 Features:
VM monitors allow users to create several virtual machines on a single physical host system. 
VM monitors assign system resources like CPU and network bandwidth to virtual machines based on default settings. This allows for more efficient use of hardware resources.
Supported platforms: Windows 
Pros:
You may monitor your VMware ESXi hosts using up to 50 monitors.
Checks the essential metrics of your VM hosts, including CPU, memory, and disk usage.
The server can be restarted automatically.
It rapidly monitors the issues.
Cons:
It is only a Windows-based solution.
Free trial: 30- Day fully-functional trial.
See also: 6 Best Alternatives to Hamachi For Virtual LAN Gaming
VMware Fusion (Mac)
VMware Fusion for Mac is the best free virtual machine application. This program is well-known for cloud computing and virtualization. It enables you to run numerous applications on various operating systems simultaneously. Fusion also allows for integration with a variety of development tools.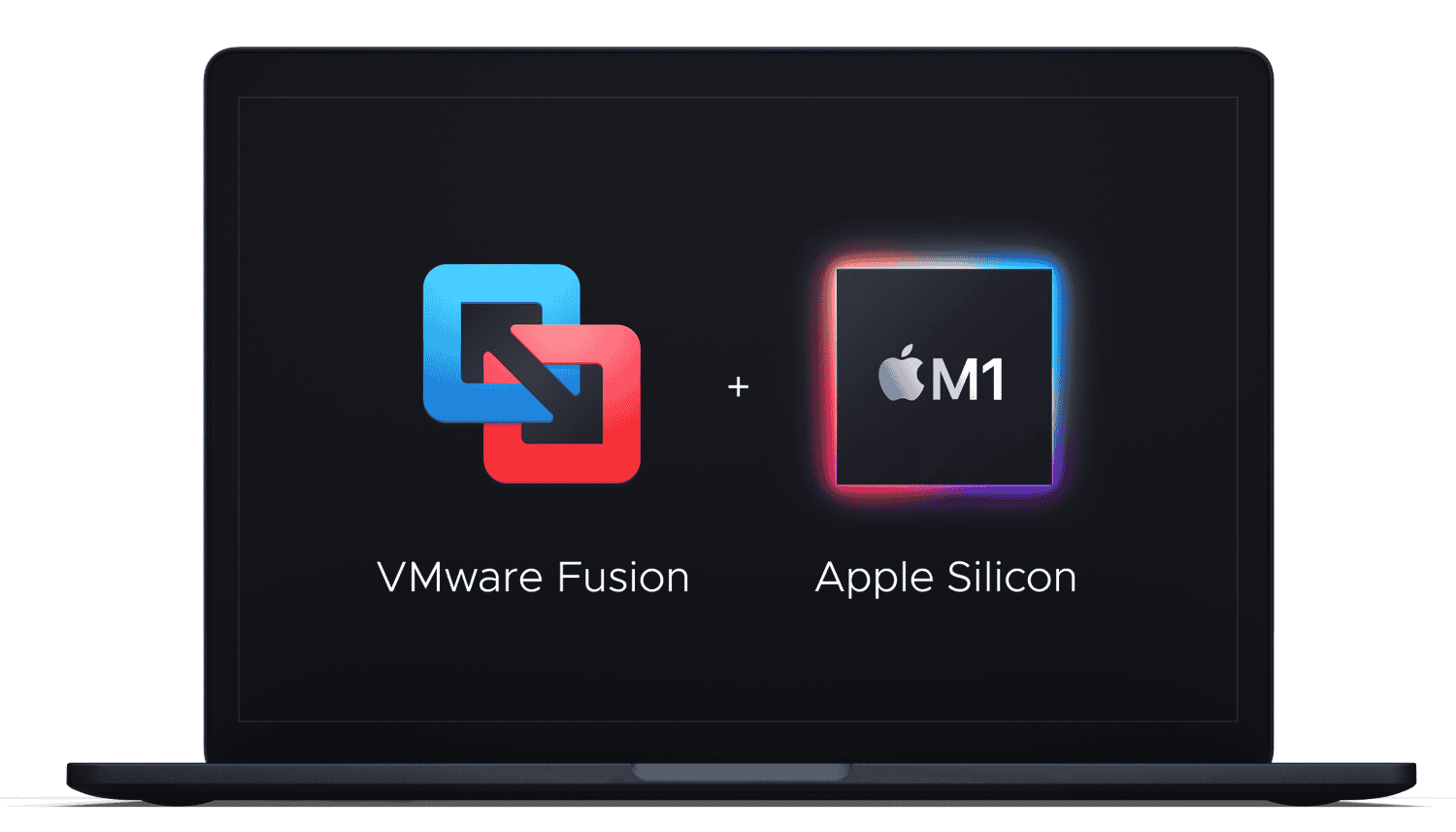 Features:
The application includes a streamlined installation method that makes setting up virtual machines and installing guest operating systems a breeze.
Fusion's Unity mode seamlessly mixes virtual machines with the host Mac desktop.
Pros:
The trial does not require registration.
Allows you to run Windows alongside Mac.
It can support a high-resolution display, such as 4K/5K.
Cons:
It is a complicated piece of software that demands further understanding to operate.
Free trial: 30-Day free trial.
See also: Online Android Emulators For PC | 5 Best Ways To Emulate Android Online
Parallels
Parallels are the best virtual desktop solution for operating Windows or Mac devices without rebooting. This tool enables you to deploy hundreds of installations quickly. You can run multiple Windows products, such as Internet Explorer, Microsoft Office, Access, Quicken, QuickBooks, and even CAD packages, using Parallels. Click here to learn how to create Azure VM.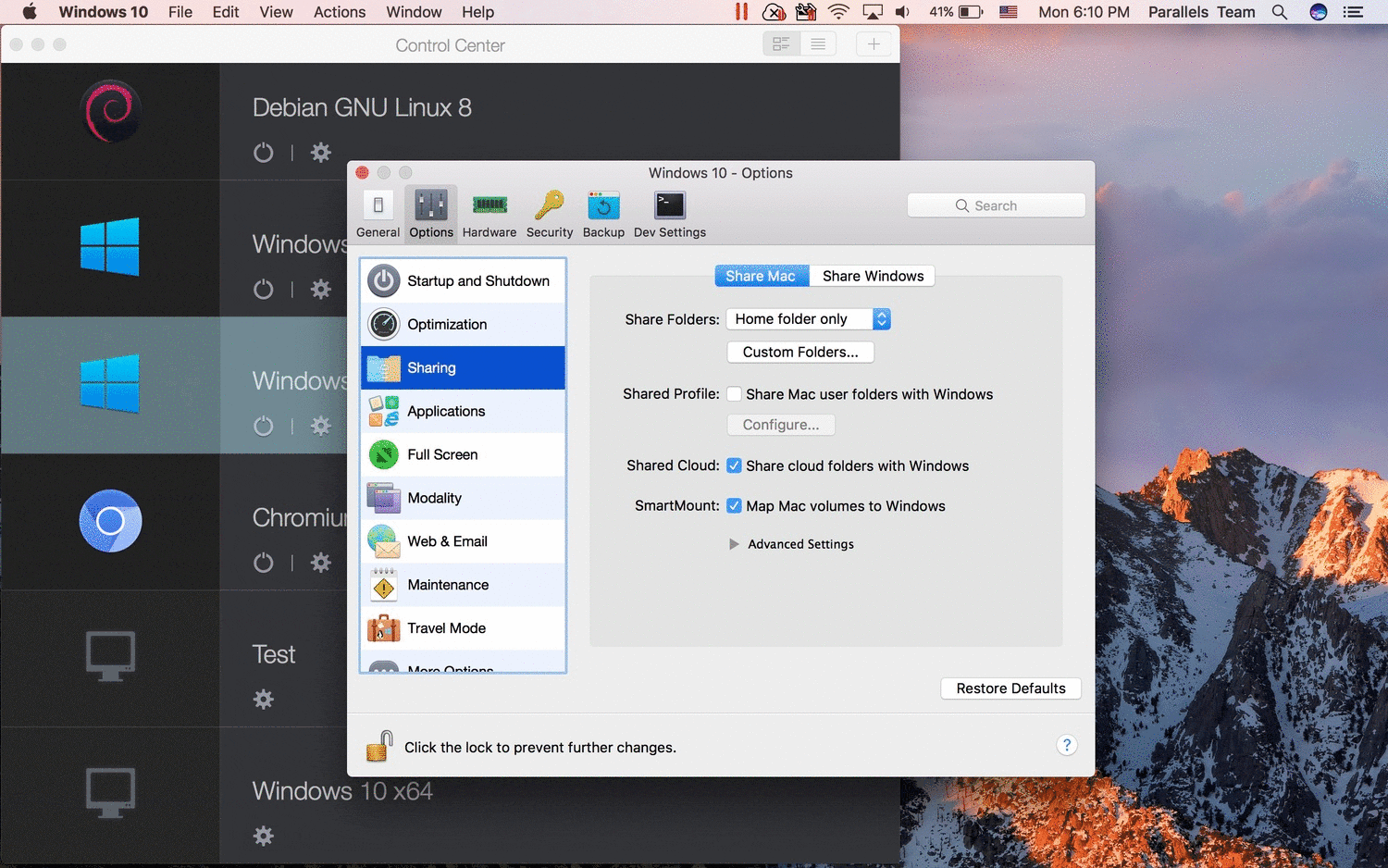 Features:
Parallels Desktop's Coherence mode combines virtual machines with the host computer's desktop interface. 
Parallels Desktop includes snapshot and cloning capabilities that enable Users to capture the state of a virtual machine at a certain point in time.
Pros:
It is simple to set up.
Parallel moves at breakneck speed.
You can free up disk space.
It lets you launch and access Windows applications directly from the Mac Dock.
Cons:
Parallels cause the Mac to heat up.
Free trial: A 14-Day fully functional free trial.
See also: IOS Emulators For Windows To Install Today [With Pros & Cons]
VMware Workstation Player
The VMware workstation player is a solution designed for IT professionals and developers. Using VMware Workstation players as your virtual machines, you can communicate files and data between guests and hosts in real time. It also allows connecting to vSphere, which serves as your hypervisor's remote data center. VMware is the most effective method for learning about Virtualization, Operating Systems, Containers, Kubernetes, and the VMware system. It is one of the best free virtual machine tool.
Features:
 VMware Workstation Player has drag-and-drop functionality, enabling users to move files and folders between the host and guest operating systems.
VMware Workstation Player allows the use of USB devices within virtual machines. USB peripherals like printers and smartphones may be linked to and utilized directly from virtual PCs.
Pros:
Switching from SSH to Linux is simple.
It supports DirectX11 3D graphics and has 8 GB of vGPU memory.
With the latest vctl CLI, you can push, pull, run, and construct OCI container images.
Simple to use interface
Personal use is free.
Cons:
Some features are accessible only in the premium edition.
The free application becomes slower with each host added to the virtual machine.
Free trial: Yes, it does provide a free trial.
See also: 8 Best Linux Distro For Windows Users | Switch Between OS Easily
Hyper-V
Windows Server Virtualization, formerly known as Hyper-V. It is an x86-64 hypervisor designed to construct virtual computers. A Hyper-V server computer can be configured to expose individual virtual machines to one or more networks. It was compatible with various OS, i.e., Windows, Linux, and BSD.
Features:
Hyper-V integrates with Active Directory, allowing administrators to monitor and control virtual machine access by leveraging existing user accounts and groups.
Hyper-V may be controlled and automated using PowerShell scripting. Administrators may use script-based automation to do various administrative tasks, such as establishing and monitoring virtual machines.
Pros:
You can lively migrate from one host to another.
Provides simple backs.
It is built into Windows.
Its simple interface and implementation are ideal for beginning developers because of its simple interface and performance.
Cons:
It lacks advanced features such as GPU acceleration.
Free trial: It is free software.
See also: 10 Best Android Emulator For Linux | Complete Guide
VirtualBox
VirtualBox is a free, open-source x86 hypervisor. It's one of the top VM software programs for creating and managing virtual machines. Compatibility with Windows, Linux, BSD, and other operating systems. One of the most remarkable features of VirtualBox is moving the virtual machine from one host to another.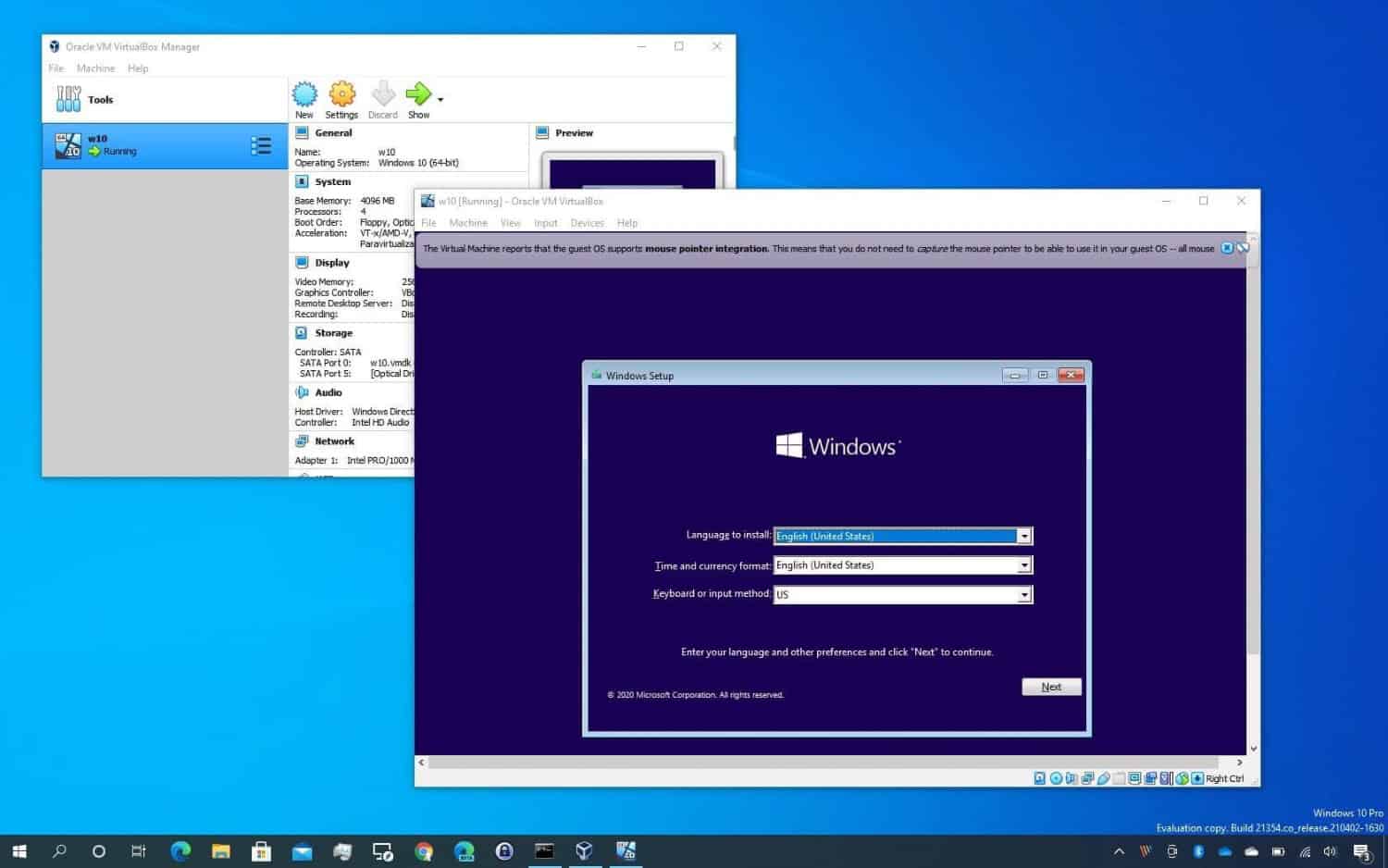 Features:
VirtualBox's Seamless Mode integrates guest programs with the host desktop. Allows users to use guest apps alongside host apps, resulting in a more seamless user experience.
VirtualBox is incredibly adaptable and customizable.
Pros:
Resolutions for several screens.
This hypervisor is compatible with 3D virtualization, USB devices, and video.
The Oracle website also has an excellent information section with tutorials.
Cons:
You cannot run macOS Mojave in a virtual machine using VirtualBox unless you own a Mac.
Free trial: It is free software.
QEMU
QEMU is an abbreviation for Quick Emulator. It is a famous emulator and virtualization machine. Additionally, This system is developed in C, provides full system emulation on compatible systems, and can execute software for Linux, BSD, Windows, and other supported architectures.
Features:
QEMU provides full system emulation, allowing users to run virtual machines that mimic a whole computer system. This enables the emulation of several architectures like x86 and ARM.
Using dynamic binary translation (DBT), QEMU can emulate a variety of CPU architectures. It can convert guest architecture instructions into host architecture instructions, allowing guest operating systems designed for different CPU architectures to run.
Pros:
It is a free and open-source virtualizer.
It employs mode emulation.
KVM and Xen are also supported at native performance.
It is compatible with all operating systems.
Cons:
The learning curve is steep.
Free trial: It is free software.
Gnome Boxes
Gnome Boxes is a virtualization management tool. It is one of the top VM software for Linux. It can assist you in customizing all types of virtualization solutions.
Features:
GNOME Boxes allows users to install popular Linux distributions effortlessly using pre-configured templates. These templates make installation more accessible by reducing the need for manual configuration.
GNOME Boxes may automatically search for and download the appropriate operating system image when creating a new virtual machine.
Pros:
Set your machine's preferences intuitively and monitor its performance. 

Allows USB device access to your boxes.
It has keystrokes, a clipboard, keyboard shortcuts, and other features.
You can access, view, and manage remote and virtual systems.
Cons:
There aren't many advanced features.
Free trial: Basic free version.
Red Hat Virtualization
Red Hat Virtualization is a software-defined platform that is open source. It provides virtualization for both Linux and Microsoft Windows. It is one of the best free virtual machine software that allow you to create new VMs, and clone old ones.
Features:
Red Hat Virtualization contains robust security features to protect virtualized workloads. 
Red Hat Virtualization is built on open-source technology. Therefore its codebase is freely available.
Pros:
Simple to set up and utilize.
Virtualization in the Cloud.
Containerized setting.
Cons:
Its customer service takes a long time to respond.
Free trial: It offers 60—days of Free Trial
FAQs
Can virtual machine software be used on the cloud?
Yes, virtual machine software is widely used in cloud systems. Cloud providers typically employ virtual machine software to supply (IaaS) solutions, allowing clients to deploy and run virtual machines in the cloud.
What are some of the most popular free vm software options?
There are various popular free vm software solutions, such as: VirtualBox for Oracle VM and Workstation Player by VMware
Which is the best virtual machine?
The best virtual machine is determined by your requirements, but common choices include VMware vSphere, Microsoft Hyper-V, and Oracle VM VirtualBox.
What can I accomplish using VM software?
VM software enables the creation and operation of several virtual machines on a single physical computer. You may install several operating systems and run many apps simultaneously.
Can virtual software improve resource utilization in IT infrastructure?
Yes, virtual software can significantly improve resource utilization. Consolidating multiple virtual environments onto a single physical server enhances overall efficiency. Virtual machine software is designed to create and manage virtual machines.
Conclusion
In conclusion, even though this list consists of the best free virtual machine software, you are the one who gets to choose. Analyze the pros and cons, then select the best VM based on your requirements.
So, we hope you don't have trouble choosing. Overall, Thank you for reading this article. Hope it was worthwhile.
See also: Top 9 Best Sandboxie Alternative Tools & Apps of 2023
Carly Earl, Guardian Australia's pic editor, was a photographer and pic editor in Sydney for 8 yrs. She worked for The Daily Telegraph and Sunday Telegraph.