Gaming culture is growing popular among all ages day by day, and to experience this on the big screen is indeed flattering. Also, it often becomes effortless to test apps on a PC than a mobile phone using Online Android Emulators. So optimized Android gaming and app testing experience on your PC is now here!
Here is the list of the top 5 online Android emulators for PC:
#1 NOX Player
#2 Andy
#3 Bluestacks App Player
#4 KoPlayer
#5 MEmu Play
Online Android emulators are software that enables your PC to work as a host environment for your mobile devices such as smartphones or tablets etc. in simple words, the apps on smartphones can now seamlessly run on your PC and MAC. Nowadays, IOS emulators are also getting a lot of attention in the market. Isn't that cool?
Visit: Android online Emulator
Top 5 Online Android Emulators for PC
So let's dig in and find the most suited and widely preferred Android emulators for PC.
See also: Best Android emulators for Mac [Updated 2023]
NOX Player
The Online android emulator that tops the list is the NOX Player. Along with the hands-on experience of Android right on your Windows screen, NOX is extremely authentic in terms of security and virtualization. You can easily install all your favorite games and apps right within the app without any additional costs. Designed from the viewpoint of gamers, NOX provides an amazing GUI and usual key mapping for various gestures.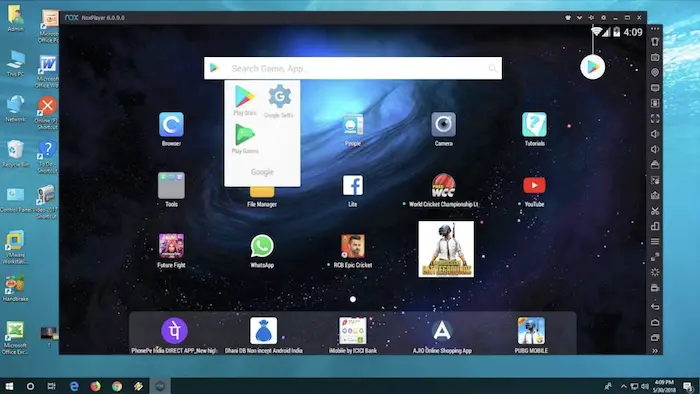 Users would be happy to know that NOX provides controller flexibility and can work with external devices like joysticks, gamepads, etc. The only drawback with NOX is it only simulates on Windows and is under development for other OSs.
In-shorts:
Interactive UI
Flexible key control assignment
Multiple tabs at an instance
Visit: NoxPlayer
See Also: 8 Best Anatomy Apps for Android & iOS (Latest 2023)
Andy
There has been a tough spot between NOX and Andy for the 1st place. Andy is a popular online Android emulator that has been around for a while and recently updated to Android Nougat. With Andy, you can use your phone as a controller, which means you can actually control the functions on the desktop from your phone and experience popular mobile apps on the big screen.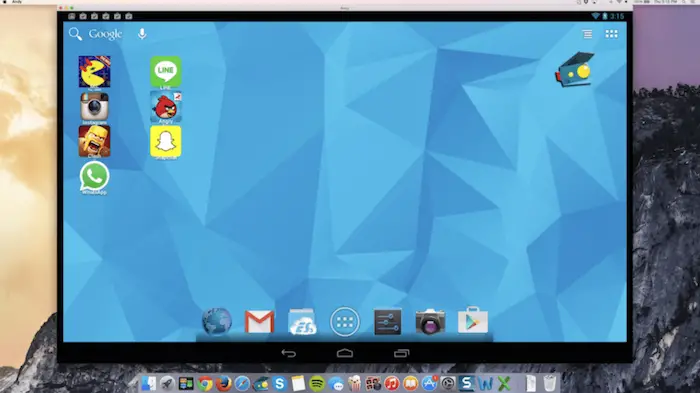 Andy has easy to go with user interface and resemblance to Android phones, which makes browsing easy. Currently, 2 versions are available for download, Andy for regular users/gamers and Andy Pro for business purposes. Andy Pro is priced at $12 per month and $99 annually. In-Short,
Available on Windows as well as MAC.
Unlimited storage for apps.
Always provides updated and latest Android versions.
Visit: Andy
Bluestacks App Player
Aye! We have all heard of Bluestacks at some point. This is one of the most mediocre emulators among all online Android emulators for obvious reasons such as performance and reliability. Bluestacks, too, has an updated version of Android Nouget like Andy. It supports both Windows as well as MAC and is freely available for download. The most appealing thing about bluestacks is the ease of use and the user interface structure, which feels like a phone or tablet.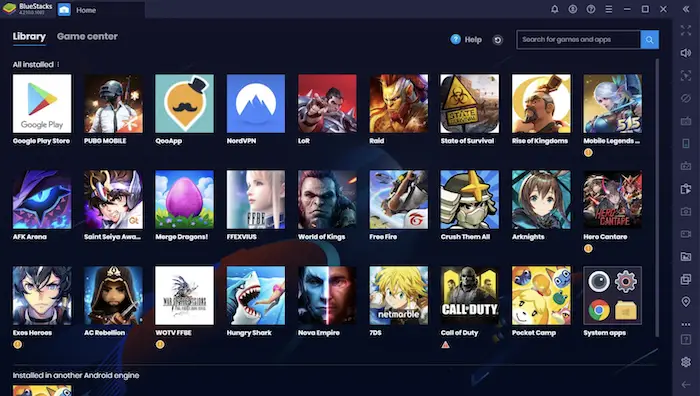 It is just like Android and mainly allows multiple games to run at an instance in multiple windows, which is a huge plus for gamers. You can download apps directly from the Google play store, and for other sources, APK files are usable. It allows key mapping and connects to external sources like the gamepad and the joystick. Initial versions of Bluestacks had some glitches resolved in the latest Bluestacks (2023).
In-Shorts:
High performance
Multiple instances at a time
Acts as an app-testing platform
Reliable and secure
Visit: Bluestacks App player
KoPlayer
KoPlayer is comparatively an older version of online Android emulators. The main focus of KoPlayer is gaming. After launching KoPlayer, it asks the users to select among two modes, speed mode and compatible mode. Speed mode can be used to increase the game performance, lower CPU and memory usage, and help apps run faster.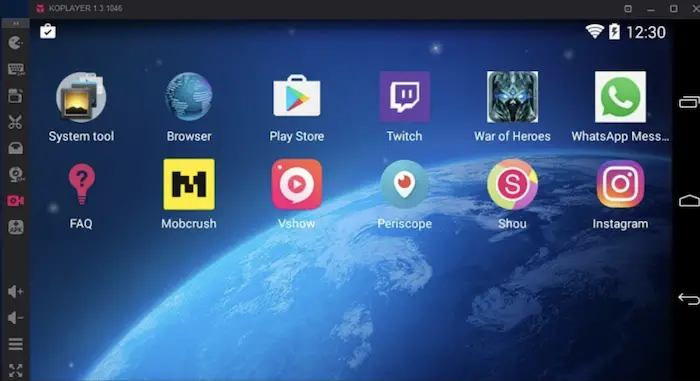 If the game runs into some issues, you can shift to compatibility mode. Apps can be installed from the Play Store freely. A toolbar is provided on the UI, having a couple of functionalities. You can change the layout to landscape or portrait mode, take a screenshot of the game screen or score, map keys to the keyboard as per choice or activate the game controller to the preferred layout. One interesting thing about KoPlayer is it allows you to record your gameplay and upload it on social media. This is a big thumbs up to gamers owning youtube channels and worth a shot for a free download option. In-Shorts:
Option to record gameplay
Easy installation
Visit: KoPlayer
See also: ADM For PC – Advanced Settings (Windows 7/8/8.1/10)
Customize your rooted Android device with Xposed Framework; click here to know more.
MEmu Play
MEmu is an upcoming Android emulation put has made itself pretty popular among gamers. With the Integrated graphics, performance scales, and the backing of AMD and Intel, support levels for MEmu are quite high. MEmu supports android jelly bean, KitKat, and Lollipop 5.1. A toolbar is provided on the right side of the screen, having different functions.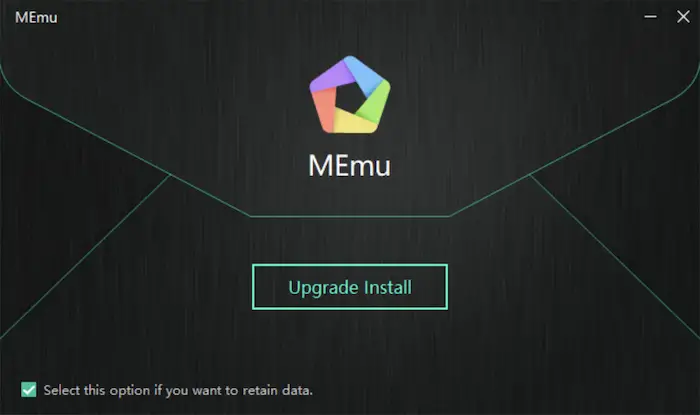 You can create multiple instances and choose between Android versions on the player. You can map keys on the keyboard, mouse, or gamepad with desirable controls. Also, there is an option for installing online Android emulators apps from the google play store as well as drag and drop APK on the program screen. MEmu has its sole focus on gaming and aims to be in league with Bluestacks and NOX. In-Short:
Firstly, it Supports AMD and intel
Secondly, it is Gamer oriented
Visit: MEmu Play
FAQ
Is there an online Android emulator?
There are numerous Android Emulators on the internet. Like Andy Emulator, which has its own set of regulations and won't provide a naturalistic device environment for bug-free testing.
Are there any online emulators?
Various websites include a variety of web-based retro game emulators for numerous consoles. A web-based retro game emulator is an Adobe Flash or Java console emulator. They are emulators you can run directly from your browser window.
Can I run APK file online?
You can immediately upload and run APK files online on the preferred Android mobiles using its real device cloud. The APK file is installed on an Android device hosted in a safe cloud environment. This implies that users can estimate the performance of their Android app in actual user conditions and debug faster.
Conclusion
In conclusion, we have all the Android emulators where you can play multiple Android games. Have fun with your friends. Additionally, if you want to play old-school games from the Intellivision Emulator, there are several emulators for that too. Click on the link and know more about Intellivision Emulators. Finally, I Thank you for reading!
Dedicated group of Computer Engineers making tech updates accessible to all. Our dream is to simplify and share tech news with everyone.