Reminder apps are basically a boon a people who have a habit of forgetting things with time. A lot of people have reminder apps installed on their smartphones to help being organized. A large percent of the population spends the majority of their time in front of laptops or PC while at work, so it is more feasible to have reminder apps for Windows 10 that can be installed on the PC/ laptops.
Cortona: Simple and Easy to set reminders.
Microsoft Calendar: Built-in app to set reminders on Windows.
Windows Shutdown Assistant: For power users.
Microsoft To-Do List: Best Windows Reminder App.
RemindMe for Windows: For more customized reminder settings.
Pillbox Pro: Medicine Reminders.
Drink Water Reminder.
See Also: 10 Best Photo Viewer for Windows 10/8/7/XP
5 Best Reminder Apps for Windows 10
So here are some of the reminder apps for Windows 10 which are suitable for Windows 10 as they work efficiently with the environment of Windows 10.
CORTANA
Cortana is a built-in application that comes with Windows 10. It is launched to answer Google's Google Assistance and Apple's Siri. Cortana helps you to organize your everyday schedule just by calling " Hey Cortana" if you have enabled voice recognition. Just say "Hey Cortana, remind to visit a doctor at 2:00 PM" and voila, your assistant does that. You can simply use the shortcut key " windows + C".
It understands almost every command given to it and is very responsive to every command given. So if I were to look for reminder apps for Windows 10 ,I would place my money on Cortana.
Visit: Cortana
RemindMe for Windows
Remind Me is a free reminder app for Windows 10. It is more user-friendly, and the user interface is actually quite simple and sober, keeping in mind that functionality must be user-friendly with no bells or whistles.
This application is a choice for people who like a simple interface and no fancy accessories. It has a live tile format. When you want to set a relative timer, you can notice a countdown timer that is ticking.
Also, you can set reminders that focus on date and time. The application works fine with the Windows 8 operating system as well.
Visit: Remindme For Windows
Desktop Reminder
While the RemindMe app has a very fair and simple representation. It also focuses on one task at a time. Desktop reminder app for windows  10 is actually loaded with a lots of different functions and uses. It comes with in built in calendar which gives us to keep records of the events for a long time.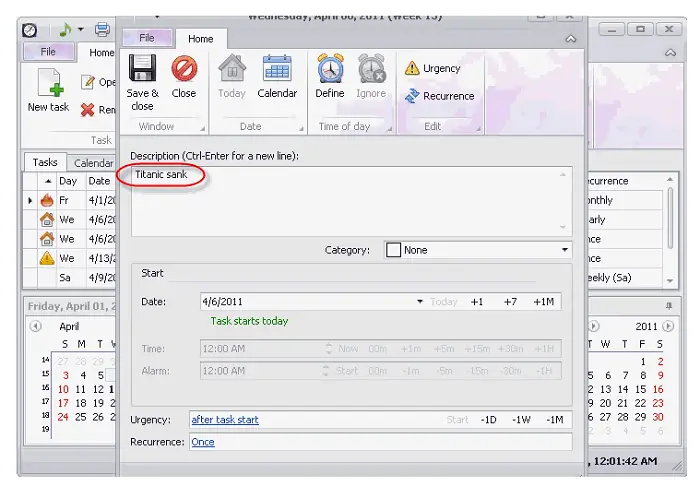 For example, if you are a co-operate person, it helps to keep a diary of your meetings and reminder apps for Windows 10. It has a vast memory and can keep records for months. This application has 2 versions – one is free of cost, and the other is pro level which is available for $29.
This application is useful for professional use considering the number of services it provides. Also managing this application can be a little hectic due to its extended content. So, my advice is to use it on professional grounds to manage yourself in an efficient way.
Visit: Desktop Reminder
2Day
2Day is not just a reminder apps for Windows 10, but a complete package to lead a meticulous life. It is an organizer app that not only shows a to-do list of today but can organize the whole week calendar. 2Day also supports Cortana, making it even more awesome and easy to use.
It can sync with Office 365, windows 7, 8,10 operating systems. 2Day comes with a one time update of $3.99 which is reasonable considering the application-wide use.
Visit: 2Day
Kana Reminder
Kana Reminder is one such app that will help you to set reminders. When a reminder is set , there will be a notification when the task needs to be completed. Kana reminder comes with a built-in scheduler so that you can tell your PC when to shut down or hibernate or sleep or perform certain tasks like launching various programs.
It also proved with considerate security with the help of password and login credentials. This has a simple yet very organized user interface which gives it more of an attractive look. also it has some shortcut keys to set reminders as well as alarms.
Visit: Kana Reminder
FAQ
in the Outlook Options window to save the settings." image-2="" count="3″ html="true" css_class=""]
Conclusion
Each reminder apps for windows 10 serves a distinct function and all the reminder apps are quite distinctive yet somewhat similar to each other. Each reminder apps works on a solo purpose to help the user keeping an organized life. Every app noted above is special in its own way.
For example– if you want a simple yet productive reminder app you can simply go for Cortana. If you want to reminder apps for windows 10 professional concerns , then Desktop Reminder may be the best choice for you.
These apps are a boon of people who have a habit if forgetting things or have a messy lifestyle.!!
See also:Upgrade Motherboard & CPU without Reinstalling Windows 10
Lead Photographer, Lead Advice Editor for @CNET in Europe. Love: the outdoors, music, food, snowboarding, animals, beer, coffee, lists. Personal views.