SaaS is flexible, easy to use, and affordable because you pay-per-user access to the application rather than a license to the application itself. This article will outline the SaaS Vs MSaaS that every firm needs to be aware of and offer advice on which model will best suit a given organization's particular requirements.
SaaS and MSaaS differ based on Security, Scalability, Stability, and Predictability. SaaS apps are pre-built software solutions that need little to no customization for adoption and implementation. On the other hand, an MSaaS provider can only offer fixes for issues they can identify. However, these two outsourcing models differ in important ways.
The SaaS business model entails the hosting, upkeep, and updating applications made available to customers online by a third-party vendor. MSaaS first pay attention to your company's needs, but they demand money and confidence before fully integrating the best software for your company. Read below to learn more about SaaS Vs MSaaS.
What Is SaaS?
SaaS stands for "software as a service". The centralized hosting that was the foundation of the 1960s-era software licensing and delivery paradigm has come a long way since then.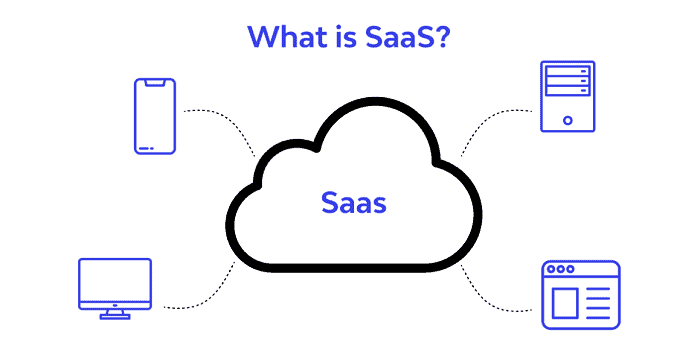 The SaaS paradigm includes two different forms of SaaS. The vertical orientation of Software as a service (SaaS) serves a particular sector. Software as a service (SaaS) reaches a broader audience and customer base that caters to multiple industries.

See Also: How To Add Google Drive To File Explorer [Updated Guide]
What Is MSaaS?
Additionally, there is managed software as a service (MSaaS). Compared to managed service providers, it is different (outsourcing companies). They assist businesses in managing the software and give technical assistance to users, but they don't create or supply the program. Software distributed through the cloud and licensed through a subscription service is the same, but support, functionality, capabilities, and customization are vastly different.
MSaaS provide the software and support. Businesses may tailor the program to meet their needs and preferences in SaaS Vs MSaaS. Additionally, they have a group of professionals who can assist them with anything from software configuration to continuous maintenance, optimization, and fine-tuning.
SaaS Vs MSaaS
MSaaS are not the same as traditional services. While SaaS gives businesses access to software through the cloud, MSaaS take things a step further. They frequently assist by taking care of the hardware and networking requirements. MSaaS can assist firms with their hardware needs in addition to managing software. MSaaS are IT duties delivered to a customer, which can be a business of any size, by a third-party provider. The organization's IT-managed service provider must maintain operations for the service to be provided.
An organization has used SaaS if it has ever used cloud-based software. The SaaS model may be a suitable fit for businesses that commit completely to staffing their IT infrastructure but expect their outsourced applications to provide cutting-edge services and be cutting-edge. In summary, companies with an IT infrastructure would benefit the most from SaaS. Here is the basis for SaaS Vs MSaaS.
See Also: Software Development Life Cycle Models You Should Use In 2023 | Top 5
Security
To protect an organization's data, managed IT services offer a variety of benefits. These advantages include ongoing remote monitoring and producing pertinent reports to update the business on the system's status. Another security advantage is the ability to continuously monitor the activity on the network through risk assessment and correlation analyses.
Contrarily, because SaaS Vs MSaaS stores client data on the cloud, users need full control over their data. Although a client can use the Internet to access SaaS apps from anywhere, the user must evaluate the application's security before subscribing.
Scalability
By utilizing remote MSaaS, a company may avoid worrying about changing its strategy as it grows because a managed service provider is already set up to do so without any hassle. They can take care of routine IT problems, maintain and watch over the network or system, and aid a company in making IT plans for the future.
Unlike traditional approaches, users don't need to purchase a new server or software when using SaaS Vs MSaaS. SaaS applications are adaptable because they allow a company to select the distribution model and modify it as the needs of the business change. With SaaS, adding new components, integrating with other systems, and gaining new application users are all made simpler.
Stability And Predictability
The dependability of MSaaS is among their most important features. An IT specialist is only accessible when there is a problem, while MSaaS providers are accessible around-the-clock. Hence, MSaaS stop all problems before they start. This extends to the weekends, public holidays, and late at night. Because of this, the organization using IT help can always operate at a higher level of productivity in SaaS Vs MSaaS.
The SaaS approach, on the other hand, can have problems with data mobility. Unpredictability and instability are possible in the circumstance.
Benefits Of SaaS
The main benefits of using SaaS are as follows:
Shorter time to gain: Because the software (application) is already installed and configured, software as a service (SaaS) differs from the conventional concept. For a cloud instance, you can easily provision the server.
Reduced prices: SaaS typically exists in a shared or multi-tenant environment with lower hardware and software license costs than the traditional approach resulting in advantageous cost savings.
Integration and scalability: SaaS solutions typically exist in scalable cloud settings with integrations with other SaaS Vs MSaaS products. You don't need to purchase an additional server or screen-sharing software 

compared to the conventional model.
FAQs
Why is IT different from SaaS?
Business software programs supplied via the cloud rather than installed on local platforms refer to as 'Software as a Service' (SaaS). One of the three primary cloud computing paradigms is SaaS, Platform as a Service (PaaS), and Infrastructure as a Service (IaaS).
What is the purpose of SaaS?
Users can connect to and use cloud-based applications through the Internet thanks to software as a service (SaaS). A cloud service provider that provides SaaS on a pay-per-use basis can give you an all-encompassing software solution. Examples include email, calendaring, and office software (such as Microsoft Office 365).
How does the SaaS business model work?
Clients are given licenses to centrally hosted software through a subscription plan under the SaaS delivery model. Any business renting out its software via a centralized, cloud-based system might be called a SaaS business.
Is SaaS the same as managed services?
While SaaS offers businesses software they may use in the cloud (and with all of the perks that come with it), managed services take things a step further for SaaS Vs MSaaS. They frequently assist by taking care of the hardware and networking requirements. Consider SIEM software as an example.
What is managed Software-as-a-Service?
Instantly downloadable software that customizes for each account separately. Customers of MSaaS often have a license for the program and it also covers benefits like support, upgrades, and training as part of their subscriptions.
Conclusion
It is all about SaaS Vs MSaaS and the main benefits of making it easier for you to comprehend the difference between them. The choice between the two IT systems will depend on your business needs. Some companies require fundamental software to complete a specific purpose. Consequently, the distinction between SaaS and MSaaS is clear.
Freelancer Michael Franco writes about the serious and silly sides of science and technology for CNET and other pixel and paper pubs.