Game development software is a specialized application that assists in developing video games. Earlier, it was not much in demand, but with the tremendous optimization in technology, it has been much in demand for the past few years. In this software, graphics play a key role whether you do it with the help of PhotoShop or any other software. The outstanding results in the market are henceforth taken forward with a bonus point of learning game recording. Similarly, you might have an idea for a new era, and here is how you can complete your dream of being a game developer. But, if you ever wish to develop educational software, then hiring an education software development firm is what you should do.
See also: Top 7 Free Raw Image Editor Software | Edit Raw Images Free
The 6 Best Game Development Software for Windows
Below are some of Windows's best game development software providing access to the best user interface.
Unity
It is the most powerful game development software that provides much power to the Developers for production. With OTOY OctaneRender, it is one the fastest GPU-accelerated renderers. With many extensions to the engine, like deltaDNA, Overture, Game tune, and PiXYZ, the engine contributes many opportunities to advance the gaming interface. It also supports both 2D and 3D models. The dark theme for the editor is also available with the new version of the Plus plan. It consists of a drag-and-drop option that allows the developers to work flawlessly without writing codes.
Unity is a game development software developed by Unity Technologies. It is a cross-platform game engine that can support over 25 platforms and offers widespread usage and better documentation.
Nearly half of the world's games are developed using Unity. A lot of tutorials are present in the community forum. Novice developers can improve their knowledge through the articles posted by active community members.
See Also: 7 Best Greeting Card Software [Latest 2023]
Pricing
Unity (U) Personal – Free
U Plus – $40 per month
U Pro- $150 per month
Enterprise – Custom Pricing
Visit: Unity 
Construct
It is a programmed visual engine/game development software that the developer can develop without inserting any program code. For beginners, construct 3 is the first choice and easy-to-learn gaming development. But it is used for developing 2D-based games. Using the inbuilt tools given in the engine, drag down and drop the objects in the workspace. That's all the necessary things the developer needs to know.
Construct 3, the latest version, is probably one of the best game-developing engines. It is an HTML-5-based engine.
It has the best documentation to learn and easily use its software, with several hundred tutorials available in its community forum and great support.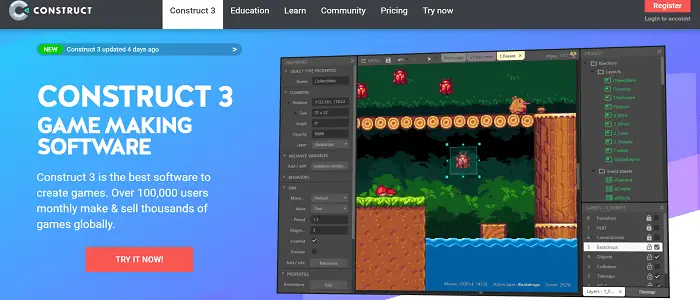 Pricing
The free version has limitations like two object layers, two simultaneous effects, no multiplayer functionality, etc.
$99 worth of Personal licenses will lift all the restrictions.
Visit: Construct 
Indie Game maker
This software provides an essential foundation for beginners, and its features of testing and sharing the game to share the developer's experience with others are truly fantastic! It is the most accessible game development software and the most suitable for beginners. Even experts use this game engine due to its ease of use as this engine interface is very much easy to understand and develop games much more potent with 3D models.
Autodesk develops indie Game Maker—one of the most underrated game engines, which is better than many other Game engines.
This software provides 3D modeling.
Pricing
Autodesk provides some student offer for the software if the user registers with a student account; otherwise, the user should pay $19.99 monthly.
Visit: Indie Game Maker 
GameMaker Studio
GameMaker Studio is a cross-platform and one of the best game development software. It uses the visual programming interface with the latest version. It is a 2D game development software designed explicitly for Novice developers. But after the recent updates and with the visual programming feature, every developer used this advantage, and the development of games became much more comfortable.
Visual programming and its Drag and Drop OR code contribute to its success.
Once you complete your game development, export it to other platforms without issues like adjusting the code. Just export. That's it!

Pricing
The free version has some specific limitations in the features. The creator plan costs $39 per year.
Desktop-$99 which allows exporting to other platforms
HTML5 – $149/year
Amazon fire- $149/year
Android/iOS-$399/year
For all the consoles – $799/year
Visit: GameMaker Studio 
See also: How to Change your Gamertag on Xbox App
Unreal Engine
Unreal engine is developed by Epic Games and written in C++ and is the latest version. It supports novice developers; this engine has much power to deliver and gears to top-notch. Earlier, fir,st-person shooting games were popular with the Unreal engine.
The developers prefer this software because of its precision and accuracy.
With live debugging features, the streamlined asset pipeline, instant game previews, and many insane assets where the developers can operate and produce with better details.
Artificial Intelligence, post-processing effects, and hundreds of assets are available.
Pricing
It is free and can be downloaded when the user pays 5% royalty cash of his revenue from the game after the first $3000 earned in every quarter per game.
Shortly, You start to pay when your game starts making revenue.
Visit: Unreal Engine 
See Also: 4 Best Free PDF Editing Software for Windows | Latest 2023
Godot Engine
Gadot Engine is a cross-platform, open-source game development software created by Juan Linietsky and Ariel Manzur under an MIT license. It is light and supports both 2D and 3D. The 2D engine is better than other engines, developed from scratch. With better performance and fewer bugs, it is one of the engines which provides a clean workflow.
Good architecture.
Godot utilizes a drag-and-drop system to keep scene objects but can be extended by the optimized script program, which uses a modified Python-like language called the GDScript.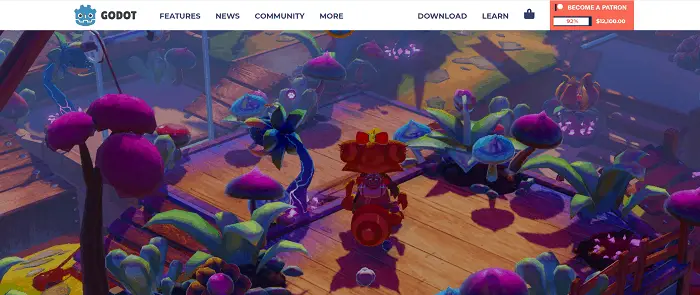 Pricing
See also: Cross-Platform App Development [Beginner's Guide]
Visit: Godot Engine 
Conclusion
Happy Developing! These are the six best game development software for amateurs and professionals. Also, it is best for those willing to learn something new daily. If finding an idea is a troublesome job for development, then you can browse the games online and refer to your dream. We'd be happy to know your experience if you download any of these. Want to know what exactly is software developement lifecycle is ? Click Here.
See Also: 5 Best Free Rar File Opener Software for Windows
Hey everyone! We are a group of Computer Engineers who have dedicated their lives to tech. It's our dream to make sure that all the updates in the tech world reach everyone is simple words. Hope you have a good time on the blog! 🙂