The Internet is an excellent place overall. But it is only cool to have if you associate yourself with the right websites. If you wander anywhere else without protection, you will come across some scary places that will give your computer all sorts of problems. One of those issues is adware which classifies as the Microsoft Critical Alert.
Out of the bazillion adware out there, we will focus solely on the one that brings out a Microsoft Critical Alert message on your browser, every time you open it. In some cases, the browser pops up without you even touching the icon and goes to that same dreaded page and gets you that same fake message. Yes, in case you didn't know, the Microsoft Critical Alert that you get is 100 percent BS.
See also: How to Enable Microsoft Word Dark Mode [Simple Guide]
Introduction
Microsoft never asks you to contact them at some random number or else your PC will be blocked permanently. This is a dirty trick to collect phone numbers from all the hundreds of sheep, err, I mean "innocent internet users" and use that numbers list for some shady crap.
Probably they will sell those lists on the black market where companies look to get cheap phone numbers to send their SMS adverts. Now, do you understand how you got those weight loss and hair fall control therapy messages? Yeah, your number probably got circulated without your knowledge. Messed up, isn't it?
Well, don't worry too much mate! I'm here to do something about it. This is an article dedicated solely to how you could get rid of the annoying Critical Alert from Microsoft popup  that keeps re detecting you to some hideous, virus infested page. Let's get going then.
How does adware get into your "secure" PC?
Good question mate, even though you probably did not ask it. I'm going to write an answer anyway. I have explained in one of the previous articles that no system is safe (even though I totally stole that line from the movie "Who am I?").
Any amount of antivirus or another firewall you have might not be enough to make your system immune to all kinds of viruses. Sure, it will effectively block the older expected virus algorithms, because you have the definition for it. But if (when) anything new comes crawling around, you're screwed, and so am I!
No amount of internet security can entirely prevent all kinds of crap ware from entering our system. So you should know a thing or two about getting rid of them when they do find their way into your system.They commonly get in through the ads that you might click on because of the "juicy" content that's "flashing" on them. Those ads might install a small aware program without you even noticing it.
With the modern LTE speeds and high-speed broadband, who bothers with that, right? It only takes a few milliseconds of connectivity for this adware to download and install on your computer. That's pretty much how they get in, now let's see how you can flush them out clean.
How to Remove Microsoft Critical Alert Virus from Windows
Simply follow any of the method mentioned below in order to get rid of Microsoft critical alert.
Use an AdCleaner
No, I do not have a secret superhero identity named Captain Obvious, even though I make all sorts of apparent points all the times. Shush, mate!
Ad cleaner software is like a junk cleaner, but they specifically target adware that is hidden in your system. You could try out some of the good options out there, like Malwarebytes AdwCleaner. The software is not too heavy to install and does not require dozens of permissions to run.
The download will begin straight away as soon as you click on that link above. You will be surprised as to how minimal the interface window is.
It just opens into a small box with three basic options, scan, clean and log files. Select the scan option and wait for it to complete scanning your system.
It will list all the malware and aware found in the directors with their full path, so you will know which of them are the ones you have, and which ones are unfamiliar files that managed to creep in and make themselves at home in your C Drive.
Once you complete the scan, click on the button that says Clean, and wait for the directories to delete.
Of course, you will need to provide it administrative privileges to remove stuff from your directories, but it's cool. These guys are well-known chaps in the industry. They won't misuse our gullible nature to trust antivirus brands (hopefully) blindly.
This was you can get rid of Microsoft Critical Alert.
See also: 4 Best Free & Paid Game Optimizer Software for Windows
The Double Tap (Totally did not steal from 'ZombieLand')
You need to be sure that your system is clean and there is no more adware left. So run a second program that goes about scanning your system by employing a different set of algorithms. Any good program will do. But I suggest HitmanPro. Plus, it sounds cool as a bonus. You can tell your friends that a pro Hitman keeps your system clean from adware!
Introvert jokes aside, the HitmanPro is genuinely good software. It is a premium software, which is not the most exciting of news. But they offer a 30-day free trial, so you can keep making fake accounts every month and try it out again and again, hopefully.
But never mind pirating that, you will only ever need it once or twice. Just install it from this download link and run it like you would any other regular software exe file.
Just open it and select next. If it lists any new entries as malware or adware, I guess the 'double tap' method was worth it, wasn't it? (Zombieland rules rarely go wrong).
Select the 'Delete' option from the drop-down menu and click on Next.
In the next screen, select the free trial option by choosing the activate free license option and click next again. It will now remove any remaining software and aware from your PC.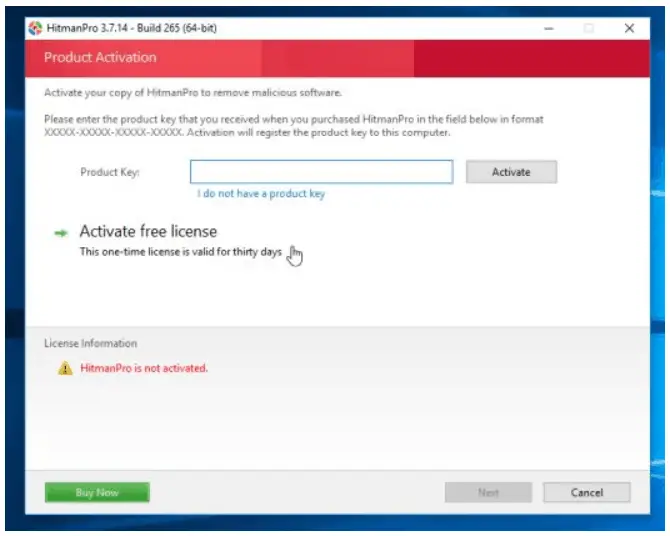 For good measure, I recommend cleaning out your browser's data as well by going into settings and selecting clear data. In chrome, set the time to 'the beginning of time', meaning clean everything that was ever store.
Conclusion
Do these things, and you will get rid of the Microsoft Critical Alert message once and for all (or at least until something else starts showing up the next time!). Enjoy your pristine system, while it lasts. Because 'malware free' and 'Internet' don't rhyme together for long!
We hope you can now remove Microsoft Critical Alert.
See Also: How To Remove Images.SCR Virus? Complete Guide
Hey everyone! We are a group of Computer Engineers who have dedicated their lives to tech. It's our dream to make sure that all the updates in the tech world reach everyone is simple words. Hope you have a good time on the blog! 🙂