Sometimes when you have to deal with the massive and multiple files, it becomes difficult to download or share such data. When you see a file that ends with the letters .zip, it is a compressed Zip file. Zip file refers to the file extension, that is the part of the file name that occurs after a period, and it can't open directly. You need a zip file opener to deal with such files. There are several other file opener software available in the market such as JAR openers, 7z, BIN, ISO & many more.
See also: A Detailed Guide To Opening ASPX File Extension Safely
ZIP is an archive file format that handles lossless data compression and is compressed and stored on a PC or laptop. The apprehension to do this is to save in the storage space. Apart from this, it is easier for users to manage essential files. To suspect them, the Free Zip File Opener is an ideal choice.
It allows a user to access the content in the zipped files by excerpting them and saving them to their preferred destination.It can contain any number of files, but is usually either a single file or a separate directory full of data; these files have all been squashed together by a program called "zip." You need a zip file software to uncompress the zip file.
There are plenty of software available in the market in which some of them require payment, and some are unpaid. Through zip file opener software, you can easily access or extract the zip file without any difficulties. Here is a filtered list of some free opener software for Windows from which you can choose of your choice and learn how to open zip files.
Top 9 Zip File Opener Software of 2019
If you are unsure about which Zip opener to choose then have a read at the tools we have mentioned below. Find out the perfect one for you now!
See also: Learn How to Backup Tumblr | A Simple Guide
PeaZip
PeaZip is an open source and free file manager and file archiver for Microsoft Windows. It allows a user to run archiving and extracting operations naturally using command-line.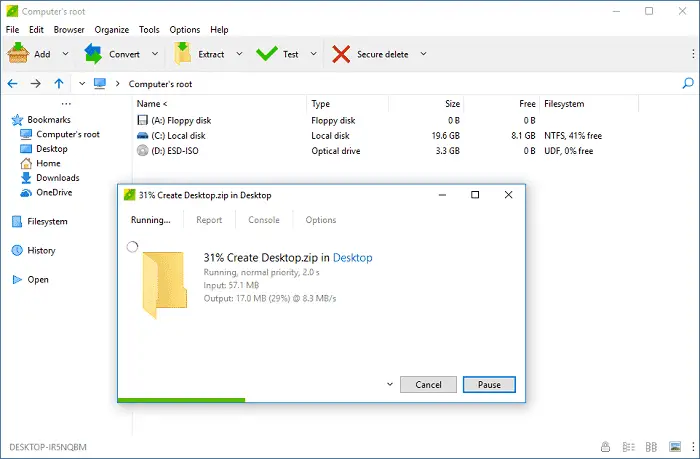 It can also restore, edit and create an archive's layout for speeding up archiving or backup operation's definition. Other notable features of this software include archive conversion, file joining and splitting, archive encryption, find duplicate files, view image thumbnails, secure file deletion, etc.
Pros
Pros
Provides a free file archiver and encryption software with a high compression ratio.
This ZIP File Opener supports more than 180 file types.
Can be used as an archive opener and extractor.
Cons
Cons
Only available for the Windows and Linux platforms.
The portable version is only available in Windows or Linux using Wine app
See also: 8 Best Audio File Editor Software | Free Download
7-Zip
7-Zip is free, fast and tiny software that can compress and decompress files quickly. With hard drives and SSDs not more abundant and cheaper than ever, you might well wonder just why such tools are still needed.

Also, you can make self-extracting compressed archives that you can send to others without having to uncertainty about what ZIP File Opener software they have installed. Whether you'are looking to save space, secure data, or just back up your relevant data in an adequate manner, 7-Zip has all the bases covered.
Pros
Pros
Supports a lot of file formats.
Easy to install.
Cons
Cons
Extraction is slow.
Freezes sometimes.
See also: 4 Best Driver Update Software for Windows (2018 Updated)
Zipeg
You can extract/unzip items in Windows using Zipeg by simply dragging them, and the interface is remarkably straightforward to use and good looking.
The key feature of Zipeg is arctic preview function which grants you to see what you are going to extract before you do it. This software is outstanding if you can't remember what's in a file or are suspicious about its contents.
Pros
Pros
 Allows you to thumbnail preview zipped images.
 Easy to use.
 Supports a wide range of formats.
Cons
Cons
 Previews can be slow in appearing.
See also: 8 Best Video Converter Software for Windows (Free+Paid)
UltimateZip
UltimateZip is easy to use archive ZIP File Opener utility with its flexible interface. This software has various features as it supports for large ZIP files, has advanced file security, great backup features, repair corrupted ZIP files, self-extracting ZIP files in 3 languages.

Using this software, you can quickly open any ZIP file on your PC.
Pros
Pros
Compress and Extract Archive Files.
Supports most standard archive file formats.
Password encryption with AES 256-Bit and Twofish 256-Bit.
Create backup files on cloud storage.
Cons
Cons
May not support all archive file formats.
Limited trial use.
Requires Cloud Storage accounts.
Lackluster archiving performance.
See also: 10 Best Anti-Spyware Tools for Windows (Free & Paid)
Zipware
For those who want to keep everything simple, Zipware is an excellent ZIP File Opener choice. Its large buttons are easy to understand and present the majority of functions the average user in one bar.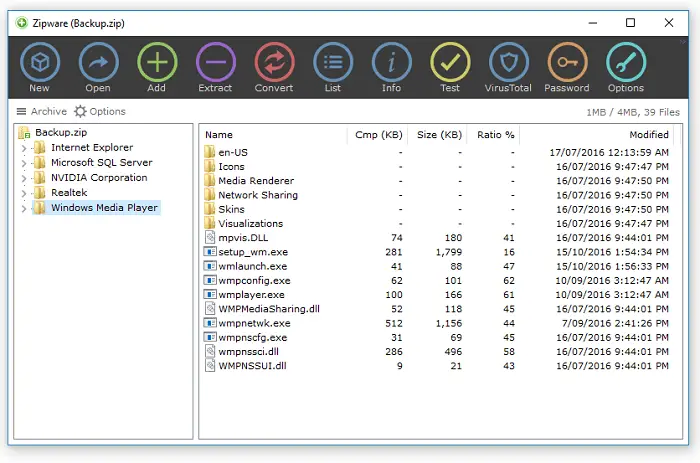 Aside from choosing which formats you'd like to associate with the program at installation, you can start using this software without any setup. Zipware includes drag and drops zipped files into its main window if you prefer.
Pros
Pros
Zipware can extract files from a variety of archive formats.
It can create ZIP and 7ZIP archives, self-extracting archives, encrypted and password protected archives.
Zipware can integrate with the right click context menu.
There's a built-in password manager.
Cons
Cons
See also: 7 Best Free Trusted Jar File Opener Software | Latest 2018
B1 Free Archiver
B1 Free Archiver is another great ZIP File Opener tool with a professional interface that supports plenty of formats like b1, rar, zip, arj, txz and many more. The best part of this software is that it offers both desktop and online tools.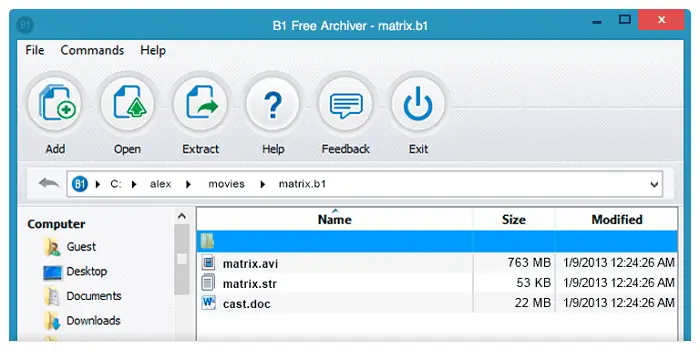 You can either download tool to compress/decompress files offline. Or use the online archiver to compress/decompress data online without downloading software.
Pros
Pros
Real time details (time remaining, file size).
Very accessible settings.
This ZIP File Opener offers Password protection and archive splitting.
Windows Explorer integration.
Cons
Cons
Doesn't remember last selected options.
Download B1 Free Archiver here.
ExtractNow
ExtractNow is an entirely free tool with a straightforward interface. What makes it distinct from other software is that its ability to extract multiple files quickly. You can just drag and drop compressed data in the interface of the tool. And click on "Extract" to retrieve all of them at once.
Other devices can also extract multiple files at the same time, but this ZIP File Opener makes it very simple. However, it can only unpack files.
Pros
Pros
Light and fast.
Plain but efficient.
Help includes an extensive Web-based manual with documentation, screenshots, and more.
Cons
Cons
The Help button is on the Settings dialog, not the main interface.
Zip Extractor
Zip Extractor is a free ZIP File Opener software of Google Chrome Extension. That will let you REMOVE compressed files from your PC or Google Drive to Google Drive. It's a good solution if you want to do everything in your browser. And don't want to download apps on your PC.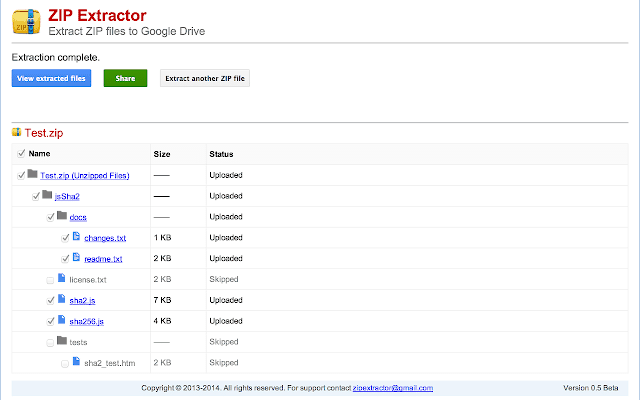 All in All, it has a smooth interface and supports multiple compression formats. However, it will only extract files to your Google Drive. Not your PC. This ZIP File Opener offers comfortable options to share data with other users, and you can remove multiple files at the same time.
Pros
Pros
Easy to use.
User interface is provides quick learning.
Cons
Cons
Faces slight freezes sometimes.
Hamster Zip Archiver
Hamster Zip Archiever is one of the most easy to navigate software with simple slide and click operations. It also provides drag and drop features which makes it easy to import files from any folder of your device.
The user can choose the compression level from minimum, maximum or optimum options available. You can also create password protected files with this software.
Pros
Pros
It can open files of many formats.
Cons
Cons
This software only helps the user for creating ZIP and z7 files.
Conclusion
Thus, these were some of the best ZIP File Opener tools that are available to you as of today. Hope you found what you were looking for. Do let us know what you feel below in the comments. Cheers!
Hey everyone! We are a group of Computer Engineers who have dedicated their lives to tech. It's our dream to make sure that all the updates in the tech world reach everyone is simple words. Hope you have a good time on the blog! 🙂