Metro by T Mobile could be a great option to switch mobile providers. Metro by T Mobile entered the market with several new offerings for its clients due to the partnership with Metro PCS & T Mobile. In this article, we've described how to upgrade MetroPCS phones.
Are clients entitled to complimentary upgrades from Metro? The upgrades provided by MetroPCS come at a cost. Customers who purchase phones from the company and opt for unlimited plans can enjoy an automatic upgrade to their promotional 90-day phone activation with an update.
Follow this article to learn more about upgrading MetroPCS phones and some additional program advantages.
See Also: How To Increase Internal Memory Of Android Phone
Can I upgrade my phone to MetroPCS?
To accommodate its consumers with limited budgets, Metro by T-Mobile offers a variety of mobile plans at competitive prices. Using Metro by T-Mobile, you can connect to additional devices like tablets, smartwatches, pet monitors, and Metro smart rides.
All 50 states have excellent network coverage thanks to Metro PCS. After subscribing to one of its plans, you will have two options to pick from the unlimited one. Both unlimited plans have 35 GB of monthly bandwidth and several unique features. With an unlimited subscription, you receive limitless music streaming, enough hotspot connection, accessibility to Amazon Prime, & cloud storage. Additionally, Metro PCS devices and programs are designed for low-income families, so if you have a large family and a limited monthly budget, they are ideal for you.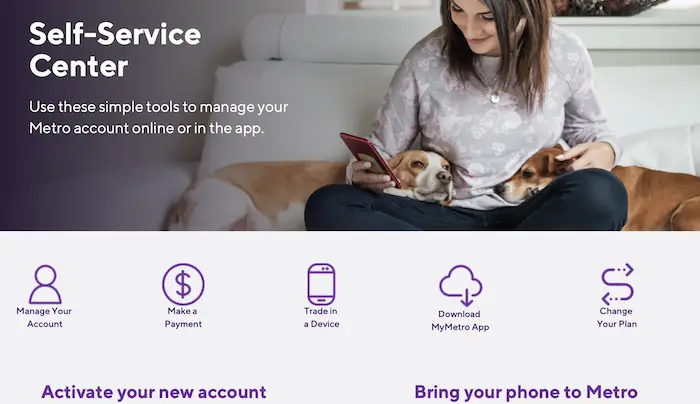 Don't worry; we'll provide you with all the information you need if you're wondering which phones will all operate with Metro PCS. We've listed the phones that work with Metro by T-Mobile here, and we'll also show you how to upgrade MetroPCS phones. Additionally, we shared all the prerequisites you should consider when updating your phone.
How do metro phones for upgrade work?
It is a great idea to upgrade MetroPCS phones. Numerous capabilities, including high-speed internet connectivity, quicker message delivery, and dependable and clear voice calls, are now available due to the Metro and T Mobile merger. Additionally, you might profit from T Mobile's 5G network technology. This page answers your inquiries: "How much will it cost to update your mobile at Metro PCS?" and "Metro PCS supports devices."
You should continuously update your phone to prevent further annoyance. Telecommunications firms are updating their systems to meet current technological requirements in the evolving era.
If you still use an outdated smartphone, like an HTC Desire, Huawei U8220, or V710, you may have encountered issues such as poor connectivity & system crashes. Therefore, you should hunt for better services if you intend to upgrade your device to a new one.
With the most recent Metro PCS smartphone, you can accomplish many things. Similar to how you can connect your smartphone to other devices like tablets, smartwatches, pet trackers, or even smart rides on the Metro.
It simplifies your life because you can share the network with your devices even if you're not using a MiFi. The most recent cell phones also let you connect to home surveillance systems online to keep an eye on things while you're gone.
How Can I Easily Upgrade MetroPCS phones?
You should update your smartphone to the newest technology to prevent inconvenience and connectivity concerns shortly. When you upgrade your phone, you receive a new device with the most recent operating system & a few more features.
To choose the most reasonable plan for your situation, verify the PCS upgrade costs before upgrading. Metro PCS also offers a $150 savings on any device you buy from them.
You don't need to keep battling with your outdated phone. You may now locate the most recent offers and discounts for upgrading the phone by visiting their webpage or one of their stores. For as little as $39, you may upgrade. Also, click here for the best compass apps for Android phones.
Can I upgrade MetroPCS phones Online?
Yes, you could upgrade a Metro PCS phone online by going to the official PCS website. Existing customers must contact or visit a Metro PCS location to upgrade. Online activation lowers the cost of a Metro PCS upgrading the phone.
You can get a variety of phones from various brands today. Even 5G phones are available; you only need to place an online order. Simply enter the essential information, such as a physical location for delivery of the phone, or visit a nearby store to purchase a phone.
What Is the Cost to Upgrade MetroPCS phones?
The cost of upgrading a Metro PCS phone varies according to the method. They have been steadily raising their prices for some time. The cost of upgrading was $10 in 2018. Numerous promotions are running when upgrading your device.
As previously noted, subject to limits and circumstances, you may receive an additional $150 in savings on every phone you purchase from the phone. Additionally, the price of upgrading your device is determined by the phone you select.
You can switch for free and receive four Samsung Galaxy A01 phones. Only Metro PCS locations are accepting this promotion. You can perform the upgrade process at a store close by.
Simply go to a store in your area to upgrade using the features offered by the Samsung Galaxy A01. However, you can switch for free and receive 2 free LG smartphones and 2 free tablets. You must pay tax & activation fees when upgrading. Additionally, an ID is required for the validation.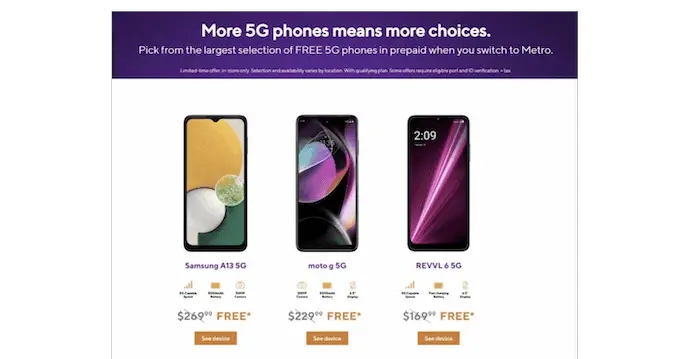 Additionally, 5G phones are available for as little as $29.99, with no additional fees. The fastest connectivity rates can be had by devices supported by T mobile's 5G network.
If you want to upgrade to iPhone MetroPCS, you can save $200 on every iPhone 12 model if you consider purchasing an iPhone. Additionally, you can discover additional Metro PCS upgrade offers by going to the local location or the official website.
How Can Metro PCS Phone Activation Fees Be Reduced?
If you prepay the first month's plan at Metro PCS, there are no activation fees. Certain sellers might charge you an activation fee; however, it is not the 5G phone's policy. However, you must spend $10 if you require a new SIM card.
Self-servicing online is another thing you may do to save yourself from the activation price. You can use the online software activation tool to activate your phone. You can open a new account at Metro PCS Nearby Me if you still need to get one. In general, the cost of an update depends upon the activation technique you choose.
How do I Enlist my phone with MetroPCS?
The next step after updating your phone is to activate it. The following actions are required for phone activation:
Have your Metro PCS phone and sim card ready. Your phone must have this SIM card in it, and it must be linked to the network. Additionally, the phone's IMEI number is required. Without a SIM card, there is no way to upgrade your phone.
New consumers must open a new Metro PCS account. You must submit your name, address (both physical and email), and security details, such as your PIN, secret questions, and security answer because you're a new customer.
If you're an existing client, you can activate the device by calling 1-888-863-8768 or going to any nearby store.
Make sure you are familiar with the phone number and PIN if you bring a mobile number from another provider. Verizon customers must obtain the PIN for a number transfer. Call #7678 from your Verizon to obtain the PIN and adhere to the directions.
Various plans are now visible. Make your initial payment on any acceptable plan you've chosen.
See Also: Unknown Address Message Not Found | Top 4 Fixes
FAQs
Does MetroPCS ever offer metro upgrade deals?
For their current clients, MetroPCS offers free handsets, free tablets, and steep discounts on new phones. Free cell phones come from manufacturers including Motorola, Samsung, and OnePlus.
Is MetroPCS going out of business?
In 2012, T-Mobile acquired MetroPCS. T-Mobile changed the name of MetroPCS to Metro. All current clients have to change their providers and upgrade their plans.
Can I change my MetroPCS service to T-Mobile?
Verify whether the current number is transferable if it is. If it qualifies, proceed with the transfer by following the instructions on the T-Mobile website.
Does MetroPCS provide phones with payment plans?
Op-to financing is an option for MobilePCS users.
See Also: List Of Best Call Waiting Apps For Android And IOS | 2023
Conclusion
Stay up to speed with the most recent mobile phone technology by upgrading your MetroPCS phone. We hope this article provides you with a solution to upgrade MetroPCS phones. The preferred internet provider for moderate families is MetroPCS. It now offers cheaper options and even greater connections because of its merger with T-Mobile. After purchasing a MetroPCS phone and activating it, you are eligible for upgrading 90 days later. A maximum of four upgrades are permitted per year. You have now been given instructions on updating your phone, enabling you to obtain your first upgraded device. Most of your questions will be resolved by the steps mentioned above. However, you can contact MetroPCS customer service if you are still trying to secure an upgrade.
See Also: Can't Receive Incoming Calls But Can Make Outgoing Calls [Fixed]
Carly Earl, Guardian Australia's pic editor, was a photographer and pic editor in Sydney for 8 yrs. She worked for The Daily Telegraph and Sunday Telegraph.