Want to watch movies on Netflix with friends? Despite the existence of streaming services, few of them allow users to view movies with friends or family. These apps synchronize playback among your friends; you can even talk while watching. The article discusses these streaming apps to watch Netflix with friends online.
The apps to watch Netflix with friends includes Teleparty, Watch2Gether, Kast, Scener, Metastream, TwoSeven, and Watch Netflix Together. You can view videos with your friends using any of these apps or services rather than manually attempting to sync the movies. 
Many apps and websites are available, whether you want to watch Netflix with friends online or want a new and fascinating communication method. Read below to learn about the apps to watch Netflix with friends.
See Also: How To Get Netflix On Switch? [Complete Guide] | 2023
7 Apps To Watch Netflix
Our top 7 picks of Apps to watch Netflix with friends 
Teleparty
You and your friends may watch Netflix together using the Teleparty plugin for Google Chrome and Microsoft Edge. The add-on includes a chat window, synchronizes playback among all viewers, and adds the ability to pause and play the video. The video will stop playing on everyone's screen when someone presses the pause button to watch movies with friends online.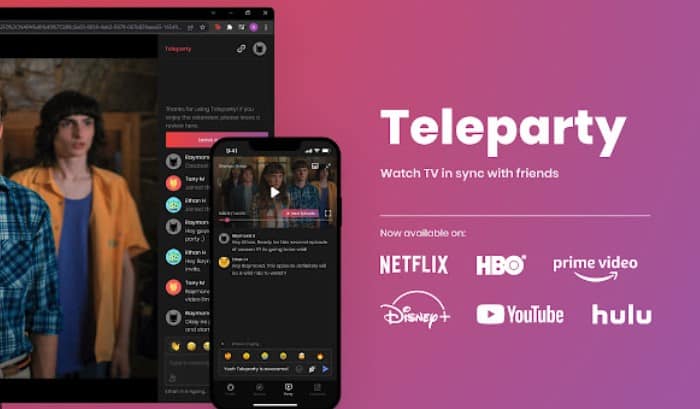 It is simple to create a session. Pause a Netflix video, click the browser extension icon at the window's top-right corner, and then resume watching. There are some negatives. To begin with, chat usernames cannot be modified. The session will terminate once a movie or episode is ended; to continue watching videos, you must start a new session and invite everyone. Downloading and using it are both free.
Tap the link to see how to watch Netflix on apple car play.
Visit: Teleparty
Watch2Gether
If you and your friends watch many YouTube videos together, you've probably heard about Watch2Gether, an app to watch Netflix together. Despite having a solution, Netflix is incompatible with the Watch2Gether player. The beta W2gSync feature lets you place a Netflix URL into a specific window in your private room.
They will then ask if you want to open the link even if Netflix is not connected to the website. Press the Open button once more at this point. After you begin the video, everyone else can watch it. However, the person who added the URL and made the room will be the only one with power over it. For W2gSync to work, you can add the official Watch2Gether Chrome browser plugin.
Visit: Watch2gether
See Also: Manga Apps For Free You Should Try | Top 10 Choices
Kast
One of the best applications is Kast. It works with Netflix and all of the other top streaming services. Kast is accessible through a web browser or as desktop software on Windows and macOS. When utilizing Kast, one user manages the stream using a proxy on the web interface. Anyone in the same room can view the show as the streamer. Parties can be both public and private.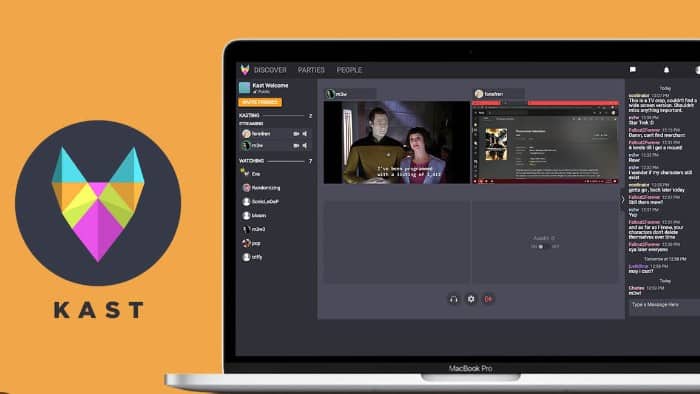 Since Kast can only be used to watch YouTube videos, it is one of the apps to watch Netflix with friends and is free to download and install. You will need a subscription if you want access to all the features. You may upgrade to a premium version for superior video quality, a wider selection of reactions and emojis, and an ad-free viewing experience.
Visit: Kast
Scener
Scener has an accompanying chatroom where you may discuss the episode in real-time while watching Netflix remotely with friends (in sync). Before downloading Scener, there are a few things to remember. First, the app only functions with the primary Netflix profile to watch Netflix together online for any particular account. Use the main profile when setting up the watching party if you decide it's okay to share your Netflix password with someone else.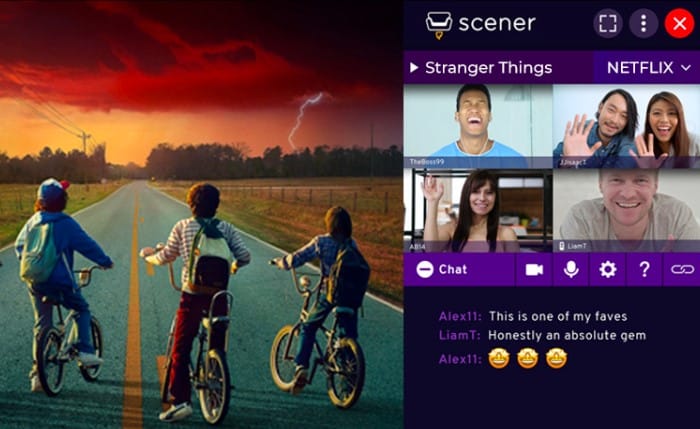 Second, there is a limit of 10 viewers who can watch at once. And finally, only the room leader can pause and resume video playback.
Visit: Scener
Metastream
The business hasn't created any independent desktop or mobile apps. You can use a web browser to screen share Netflix with friends using Metastream. The online application also supports several other popular video websites. The Metastream interface offers a chat window and movie queue for continuous viewing and synchronized Netflix playback. Sharing a secret code with pals is all it takes to get them to attend your Netflix party.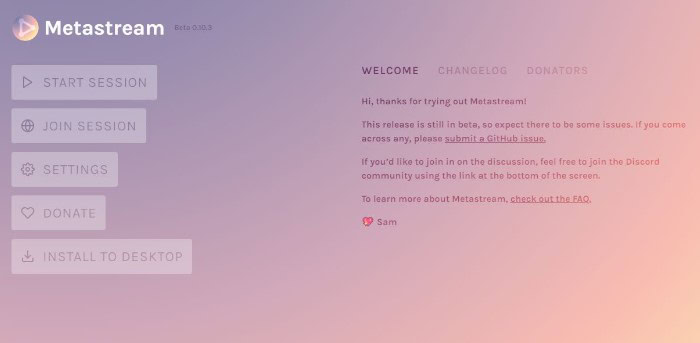 To use Metastream, you must first download and install the relevant browser extension. There are just extensions for Chrome and Firefox. Although there aren't many choices, it could assist you in selecting the best browser for Netflix viewing.
Visit: Metastream
TwoSeven
One of the most trusted apps to watch Netflix with friends is with TwoSeven. TwoSeven can be used without paying anything, although there are alternative premium subscriptions with benefits. You can watch movies and TV series with up to ten people for $5 per month or pay $10 per month for a large viewing party with up to 140 people.
If you're interested, here are the best free movie apps for android.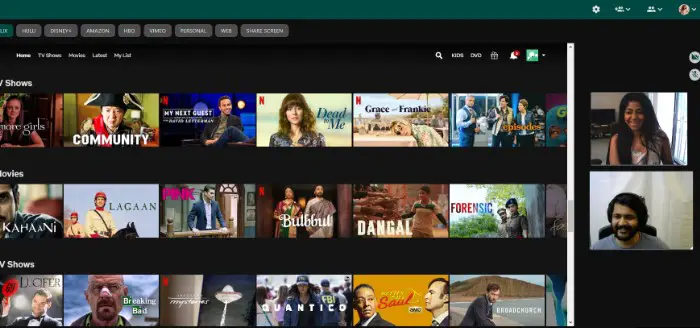 One of the few apps, TwoSeven, allows you to view your group's cameras while watching a video and seeing your friends' reactions in real time makes for a more interesting Netflix party.
Visit: TwoSeven Extension
Watch Netflix Together
This Chrome plugin, which might be dubbed Watch Netflix Together, will accomplish that. It is from one app that lets you watch Netflix with friends.
The procedure is simple:
Access Netflix, and click the extension icon. 
Share the URL with anybody you want to watch the movie with by selecting Create Session.In a side panel, you can converse with friends.
Here's a full guide for is Netflix free with Roku?
FAQs
Does the Netflix app have a watch party?
Thanks to Teleparty, also known as Netflix Party, a browser extension, you can watch a movie or binge a TV show with your family and friends even if you're thousands of miles distant. Working with Netflix and other streaming services is Teleparty.
Is there a Netflix extension to watch together?
With the Watch Netflix Together service, you can watch Netflix online with friends and family. Emojis and chat are included! Even if you change videos in the middle of a show, your videos automatically sync. Install the extension and begin sharing moments.
Can I share screen Netflix on Discord?
With Discord's screen-sharing function, you can stream Netflix content. Now, you can host your preferred shows on PC and mobile devices without investing in the top streaming box available.
Is Netflix Watch Party Safe?
It's vital to clarify that this Netflix Party extension is not the Teleparty extension, which has over 10 million installs and was originally known as Netflix Party. It is still safe to utilize Teleparty.
Can we watch movies together on Zoom?
Watching Netflix or YouTube on your television is a breeze if you have an HDMI cable or adapter. Many businesses use the video conferencing platform Zoom. You can watch movies and do other activities, such as Zoom meetings.
How to watch Netflix party discord?
Open a Discord server. Add the web browser running Netflix as a game in your Activity Settings to broadcast Netflix on Discord. After that, pick Go Live and the streaming quality by clicking the monitor icon next to the name of your browser.
Learn how to stream Netflix on Discord and watch with friends.
Conclusion
It is all about the apps to watch Netflix with friends. It's more enjoyable to watch movies and TV series with pals. The development of internet streaming has also allowed you to share your viewing experience with others, even if they are on the other side of the globe. Therefore, using any of these apps is simple.
See Also: How To Play Netflix On Carplay Without Jailbreak?
Freelancer Michael Franco writes about the serious and silly sides of science and technology for CNET and other pixel and paper pubs.