To design 2D and 3D structural homes and interiors, this architectural design software is widely used. People like seasoned architects, students, interior designers, beginners, and civil engineers mostly use one of these Best Free Architectural Design Software. But in the present scenario, there is some architectural design software that makes the users a bit confused to choose their best.
Here is the list of the Best Architectural Design Software:
ArchiCAD
Chief Architect
Revit Architecture
SketchUp
AutoCAD
So, we are here to help them by providing the top 16 best architectural design software in this article. The below-mentioned architectural software will meet all your design needs. Therefore, check out the below article and get ready to explore the world of designing with the following top 16 architectural design software.
List of Best Architectural Design Software
This article will help you get the best suitable architectural design software for whichever purpose you wish to own it.  So, be it a basic college project or a professional business project, you can find all kinds of software with various professional levels in this article.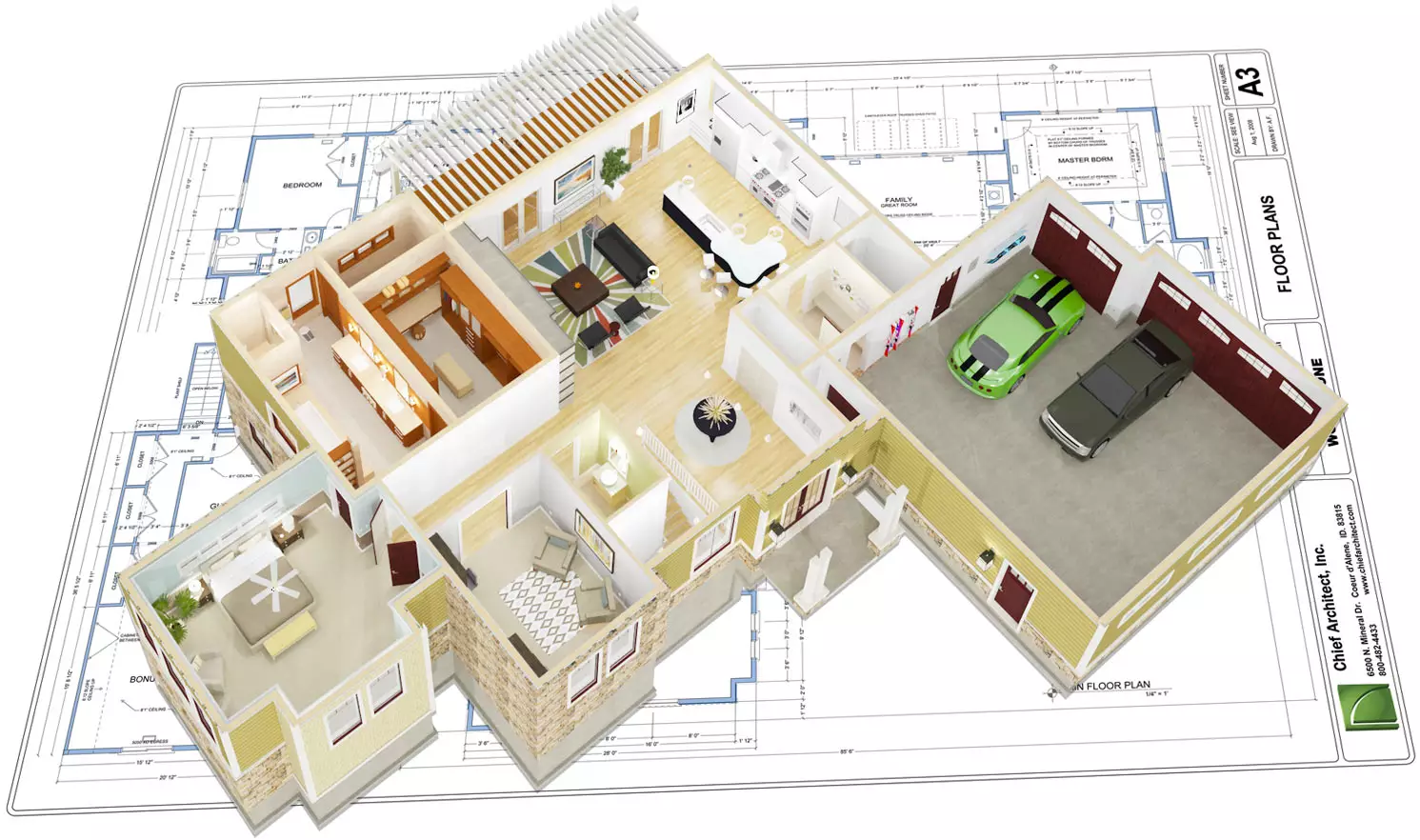 Hence Check out how photogrammetry software can make your design work easier here.
ArchiCAD
For developing both 2D and 3D architects, this ArchiCAD is all-in-one free architecture software. Even if you are a beginner or a first-time designer, it is very easy to develop a project with ArchiCAD. It is available for free of cost with the BIM server application. In addition, ArchiCAD design software gives high-quality design and efficient performance.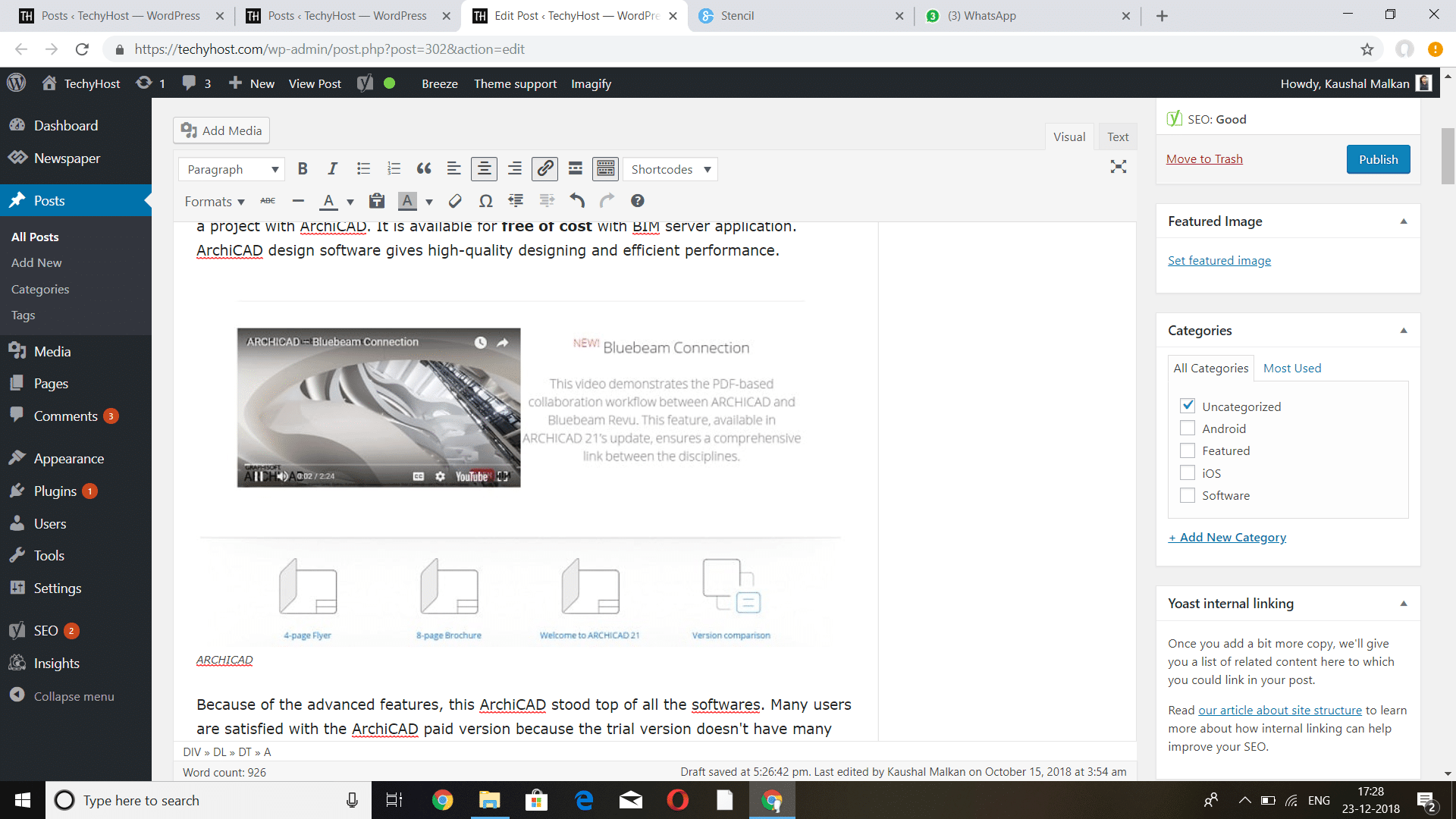 Because of the advanced features, this ArchiCAD stood top of all the software. Therefore Many users are satisfied with the ArchiCAD paid version because the trial version doesn't have many features as the paid ones.
Pros
Firstly, it supports free-form modeling.
Secondly, The software provides 3D Animation.
Thirdly, Very easy to use; one can import and export to and fro from other program formats.
Cons
Requires a high-configuration machine to run.
No MAC version is available yet.
Moreover, the document manager is a bit complicated.
Also see: 10 Best Free Circuit Design Software for Windows (Updated)
Chief Architect
The Chief Architect design software will add life to your designed projects. In addition, It is professional design software that will generate 3D creations. Along with it, the automated tools of this 3d home architect design software will make your home interior design easy for construction and re-modeling.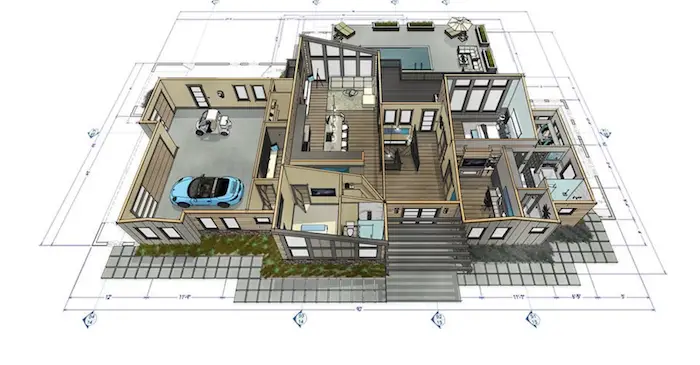 Most architects are using this Chief Architect software because it is easy to use.
Pros
The object library has a lot of variety of objects.
In addition, the Object library includes furniture, cabinets, plants, and more, which makes it very versatile.
Cons
The learning curve to master this software is steep.
Download Chief Architect design software here
Also see: 10 Best Free Online Fax Services (#4 is recommended)
Revit Architecture
For students and educated related professionals, this Revit Architect is available for free. And for other users, it gives a free license for three years. The Revit architecture and design also support building information modeling. As soon as you make changes to your designs, this is the Best Architectural Design Software and will easily adapt to them and saves automatically.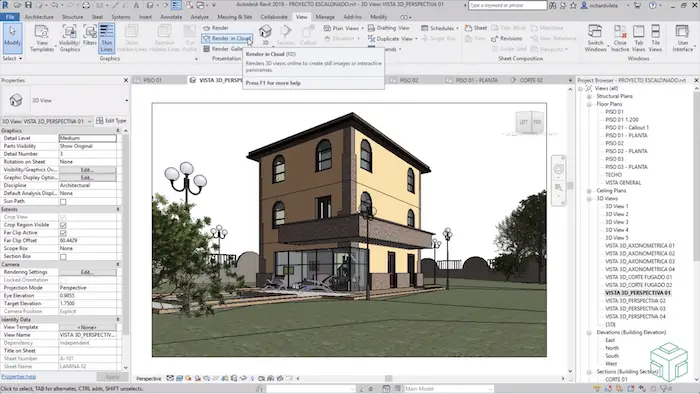 This free building design software will give an ideal experience for the users. Accuracy, neat designs, and free of errors are a major plus of Revit architecture. After designing the Revit Architecture, it will show a 3D view to the architects. But this Revit Architect is only for a person having experience in architectural study and design, not for beginners.
Pros
It includes a feature that allows users to streamline repetitive tasks.
It has excellent analysis capabilities.
Cons
It is difficult to master this software.
New users may get confused at times.
See Also: Quick Steps On How To Connect The Wired Headset To PS4
SketchUp
Sketch up is the name given by Google; it is becoming popular nowadays. Sketch up makes, and Sketchup Pro is the version of Sketchup. Without building from scratch, you can find a 3D model for anything from a 3D warehouse.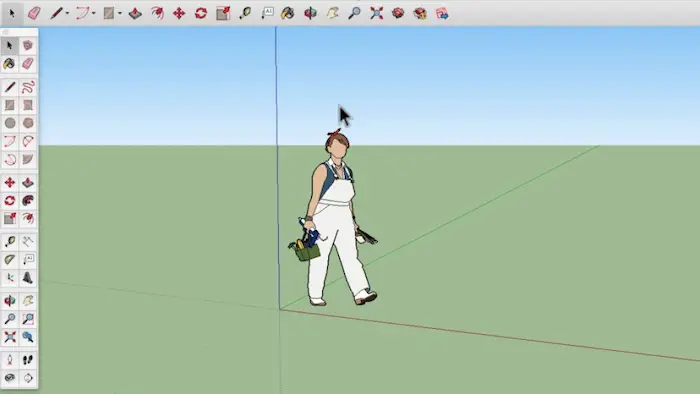 With the add-on tools, you can customize your Sketch Up. LayOuts in SketchUp Pro will help to turn your models into documents such as PDFs, images, and CAD files. Sketch up is very fast because it has simple functionality, i.e., drawing and dragging shapes to make them 3D forms. This is certainly one of the best home design software.
Pros
It has an extremely intuitive layout which makes it very easy to use.
There are lakhs of models available in the warehouse.
Cons
It lacks some essential tools.
See Also: Nvidia Capture Server Proxy Issue | How to Solve Easily
AutoCAD – Best Architectural Design Software
With the help of AutoCAD, you can create designs, drafting, and documents smoothly because it offers precision in detail. It is created especially for architects. This architecture software also comes both in trial and paid versions.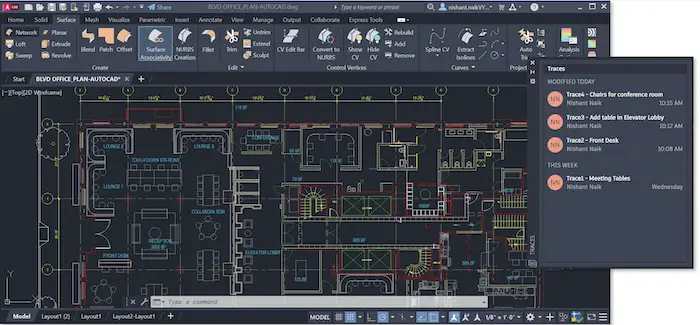 The paid version is a one-time expense which is worth. It is popular for its professional and advanced tools and can be considered one of the Best Architectural Design Software. AutoCAD is compatible with both 32 and 64-bit Windows systems.
Pros
It acts as the industry standard for civil engineering.
One can label each block in the design using this software.
Cons
Sometimes the cursor is slow to respond.
Punch Software
You can design your dream home and landscape design with this Architectural Design Software. Plan your dream home with visualization tools and an impressive set of designs. Landscape design tools will help you to enhance your ideas in designing gardens, decks, outdoor kitchens, fences, etc. While using software architecture, you can enhance your interior design.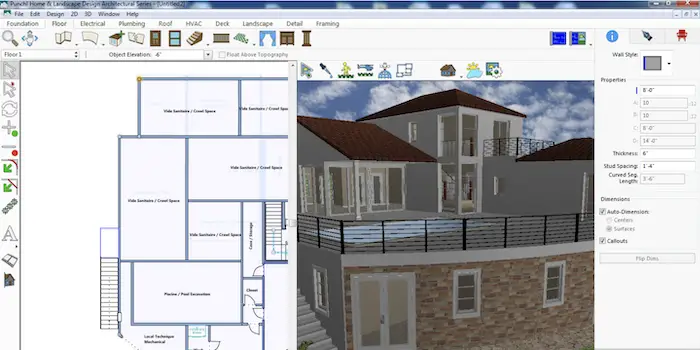 Since you can create a floor plan of yours, or you can select from 4000 3D predefined objects. It is easy to decorate your world with drag-and-drop design, plant library, paint colors, lighting, etc., using Punch Software. But though it is expensive, Punch software always produces great results.
Pros
It consists of a wide variety of products that help you scale the software up to your individual requirements.
Important features can be tagged using versatile symbols.
Cons
It does not support infrastructural design such as plumbing.
Users are not allowed to upload their own colors.
Softplan
For all your designing needs, this Architectural Design Software is very useful because it is easy to use. Softplan supports building information modeling. And it gives 3D designing capabilities, complete documentation, a list of materials, and an estimation of cost reports.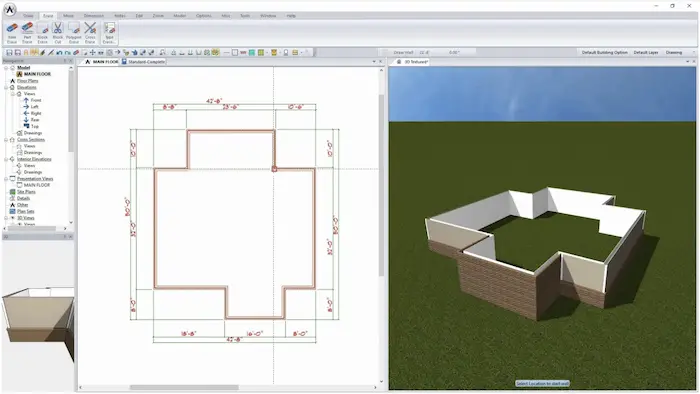 Hence, every small change that you have made to your project will automatically update your project. For residential and commercial designs, this house design software is the best choice.
Pros
Has features for 2D as well as 3D drawing.
Auto-update makes sure that no user losses data in case of a power loss.
Cons
Users may face difficulty in .dwg and .dwf drawing compatibility and cross-platform functionality.
Autodesk Revit
Autodesk Revit has powerful tools that help to design intelligent model-based plans and manage buildings and infrastructure. In addition, you can generate documentation from Revit models. Revit software lets you and your project contributors access centrally shared models.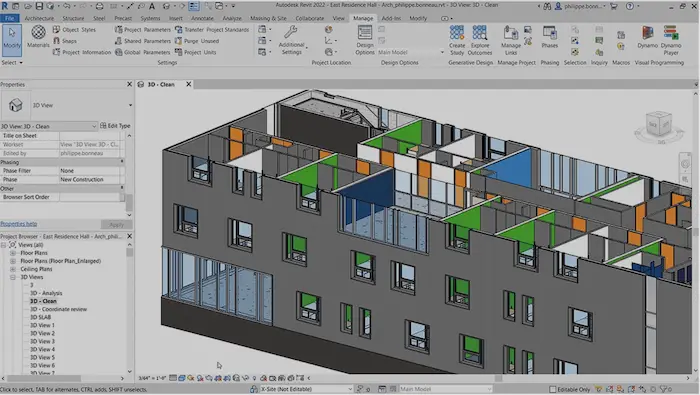 So that this collaboration will reduce clashes and rework among team members; moreover, you can create high-impact 3D visuals from this Autodesk Revit. It is a standalone application and also comes in different editions to meet the designer's needs.
Pros
It provides easy options for functional modeling.
Users using this software can communicate with other firms as well.
Cons
Most importantly, the rendering operation can prove to be chunky at times.
Vectorworks Architecture
Vectorworks doesn't look as simple as the other software. Meanwhile, apart from its complexity, the designer can create extraordinary results and generate exceptional projects with this Architectural Design Software. In addition, it also supports building information modeling. Therefore the Vectorworks software is recommended for experienced architects and not for beginners.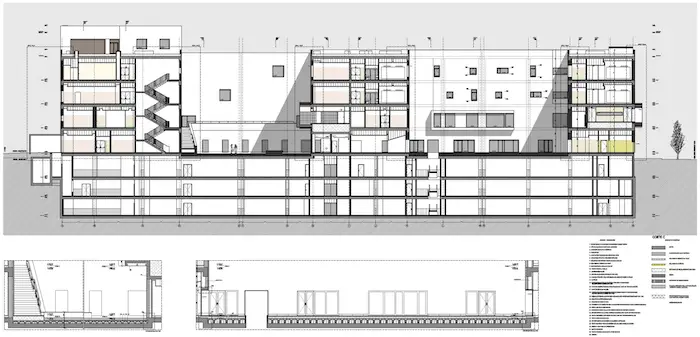 Pros
Very quick and easy setup.
User-friendly to use.
Cons
The user may face an occasional crash.
See also: 10 After Effects Alternative Apps | Free And Paid Apps
Micro station
Many people are using this Architectural Design Software because of its stability and easier to use. But this free house design software may cause some workflow problems for the user because of its compatibility.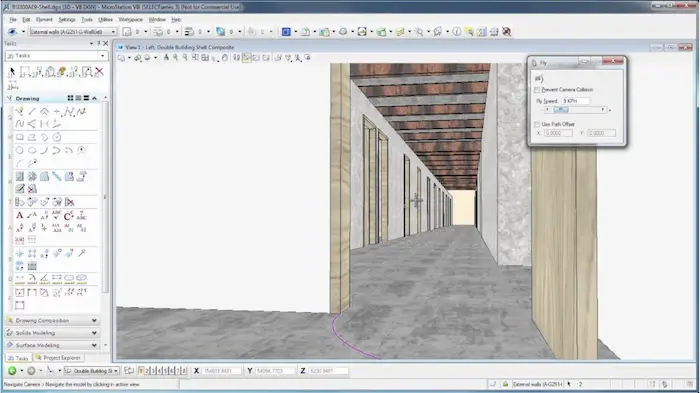 So, having little experience in any one of these Architectural Design Software will give extraordinary 3D design to the designer's needs.
Pros
Firstly,t has a very good tool set, providing the most useful options at the front.
Secondly, the software runs very quickly and provides efficiency.
Cons
It has a lot of options it takes a long time to master this software.
DreamPlan Home Design
DreamPlan Home Design is one of the best architectural design software, especially for new users. Moreover, It provides all the basic functionalities right from scratch so that all the minute details can be taken care of.
Moreover, it basically works with simple steps to create single rooms and one-story houses. So, DreamPlan consists of ready-made objects that can be directly incorporated into your design without any difficulty.
Pros
It is available free of cost.
It is supported by all major operating systems.
Cons
Does not support complex multi-story design.
Download Dreamplan Home Design here
FreeCAD Arch
FreeCAD Arch is one such CAD software that lets you design in 3D very easily. In addition, it provides support to the design of many structures, including various-shaped buildings and also shapes other than the existing stereotypical shapes.
Meanwhile, one can easily go back to the model history and change the dimensions to edit the model once you are done designing. Above all, it is free software; it offers features equal to that of much commercial software.
Pros
You can make changes by preserving the model history.
It supports a wide number of file formats for saving your work.
Cons
Its workbench is still under development and occasionally suffers from some issues.
3D Studio Max
3D Studio Max is one of the best choices for 3D designing. Moreover, it helps you to map structures with precision and accuracy.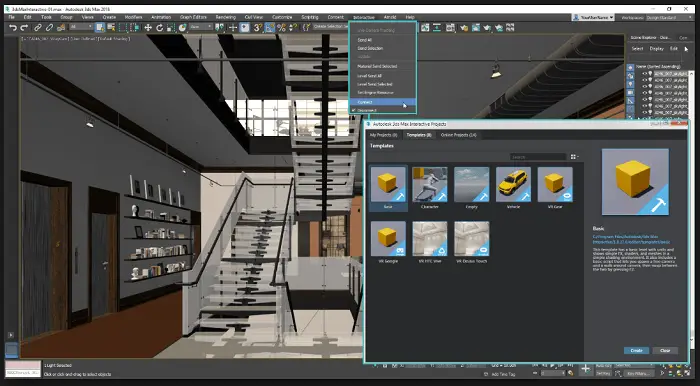 In addition, there exist many such 3D designing software n the market, but 3D Max outruns their capabilities. Above all, it helps you to correct texture and edge distortions and makes it easy to control detailed aspects of your structure with high-definition views.
Pros
Very easy and hassle-free to use.
It provides an option to preview your work.
Cons
It does not support the iOS platform.
Archifacile
Archifacile is one of the best architecture software for designing 2D plans. Moreover, you can easily construct house plans, floor plans, or garage plans. Above all, it makes it very easy to use doors, windows, and stairs while designing various types of house plans.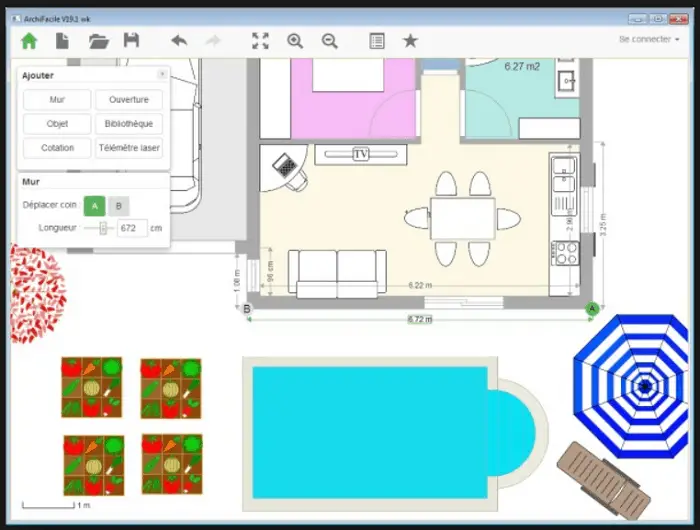 Pros
You can use it online without downloading it.
It is available free of cost.
Cons
Does not support 3D drawing.
Trimble comes with a very easy-to-use interface that makes it simple to master the usage of the software. It offers very powerful tools with its free version, but one can also get a pro version for additional features.
So, if you are someone who is familiar with 3D modeling, you can easily pull off some great structures using this software. Moreover, their website offers a number of free video tutorials for best utilization.
Pros
Offers tools for fast drawing.
Supports perspective changing.
Offers cross-sectional views for better understanding.
Cons
The pro version lies in a high-end pricing range.
Download Trimble Sketch Up here
Dynamo
Dynamo is one such software that can work with parameters and produce designs based on the results. In addition, designs are constructed by using parameters in programming; here, programming does not refer to users writing codes. Instead, the user needs to combine a number of nodes which then automatically represents code in a graphical interface. Hence, the process is easy to learn and is very helpful in creating very complex design structures. It is a good Architectural Design Software.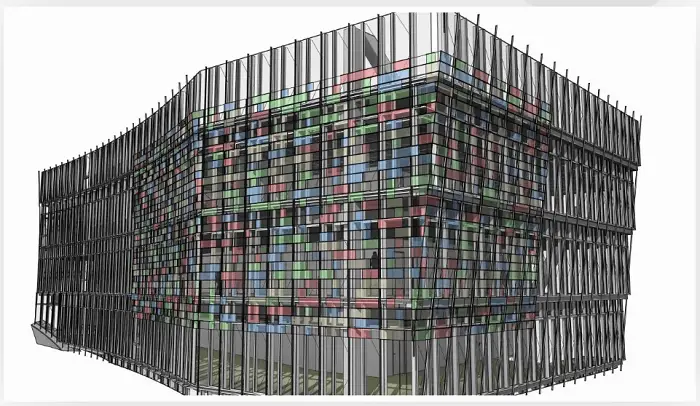 Pros
Easy to learn.
Incorporates complex logical structures into visually visible designs in very less time.
Helps to construct any intricate structure.
Cons
Requires some basic programming knowledge for professional usage.
FAQs
Is architecture well-suited for Sketch Up?
Enabling the construction of numerous 3D models, Sketchup is also appropriate for massive architectural projects such as landscape design. The tool is easier to master because the gadget is an excellent choice for interior design because of the fantastic 3D visualization tools. For building realistic 3D models, Sketch up includes an OpenGL renderer.
Do architects use Maya?
Have you experimented with Maya for architectural design? Yes, it is one of the more general-purpose digital design programs. Maya is used to creating everything from computer games to film sets. However, the program is quite powerful, making it a fantastic alternative for architects.
Is Maya good for architectural rendering?
No, neither Maya, 3DS Max, Sketchup, or any other visualization tools are particularly useful for the profession of architecture. The designing and documentation of the building. Other than to create superficial/throwaway visualizations to try and sell a scheme - perhaps 5% of what an architect requires.
Conclusion
In conclusion, the above-mentioned are some of the best Architectural Design Software that one can use very efficiently. Therefore, we have compiled the list in such a way that you can choose from very basic to very professional kinds of software according to your satisfaction and need.
Dedicated group of Computer Engineers making tech updates accessible to all. Our dream is to simplify and share tech news with everyone.