To design 2D and 3D structural home and interiors, this architectural design software is widely used. People like seasoned architects, students, interior designers, beginners, and civil engineers mostly use one of these Best Free Architectural Design Software. But in the present scenario, there is some architectural design software's which makes the users a bit confused to choose their best.
So, we are here to help them by providing the top 10 best architectural design software in this article. The below mentioned architectural software will meet all your designing needs. So check out the below article and get ready to explore the world of designing with the following top 10 architectural designs.
List of Best Architectural Design Software
ArchiCAD
For developing both 2D and 3D architects, this ArchiCAD is all-in-one free architecture software. Even if you are a beginner or a first-time designer, it is very easy to develop a project with ArchiCAD. It is available for free of cost with BIM server application. ArchiCAD design software gives high-quality designing and efficient performance.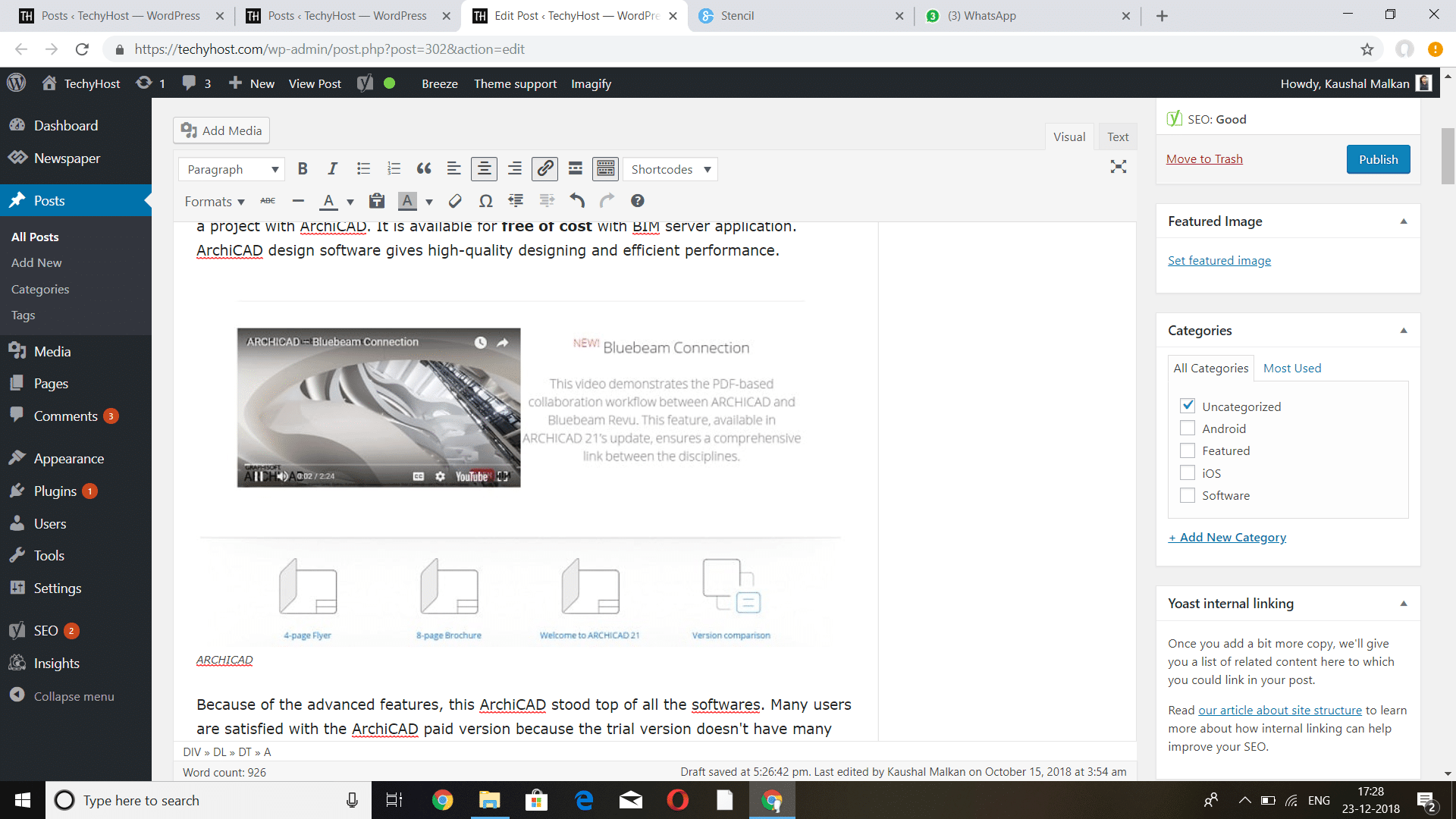 Because of the advanced features, this ArchiCAD stood top of all the softwares. Many users are satisfied with the ArchiCAD paid version because the trial version doesn't have many features as the paid ones.
Chief Architect
The Chief Architect design software will add life to your designed projects. It is professional design software that will generate 3D creations. The automated tools of this 3d home architect design software will make your home, interior design easy for construction and re modelling.
Most of the architects are using this Chief Architect software because it is easy to use.
Revit Architecture
For students and educated related professionals, this Revit Architect is available for free. And for other users, it gives a free licence for three years. The Revit architecture and design also supports building information modelling. As soon as you make changes to your designs, this is the Best Architectural Design Software and will easily adapt to them and saves automatically.
This free building design software will give ideal experience for the users. Accuracy, neat designs, and free of errors are a major plus of Revit architect. After designing the Revit Architecture, will shows a 3D view to the architects. But this Revit Architect is only for a person having experience in architectural study and design not for beginners.
See also:
SketchUp
SketchUp is the name given by Google; it is becoming popular nowadays. SketchUp makes, and SketchUp Pro is the versions of SketchUp. Without building from scratch, you can find a 3D model for anything from 3D warehouse.
With the add-on tools, you can customise your SketchUp. LayOuts in SketchUp Pro will help to turn your models into documents such as PDF, images, and CAD files. SketchUp is very fast because it has simple functionality, i.e., draw shapes and drag them to make them 3D forms. This is certainly one of the best home design software.
AutoCAD – Best Architectural Design Software
With the help of AutoCAD, you can create designs, drafting and documents smoothly because it offers precision in detail. It is created especially for architects. This architecture software also comes both in trial and paid versions.
The paid version is a one-time expense which is worth. It is popular for its professional and advanced tools and can be considered as one of the Best Architectural Design Software. AutoCAD is compatible with both 32 and 64-bit Windows systems.
Punch Software
You can design your dream home and landscape design with this Punch software. Plan your dream home with visualization tools and impressive set of designs. Landscape design tool will help you to enhance your ideas in designing gardens, decks, outdoor kitchen, fences, etc. While using software architecture, you can enhance your interior design.
Because you can create a floor plan of yours or you can select from 4000 3D predefined objects. It is easy to decorate your world with drag and drop design, plant library, paint colours, lightening, etc. using Punch Software. Tough it is expensive, Punch software always produces great results.
Softplan
For all your designing needs, this Softplan software is very useful because it is easy to use. Softplan supports building information modelling. And it gives 3D designing capabilities, complete documentation, a list of materials, and estimation of cost reports.
Every small change that you have done on your project will automatically update on your project. For residential and commercial designs this house design software is the best choice.
Autodesk Revit
Autodesk Revit has powerful tools those helps to design intelligent model based plan, manage buildings and infrastructure. You can generate documentation from Revit models. Revit software lets you and your project contributor's access centrally shared models.
So that this collaboration will reduce clashes and rework among team members. You can create high-impact 3D visuals from this Autodesk Revit. It is a standalone application and also comes in different editions to meet the designer needs.
Vectorworks Architecture
Vectorworks doesn't look as simple as the other software. Apart from its complexity, the designer can create extraordinary results and generate exceptional projects with this Architectural Design Software. It also supports building information modelling. The Vectorworks software is recommended for experienced architects and not for beginners.
Micro station
Many people are using this Architectural Design Software because of its stability and easier to use. But this free house design software may cause some workflow problems to the user because of its compatibility.
Having little experience in any one of these Architectural Design Software will give extraordinary 3D design from the designer needs.